News
Francesco Molinari's 'world-class display' holds off Rory McIlroy, wins BMW PGA Championship by two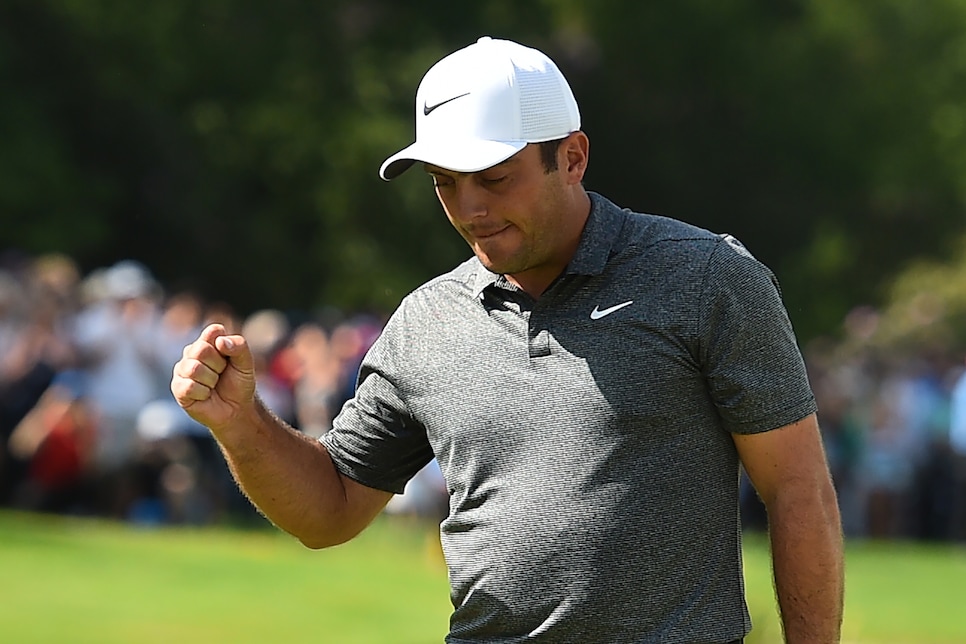 VIRGINIA WATER, England — Only once outside the top 10 in his six most recent visits to Wentworth for the BMW PGA Championship, Francesco Molinari's penchant for the tree-lined course they call the Burma Road has never been in doubt. But one thing was missing: victory within sight of European Tour headquarters.
No more though. Going one better than his runner-up spot last year, the 35-year-old Italian's closing 68—his 27th sub-par score in 48 rounds over the past 13 years—left him two shots clear of the highest-ranked player in the field, Rory McIlroy. A fast-finishing Lucas Bjerregaard of Denmark, whose 65 was the low round of the final day, and defending champion Alex Noren tied for third.
For a man boasting only a 50 percent success rate while leading through three rounds, Molinari put on a near impeccable display in search of the $1,166,660 first-place check. Little wonder European Ryder Cup skipper Thomas Bjorn was moved to call it "a world-class display" on Twitter. Four times Molinari dipped under par; not once did he drop a shot.
Perhaps more importantly, until he flirted with the water with his approach to the final green, Molinari never looked like he was in a place to make an error during a metronomic display. The economy of movement in his action points to an efficiency that leads in turn to a high level of tee-to-green consistency—the defining feature of his overall game.
The quality of the opposition—Molinari made just two bogeys all week and none over his last 44 holes surely contributed to the generally lackluster display of McIlroy, the other man tied for the lead after 54 holes. Never comfortable, the four-time major champion fell behind early— he was forced to shout "fore" as early as the first tee—and was four strokes back with eight holes to play. Not for the first time this week, he struggled with his ball-striking and never really threatened the now five-time European Tour winner's inscrutable equanimity. Until the 72nd green that is.
Faced with a 25-foot putt for eagle that, had he made it, would have forced Molinari to hole from two yards to clinch victory, McIlroy left his ball inches short, right on line. Throw in the absence of Old World stars and Ryder Cup certainties like Justin Rose (the eventual winner at the Fort Worth Invitational), Jon Rahm, Henrik Stenson and Sergio Garcia, and those final moments from McIlroy apart, it was a fourth round lacking in both drama and charisma.
None of which was bothering Molinari even a little. Now fourth on the Ryder Cup European points list and poised to make a third appearance in the biennial contest on a Le Golf National course outside Paris where he has three times been runner-up in the French Open, he was all smiles by close of play.
"I cannot tell you what was going through my mind as Rory's ball was rolling across the 18th green," he said. "I wasn't fancying the six footer to win after all the hard work I had put in. Two par 5s is probably the worst possible finish when you are defending a lead. Rory was thinking 'eagle-eagle' and I was thinking 'par-par.' I tried to stay aggressive and I did until the 16th. And at the last I was just trying to make a five. I didn't think he could make a two to tie."
As for McIlroy, the runner-up was outwardly philosophical. But he would be less than human not to be at least a little frustrated by his recurring inability to turn winning positions into actual victories. His body language certainly spoke louder and clearer than his verbal output in the wake of what turned out to be another in a lengthening line of initially promising but ultimately disappointing weeks. Just as he did in Dubai earlier this year when Haotong Li outlasted him down the stretch, the former World No. 1 succumbed to a player he should be beating more often than not.
"I'm disappointed I didn't play better over the weekend," McIlroy said. "I was in a great position after two days. But I struggled yesterday and struggled again today. I just couldn't get it going. I let Francesco get a few shots ahead on me and I just couldn't claw that back.
"The couple of shots that got me yesterday I missed to the right. Then today the shots that cost me were missing left. When you have two sides of the course in play, it's difficult. While I could have held it together a bit better over the last couple of days, I scrambled well. I hung tough and shot a couple under par rounds at the weekend. It just wasn't good enough."
There was also the matter of that putt on the final green, one that could have led to an unlikely playoff. Not surprisingly, McIlroy's assessment was tinged with regret. What might have been remained just that.
"He would have had a six-footer to win when it looked like he was cruising," said McIlroy. "If my putt had gone in I would have had a real chance. Still, I'm somewhat happy he holed his after I missed. So I don't feel as bad about leaving mine short. But it would have been nice to put a bit of pressure on him and make him feel something over that final putt."