News
Thomas joins elite company, Tiger's promising performance and Korda's emotional comeback: What you missed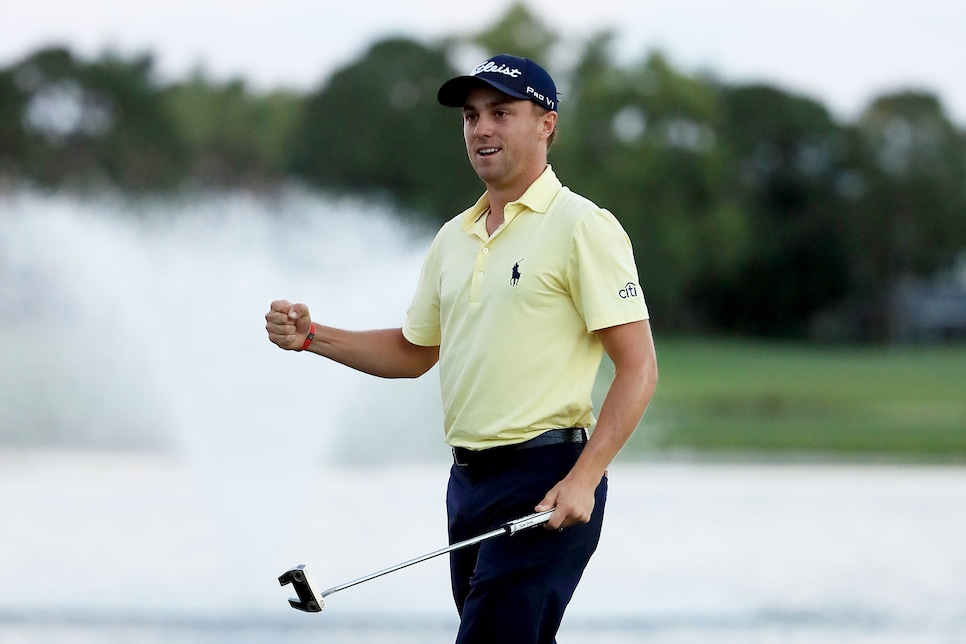 Sam Greenwood/Getty Images
Welcome to the Dew Sweeper, your one-stop shop to catch up on the weekend action from the golf world. From the professional tours, trending news, social media headlines and upcoming events, here's every golf-related thing you need to know for the morning of Feb. 26.
Thomas joins Tiger, Spieth with win
Close your ears, PGA Tour pros: As good as Justin Thomas was in 2017, he's better in 2018.
At least according to the man himself, and after Sunday's display at the Honda Classic, it's a tough to counter. The reigning Player of the Year went 65-68 on the weekend to earn his way into a playoff with Luke List. On the first playoff hole, Thomas reached PGA National's par-5 18th in two. List failed to birdie, giving Thomas a two-putt for his second victory of the season.
"This was a hard win," Thomas said. "I tried to stay really patient out there."
Thomas' dart at the 18th in regulation, one he almost holed out for eagle, will be replayed on highlight reels, and it certainly was a bold response to the high-pressured situation. Yet it was Thomas taming the Bear Trap—playing the infamous three-hole stretch in two under on the weekend—that was the key to his win, and a true exhibition of temerity.
The Honda marks Thomas' seventh win in the past two years, and eighth of his career. Significant, for only Tiger Woods (24) and Jordan Spieth (11) have won more before turning 25.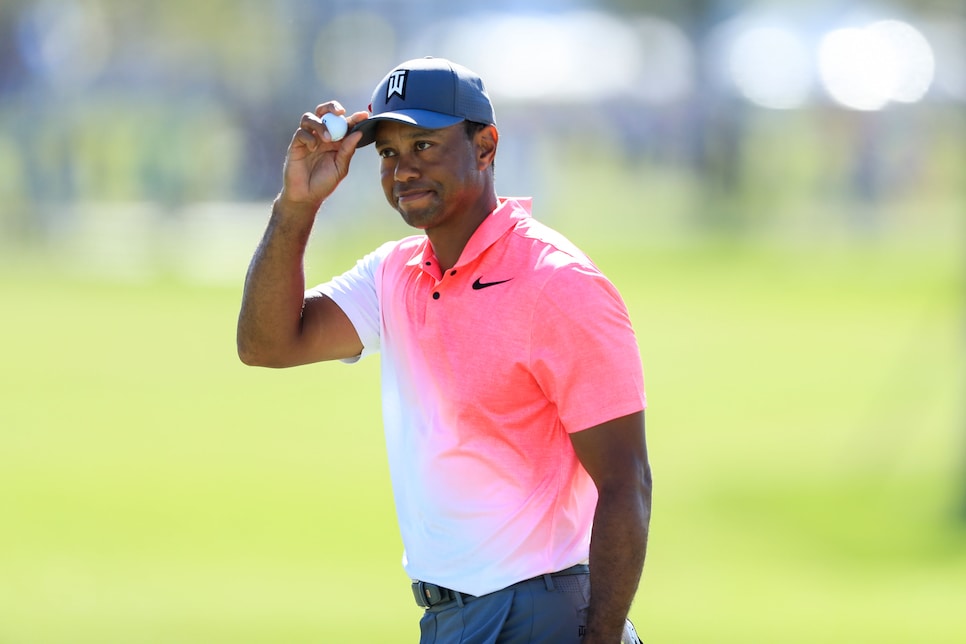 Sam Greenwood/Getty Image
Tiger turns in promising performance
A clean bill of health for the Masters was the original barometer for success in Tiger Woods' latest comeback efforts. Though that aspiration remains the primary goal, the 42-year-old showed over the weekend that perhaps it's time to expand those expectations. Woods was one of just a dozen players in the Honda field to finish even or better, his final-round 70 good enough for 12th place.
"I didn't really know what to expect," Woods said on Sunday. "My expectations have gone up. I'm hitting the ball better. I knew I could putt it, I knew I could chip it, but I didn't know how well I was going to hit it."
That he did, leading the field in proximity to the hole. Especially impressive when factoring that PGA National yielded the highest scores (+2.303) on tour this season (22 courses).
It wasn't all pretty: he was two over on the easiest hole on the course, and his accuracy off the tee remains an issue. And lest we forget, he missed the weekend by miles at Riviera just 10 days ago and made the cut on the number at Torrey Pines. Conversely, the golf world has been looking for signs of promise since Tiger returned at the Hero in December, and those signs were on parade this weekend.
Save for a major setback, Woods will tee it up at Augusta National in four weeks. And, if the Honda was any indication, he has the chance to be formidable.
Duf's cap game remains on fleek
Jason Dufner's played relatively solid this campaign, ranking 19th in strokes gained and posting top 20s in three of his last four events. Not that you would know, because Duf's style has hogged the spotlight.
The former PGA champ is without a hat deal at the moment, and has taken advantage of his cranium freedom with flair. At the Honda Classic, that meant rocking a blue, star-studded "BOSS" cap in his Saturday round with Tiger Woods.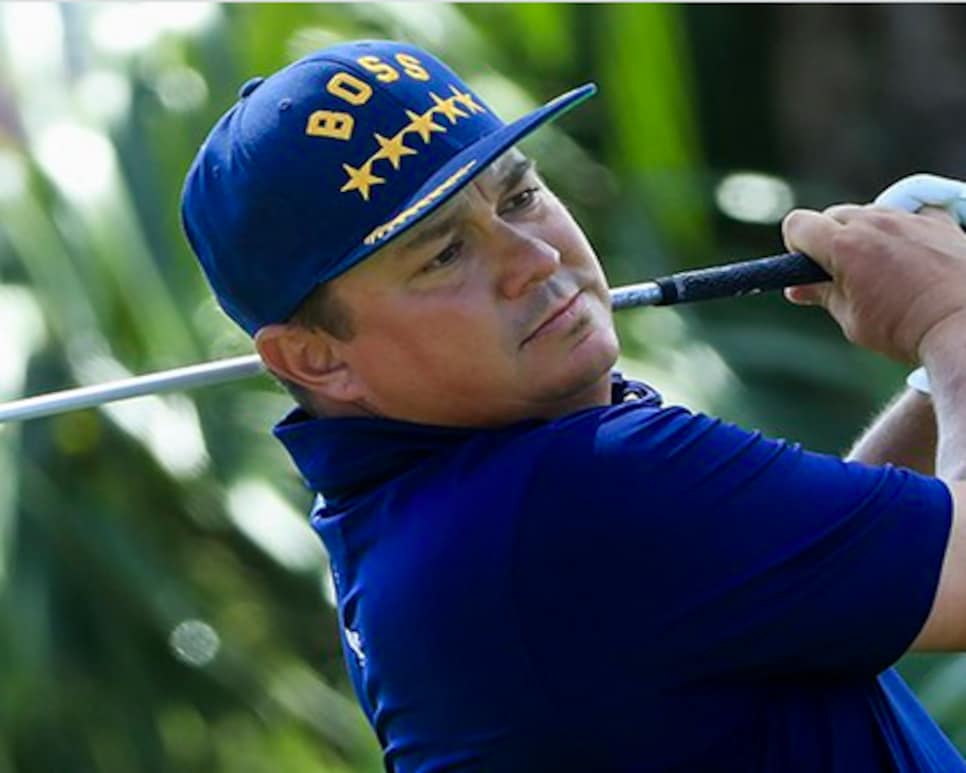 I know there's already two dozen viable Ryder Cup candidates for the Americans, but bearing in mind the annual banality of the uniforms, feel like Duf's hat game is worth at least two points for Team USA this fall.
Pepperell captures elusive W
Eddie Pepperell is a cult hero among golf zealots, although this prominence is spurred more by his reflective, witty blog than his play. However, while he remains as engaging as ever on the social sphere, the Englishman's game is starting to do the talking.
"I've always felt and believed I will win out here, but it hadn't happened before today," Pepperell said. "You've always got to take that step and that's uneasy, but at some point in everyone's career they've got to do something for the first time."
The win moves Pepperell to No. 92 world, astonishing given he was outside the top 500 at one point in 2017. The victory also provided this video courtesy of Eddie's brother Joe, who filmed the home crowd's reaction when Pepperell sealed the deal:
I've watched Bambi's mom get shot by the hunter and the "O Captain! My Captain!" speech and never shed a tear...but dammit if this clip didn't get the eyes a tad misty.
Korda wins in emotional comeback
You're excused if you took a second glance in Jessica Korda's direction. The LPGA star underwent an intricate procedure to correct an overbite, one that had caused chronic headaches, facial stiffness and sleep apnea. The surgery required doctors to break her nose and jaw, with 27 screws inserted throughout her face to aid the resetting of bones. As Korda mentioned on Sunday, when she looks at old pictures of herself, she feels like a different person is staring back.
One thing that's remained the same, however, is her out-of-this-world talent.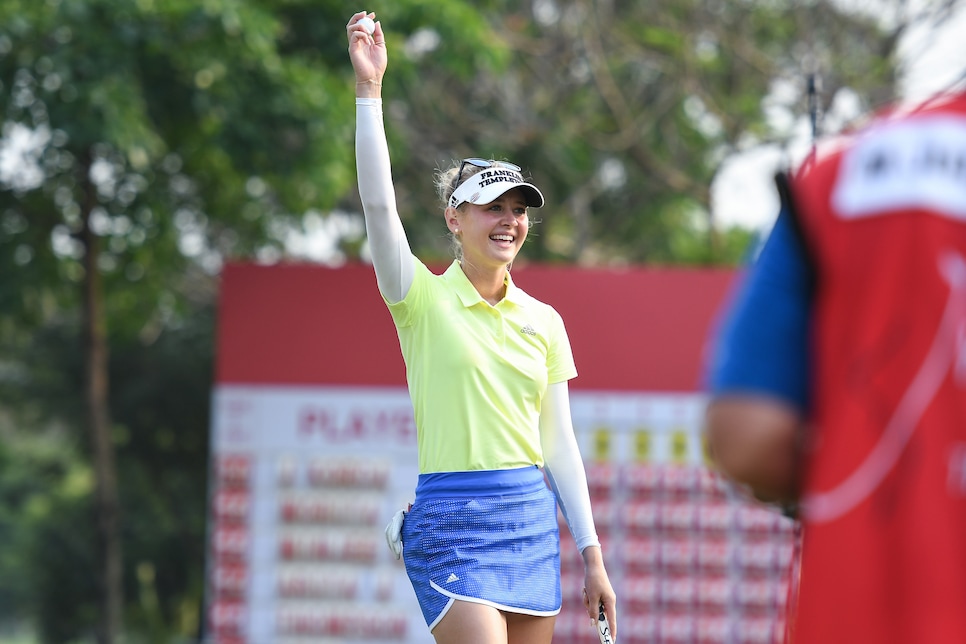 Despite limited preparation due to the operation, Korda turned in a 25-under total at the Honda LPGA Thailand, beating Lexi Thompson and Moryia Jutanugarn by four shots and setting a tournament record. Quite the performance, considering her mother was feeding her through a straw just weeks ago.
"This is the most holes I've played in a row since CME [Tour Championship]," Korda said. "I didn't know how I was going to do. I was just coming in here just happy to be able to play and be able to be back out. I've missed it. It was hard sitting home watching everyone on TV."
It was the fifth career victory for Korda, who turns 25 on Tuesday. She's still dealing with lingering numbness, at one point halting the celebratory photo session to give her face a rest from smiling. Although we're guessing that's a pain Korda doesn't mind.