The Loop
This Philadelphia 76ers-themed corn maze is a sight to behold
Sam Hinkie hasn't been the Philadelphia 76ers general manager for more than a year, but his famed "Trust the process" mantra lives on among optimistic fans of the NBA team. So much so that it's been carved into the Pennsylvania landscape. Literally.
In the next month, R&J Farm Market will open a 76ers-themed corn maze. And Hinkie's saying is featured prominently: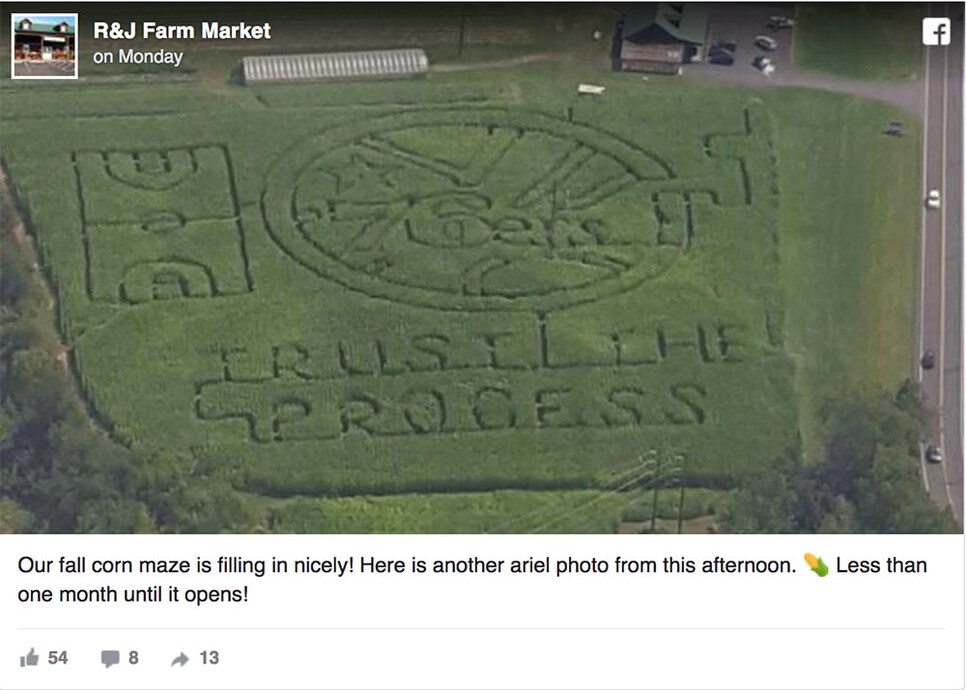 Hinkie's "Trust the process" slogan referred to his patient strategy that focused on the longterm success of the 76ers by making trades to stockpile draft picks. Unfortunately, ownership wasn't quite as patient and after the had another bad season in 2015-2016, Hinkie was pushed out.
However, there is reason for hope in Philadelphia with two of Hinkie's picks, big men Joel Embiid and Dario Saric, having finally blossomed last season. And the team's No. 1 pick (a product of Hinkie's patience for posting bad records -- some argued it was "tanking") from 2016, Ben Simmons, is ready to start his rookie campaign after sitting out last year with an ankle injury.
Westgate Las Vegas Sportsbook has set the 76ers over/under win total at 42.5, meaning the team is predicted to make the NBA Playoffs for the first time in six years. If that happens, we look forward to seeing what crop art R&J Farm comes up with next year.