News
There was no choke in Johnny Miller as a broadcaster. Just brutal honesty
The Hall of Fame golfer did not mind upsetting tour pros as a TV analyst. It was all part of the job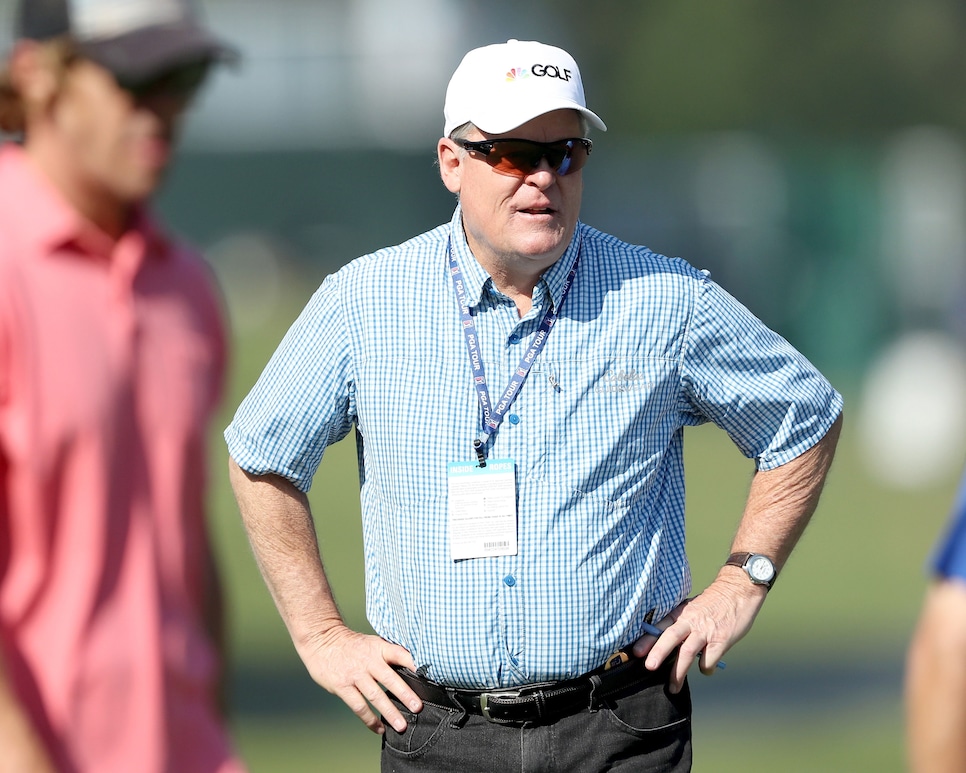 Photo By: David Cannon/Getty Images
In the spring of 1995, I was sitting in the player dining area at Atlanta Country Club during the week of the now defunct BellSouth Classic. There were four players sitting at the table and the subject was Johnny Miller, who was about to work his first U.S. Open as a broadcaster in June, NBC having won the rights to the championship from ABC.
"It's a disgrace they're going to let that guy do the Open," said one player—a solid veteran who had never won on the the PGA Tour, but had steadily kept his card for years. "I mean, the U.S. Open and he'll be sitting there in the booth calling people chokers."
Another player, someone who had won on tour several times, chimed in. "He sits there and acts like he knows everything. I mean, what did Johnny Miller ever do in golf that allows him to criticize us?"
At that point, I couldn't resist. "Um, he did win two majors and 25 times on tour—including last year at Pebble Beach when he was spending a lot more time in the booth than on the golf course," I said. "I mean, whatever you think of his broadcasting, he's a Hall of Fame player."
They all looked at me for a moment as if I had said purses on the tour should be cut by 50 percent. Then the guy who had asked what Miller had ever done in golf said: "Twenty-five times? Really?"
"Yup," I said. "And two majors, including the 1973 U.S. Open when he shot 63 at Oakmont on Sunday to win."
"I remember that," said a third player. "The golf course was soaking wet."
I agreed and then added, "But no one else shot 63 that day did they?"
Miller was unique when he first joined NBC in 1990. He would criticize club decisions. He wondered why players were aggressive when caution might be called for and cautious when aggression might be the right play. And, he used the "C" word—as in choke.
In golf using the "C" word is akin to saying "Voldemort" in Harry Potter world. It is the word that must not be named.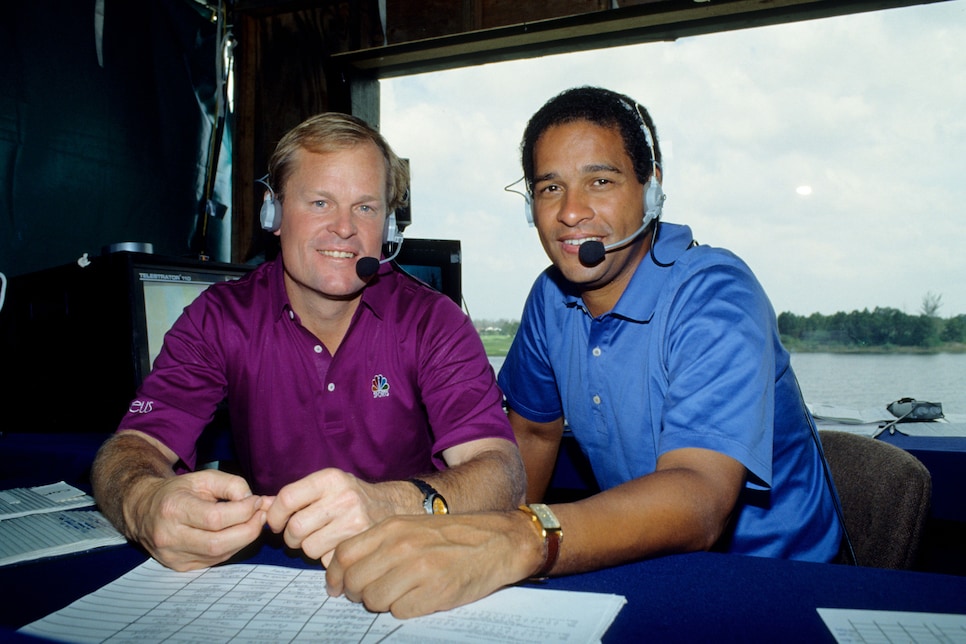 Jeff McBride/PGA of America via Getty Images
For the record, Miller never actually said "he choked" on the air. He simply pointed out that certain shots were the kind where a player could choke. Occasionally, the player proceeded to do just that.
What really set Miller apart, though, was how different he was from virtually every ex-player who has ever set foot in a booth or put on a headset. The late Dave Marr, who was ABC's lead analyst for many years, once pointed out that golf analysts were there to "gild the rose, make everyone look good."
Miller was there to point out the good, the bad and the ugly—from the point of view of someone who had been great, bad and occasionally ugly, as he often noted on the air.
A couple of years ago, I was part of a fireside chat at an event with Davis Love III. Someone asked a question about his relationship with the media—which has always been very good.
"There's a difference though," Love said, "between reporters and the guys who work on TV. As [CBS producer] Lance Barrow always reminds me, remember, we're WE—your partners—and they are they."
Most of the time that notion of partnership comes roaring through the TV screen, regardless of what network you're watching. Every player on tour is a wonderful person, and when they hit a poor shot, there's always a reason. How many times have you heard someone say He hit a perfect putt on a putt that doesn't touch the hole. A perfect putt, for the record, is one that goes in.
If you walk into a locker room or into player dining, you will often see the TV "partners" hanging out with players. Or on the range or putting green. This isn't all bad, because often that contact will produce an anecdote or a piece of information that can be used on the air.
That wasn't Miller's style. He didn't want to still be "one of the guys" as so many ex-players are—or want to be. His homework was done on the golf course, getting in a cart on weekend mornings and checking hole locations—not just with a pin sheet but by taking a putter onto the greens and hitting putts to the hole from all angles.
That's why you would often hear him say, "when you look at this putt it appears to break right, but actually it's going to go a little bit left." Sure enough, the player would play the putt to break right and would grimace as it slid left.
Miller always had great feel for the game—it is probably one of the things that made him such a great player. In 1995, during the crucial Ryder Cup singles match at Oak Hill between Curtis Strange and Nick Faldo, Strange stood over an absolutely critical second shot on the 18th hole. Paul Azinger, who is expected step into the NBC booth after Miller does his final broadcast in Phoenix in February, was walking with the match. As soon as the ball came off Strange's club, Miller—sitting in the booth and listening on headsets—said "sounded thin."
"Oh, I don't think so Johnny," said Azinger, who was standing a few yards from Strange. Sure enough, Strange had hit the shot thin. The ball came up short of the green and Faldo won the match with a par.
That's how good Miller was—is. He often recognized which direction a player's game was about to go based on his swing, his body language, his pace of play. He often anticipated good shots—and bad.
In recent years, Miller has become kinder and gentler. At times, he has appeared to go out of his way to find something good to say about players and, in true "gild the rose" style, he almost always loves the golf courses, the tournaments and the people in charge of those tournaments.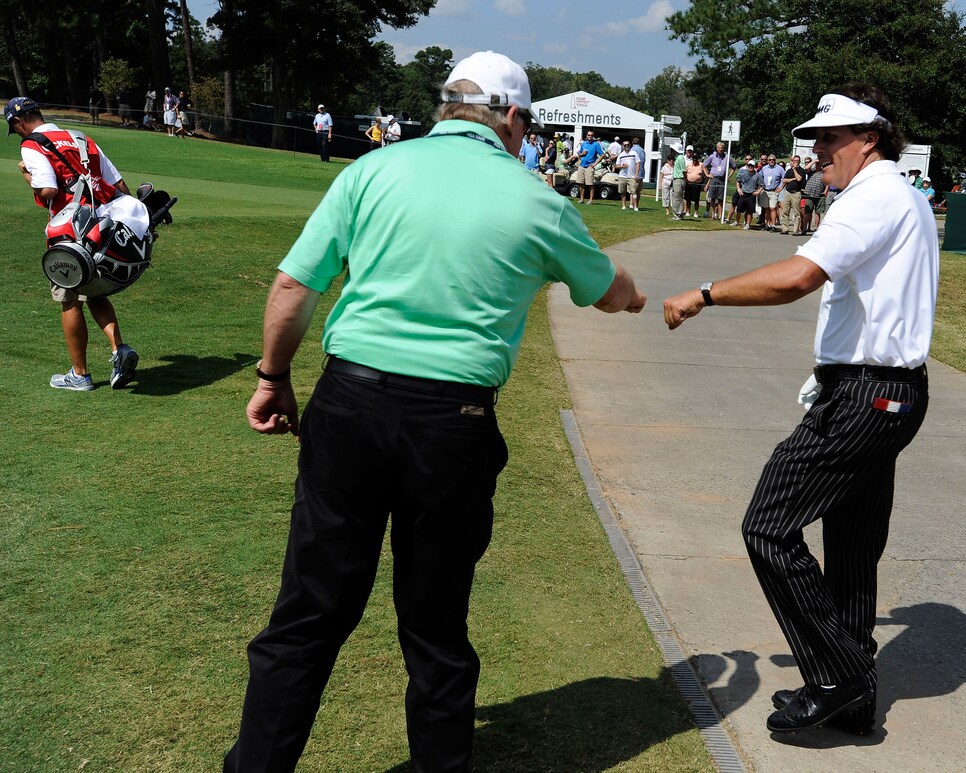 Perhaps he's just mellowed or perhaps the NBC/Golf Channel people politely asked him to try to be a bit gentler. Dick Ebersol, the man who more or less created NBC Sports and still un-officially oversees Golf Channel, has always been a big believer in the "keep your partners happy" concept.
Regardless, Miller was unique in his honesty and insights. He will be a tough act for Azinger to follow. There were some—maybe even most—who saw Brandel Chamblee as Miller's logical heir. In recent years, Chamblee has taken Miller's spot as the least-liked TV voice in the locker room because of his habitual honesty.
Miller stood out, not just because he was willing to speak his mind but because no one had done it before him and no one (Chamblee being the lone exception) has really done it since him. He was the absolute best there's ever been in the TV booth.
And, in spite of what my lunch companions in Atlanta may have thought, he was a pretty good player, too. When he came out of the booth to win at Pebble Beach in 1994, he beat Tom Watson down the stretch. Watson waited for Miller to come off the 18th green to congratulate him.
"Great playing," Watson said, shaking his hand. "Now get your butt back in the booth where you belong."
Watson was speaking player-to-player—as in, give the rest of us a chance. He could just as easily have been speaking for all golf fans.