The Loop
The worst bad beats of the weekend starring Texas, a team we should all stop betting on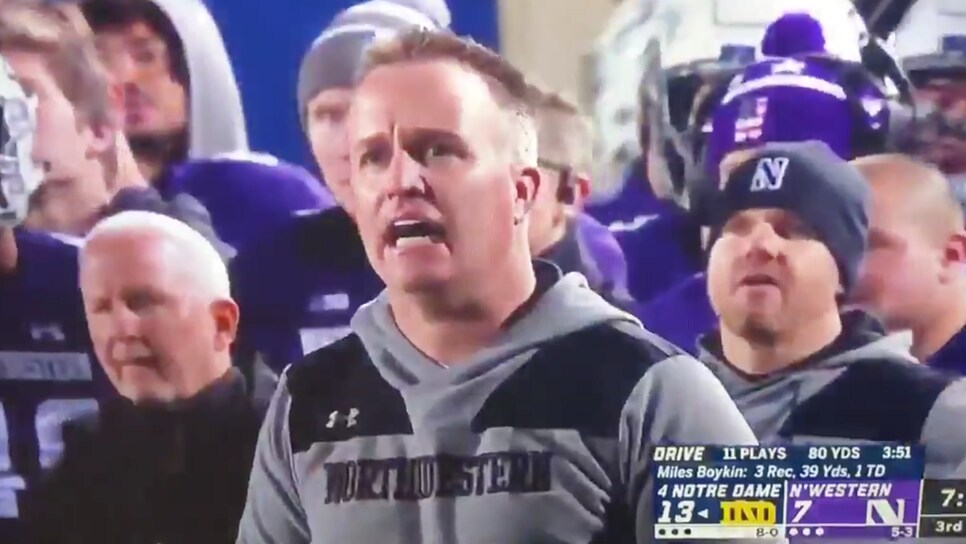 While he's in just his second year as head coach at Texas, Tom Herman has already developed quite the reputation in the gambling community. As an underdog, Herman's Longhorns are scary good. In the two games they were getting points in this season (TCU and Oklahoma), Texas won both outright. Being the favorite has been a different story for Herman though. While the Longhorns have won many of the games they were expected to, they are 1-5 against the spread in those games this year.
This week, Texas opened as a small favorite over West Virginia, as high as -3 in some spots. Apparently, so many bettors liked the Mountaineers, and the fact the Longhorns are not a great favorite, that the line had moved all the way to WVU -1 by kickoff. Suddenly, Texas was a home underdog coming off a tough loss to Oklahoma State. Bounce back spot! Take the Longhorns on the money line and pop bottles.
With a 41-34 lead and just 24 seconds to play, the celebration had begun. Hell, Texas would have been the right bet if you got it at -3! Then, Will Grier and Dana Holgorsen's huge stones happened:
The two-point conversion was an all-time dagger for Texas backers, who likely thought they were still okay with overtime incoming. Unfortunate. That painful loss is how we'll kick off this week's worst bad beats. Could anything be worse than the Texas stunner? Let's find out.
Ole Miss (-2) vs. South Carolina
In some books this was a pick'em play between two middle-of-the-pack SEC teams, and that's exactly how the game played out. South Carolina jumped out to an early 17-3 lead, but Ole Miss battled back to tie the score at 27-27 at halftime. Late in the third quarter, on their home turf, the Rebels appeared to apply the dagger, punching a touchdown in from the one-yard line to go up 44-34. This is the part where the Gamecocks run out of gas, roll over and admit defeat. Nope! Instead, Ole Miss folded like a cheap suit, giving up 14 points in the blink of an eye and gaining negative three yards on their next three drives, followed by a last-ditch six-play, 19-yard drive that ended on downs and ended the game.
Final: 48-44, South Carolina
Texas A&M (+3.5) @ Auburn
Up 17-14 entering the second half, Texas A&M received the opening kickoff and took it right down for a score. An eight-play, 75-yard drive gave them a 10-point lead, one the Aggies would hold on to until halfway through the fourth quarter thanks to this pillow fight:

Noticed that missed field goal, which was a 36-yarder. Think that'll affect the spread? Nahhhh, no shot.
Just when you thought Ole Miss' choke with a 10-point lead was bad, the Aggies one-upped them, passing the ball with less than eight minutes to play and practically begging Auburn to get back in the game. The Tigers did, picking off quarterback Kellen Mond on 3rd & 9 and scoring on the ensuing possession to cut the lead to three. After forcing a punt with just over two minutes to go, Auburn quarterback Jarrett Stidham put together the game-winning, spread-covering drive that ended with this TD pass:
Boy, that 36-yard field goal would have been nice.
Northwestern (+9.5) vs. Notre Dame
Up 24-7 early in the fourth quarter, Notre Dame looked poised to run away with an impressive road victory to add to its playoff resume. But Northwestern began doing what they've been doing all season, clawing their way back into the game and cutting the lead to 24-21 with two unanswered scores. With all the momentum on the Wildcats' side in their own stadium, a quick three-and-out would have really struck some fear into the Irish and their fanbase. But ND came up huge, running nine plays for 66 yards and chewing up over four minutes of clock. But they still faced a monumental 3rd & 4 following a Northwestern timeout, and a stop would have forced a field goal, and all but sealed the deal for Northwestern +9.5 bettors. Just ... one ... more ... stop .... noooo: