The Loop
The worst bad beats of the weekend in college and pro football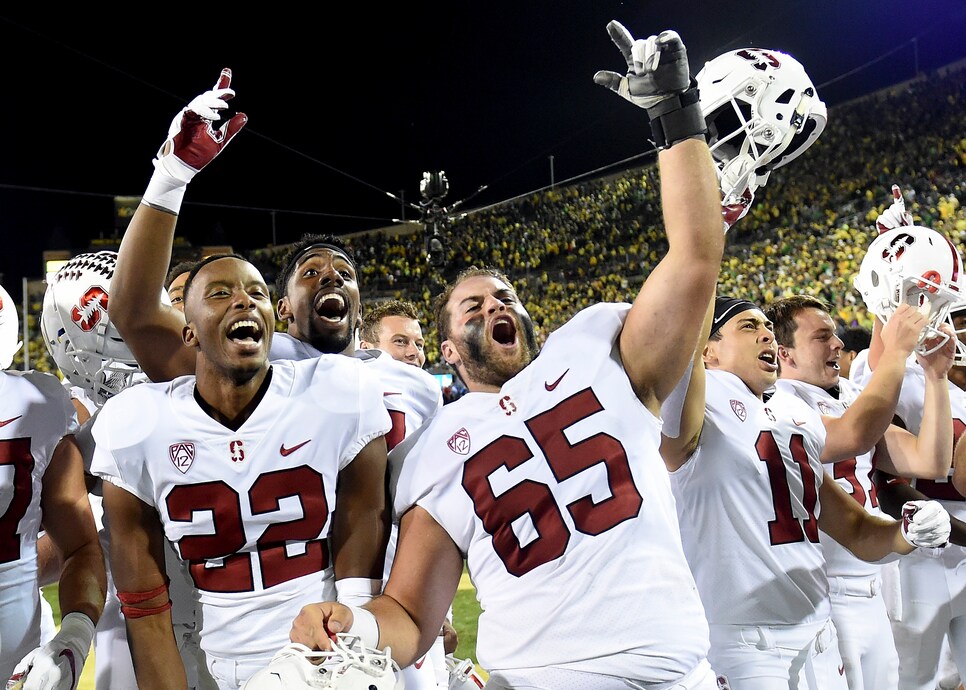 Welcome to our newest Loop feature "worst bad beats of the weekend," which covers all the head-scratching, soul-crushing, DraftKings account-emptying gambling losses from another great weekend in college and pro football. We just made your Monday that much worse. You're welcome?
Let's get right into it, because there were plenty to choose from, many I most likely bet on myself as I furiously smash the keyboard remembering them. For those of you on the winning side, kindly go jump off a bridge congrats! But know your day of reckoning is coming.
Tulane (+37.5) @ Ohio State
Look, if you willingly bet on Tulane, you get whatever is coming to you. But the sad part is, they had this in the bag! Those who took Ohio State were likely feeling good with a halftime score of 42-6, needing just two more points to cover, but the Buckeyes inexplicably stopped scoring. With seven minutes remaining, Tulane began driving down the field and were on track to make +37.5 bettors feel a whole lot safer with a TD, but they gave the ball over on downs with three minutes to go at the Ohio State 30. Time for the Buckeyes to just run the clock out, right? Wrong. The second offense came in and charged down the field, scoring a TD on second and goal with a minute remaining:
Final score: 49-6, Ohio State. Brutal beat for the Green Wave backers.
Denver Broncos @ Baltimore Ravens Over 46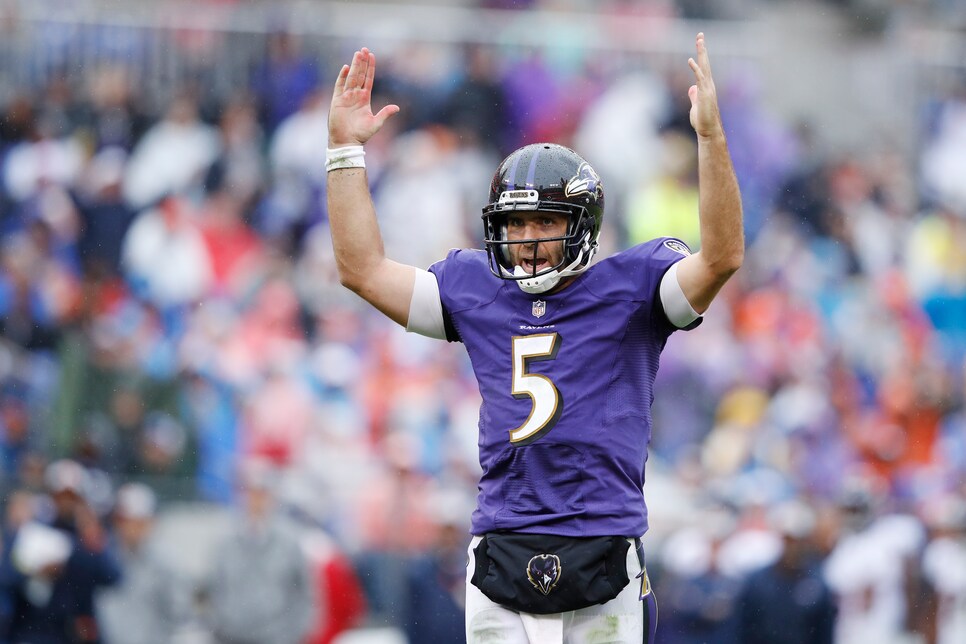 Midway through the first quarter, over bettors had to be celebrating a victory already, as the teams quickly traded touchdowns. Broncos went up 14-7, then Justin Tucker hit a 52-yarder to make the score 14-10 at the end of the first. Just like that, you were more than halfway to 46.
In the second quarter, the Ravens quickly scored again on a Javorius Allen 12-yard reception, giving the Ravens a 17-14 lead. Another 52-yarder as time expired in the first half from Tucker gave Baltimore a 20-14 lead. 34 total points in the first half. An over bettor's dream. Let's see how the second half went: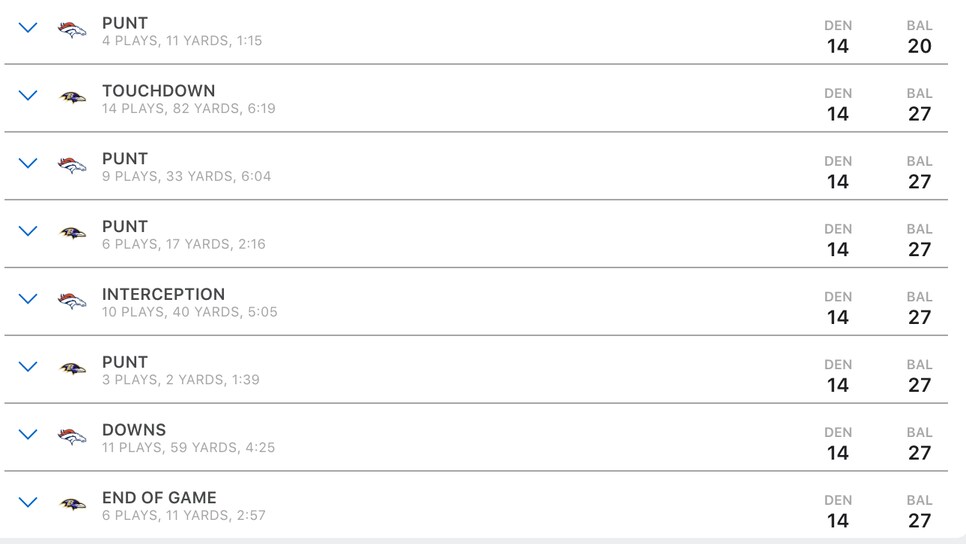 Seven. Measly. Points. Final score: 27-14, Baltimore. Rough.
Eastern Michigan @ San Diego State Over 48.5
For about 55 minutes of this game, it didn't even threaten the over, and after Eastern Michigan kicked a field goal to go up 20-17 with three minutes remaining, there was no shot it would hit. But San Diego State drove down and kicked a field goal of their own, tying the score at 20-20 with 1:16 remaining. New life! Every over bettor knows that feeling, the one where you realize college overtime is imminent and you're guaranteed at least a score from each team. Suddenly, under bettors were watching their life flash before their eyes. As long as the game reached double OT, the over would cash. The only thing that couldn't happen was... OH GOD NO!!!!!!
The ultimate dagger. That pick meant San Diego State could seal it on their overtime possession with any kind of score, which would clinch the under. And seal it they did:
Final score: 23-20, San Diego State. From gaining new life to being dead again all in a matter of minutes.
Oakland Raiders @ Miami Dolphins Under 46
Heading into the fourth quarter the Raiders led 17-14, which had to have under bettors feeling cautiously optimistic. Even if two more touchdowns were scored, you were still in the clear, albeit by a point. Halfway through the fourth quarter, it was still 17-14, when suddenly the Dolphins became the 1999 St. Louis Rams:
All good, still very much within the number and oh good lord what's happening:
Ok, nothing a Derek Carr desperation interception can't fix. Still within the number! Everybody stay calm ...

A meaningless 52-yarder from Mike Nugent, who has been in the league for 80 years. Final score: 28-20, Miami. Nightmares.
New Orleans Saints @ Atlanta Falcons (-1.5)
This was an unbelievable, back-and-forth game that you knew could have gone either way late. But Atlanta, at home, secured a 37-30 lead with under seven minutes to play. Obviously, Drew Brees is going to give his team a chance, but the Saints had to score a TD and with 6:58 to go, chances were strong that Matt Ryan and the Falcons would get the ball back no matter what with a chance to win on a field goal. But Brees led a marathon, 11-play, 81-yard, nearly six-minute charge that ended with this ridiculous run on second and goal by the 39-year-old:
Even with a full minute to work with, the Falcons didn't score, and the game went to overtime. With the Saints getting the ball first, all Atlanta needed was a stop and a field goal to cover the 1.5. Instead, Brees led an even more impressive drive than the one in the fourth, going 15 plays for 80 yards and sneaking in his second rushing TD to end it from the one-yard line. Final score: 43-37, New Orleans.
New York Giants @ Houston Texans Under 44
Did anyone watch the Giants the last two weeks? There was a chance they might have scored negative seven points in this game. Naturally, they put up 27, but the under was still in play late in the game as they led 27-15 with 2:08 remaining. Things got real dicey though when the Texans starting driving, reaching the Giants four-yard line with under 10 seconds. On fourth and goal, a stop from New York would have ended the game and cashed the under, but Deshaun Watson scrambled around and avoided multiple Giant defenders to throw a garbage time TD to Lamar Miller with ONE second remaining. Ouch. Final score: 27-22, New York.
Wisconsin @ Iowa (+4) / Under 44
While most of you probably got this at Iowa +3, if you did get it at +4, it hurt even worse. Iowa at home as an underdog under the lights is as good as a bet as you'll get in college football, and the Hawkeyes were proving that for 59 minutes on Saturday night. Up 17-14 with 2:54 to go, Iowa punted it away to a Wisconsin offense that doesn't exactly love to throw the ball. Yet, despite starting at their own 12, Badgers quarterback Alex Hornibrook put together a signature drive, one that ended with this touchdown pass:
Tough way to not win a bet, but if you had Iowa +4 and the under, you've still got a push and a win on the total. And hey, maybe Iowa could still drive down and pull off a miracle. Yeah, not quite. Iowa QB Nathan Stanley threw a game-ending pick three plays into their final drive, which at least sealed the und--- whoops!

A garbage-time TD from the Badgers also hit the over. Final score: 28-17, Wisconsin. If you had Iowa and the under, this is one of those games that should end your gambling career.
Stanford @ Oregon (Oregon Money Line)
This was not only the worst beat of the weekend, but could possibly go down as the worst of the year. Oregon went up 24-7 and appeared to go up 30-7 on a Jaylon Redd touchdown, but it was questionably overturned and he was called out at the one-yard line:
At least the Ducks were still on the one-yard line and could quickly punch it in ... or so everyone thought:
Even with this absolutely stunning turn of events, Oregon was still up 10! And the Ducks didn't completely roll over and die even after Stanford quickly scored again to cut the lead to 24-21. Oregon actually answered, taking back their 10-point lead with a TD to make it 31-21 with under five minutes in the game. Stanford came down and scored again, but with three minutes to go, a couple of Oregon first downs would seal it.
The Ducks got TWO first downs, effectively ending the came with 1:35 remaining. All they had to do, literally ALL THEY HAD TO DO was kneel on it. Head coach Mario Cristobal opted against this first-grade level strategy:
What will likely be the dumbest call of the year led to a Stanford field goal to force overtime, where the Cardinal produced some more miracles to stab every Oregon bettor right in the gut:
I don't care how good your team and quarterback Justin Herbert is, this turn of events is basically impossible to overcome. And still, the Ducks almost did, getting into a first and goal situation at the Stanford 10, only to not move the ball another inch and lose in OT. Final score: 38-31, Stanford. Yes I had Oregon. Yes I want to die.