News
The Ryder Cup Radicals Email Exchange: The 'Am I a bad American if I root for Team Europe?' edition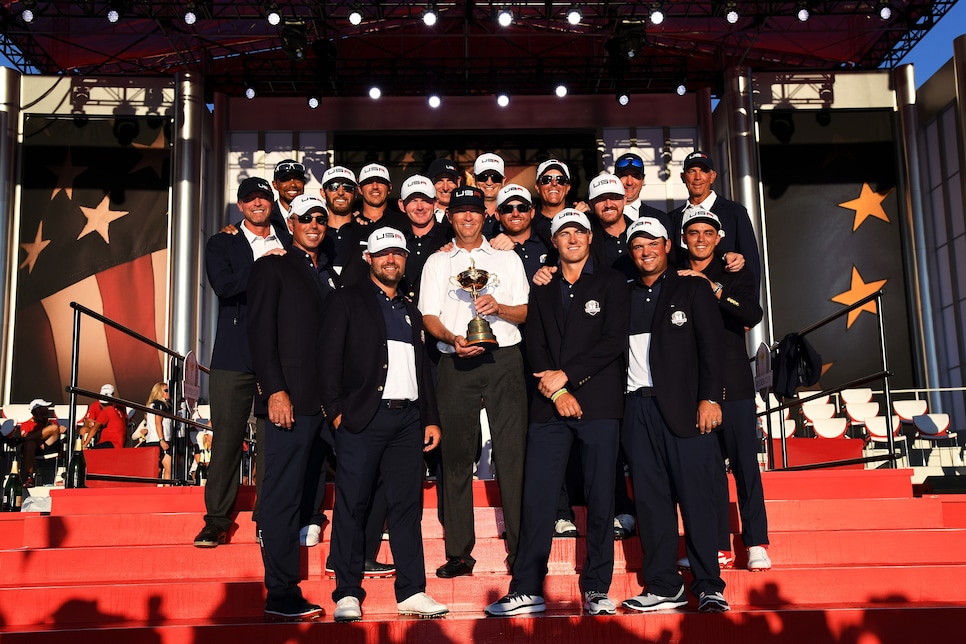 Photo By: Ross Kinnaird/Getty Images
Two men. Two continents. One fixation. Luke and Shane love the Ryder Cup above all else, so we've set them loose to indulge their obsessions, at length, in a series of email exchanges leading up to the showdown in France. Today, they're covering the concept of loyalty, and also whether Phil deserves a captain's pick.
What a week! Brandt Snedeker came out of nowhere to shoot 59, win the Wyndham and throw his hat in the proverbial captain's pick ring. Then on the Euro side, Thorbjorn Olesen nudged ahead of Ian Poulter as the last auto-qualifier in a way that is really, really bad for Sergio Garcia. And I want to discuss these things!
But first, I ask a question brewing in my mind for some time: Am I a bad American if I root for Team Europe at the Ryder Cup?
(Obama voice): LET ME BE CLEAR … I have not decided if I will actually root for Europe. But I am definitely thinking of rooting for Europe, and I want to know exactly how disloyal this would be before I proceed.
Here's the thing—it's a very loosely guarded secret in golf media that on average European golfers are more entertaining, thoughtful and generally easier to deal with. That's not a universal truth, but generally speaking I'd rather have a beer and a chat with a European pro any time. There's also the fact that they're pretty big underdogs this year—at least we think so—and it's always better to pull for the underdog than the juggernaut.
What do you think? Is it OK since it's "only" a golf tournament? Or am I a wretched traitor for even thinking of such a betrayal?
Wow … shameless, knife-in-the-back, slime treachery to your own country. Very bold!
I'm kidding. The truth is, I actually kind of empathize with your predicament because every two years I go through something similar. I was born in New York, grew up in England until I was 13, but have been in America ever since. I've got an English father, an American mother, and a muddled transatlantic accent that sounds American in England, and English in America. I usually default towards Europe, but I'd be lying if I said there wasn't a part of me who was thrilled seeing Patrick Reed go toe-to-toe with Rory in 2016 and win.
But ultimately, Shane, you're American, and as I was reminded at the World Cup earlier this summer: There's nothing worse than American's pretending not to be American. Going around calling it futbol and half-heartedly cheering for Croatia because you quite like that player … what's his name … oh yeah, Luka MAW-DRIK. Ugh. No. Don't be that guy, Shane.
You can like European players, and the good news is that you've got 103 other weeks over two years to root for them. But the Ryder Cup transcends the individual. It's about playing something bigger than that, and representing where you're from. You don't get to choose that, but you can do it proud. Again, it's similar to the World Cup, where I was not presented with an option to root for France—much as I would've liked to be.
So here I stand. A sad, bitter Englishman, but if nothing else, an honest one.
I hear you, and I appreciate your perspective … but I will probably not heed it. Instead, you will stand astride the two continents, and I will use you as a human bridge to clamber from America to Europe. (I should probably re-think this sentence, but let's push on!)
The more likely scenario is that I'll just play it by ear and switch my allegiances 1,000 times depending on who's winning, who's playing in each specific match, and what would make the funniest/best narrative. My only loyalty is to the story, Luke!
(For what it's worth, I put the loyalty question to Twitter, and people mostly called me a traitor.)
Now, let's move on to the drama of last weekend, starting with Europe since their captain's picks situation feels the most complicated. Three things of note have happened in the last few days:
• Olesen overtook Poulter in the automatic qualifying with a great finish in Sweden. (Notably, Rafa Cabrera-Bello also moved ahead of Poulter.) Still two weeks, but in theory it makes things way harder for Sergio Garcia, since Poulter is a lock for captain's pick while Olesen was not.
• Sergio played fine in Greensboro, but Cabrera-Bello was even better. Sergio wasn't good enough to make the FedEx Cup playoffs, so now his choices are to fight it out in Europe for two weeks, or sit at home and pray. (He's not in this week's Czech Masters field.)
• Stenson WD'd from The Northern Trust a day after shooting 64 in Greensboro, and this could either mean he has a serious injury problem or Bjorn assured him that he's locked into a captain's pick, and Stenson decided to rest and stay healthy.
What do you make of all this?
It really is quite interesting. Poll European golf fans a month ago, and the vast majority would've voted to bring Sergio to the Ryder Cup. Now, I'm not so sure.
As you just mentioned, Sergio missing out on the Ryder Cup team required a somewhat unlikely series of dominoes to fall, and that's just what happened. I've been perpetually skeptical of Olesen, but he's been putting his doubters to shame. The guy's had a win, four other top-six finishes and a T-12 in his last nine starts. He may play his way in automatically, but even if he doesn't, I'm not sure you can leave someone whose playing this well off the team.
The past few weeks suggest the most likely scenario is that Poulter, Casey and now Olesen are in—one via an automatic spot and two by way of captain's picks—leaving Sergio, Stenson and Cabrera-Bello for the final two spots. And that's assuming nobody else further down the order suddenly wins something.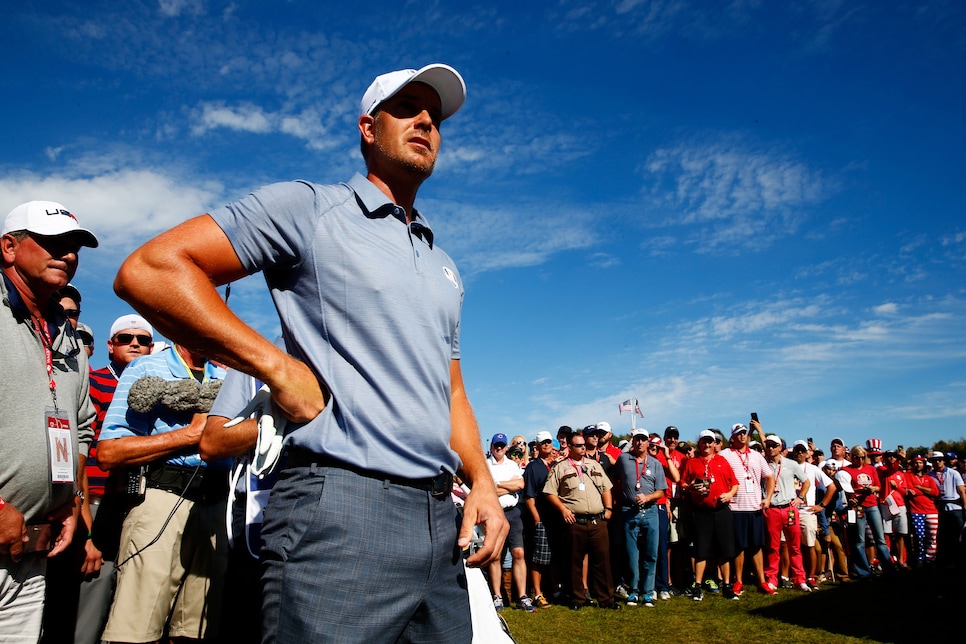 Jamie Squire/Getty Images
Stenson has been a rock for most of the last two years, and even with this injury that's been lingering since the U.S. Open, he's still played and mostly played well. I wouldn't be surprised if there's some wink wink, nudge nudge agreement with Bjorn so Stenson can rest up and get healthy for Paris.
Will Sergio go over Cabrera-Bello? There's no justification based off recent form, and for as good as Sergio's Ryder Cup history is, it's easy to forget how impressive Cabrera-Bello was in 2016 (he won 2½ points in three matches). In short, I think Sergio will be the last one left standing.
But Shane, since you're basically European now, step inside Bjorn's mind and tell me what you are looking for (and hoping will happen) right now?
If I'm Bjorn—and I would really like to be Thomas Bjorn, if only to wear a Viking helmet and stride manfully across the fjords of Scandinavia—I want Sergio to play in Denmark next weekend in a last-ditch effort to impress, crash and burn with back-to-back 80s, and make the choice easy: Poulter, Bello, Stenson, and then … gah, it's still not easy. But for the fourth, I'd look for any excuse to pick Thomas Pieters. He's playing in Prague this week, you have to assume he's in for Denmark next weekend, and if he can follow up his T-6 at the PGA Championship with a strong closing run, I'm picking him. So the short answer is: In my perfect world as Bjorn, I want Pieters to shine and Sergio to stink.
So what about the Americans? There are less moving pieces now that the top eight are set, but that doesn't mean Furyk's decision is any easier. Has Snedeker played his way into your heart? Are you still bearish on taking Tiger and Phil?
The whole Phil Mickelson thing has gone from confusing to just downright annoying. Look, I've always been a Phil guy, but I can only call things as I see them. And looking at the current state of Phil's game, I don't understand why he's anywhere near the "lock" discussion.
Sure, he's Phil. Lots of intangibles and all that. But his game is increasingly littered with a series of alarming statistics: His swing speed is down to 62nd on tour, which has dragged his driving distance ranking down to 75th, and his strokes gained/off-the-tee to 151st. Even his supreme short game can't cover for all those losses. He's currently second in strokes gained/putting (his best ranking since the tour began tracking the stat in 2004), yet his results remain mediocre.
Or consider this: He's had one top 10-finish since March, and while he's only missed two cuts over that same time—at the Players and PGA Championship, which is telling in itself—that doesn't really matter. Chris Kirk is currently on the second-longest made-cut streak on tour (an impressive nine) with a couple top-10s along the way. If that's what Americans want from its Ryder Cuppers, let's get Kirk in the mix! Otherwise, picking a 48-year-old who can't hit fairways and is bleeding distance for one last soiree in Paris is a hard sell. Right? RIGHT?!
No, you're absolutely right, there's no planet on which he deserves a pick beyond the planet where "team chemistry" is over-valued to the extreme. (And even on this planet, we have to conveniently forget that Mickelson staged a mutiny just four years ago.)
I was talking with a few media members at Greensboro last weekend, and one of them raised the possibility of Mickelson becoming a vice captain if he didn't get picked. And all I could think was "hellllll no." If I were Furyk and decided not to take Phil, I'd keep him as far away from the team as I possibly could. I'd show photos of him to every customs agent in France and sick Interpol on him the minute he entered the country.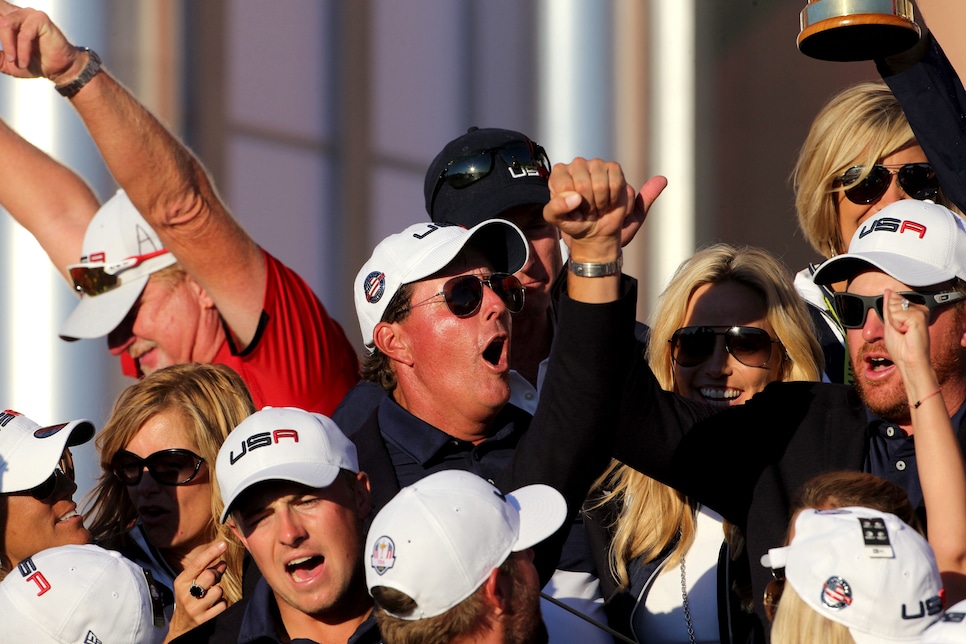 As much as the rest of the team loves Phil, do we really think he's going to swallow his pride if he gets snubbed? The chances of him reprising his '14 shenanigans the minute Furyk does something wrong are about, oh … 95 percent. And yes, this means I trust him less than I trust Bubba Watson, who was in the same position in '16 and was, by all counts, a great addition in his role as vice captain. That's not Phil … not even a little. If you're Aerys Targaryen, you don't let Tywin Lannister into the walls of King's Landing after you've betrayed him.
(Looks around for other Game of Thrones nerds …)
Nobody? Moving on, I'm a little torn about who Furyk should pick. Tiger, obviously, but the other three? In my mind, it depends almost entirely on what happens in the next three weeks. I would basically approach it with the mindset that whoever plays the best between Matt Kuchar, Tony Finau, Kevin Kisner, Snedeker, Bryson Dechambeau, Kyle Stanley and, yes, Phil, would get my last spots. If none manage to distinguish themselves, it becomes an extremely tough task for Furyk, and I imagine Phil would get one of those three picks.
Ah, Shane. You've totally misread the lesson the history of Westeros is trying to teach us. Tywin was waiting for a probable winner of Robert's Rebellion to emerge before casting his vote. When Robert struck the decisive blow at the Battle of the Trident, it finally gave Tywin a political incentive to enter the fight: He needed to prove his loyalty to Robert. Aerys' ultimate mistake was believing Tywin was coming to save him out of loyalty, despite no longer having any leverage over him.
So if Phil is Tywin and Furyk is the Mad King in this Game of Thrones/Ryder Cup analogy that me, you and like four other golf fans are very much enjoying, Aerys Furyk needs to give Tywin Mickelson some ownership in the process. A better title (vice captain), more land (a pod), while floating the potential of more in the future (a captaincy one day?). He could gain a lot by getting in line, but lose so much if he doesn't.
None of Mickelson, Kuchar and Kisner are making any compelling cases to go. (OK, Kisner kinda is, but I think Americans need more than a MC-55-T2-MC-T39-T12 "streak" since the U.S. Open to send him to his first Ryder Cup.) Looking forward to seeing if the playoffs change things, but right now I'd suggest Furyk keeps his eye on Snedeker but prepares himself to pick Tiger, Finau, DeChaumbeau and Schauffele.
And Mickelson as a vice captain, of course.
Previously on The Ryder Cup Radicals: