Instruction
The Open 2021: Why Jordan Spieth and other players are using driving irons so often this week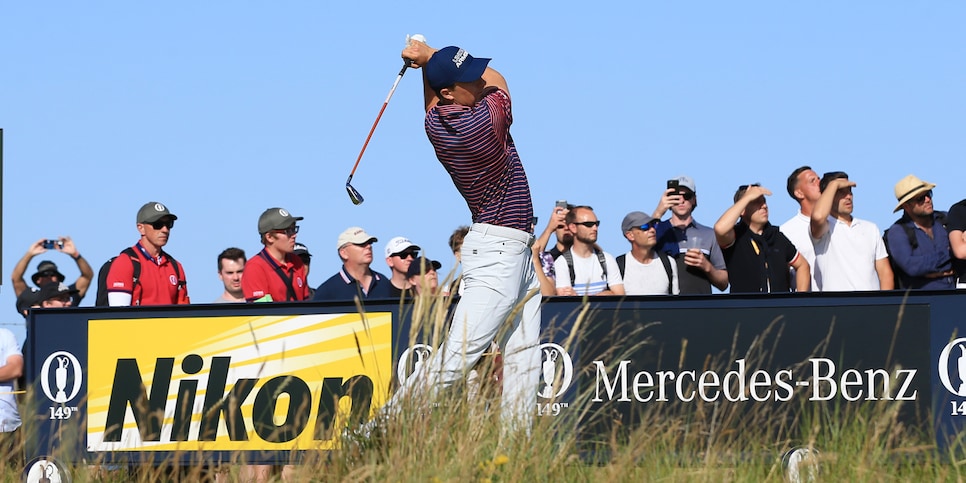 Stephen Pond/R&A/R&A via Getty Images
Week to week on the PGA Tour, the strategy from the tee can be monotonous: Bomb it as far as you can, and hit wedges from the rough if necessary. That can work, but returning to the literal roots of the game at the oldest championship often reminds players that they need more than a hammer in their toolbox.
Bryson DeChambeau tried to bludgeon Royal St. George's into submission, but it has been shorter players like Jordan Spieth, Louis Oosthuizen and Collin Morikawa who have been willing to play for position with driving irons or fairway woods off the tee and have been successful so far.
"I think it's kind of a long-drive wakeup call," says Golf Digest 50 Best Teacher Michael Jacobs, who works with European Ryder Cup Captain and two-time Open Champion Padraig Harrington. "This week, it's a reminder of how the game has classically been played, especially as the course gets a little crustier. Players need to find the fairway and have the right angles, and having two more clubs into the hole doesn't matter."
Of course, Spieth and company have the luxury of being able to hit driving iron runners out there 260 or 270 as an alternative. What does that mean for you—a player who scratches and claws for every yard?
"It's just relative," says Jacobs, who is based at Rock Hill Golf and Country Club on Long Island, in New York. "If you're playing the right set of tees, you'll still see benefit from hitting more fairways, because the reality is that you aren't hitting 14 greens anyway. Ask yourself, would you have a better chance of getting down in three from a perfect lie 170 out or from deep grass 150 away on the short side of the hole?"
A crucial piece to remember? The driving iron (or fairway wood) you pick has to get the same prescriptive attention the rest of your irons do.
"Most players get a club like that as an afterthought, and the loft, head shape and shaft aren't a good fit. You want to get fit for that club just like any other," he says.
"The other big issue I see? Players put the ball on a tee and think they need to make a swing like a driver and launch it, or smash down on it like a mid-iron. It should feel a lot more like a level, sweeping swing with the benefit of a short tee.
"One visual I like is an airplane coming in for a landing. It glides and gently skids the tires instead of crashing to earth. Be like the airplane."