News
The one Ryder Cup skill the U.S. has yet to master
For all the losing the Americans have endured in the Ryder Cup, you'd think they'd know how to do it graciously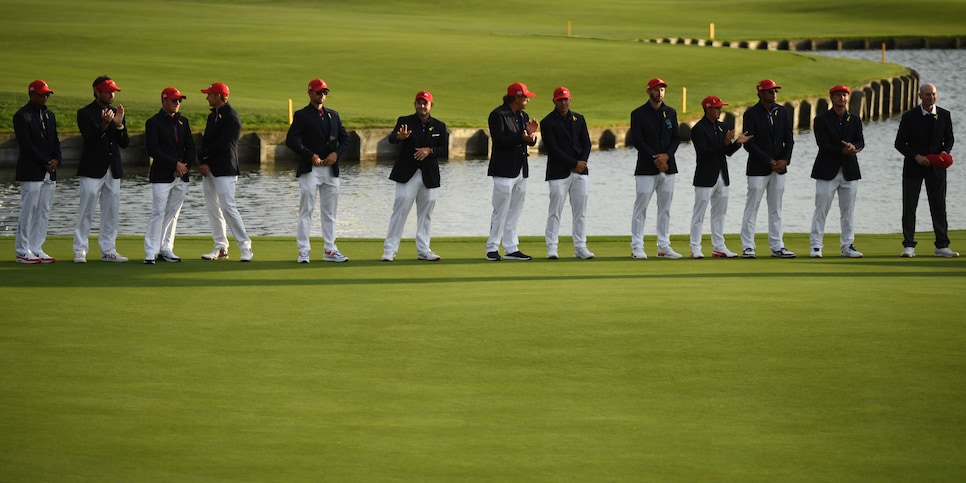 When the United States hammered Europe 17-11 in the 2016 Ryder Cup matches at Hazeltine National, the European team had nothing but good things to say about the Americans.
"I went home and watched a replay on television," Rory McIlroy said later. "As I watched I realized they did to us what we had done to them over the years: They made every clutch putt. They deserved to win. They were better than us that weekend."
On Sunday night, when the matches were over, the Europeans trooped into the American team room to toast their victory and to thank them for being hospitable hosts. There were warm speeches and handshakes and hugs all around.
Then the Euros returned to their own team room and presented a poster signed by all of them to Darren Clarke, their captain, as thanks for all the work he'd done to try to help them win. They then serenaded him with the "Ole" song as a fond farewell to his captaincy.
When the U.S. Ryder Cup Committee—the group formerly known as the Ryder Cup "Task Force"—next meets, here's an item they should add to their agenda: Teach the Americans to learn how to deal with defeat.
Europe beat the U.S. in Paris eight days ago by an almost identical score, 17½-10½, as the Americans margin at Hazeltine. U.S. captain Jim Furyk handled the post-match press conference beautifully, giving credit to the European captain Thomas Bjorn and to the European players, and saying his team had given him everything he could possibly have asked of them.
"They just outplayed us," he said. "They were the better team and Thomas was the better captain."
"No, he wasn't," Rickie Fowler piped up—almost unnoticed.
Fowler wasn't being un-gracious at that moment, he was standing up for Furyk. But from there, it all went downhill, the Americans taking a bad situation and making it worse.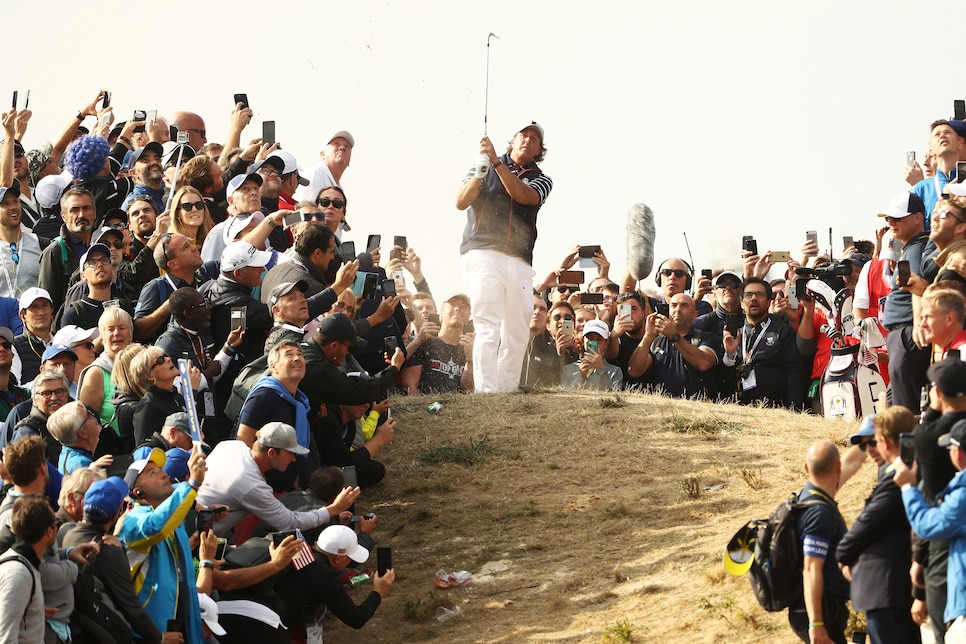 Jamie Squire/Getty Images
It began when Patrick Reed told The New York Times's Karen Crouse that Furyk had "blindsided" him by not pairing him with Jordan Spieth after he and Spieth had played together seven times as a team in 2014 and 2016. He added that one of the reasons Furyk paired Spieth with Justin Thomas and not with him was because Spieth didn't like Reed.
Spieth and Thomas are pals; Spieth and Reed are not. Spieth and Thomas went 3-1 as a team. Furyk paired Reed with Tiger Woods, no doubt hoping that Reed's on-his-sleeve emotions would energize Woods. It didn't work at all—both played poorly—but one could understand Furyk's thinking.
And then Phil Mickelson—as always—opened his mouth. After going out of his way to praise Furyk in the post-match press conference, Mickelson decided to put down the golf course setup at Le Golf National. The fairways were too narrow to hold tee shots hit more than 300 yards, he said. The rough was "virtually unplayable," he added, and said he wouldn't waste his time in future playing on golf courses with this sort of setup.
Reading Mickelson's comments, I almost laughed out loud. During my research for, "The First Major," my book on the 2016 Ryder Cup, I asked Mickelson a few weeks after it was over about a comment Justin Rose had made about how easy the course setup had been at Hazeltine—particularly on Sunday. Rose made it clear that the setup wasn't the reason the U.S. had won, but said, "you would think with 24 of the world's best golfers out there, they would want to challenge us at least a little bit."
Mickelson shot 63 on Sunday—as did his singles opponent Sergio Garcia, in a match that was halved. When I asked Mickelson about Rose's comment, he practically shouted the answer: "It's called home-course advantage!" he said. "We're better putters than they are so why shouldn't we set the golf course up to give our guys a lot of birdie chances? My answer to that would be, 'Deal with it boys.'"
If Europe had a Mickelson on its team, he no doubt would say something like this: "We're better drivers of the golf ball than they are; we handle rough better than they do, so why wouldn't we have narrow fairways and high rough? Deal with it Phil."
Mickelson was awful in Paris. He and Bryson DeChambeau were hammered in a foursomes match on Friday afternoon, 5 and 4 by Sergio Garcia and Alex Noren. Mickelson played so poorly that Furyk sat him out all day Saturday—the same thing Tom Watson had done in 2014 after playing Mickelson twice on Friday, a move that helped led to Mickelson's attack of his captain on Sunday evening at Gleneagles.
Mickelson played a little better in singles on Sunday against Francesco Molinari, but his Ryder Cup ended when his tee shot on the 16th found water and he conceded the match on the tee.
The water was apparently unplayable, too.
In non-Ryder Cup events, Mickelson has been a gracious loser for almost his entire career. But losing the Ryder Cup seems to bring out the worst in him. In 2004, when he and Woods lost twice while paired together by captain Hal Sutton, he blamed the loss on not having enough time to prepare for playing with Woods' golf ball in alternate shot. That didn't explain, of course, their loss in better ball. Twelve years later, he threw Sutton under the bus at a Hazeltine press conference, using that pairing as an example of a captain not giving players enough time to "prepare" for playing together.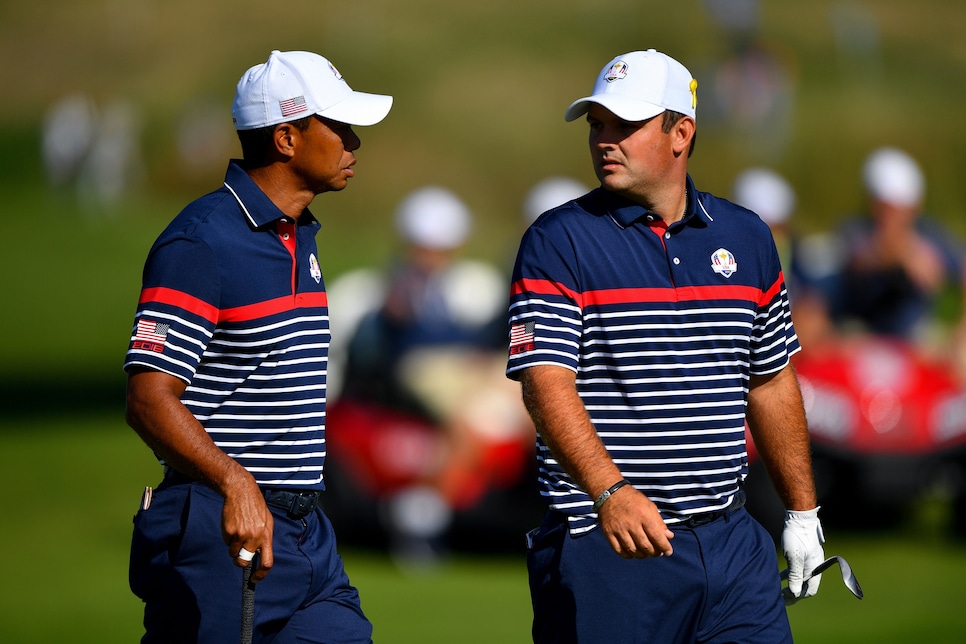 Ramsey Cardy/Getty Images
In 2012, after the American meltdown at Medinah, Mickelson and the entire American team failed to go to the European team room for the traditional toast to the winners. Captain Davis Love III went alone to congratulate the Europeans.
And then came the infamous attack on Watson in 2014, which most people now excuse Mickelson for because it led to the "Task Force," which had solved all future Ryder Cup issues. Because the players had been given more input, they were never going to lose again.
There's no shame in losing the Ryder Cup. After Hazeltine, McIlroy commented that he hated losing, but still loved the week because he loved the camaraderie of the Ryder Cup—on both sides. Garcia said virtually the same thing.
If you look closely at what the Task Force did after the 2014 matches it really came down to this: It recommended copying everything Europe had been doing for years in terms of selecting captains and vice-captains, and took the selection of the captain out of the hands of the PGA president and put it into the hands of the players.
Now, the Americans need to copy Europe one more time and learn how to lose with grace, dignity and class. Being bad losers is the one aspect of the Ryder Cup the Americans seem—sadly—to have mastered.