News
The myth of Keegan Bradley as a good match-play golfer has been thoroughly shattered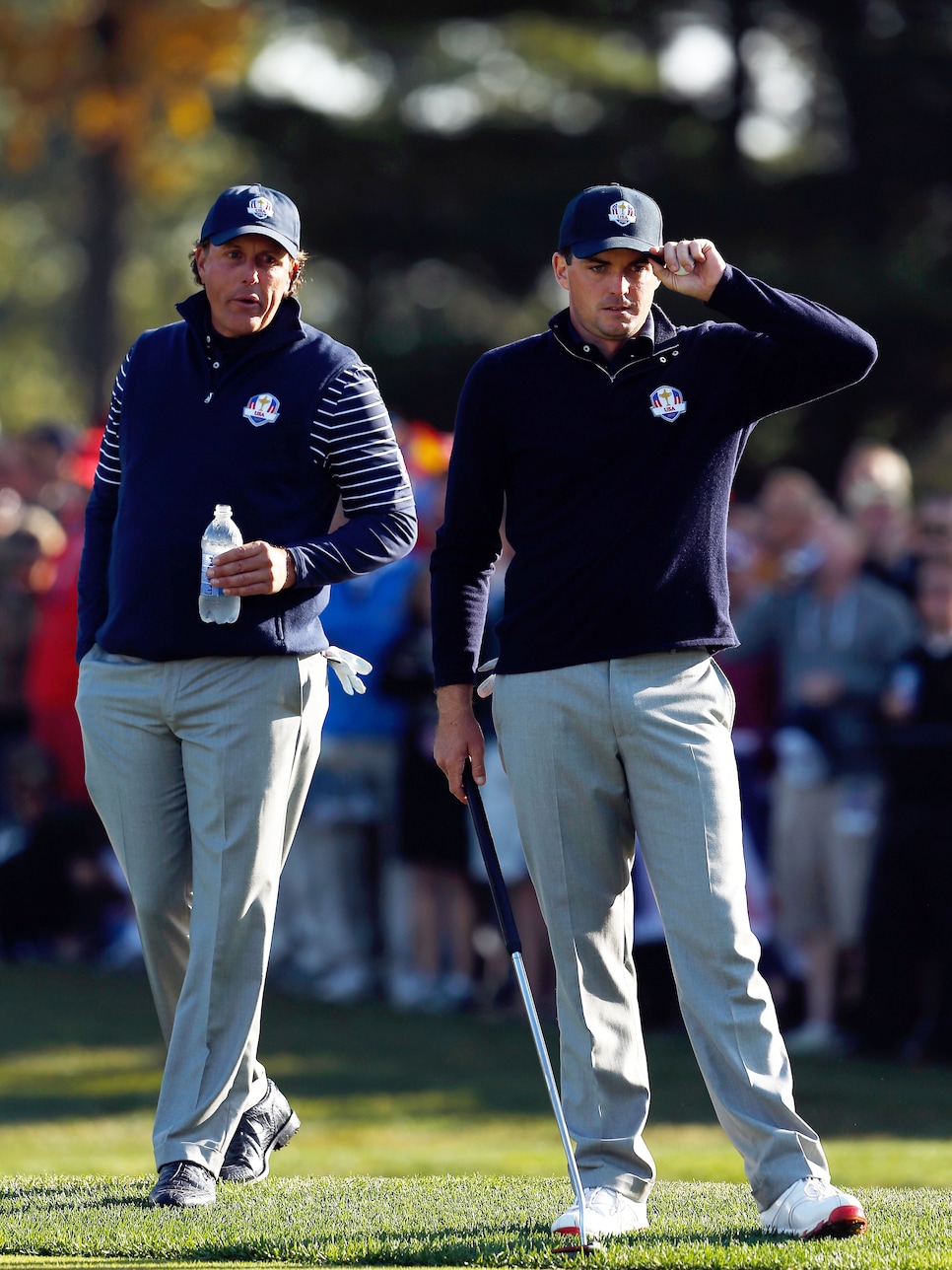 Photo By: Jamie Squire/Getty Images
Over two days at Medinah, Keegan Bradley teamed with Phil Mickelson, his friend and mentor, to win three straight team matches at the 2012 Ryder Cup. Their success was a critical part of the 10-6 lead the Americans took into the final day of play, and Bradley's energy and nerve under pressure became almost iconic for Team USA.
The list of Europeans that Bradley and Mickelson defeated is staggering: Rory McIlroy, Graeme McDowell, Lee Westwood, Luke Donald, Sergio Garcia. Those aren't just five strong players—they're Ryder Cup stalwarts, and Bradley didn't shrink an inch in their presence. In fact, he seemed to relish the challenge, and rise to it. And when the Americans collapsed the next day, many fans and journalists wondered if captain Davis Love III had erred in sitting the unstoppable duo on Saturday afternoon. But though the team lost, Bradley's reputation had been established. Even after his singles loss to Rory McIlroy on Sunday—no shame in that—his role was secure. The bright young star who would carry the banner for his country and his team in Ryder Cups to come.
Perhaps it's inevitable that the success of those two days has lingered in the minds of golf fans. It also might be inevitable that it lingered well beyond its expiration date. Given his play since those three days outside Chicago, it's no longer possible to believe in Bradley as anything resembling a strong match-play golfer. He has been supplanted as the American match play wunderkind by Patrick Reed, but even by lower standards—much lower standards—he has failed to hit the mark.
On Wednesday at the WGC-Dell Match Play, almost six years after his Medinah triumphs, Bradley put a scare into Jon Rahm, the runner-up to Dustin Johnson at last year's tournament at Austin Country Club. After falling 3-down, Bradley roared back to a 2-up lead with three holes to play. But on the par-5 16th, he butchered a short approach shot and took a bogey 6, and he bogeyed again after another poor approach on the 18th, giving Rahm an unlikely half. On Day 2, Bradley took a 1-up lead against Kiradech Aphibarnrat to the 17th hole, only to watch Aphibarnrat sink two straight birdie putts to win the match. It eliminated Bradley from the weekend, and resigned him to an irrelevant Friday match and an early exit.
With Thursday's loss, Bradley's career match-play singles record fell to a shocking 1-10-1. He has lost in every way imaginable, from bad luck to poor play to nervy finishes. He has lost in Ryder Cup singles twice, including the deciding match at Gleneagles. He has lost in the Presidents Cup. He has lost, over and over, at the WGC-Match Play. Most memorably, he lost to Miguel Angel Jimenez in a meaningless Friday match, and embarrassed himself by nearly coming to blows with the 51-year-old Spaniard, who happens to be a very popular player. (According to various unconfirmed reports, the situation grew even worse in the locker room after the match.) Since Medinah, Bradley has had more success when paired with another player, but that's relative to the abysmal singles record—he's 3-2-1 teaming up with Mickelson.
Of course, caveats apply: match-play golf is more arbitrary than stroke play, for one (although 12 matches doesn't exactly qualify as a small sample size). It may be, too, that Bradley has just been playing worse golf overall. He has not won on the PGA Tour since 2012, and when he gets a chance to play match-play golf, it's usually now in the WGC event, matched against higher ranked players. This year, for example, he was the second-to-last player to qualify by the World Ranking, and only then because there were five players ranked ahead of him who pulled out of the event. Yet in theory, at least, the format should give him an advantage over better players, and the skill divide doesn't always explain the way he loses—the inability to close that we've seen in Austin this week.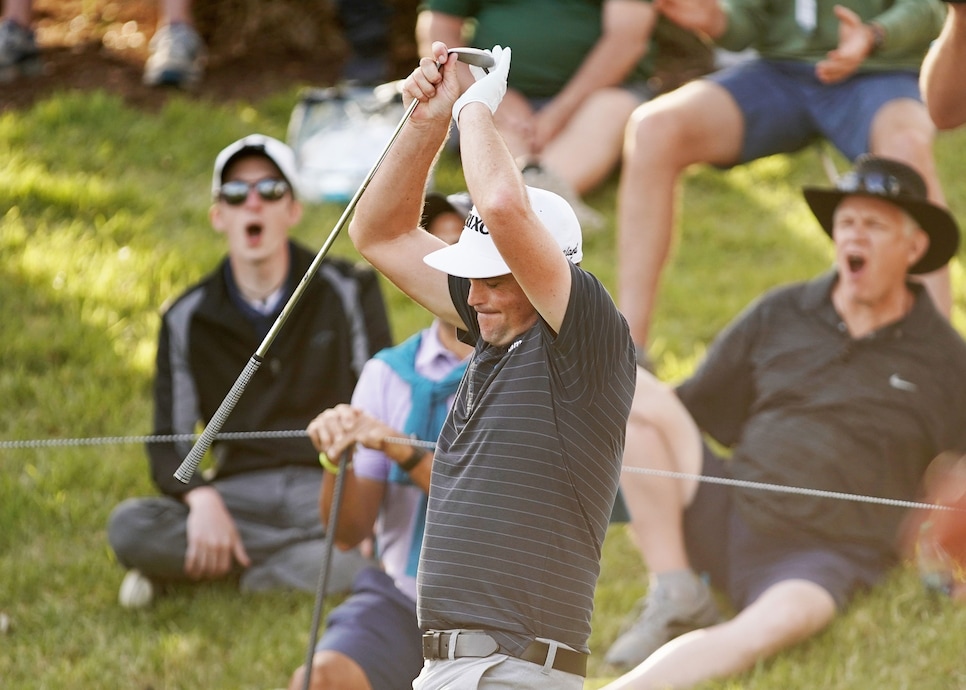 Darren Carroll/Getty Images
The arc of Bradley's career is a strange one. He's one of the few players who has seemingly made the transition from top-level talent to steady journeyman, and he's done it by age 31. And just as he won a very strange PGA Championship in 2011, maybe the stars aligned for him in a very specific way at Medinah in a way that they haven't since. Maybe they aligned too early. Or maybe he's just in a long lull and will fight his way back to prominence, to reclaim the reputation he held six years ago. For now, that appears uncertain.
Medinah earned him a generous match-play prestige in the hearts and minds of golf fans, but that notoriety has faded. Bradley is not a good match-play golfer. He's not even an average one. Reality has flattened the memory, and it's long past due.