News
Are there really 'meaningless' matches at the WGC-Dell Match Play? The players disagree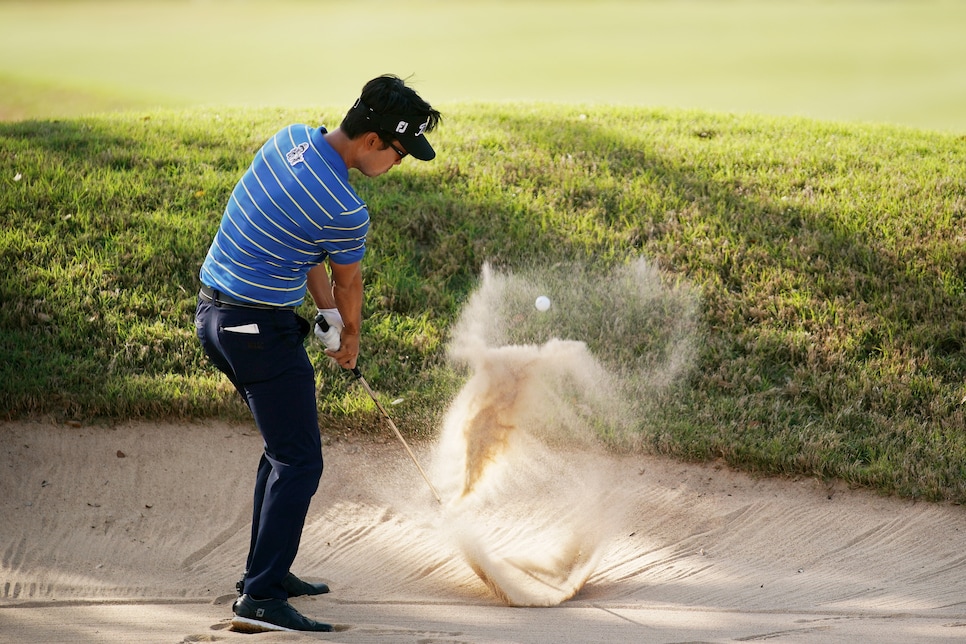 AUSTIN — One of the recurring complaints about the current WGC-Dell Match Play format is that it creates "meaningless matches" on Friday. If a player has been eliminated after his first two matches, the argument goes, there's nothing at stake in his Friday match, and therefore no motivation. Because his match might be important to someone else, however, it follows that it devalues the tournament.
The format was changed from a March Madness-style single elimination event in 2015, and the purpose was to guarantee at least three matches for the top players in the world, and hopefully produce better match-ups in the elimination round. On the latter front, it has succeeded brilliantly, and the proof is in the pudding: The first three champions in the new format were Rory McIlroy, Jason Day and Dustin Johnson, and we've seen players like Jon Rahm, Louis Oosthuizen, Phil Mickelson and Brooks Koepka in the quarterfinals and semifinals. There hasn't been a dud since 2015, and there were several rough years before the transition. Even if certain Friday matches are "meaningless," and there's some (very simple) mathematical calculation to contend with, it's worthwhile in the end if it produces a sparkling weekend.
But the question I wanted to answer was: Are the Friday matches truly meaningless? Or do they have inherent value even for the players who have been knocked out?
Rather than stop a player who had just been eliminated—those aren't the easiest interviews, or the most productive—I sought out players who had been in the position before, and could look back with a little perspective. (The one player I asked who had been eliminated this year, Gary Woodland, was under the wrong impression that he still had a chance.)
In the 2017 event, Jason Dufner was out of contention after two days—he halved with Patrick Reed and lost to Brooks Koepka—but he immediately disagreed with the word "meaningless" to describe his Friday match.
"There's definitely something at stake," he said. "More money."
It's true—for prize money purposes, players are ranked like any other event based on their final record, and even the difference between 0-2-1 and 0-3 could mean thousands of dollars. And that's just for a single weekend. Depending on how the Friday match plays out, the effects could linger and magnify as the season progressed.
"It always means something," Dufner said. "I made the FedEx by one point last year, the top 30, so it meant something."
The other point Dufner made is that a Friday match with no chance to advance at the Match Play is no different than being out of contention on the final round of a stroke-play event.
"I mean, it's hard to find any motivation when you're in 70th place on a Sunday, too," he said.
Rory McIlroy, who found himself in the meaningless match position in 2017 (a year after making the semis, and two years after winning), disagrees with Dufner. When I asked if he agreed that the match is "meaningless," he was emphatic.
"I definitely agree," he said. "Knowing that you are playing a match that you might get two more FedEx points and $20,000 or whatever it is. It's tough. It's hard. You try to go out with the mindset that … it's a good round to take advantage of trying different things, bits and pieces. That's the tough part about it. There's going to be guys going out there tomorrow that would really just want to be on a plane tonight going home."
I brought up Dufner's point, and asked how if it was any different from being way out of contention on Sunday in a stroke play event.
"Yeah, because at least in a stroke-play event you can go out and shoot 62, 63. And you move up 50 spots and all of a sudden it's a top-20 and you feel good about yourself. Here it's not quite the same."
Paul Casey faced Jason Day after having been eliminated in 2016, and conceded the match after six holes due to a stomach virus that had been bothering him all week.
"It's tricky," he told me. "It's not technically meaningless because obviously we're playing for a lot of money and FedEx points and that matters at the end of the day, but it's frustrating when you know you can't possibly win the golf event. None of us turn up here to gain some points. It's to try and win an event. Maybe there are some boys that turn up to get some points, I don't know. But it's not me."
He was even more emphatic than Rory when pointing out the difference between a Friday match at the WGC and a Sunday from the bottom of the leaderboard at any stroke play event.
"At least on a Sunday you go out there and blitz," he said. "I've had Sundays where I have been first out. I remember one year in Switzerland, I went out first twosome, one guy in front of us, I shot 64. The wind picked up, I finished top ten. I won a watch for low round of the week and I got a kiss from Cindy Crawford because she presented it. It was a great Sunday."
A moment later, he clarified that because the tournament was in Switzerland, he actually got three kisses from Crawford.
Finally, I spoke to Justin Thomas, who was eliminated after day two in 2016 following losses to Dubuisson and Donaldson. He aligned more with Dufner, though the instinct to win was his primary motivation.
"It's definitely not meaningless, at least for me, I'm too competitive to just take a loss," he said. "I'd have a hard time just going out and saying I don't care what happens today. You're still playing for FedExCup points. I found that out my first year when I somehow managed to get no points and no world ranking points at a World Golf Championship, which is pretty impressive when I went 0-for-3."
But he agreed with McIlroy and Casey that it's not the most inspiring scenario, and that a Sunday round in stroke play is preferable.
"In a stroke play event you can shoot 9- or 10-under and finish top-15 or top-10," he said. "Here you're not going to finish any better than 35th or something. So that part is tough. But I get the comparison. They're both hard to wake up for."