The Match
The Match 2022: We broke down the games of every player. Here's who has the edge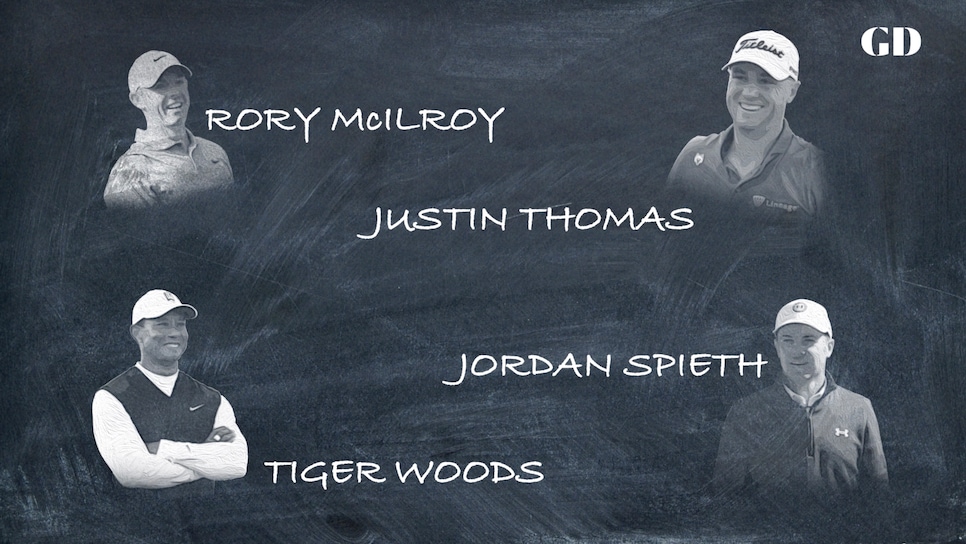 Four of the best players on the planet today, and in the case of Tiger Woods, perhaps the best of all time, will compete at Pelican Golf Club on Saturday evening. They all have a natural chemistry, too: Tiger has described JT as being like a family member and has grown very close with Rory. JT grew up playing golf with Jordan Spieth, and the two are now partners in team matches, and JT is also friends with Rory.
It's not just a recipe for great golf, but for some natural, entertaining banter. So ahead of the contest, we wanted to take a closer look at each of the players' games, and what to pay close attention to during The Match.
Rory McIlroy was back to his best form this season, much to the delight of golf fans. The only thing missing from his 2022 resume was a major championship victory. It's an unreasonably high bar, but that's part of the territory when you're as talented as Rory.
When to get excited: Rory's a natural drawer of the golf ball. He specializes in the kind of shot the rest of us dream of: Sending a high, low-spinning right-to-left draw down the fairway. But in many ways, his fade is a better indication of whether he's got his best stuff that day. It doesn't go as far, but that extra spin helps him keep the ball in play and gives him a very reliable tool to lean on.
Red Flag: But the fade doesn't always work, which is why it's worth paying close attention. Occasionally, Rory will hit a wicked double-cross, usually when he doesn't commit to the shot and lets his hands turn over too fast. If his fades start missing left, Rory's not at his best that day.
Rory's playing partner, Tiger Woods, will be making his much-anticipated return at The Match, his first round in the public eye since The Open Championship after his WD from the Hero World Challenge last week. At this point, we're just happy we still get to see the legend play.
When to get excited: When Tiger is at his best, he's moving the ball around subtly in every direction with his irons: High and low, left and right. He might turn to one shot more than others based on the course in front of him—and he can shoot a good score that way—but when Tiger has control over his game, he's relying on a wider range of shots.
Red Flag: The wince, plain and simple. The golf cart should help with this, but when Tiger starts hurting, his range of motion suffers. He can't load his trail hip, which means his golf swing tends to get steep. He hits a combination of low pulls and severe cuts when this happens. We'll see how his nagging injuries affects his game pretty early on, plus the competitive rust is absolutely a factor.
Jordan Spieth showed inklings of getting back to his best form in 2022 with his win at the RBC Heritage, a 5-0-0 showing at the Presidents Cup (while paired with JT), plus two runners-up at the AT&T Pebble Beach and AT&T Byron Nelson. Sporting an eye-catching new practice swing, it's a feeling that works for him.
When to get excited: Jordan Spieth is an elite scrambler around the greens, and this shows up especially on mid-range birdie and par putts. When he starts running hot from that 8-to-15 feet range (which happens more often for him than others), watch out. It can bail him out of trouble during the bad ball-striking days and can help him run up on the margins on the good ones.
Red Flag: Jordan Spieth's practice swing move, for whatever reason, has helped eliminate his right miss. Two seasons ago Spieth missed fairways to the right about 18 percent of the time. Last season, that was down to about 13 percent, and he gained strokes Off The Tee for the first time in four seasons. If he loses drives right, he'll really need his short game to bail him out.
Justin Thomas is the kind of player who seems best suited to thriving in this setting. Rather impressively, he also keeps getting better each year. He added another PGA Championship to his resume this season, and he's a more mature, multi-dimensional player than when he first lifted that trophy.
When to get excited: Similar to Tiger, whose advice about learning to work the ball more he took to heart. But JT is a more severe shotmaker than his mentor Tiger. When he's at his best, the curve of his shots in both directions gets amped-up. It makes the shot tracer look super charged, and it's a joy to watch.
Dos and Don'ts of Betting The Match
Our Christopher Powers offers some tips and tricks for betting on the upcoming iteration of The Match.
Red Flag: The only potential red flag to watch out for during The Match is if his up-and-down putting runs cold that day. Thomas is so good from tee-to-green that he always gives himself opportunities to make birdies. When he goes low, it's because his putter allows him to take advantage of those opportunities.