Viewer's Guide
Everything you need to know about The Match under the lights at Pelican Golf Club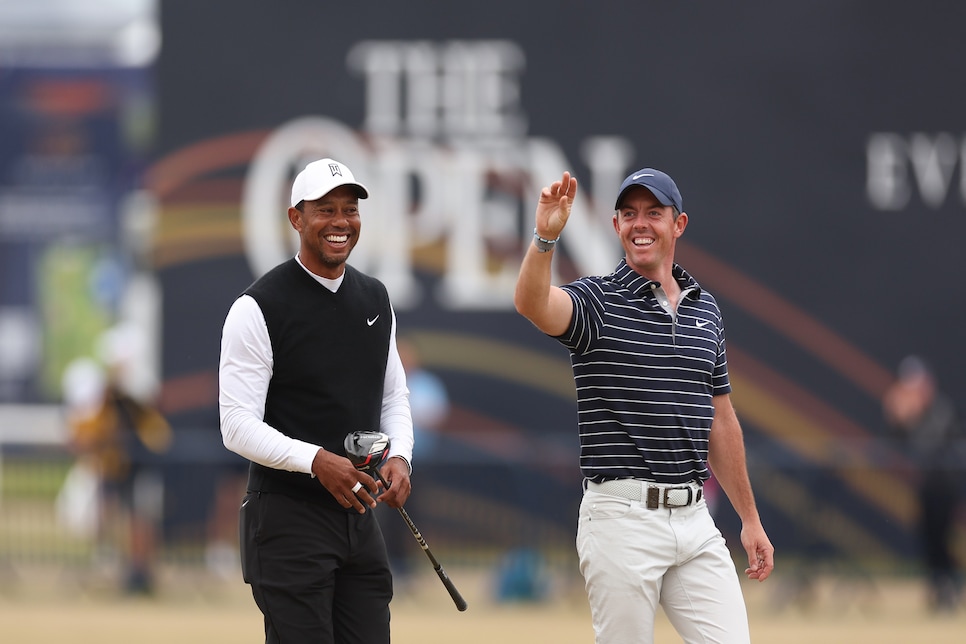 Despite his latest health-related setback, Tiger Woods will play golf this Saturday. We repeat: Tiger Woods will play golf this Saturday.
And while it's not in a real-deal, 72-hole tournament, it will be Woods like you've never seen him before—under the lights, in primetime, alongside teammate Rory McIlroy and the opposing two-man squad of Justin Thomas and Jordan Spieth. It will be the seventh iteration of Capital One's The Match, a series of made-for-TV match-play events that has previously featured Woods facing off with longtime rival Phil Mickelson, Bryson DeChambeau and Brooks Koepka going head-to-head amid their "beef," and, in the most recent edition, NFL quarterbacks Tom Brady and Aaron Rodgers teaming up to defeat Patrick Mahomes and Josh Allen.
Here's everything you need to know about The Match.
The two-man teams for The Match are World No. 1 McIlroy and 15-time major champion Woods versus reigning PGA champion Thomas and three-time major winner Spieth.
The format is best ball, meaning each player on each team plays his own ball throughout the round and lowest score of the two players counts as the team score on each hole. For example, if Woods makes a 4 and McIlroy a 3, McIlroy's 3 is their score for the hole. The team with the lowest score on a hole wins that hole. It is only a 12-hole match, which means if one team takes a 3-up lead after 10 holes, the match is over.
Coverage will begin live on TNT at 6 p.m. ET, on Saturday. Simulcasts also will be available on TBS, TruTV and HLN, in addition to expansive content available across Bleacher Report's platforms leading up to and during the competition. Programming will begin with "The Conversation presented by Deloitte," a roundtable discussion with Woods, McIlroy, Thomas and Spieth hosted by Brian Anderson, who will be calling all the action along with NBA legend Charles Barkley, former Masters winner Trevor Immelman and sports reporter Kathryn Tappen. Preview coverage for The Match will begin immediately after the roundtable dicussion at 6:30 p.m. ET.
For fans looking to check in even earlier, the "Hot Seat Press Conference" will be available at 5:30 p.m. ET on the Bleacher Report app. It will be hosted by former tour pro Smylie Kaufman feature questions field from fans across Bleacher Report's social channels and the B/R app.
Dos and Don'ts of Betting The Match
Our Christopher Powers offers some tips and tricks for betting on the upcoming iteration of The Match.
The Match is being held at Pelican Golf Club in Belleair, Fla., which has hosted the LPGA's Pelican Women's Championship for the past three years. Sei Young Kim won the inaugural edition of the event in 2020, while Nelly Korda has won the tournament in each of the last two seasons, including this past November's edition, which was shortened to 54 holes due to Tropical Storm Nicole.
The course was originally designed by Donald Ross in 1925 and recently restored in 2019 by Beau Welling and his team to reflect Ross' original vision. Like many Ross courses, Pelican is quite forgiving off the tee but is defended by the small, undulating greens.
All four golfers will make a series of donations via special challenges to Hurricane Ian relief efforts after the devastating effects of the late-September storm on the Gulf Coast and its surrounding communities.
There will be five special challenges that will generate donations from the players. On the third hole will be a closest-to-the-hole competition sponsored by DraftKings Sportsbook for up to $1.1 million. At the ninth hole there will be another closest-to-the-hole challenge sponsored by UnitedHealthcare for up to $1.1 million. There also will be a one-club challenge (every player can only use one club on the entire hole) at the fourth, which is sponsored by Capital One, for up to $750,000. Finally, there will be two hole-in-one challenges at the fifth and eighth holes, one sponsored by USAA Insurance and one by Tito's Handmade Vodka. If an ace is made on either hole, $2.5 million will be donated on the team's behalf, and if no hole-in-one is made, $250,000 will be donated on behalf of the team that wins the hole.
The forecast for Saturday evening calls for temperatures in the low-to-mid 60s with clear skies early and the possibility of a few clouds later on. Winds will be light and there is a less than 10 percent chance of precipitation.