The Loop
The Lansing Lugnuts' "Backyard Baseball" night is the promo idea to end all promo ideas
Many believe part of the reason for baseball's dip in popularity is due to those pesky millennials that seemingly ruin everything. As a millennial who loves baseball and has the patience to sit through a nine-inning game in person or on TV and appreciate all of the game's subtle nuances, I can still admit there's probably some truth to that. How to fix it I'm not sure, but the Lansing Lugnuts might have solved that problem for at least one night with a promo idea to end all promo ideas.
On August 18, the Lugnuts, the Toronto Blue Jays Class-A affiliate, have scheduled a "Backyard Baseball" night, which has feelings of nostalgia coursing through my veins and everyone else born after 1990's veins who had a computer in their house growing up. That's right, a CPU, with a mouse, and wires ... wires as far as the eye could see:
To say this was the GOAT of computer games growing up may be selling the game short. Hundreds, no, thousands of hours were logged playing this game, as well Backyard Football, a game I may have rushed for 10,000 yards in a season playing with Barry Sanders. But the original game created by Humongous Entertainment was Backyard Baseball, and the star was none other than Pablo Sanchez, also known as "The Secret Weapon":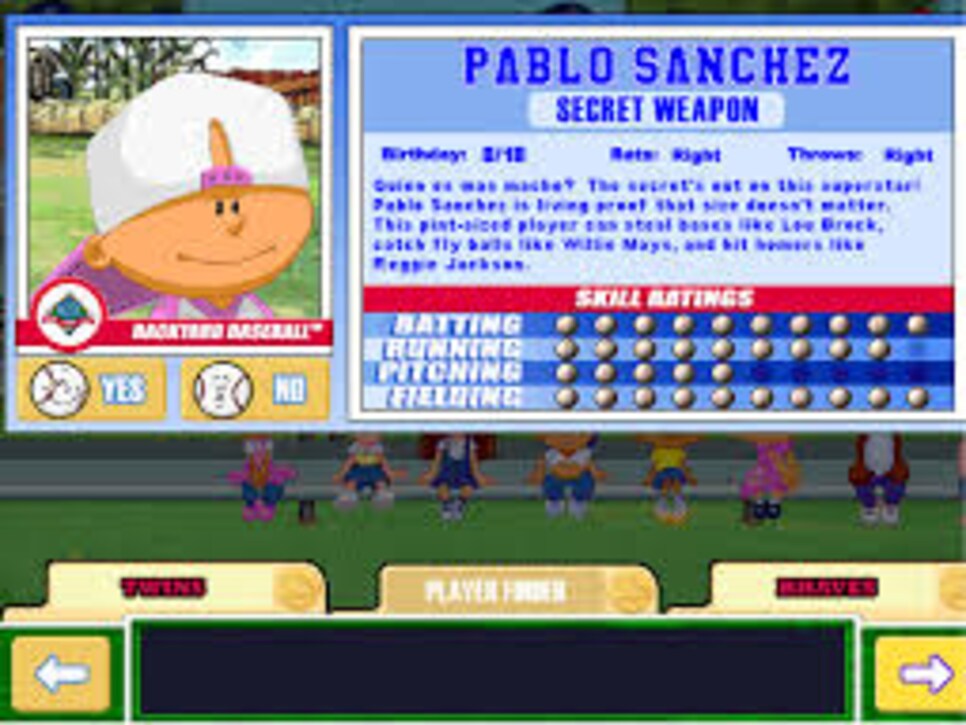 If anyone were to make a "Most Unfair Sports Video Game Players Ever" list, which I'm sure someone has, it would go 1. Pablo Sanchez in Backyard Baseball, 2. Mike Vick in Madden 2004 and 3. Jon Dowd in MVP Baseball 2005 (also known as the character EA Sports created in place of Barry Bonds because he didn't allow the players association to use his likeness). Speaking of Barry Bonds, Pablo Sanchez may have been a more-feared hitter in the box than Bonds ever was. Simply put, when Pablo swung the bat, the ball was leaving the park. Everything he's ever done is the stuff of urban legend, like this video on YouTube of him hitting a 723-foot home run that somehow has over 40,000 views.
That's why this promo from the Lugnuts is such a home run (#PunLyfe) for millennials everywhere, because if you ever played any of the Backyard series of games you know who Pablo is, and you can received a bobblehead version of the legend if you're one of the first 1,000 fans through the gate on August 18. Or you can by the bobblehead package that the Lugnuts tweeted out this morning, likely because of the positive response they are receiving for the idea:
Another nice touch is that the Lugnuts will be changing their name to the Wombats for the night, which, as any Backyard series expert knows, is one of the names of the generic teams you play against during a season. The Wombats won the fan vote over other generic gems like he Melonheads, Bombers, Fishes and Monsters. Excellent job by the Lugnuts on this idea, one that probably (definitely) came from a millennial's brain. See? We're not all bad.