The Loop
The cancelation of Serena vs. Sharapova is the cruel sports tease of the week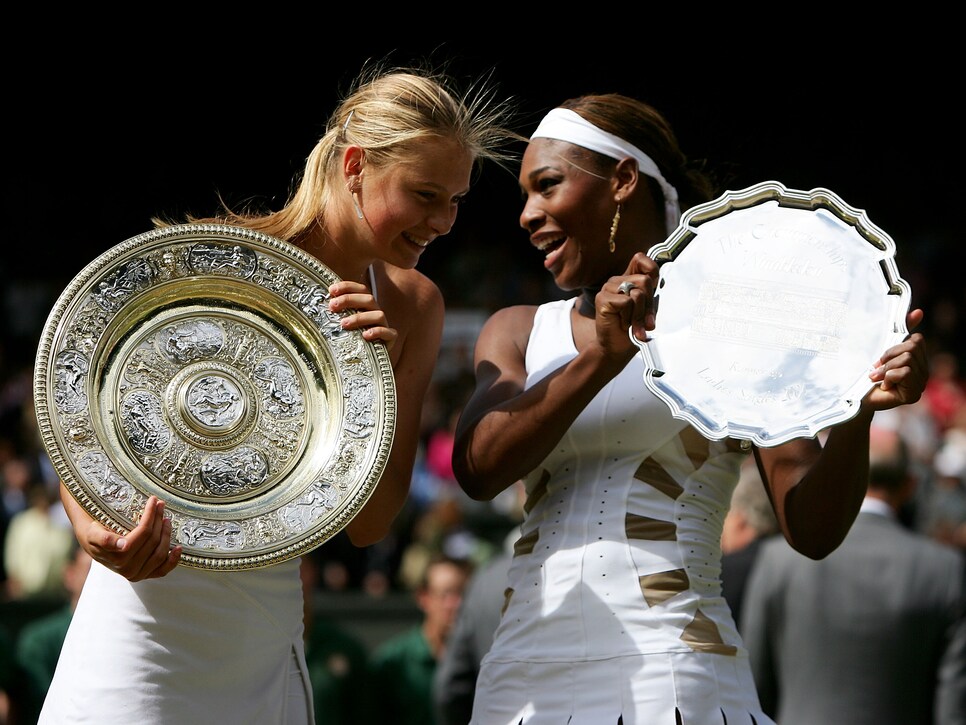 This morning, I'm one devastated tennis fan. Life is better when there's a grand slam happening, so there should be nothing to complain about on the second Monday of the French Open. And yet, the best match-up of the whole fortnight—Serena Williams vs. Maria Sharapova—has been canceled due to Serena's arm injury.
We needed this. It was going to be a bitter grudge match. It was going to be Sharapova's best chance to beat Serena in 18 matches, and there's an angry part of me that thinks Serena knew this, and hates Sharapova so much that she dodged her. I know that's ridiculous, and wrong, but this is what happens to my brain when a match like this is stolen from me.
Let me explain what we're missing, and why this is so cruel.
It starts with a story that's extremely sad. When Maria Sharapova was 12 years old, she trained at an academy in Florida. One day, the Williams sisters were scheduled to stop by for a practice session. It was a big deal, and though Sharapova was just as intrigued as everyone else, she didn't want them to know she was intrigued. As the New York Times Ben Rothenberg wrote in a review of her 2017 memoir, this was her solution:
While many gathered to watch, Sharapova did not want to give the sisters the satisfaction of seeing her in the stands — even though they would have had no idea who she was at that point. "I'd never put myself in the position of worshiping them, looking up, being a fan," Sharapova writes. Instead, Sharapova's father found a clandestine spot for her to watch: inside a shed, hidden from view. "I could watch through a kind of knothole — just me alone, in the dark, seeing the next 20 years of my life," she writes.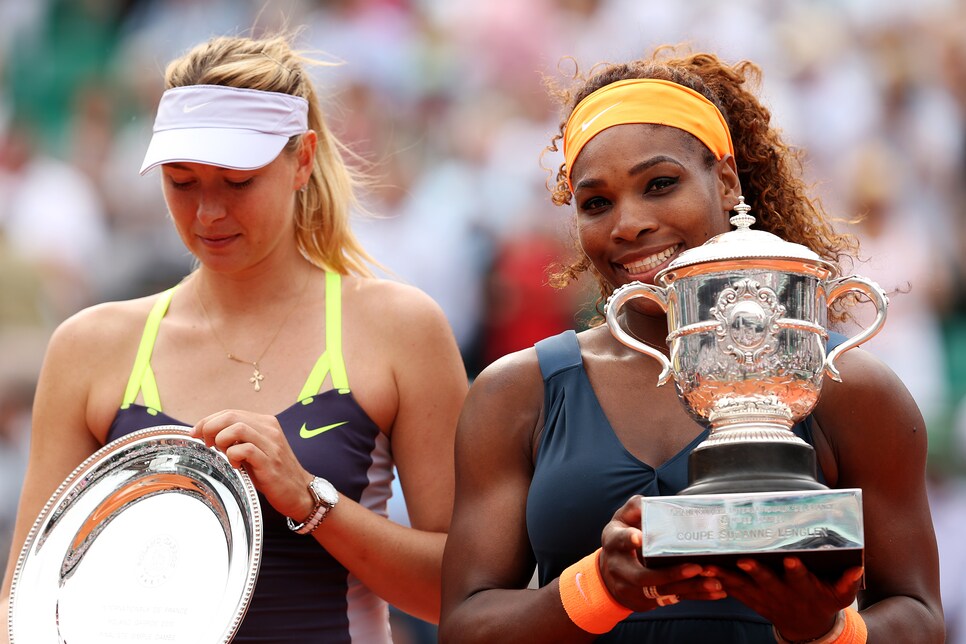 Now—that's a bit odd, but also understandable. She was a kid with a dream, and she saw them as threats. The fact that her father aided and abetted this subterfuge is more worrying, but we already know he was one of those nightmarish sports dads who wrenched Maria from her mother at a young age and made her childhood miserable. What's really fascinating about the anecdote is how—as Maria is self-aware enough to know—it telegraphed a lingering obsession with the Williams sisters, and Serena in particular.
In fact, that's not all she wrote about Serena in her book. Here she is on the 2002 Wimbledon champions' ball, when she alone refused to stand when Serena, that year's champion, made her entrance:
"I wanted to get up, but my body just would not let me. It was as if I were stuck in that chair, staring at Serena through the crowd of people, with a single thought in my head: 'I am going to get you.'"
On their first meeting, in 2004:
"She seemed much older than me in Miami. This was just before I turned 17. She was a grown woman, experienced, the best player in the world. It still feels that way. Even now, she can still make me feel like a little girl."
And then, most tellingly, on hearing Serena cry in the aftermath of their 2004 Wimbledon final, which Sharapova won:
"Guttural sobs, the sort that make you heave for air, the sort that scares you. It went on and on. I got out as quickly as I could, but she knew I was there."
That match was a significant point in their careers, because from then on, Serena simply didn't lose. And it's worth making the point now that Sharapova-Williams is emphatically not a rivalry. Sharapova beat her again that year in the WTA Championships, but after that loss, Serena has won the last 18 matches in a row. Eighteen in a row!
Sharapova is unusually open about her feelings toward Serena, and for every time she makes it clear they are not friends, there's another time where she compliments the woman who has become the greatest of all time. But she's not above the occasional passive-aggressive remark. Here's how she explained the reason for Serena's dominance:
"I think Serena hated me for being the skinny kid who beat her, against all odds, at Wimbledon."
In this attempt at mind-reading, there's also a buried insult—the assertion that Sharapova is the skinny one, the beautiful one, the blessed one, while Serena is the ugly duckling fueled by her resentment.
This, I think, is a laughably incompatible with reality—Serena is mostly beloved, Maria is viewed with suspicion at best and disdain at worst. But it's an instructive observation, because it shows that Serena represents an idée fixe in Sharapova's mind, and she spends at least part of her mental energy inventing rationalizations for the woman who personifies her greatest professional failure.
As befits the superior player, Serena says much less about Sharapova, and speaks in the generalized terms of the one with the upper hand. (On Sharapova's book: "I didn't know she looked up to me that much or was so involved in my career," she said, when asked about Sharapova's book.) That said, she is not above taking the odd pot-shot, as on Saturday when asked to compare their recent comebacks:
"We are both on a comeback—for two totally different reasons."
Serena, of course, is returning from having her first child, while Sharapova was banned for 15 months after failing a drug test. Serena's remark is the kind that looks vaguely innocent on the surface, but carries a sharp edge. Don't you dare compare us, she's saying, and she's not wrong. (Also, as she proved when she brought up a nine-year-old grievance on Sunday against a virtually unknown player, she's not one to forget even a minor slight.)
All that said, Sharapova had a real shot this time. Serena, 36-year-old 23-time grand slam champ, survived on grit and experience through the first four rounds at Roland-Garros, and still seemed a step slow. Meanwhile, Sharapova looks better all the time, and has put together a solid clay season that could culminate in a Grand Slam victory.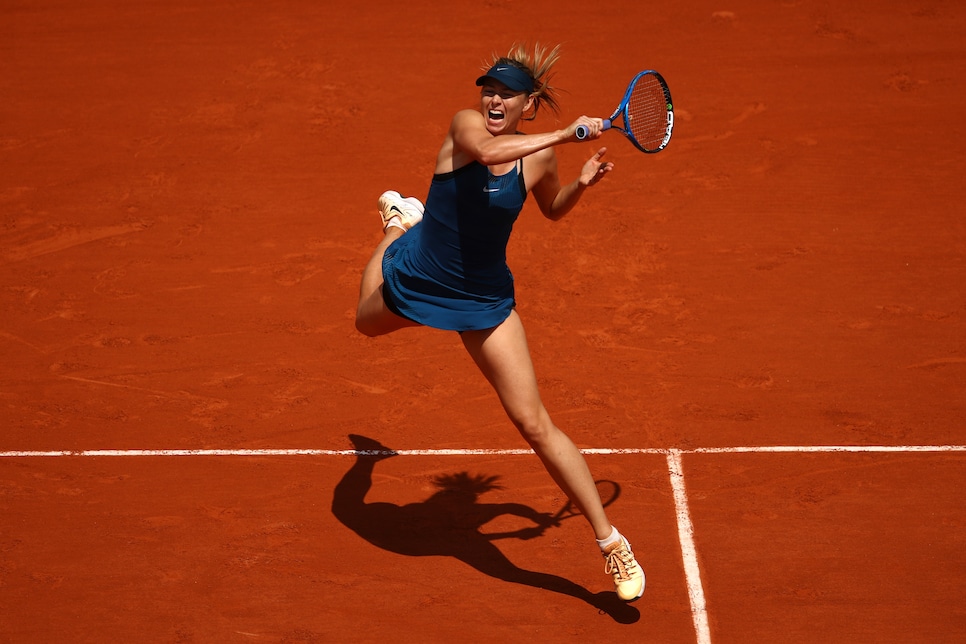 I wrote last year about how two young American women, Sloane Stephens and Madison Keys, shared one of the most moving sports moments of 2017 after their U.S. Open final. Stephens, the champion, embraced a crying Keys at the net, and comforted her in a way that showed true empathy—all while she could have been celebrating her first major.
That's not Sharapova, and that's not Williams. They are both competitive to a pathological degree, they are both a little bit mean on the court, and any chance of sympathy between the two iced over years ago. They can't stand each other, and Sharapova's sense of envy and bitterness in particular began when she was just a girl. They would have brought the hostility of two decades with them, and showdowns like these transcend words like "riveting" and "epic." This could have been tennis at its most painful, and its most cathartic.
Instead? We got an arm injury and a press conference. It's worse than rain.
The "Just Admit You Goofed, Bro!" Athlete of the Week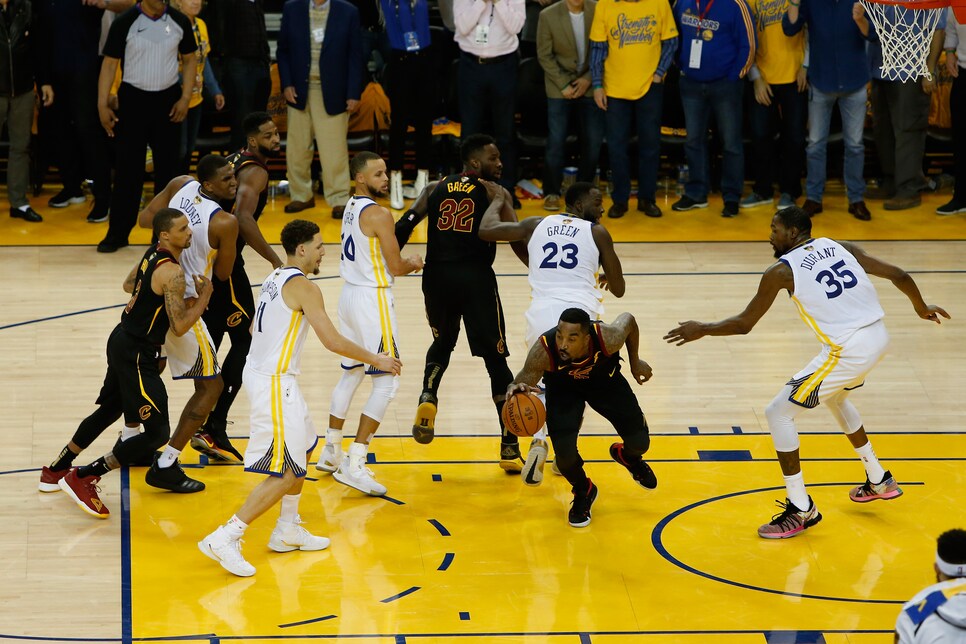 Look, we all know what happened with J.R. Smith, right? In game one of the NBA finals, he snagged a big offensive rebound after George Hill missed a potential go-ahead free throw, and instead of shooting, he tried to dribble out the clock. He obviously didn't understand that the game was tied, as he essentially proved by mouthing "I thought we were ahead" to LeBron. Which is why LeBron made this face at him:
Frankly, it's one of the all-time basketball blunders, and makes it nearly impossible for Cleveland to win the series. So I get wanting to lie and exonerate yourself. But also, you have to know that it's going to sound really stupid. Here's what J.R. had to say:
"It was a tie ballgame and we had a timeout. I tried to get enough space because, obviously, KD was standing right there. I tried to get enough space to bring it out to maybe get a shot off. And then I looked over at Bron, and he looked like he was trying to call a timeout. So I stopped. And then the game was over."
"No, I knew we were tied. It's just, I thought we were going to take a timeout because I got the rebound."
It's self-evident to anyone who watched the play that this is bogus. Also, someone should tell J.R. that if you think your team needs a timeout, there's this rule in the NBA where you can call it yourself.
I know we live in zero-accountability world, where saying the words "I made a mistake" has become the ultimate taboo, but still...I'd love if one time, just once, a famous player screwed up and then copped to it. Why do they always have to keep digging?
Tragic Man of the Week: Michael Wacha, Cardinals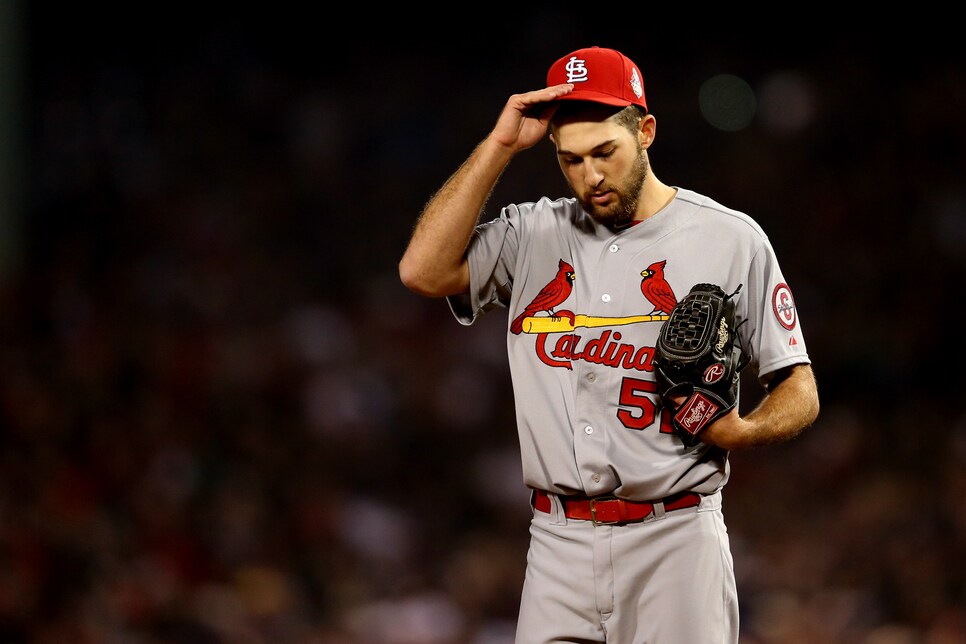 Wacha has now taken a no-hitter into the ninth inning twice—once in 2013 and once on Sunday. Here's what happened in 2013, with two outs in the ninth:
That's the worst "hit" ever. That's not fair!
Here's what happened Sunday:
That's a little better. Not much, but a little. Still, Wacha is deeply unlucky, and you should feel sorry for him while simultaneously mocking Cardinals fans, who are the worst.