The Loop
Sloane Stephens and Madison Keys had the best sports moment of the year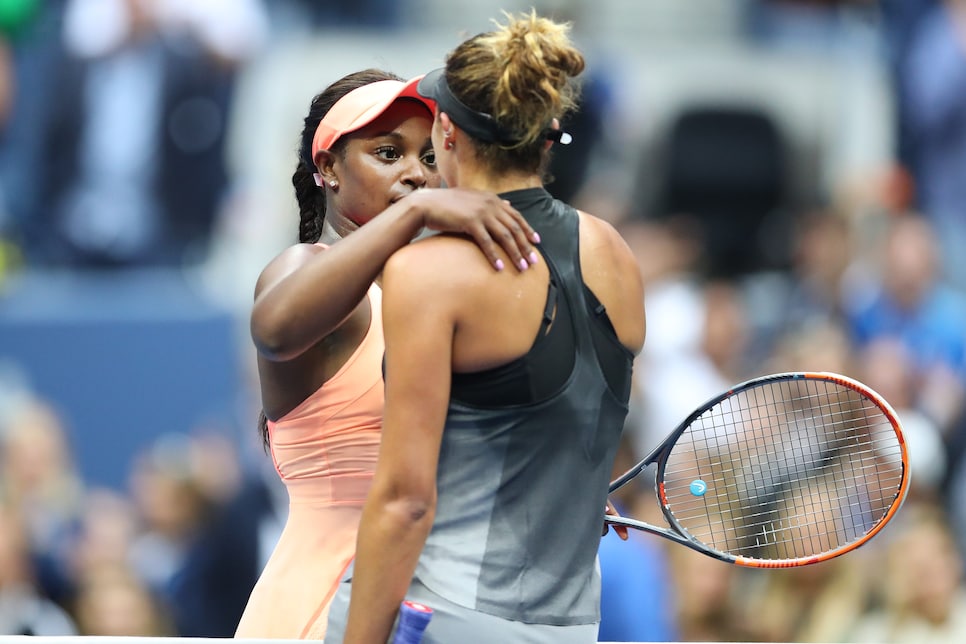 It can be difficult for me to express anything like sincerity when talking about sports in 2017, so pardon me if the rhetoric sounds unnatural and stilted. It's a little like Jim Harbaugh attempting humility—not my strong suit, and it could turn out poorly. But I'm going to do it anyway, because the fact is that I was moved by a sports incident this past weekend, and it made me proud of two American athletes competing against each other on the biggest days of their respective lives.
Backstory: Sloane Stephens is a 24-year-old former junior tennis prodigy whose pro career, up until about three weeks ago, had been slightly underwhelming. Dogged by injuries, inconsistent play, and the kind of underlying on-court neuroses that plague all tennis players, she never quite found her form in the first five years of her professional career. After hitting her stride in 2016 and winning three WTA events, she suffered a foot injury that sidelined her for half a year, up to and including this year's Australian Open. During that tournament, she texted with Madison Keys, a 22-year-old who was also missing the Aussie with an injury. Like Sloane, Keys was one of the most promising young American lights, but still trying to make an impact at a grand slam.
For both, the breakthrough was supposed to be years away, but last Thursday at the U.S. Open semifinals, Stephens beat Venus Williams in an epic three-setter (watch how Stephens played the most critical pressure points, and keep in mind she did this against one of the greatest players of the past two decades), Keys dominated CoCo Vandeweghe, and suddenly the two good friends were slated to meet in a grand slam final. For one, a career would be transformed.
Saturday's final was anticlimactic—Keys came out nervous, made a slew of unforced errors, and Stephens played with a kind of focused intensity that would have required perfection from any opponent. Keys didn't come close to meeting that standard, and the match got away from her fast. It was a 6-3, 6-0 rout that barely took an hour, and at the changeover before the final game, the camera caught Keys sobbing into her towel, heartbroken before the match even ended.
But after the inevitable last point, the best sports moment of 2016 happened. Watch what went down between Stephens and Keys when they met at the net:
I'm not sure if it was just the pure empathy of the gesture, or the fact that it was made by a 24-year-old who had just won her first slam—and could be forgiven if she indulged herself in unrestrained celebration—but to me, that hug one of the most genuinely affecting moments I've seen in sports. Almost from the moment she won the match, it seemed like Stephens' first thought was not for herself, but for her friend. She won a fan for life in me, and her generosity didn't stop there. During the long wait for the trophy ceremony, which is one of the few times in tennis when the loser isn't allowed to walk immediately off the court, but must suffer silently and stew in the loss, Stephens left her chair to sit by Keys. She comforted her, made her laugh, and helped make unbearable situation better. It elevated Keys, too, who did herself proud in a tough moment as a model of gracious losing. In short, they both demonstrated an abundance of grace.
The fact that this occurred between two Americans made it even better—at a time when we're not enjoying a great image internationally, when we're at each other's throats domestically, and when so many of our top athletes seem to be either boring shills or actual monsters, it made me feel good to see that America could still produce two champions like these.
I have to stop gushing before I make myself sick with sincerity, but I think I needed this. And I have a feeling I might watch that video one or two or 50 more times, in those moments when I need a reminder.
We now return to your regularly scheduled cynicism.
The Most Incompetent, But Funniest, Football Play of the Week: Louisiana Tech
This play started on the six-yard-line. It ended on the seven-yard-line. Sounds boring, right? Nahhhh:
3rd-and-93!!! I have never, ever seen that. It's incredible. It's perfect.
It's been a secret dream of mine to see a college football overtime game end in a safety, for the simple reason that it's the most improbable outcome I can imagine, and even though that will never happen, this kinda makes up for it. Thank you, Louisiana Tech, for fumbling, and thank you Mississippi State for treating the ball like a greased pig.
The "Football is an Actual Nightmare" Story of the Week: Houston Texans
Quarterback wasn't the only concern for Houston. Linebacker Brian Cushing, tight ends Ryan Griffin and C.J. Fiedorowicz and wide receiver Bruce Ellington all left the game with concussions.
Um...four players? In one game? From one team? Along with being just awful for the players—one concussion isn't life-threatening, but it's certainly quality-of-life threatening—it's more terrible PR for the sport. The thought that keeps occurring to me, year after year, is that football is lucky it brings in boatloads of money at the college and professional levels. Failing that, we'd probably have banned it by now.
The Win-As-Many-Consecutive-Games-As-You-Want-We-Know-You'll-Still-Blow-It Team of the Week: Cleveland Indians
On one hand, the Cleveland Indians have now won 18 straight games, and are closing in on the MLB record of 21.
On the other hand, the Cleveland Indians could win the rest of their games this season, sweep the divisional and championship series rounds, go up 3-0 in the World Series, and take a 457-0 lead in Game Four, and I still know, deep in my heart, that they would screw it up. You know why? Because last year's World Series was the ultimate "Holy God, one of these perennial screw-ups will be forced to not screw up!" contest, and the team that didn't screw up was the Chicago Cubs. Which dooms the Indians to an eternity of screwing up.
That said, I hope they get the record.
The "Oh No, I'm Going to Get Sentimental Again" Barfbag Loser of the Week: Me
Because, dammit, who would have thought that the greatest sports speech of 2017 would come from Rebecca Lobo?
Anyone else think of the song lyrics, "Rebecca Lobo...a talented pro!" every time they hear her name? It's a song from that fake soul band that did the commercials on ESPN. It turns out they were called the WNBAys, and I found a clip. I'm glad I didn't imagine that, because that would be a pretty weird fake memory, and it might make me question my sanity.
What a second, did I imagine the Keys-Stephens moment?
(watches video for 100th time)