Welcome Break
The best part of Masters week could be the one thing that's missing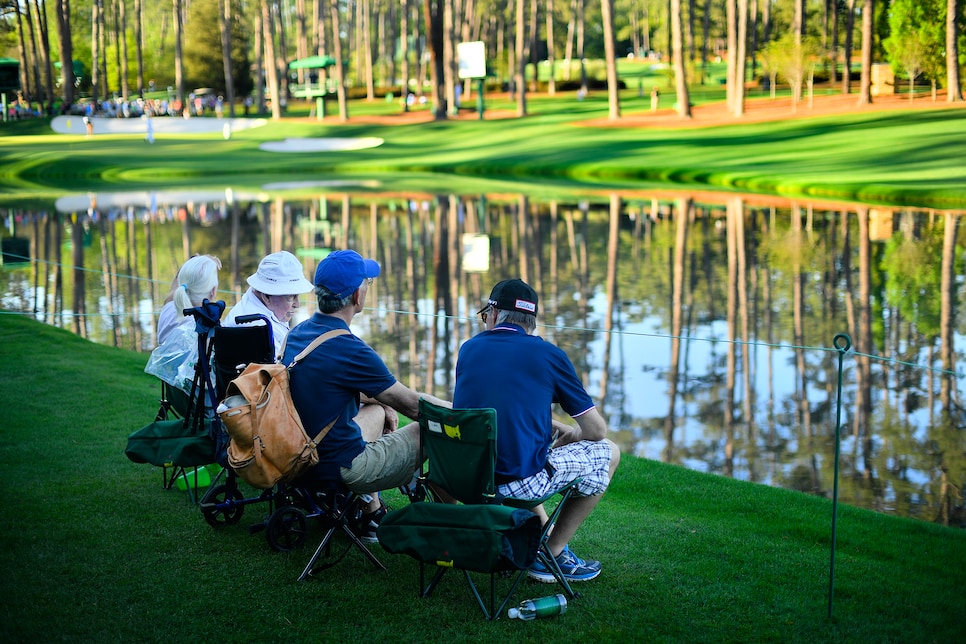 AUGUSTA, Ga. -- Bring a smartphone to the Masters and it won't take long before you're escorted off the golf course and delivered to a holding area. Expect at least an hour until your case is considered, the violation processed. Your day is done. It may be years or never until you set foot on club grounds again, though under the right circumstances and with a properly grievous attitude, it's possible you'll be back tomorrow. Of course, the metal detectors at the gates prevent almost entirely such sad episodes. They're there to save you from yourself.
But say you're the father of a player and you entered alongside your son through a lightly securitized zone, and it didn't occur to you that snapping a phone pic of your boy inside the ropes during a practice round wasn't OK. Well, to the holding area ye shall go.
Members of the media can register their phones for use in the press center, but will have their credential revoked if they bring one into the interview room or onto the course. No exceptions, even for honest mistakes. Just ask Golf Channel's Charlie Rymer.
Even the players are strictly instructed to keep their phones away. "It's actually really nice," Brooks Koepka says. "You just got to make sure your watch is running right."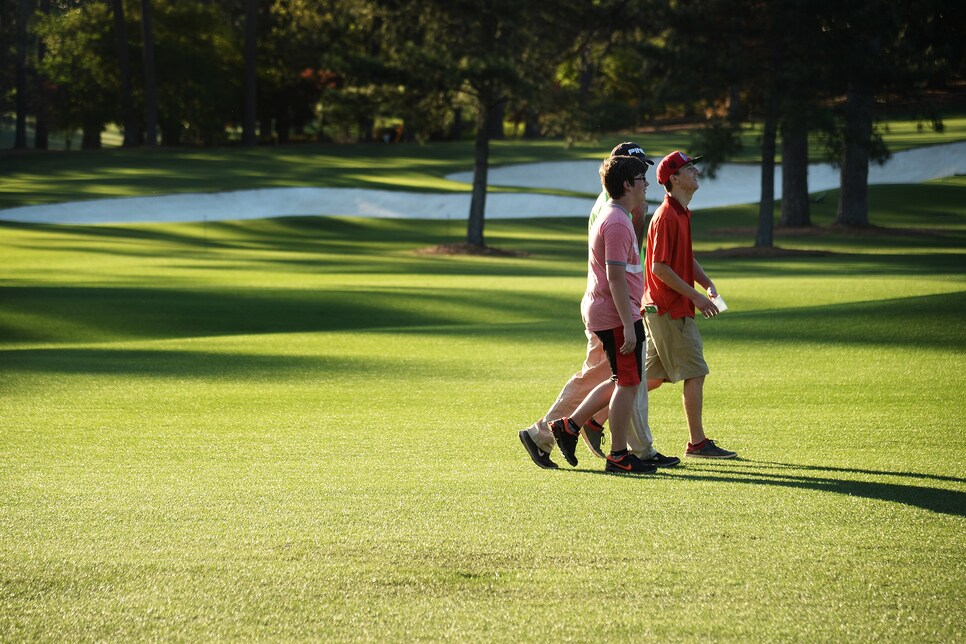 More important than how a rule is enforced or the scope of its penalty is, of course, the reason behind it. Which in this case, is safe to say has changed dramatically. When those first plastic bricks with antennas burst on the scene in the 1980s, the prospect of a Gordon Gecko or Donald Trump shouting stock orders in the middle of someone's backswing certainly didn't jibe with Augusta National's vision for the atmosphere of their tournament. Such ostentation and disrespect. But phone technology has come a long way. Augusta's members, prescient as they've been in almost all other matters, couldn't have guessed the phone's silent ubiquity in 2017. The product that was first banned is a far different animal than what is being banned today.
Which means it's worth considering what the Masters would look like if Augusta National started allowing phones. Would surreptitious message-checking and some selfie-sticks at Amen Corner on Sunday be such a bad thing? Would the sanctity of the event be wholly compromised?
At every other pro tournament, including all majors, you can have a phone as long as it's kept on silent. The PGA Tour officially unscrewed that lid in 2011, recognizing that fighting noiseless camera functions, texting, social updates, browsing, shopping, voice calls a comfortable distance from the gallery ropes and more, would seriously undermine any efforts to grow attendance with the rising generations. Our phones have become our lifelines, and in today's world you cannot demand a person attending a large public event to relinquish his or hers.
Unless, of course, we're at Augusta National Golf Club and it's early April. Which is somewhat ironic because when it comes to embracing technology, the club has a decorated history of being on the vanguard: SubAir pumps to regulate the moisture in the greens, a robust network of wiring beneath the turf to aid broadcasting, the first and best tournament mobile app, the expansive and endlessly tricked out media center that debuted this week, and probably a ton more cool stuff we don't even know about. So why the hang-up on phones?
People in the business of golf joke there are more missed meetings Masters week than in the rest of the year combined, due to the sudden collective inability to communicate. It's old-fashioned, but setting a time and place and sticking to it is the only way. Yet in the same breath, the golferati will tell you the Masters is the social networking event of the year, at least a full club stronger than the three other majors.
"You become much more present without any added distractions. It's one of the things that makes this week unique, and I love it," says Andrew Kipper of Excel Sports Management. "The reality is, most of the people who you need to see are at the golf course, so you're not coming back to an insurmountable amount of texts and emails.  Hopefully everyone you're scheduled to meet is as organized as you'd like them to be, and things run on time. It all kind of works itself out. It's also remarkable how frequently you run into people despite how big of a place Augusta is."
With due respect to the Azalea, the buzzing cocktail party vibe isn't because vodka, pineapple and lime with a splash of grenadine is a superior drink (truth told, there's gallons more sweet tea and lemonade consumed than alcohol, as the Phoenix Open this ain't). A big reason for the mass conviviality, one sees, is the simple fact people walk around looking up instead of down. Sky, trees and greens instead of bits on a screen. Eye contact with strangers. It's a scene almost without replica in the developed world, and which presents a paradox: Is the atmosphere of Augusta National so special we cannot spoil it with phones, or does the specialness derive from the fact there are no phones?
"You become much more present without any added distractions. It's one of the things that makes this week unique, and I love it."
Forget fans. For players, the phone is a warm blanket. In a life made of perpetual transition between airports, lobbies and locker rooms, the phone fills the gaps and creates a bubble of personal space. I hold no grudges, but I suspect more than one player has buried his nose in his phone on his walk to the driving range to avoid being asked questions from a pesky reporter such as myself. Agents and coaches do it, too. There's a lot of hanging around at golf tournaments, and the last way anyone wants to appear is without purpose. So check that email again. Retweet a tweet. I'm guilty of it, too.
With full appreciation of the contributions connectivity has made to our economy and world, Ross Douthat of the New York Times recently summed our compulsion of checking our phones as such, "… It requires you to focus intensely, furiously, and constantly on the ephemera that fills a tiny little screen, and experience the traditional graces of existence — your spouse and friends and children, the natural world, good food and great art — in a state of perpetual distraction."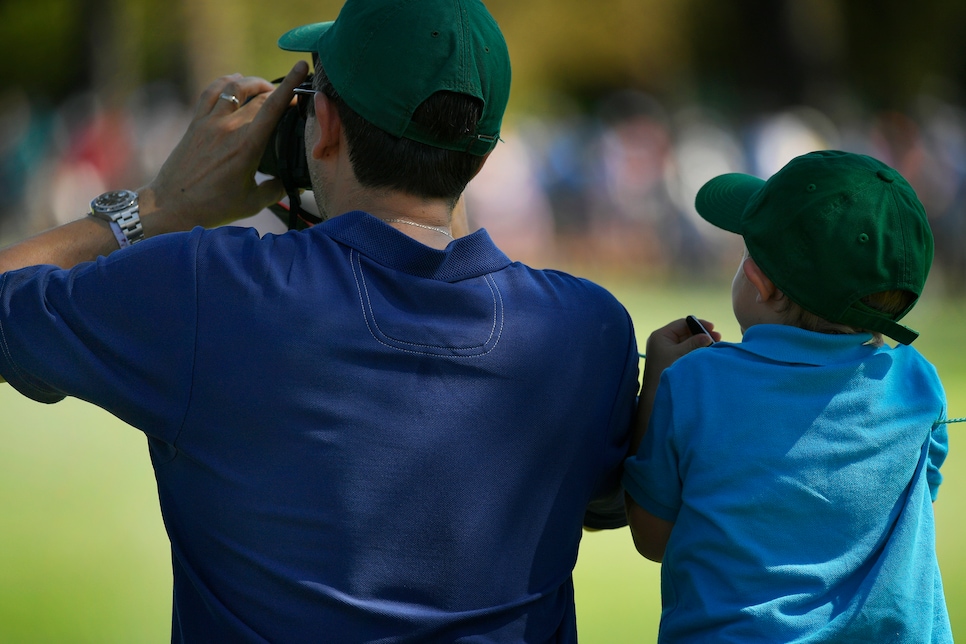 Douthat doesn't mention great golf theater, but attending the Masters ticks almost every box of a life experience that ought to be savored fully. Oh, to be in the shade of a Loblolly pine, sharing a pimento cheese sandwich and a beer with an old friend (or new) as you watch Dustin Johnson bomb a drive…would you even want a free hand to check your email in this moment? And because you can't quickly look up facts, it forces any fan to confront the true extent of his or her golf knowledge. Augusta National continues its ban on phones to preserve the sanctity of that experience. More so for the patrons, than the players, I think.
If you're ever lucky enough to be invited to play Augusta National, your host might give you the usual instructions that pertain to smartphones at private clubs. Sure, take pictures. Check in at work if you need, but do so discreetly. Treat the phone as a tool, nothing more. Look up. Take it all in. Not that if you had any sort of golf soul, you'd need the encouragement.
Masters is a loaded word. Most obviously, it refers to golfers who have attained world-class skill in a difficult game. But it also nods to the powerful business and governmental reach of the club's members. With discomfort, it echoes a name once used by slaves to address those who set their tasks. But here in 2017, still the early days of a digital revolution that stands to transform our world beyond recognition, it's a week that reminds us who our master needn't be: the phone in our pocket. Which anyway, should be left in your car.