The Loop
The best college football trips for golfers this fall
For avid golfers that also love college football, the fall can be a tricky time of the year. You could argue there's no better time to play golf than on a crisp fall Saturday, but there's also nothing better than attending a big-time college football game and tailgate, or simply kicking back and watching all the games. Tough decisions.
Throw in a few other plans that you want no part of, like going to a pumpkin patch or some potluck party, and suddenly both your valuable golf and football time become extremely limited. Yes, we realize this is a major first-world problem, but even first-world problems need solutions.
That's where we come in by combining the best of both worlds: A big-time college football game and a golf round all in one weekend. Taking into account the potential excitement of game itself, as well as the stadium and tailgate atmosphere, plus weather concerns and most importantly, how far away the best golf course is and how much it'll cost you, we came up with seven great two-birds, one-stone weekends where you can sneak in 18 on Friday afternoon or Saturday morning and still make it to the tailgate in time to get rowdy. Starting with...
Week 2 - Iowa State at Iowa, 5 p.m. ET, September 8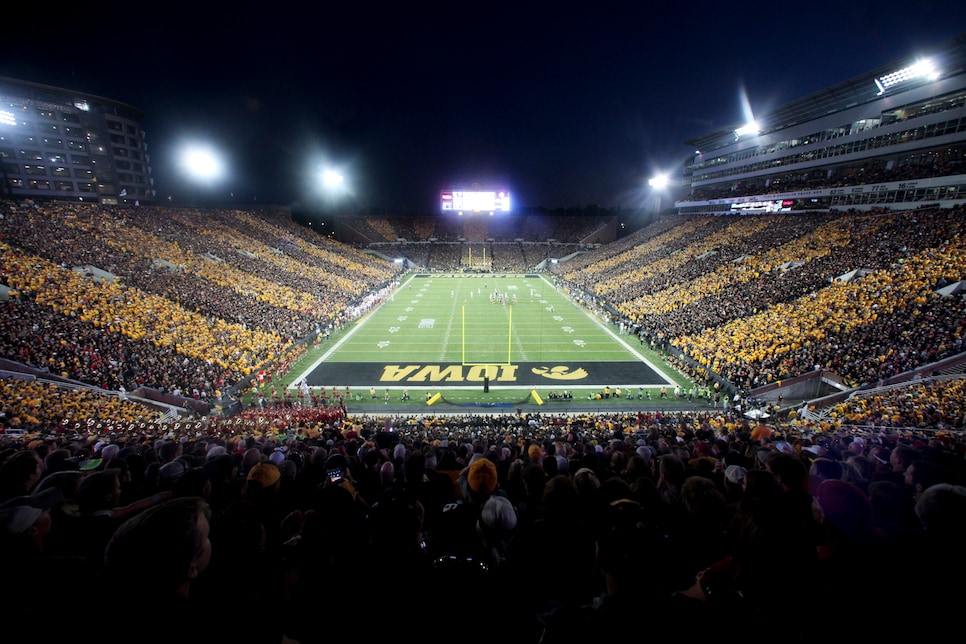 The Game: Week 1 has a ton of great games, but many are at neutral sites. If you're going to do a trip like this, you need the real experience of a college football stadium, not Jerry Jones's monstrosity that is AT&T Stadium. So we looked to Week 2 and picked one of the more underrated rivalries in the sport: Iowa State at Iowa in the battle for the Cy-Hawk Trophy. No, it's not Auburn-Alabama, but it's still an intense in-state matchup, and Kinnick Stadium is one that should be on everyone's bucket list. Barring Week 1 upsets, both squads should be 1-0 and looking for a huge rivalry win to kick start their seasons, so the atmosphere should be as good as it gets.
Where To Play: Of all seven picks on this list, the second shortest trip from the golf course to the stadium will be this one if you play Blue Top Ridge at Riverside, which ranks eighth on Golf Digest's best courses in Iowa list for 2017-'18. Just a 19-minute drive from campus, Blue Top Ridge will cost you $85, and that's with a cart. Time to sneak in another 18? Try the track right on campus, University of Iowa's Finkbine Golf Course.
Week 3 - Boise State at Oklahoma State, 3:30 p.m. ET, September 15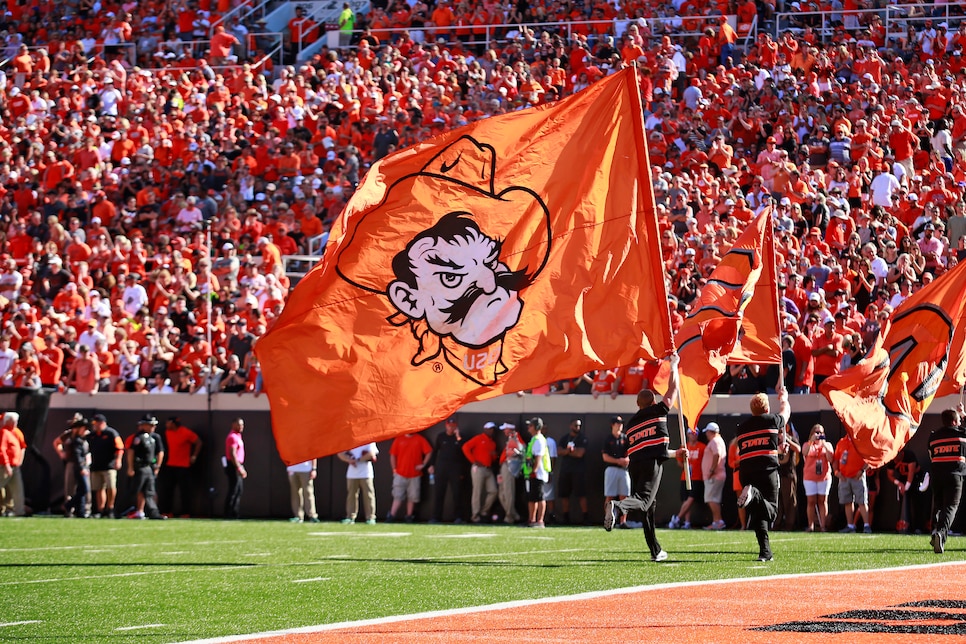 The Game: With the loss of three-year starting quarterback Mason Rudolph and his top receiver James Washington to the NFL, it's set to be a down year for Oklahoma State. But the Pokes don't have a real test in Weeks 1 and 2, meaning they should be 2-0 when they welcome in Boise State, a team that will also likely be 2-0 and thus inside the top 20 in the AP Poll (currently 22nd). That makes this a very intriguing non-conference game to attend, and one Cowboys fans will come out in droves for considering their season will still have promise, especially if they can get past Boise State.
Where To Play: While Blue Top Ridge isn't far, this will actually be the shortest trip from stadium to golf course if you play Karsten Creek, the home course of Oklahoma State's men's and women's golf teams since 1994 and one of the top college golf courses in the country. The Tom Fazio design ranks 16th on our Best Public Golf Courses In America ranking, and is just a quick 16-minute drive from campus. This one will cost you north of $300, but it's hard to pass up knowing how strong the course is and how close it is to T. Boone Pickens Stadium.
Week 5 - Michigan at Northwestern, Time TBD, September 29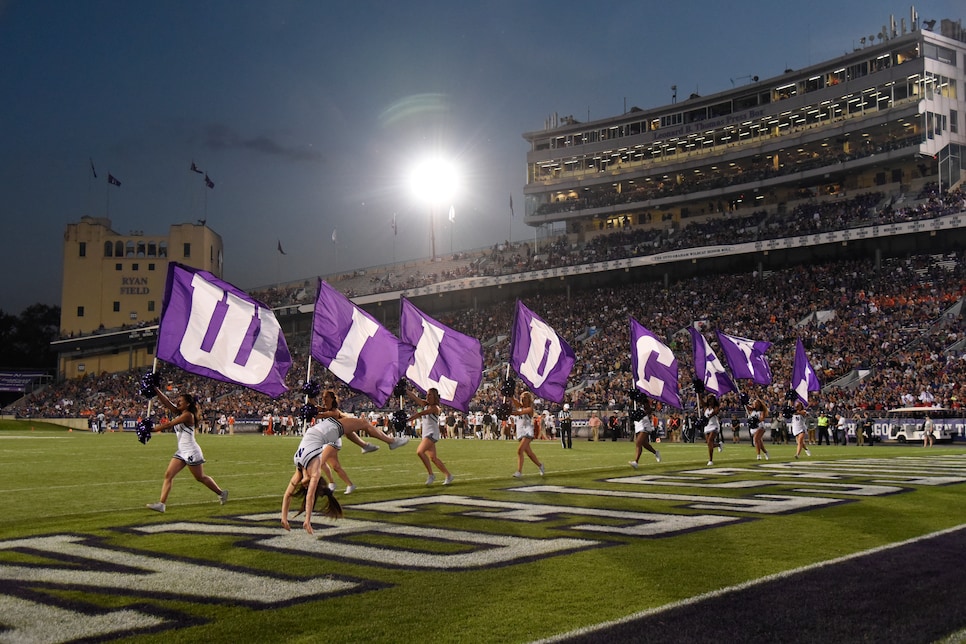 The Game: Northwestern? Really? Yeah, you're damn right Northwestern. Michigan hasn't come to Ryan Field since 2014, and if the Wolverines live up to the hype and get past Notre Dame in Week 1, Jim Harbaugh's team could enter this game with a 4-0 record. If Northwestern can get to this game with three wins and zero losses, this has the potential to be the biggest game the school has had since Ohio State came to Evanston undefeated and ranked fourth in the country in 2013.
Where To Play: Just an hour away from campus is Cog Hill Golf and Country Club, which features four courses, including the Dubsdread, host of 20 BMW Championships (formerly known as the Western Open) and the 1997 U.S. Amateur won by Matt Kuchar. Even with the name recognition, the Dubsdread will cost you only $155, but for cheaper options try the Blue and Red courses ($62) or the Ravines ($74).
Week 6 - Notre Dame at Virginia Tech, Time TBD, October 6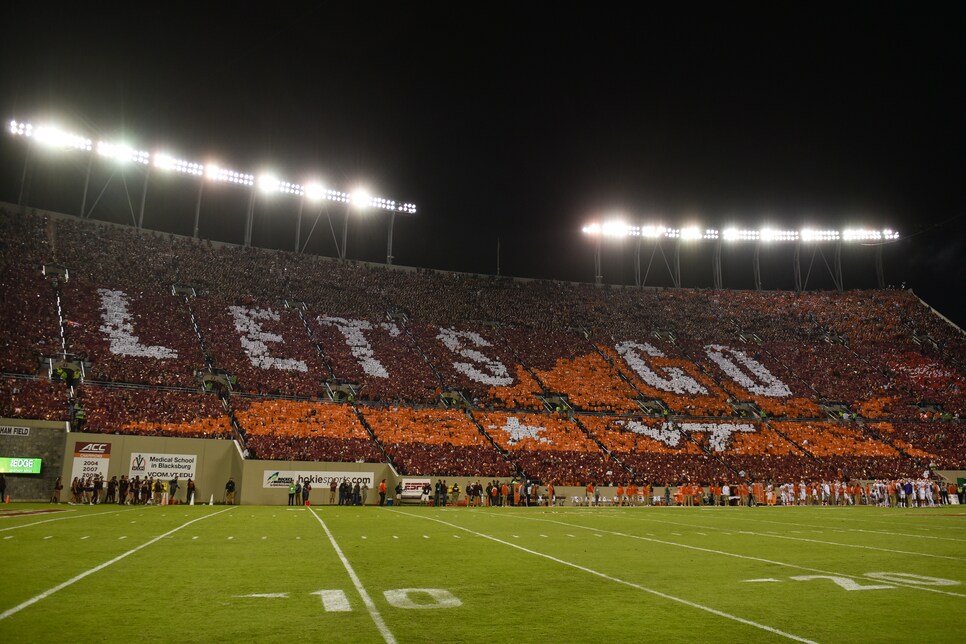 The Game: Much of this game's intrigue will depend on where both teams are at in their respective seasons, but it should still be exciting even if they get off to slow starts. If Virginia Tech does get past Florida State on opening weekend though, there's no reason they shouldn't be undefeated coming into this contest, meaning it will likely be in primetime and the student section will be in rare form for "Enter Sandman." This is not a game you want to miss.
Where To Play: The obvious choice has to be the Pete Dye River Course of Virginia Tech, which comes in at 20th on our best in-state rankings for Virginia in 2017-'18. It's only 25 minutes from Lane Stadium, and costs under $100 on both the weekend ($89) and on Friday ($79).
Week 9 - Florida vs. Georgia in Jacksonville, 3:30 p.m. ET, October 27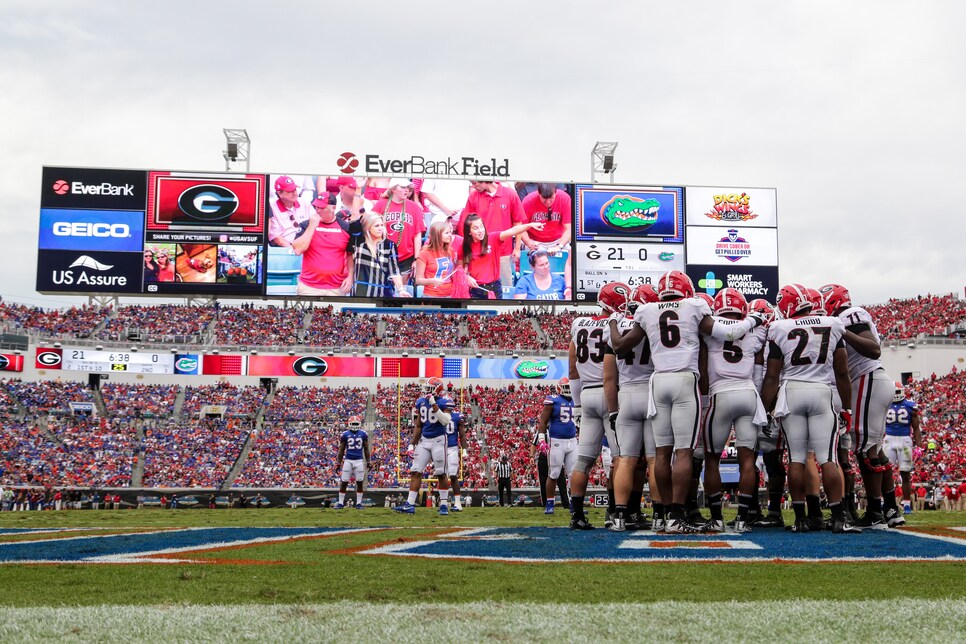 The Game: Speaking from personal experience, the World's Largest Outdoor Cocktail Party is a scene you absolutely must be a part of before you leave this earth if you love college football. The game itself has been great the two times I attended, and seeing sold-out Everbank Field with one side Florida fans and one side Georgia fans is really cool, but it's the tailgate that is on another level. It's irrelevant if the game is close or it's blowout, you're going to have a good time before, during and after the game no matter what.
Where To Play: I've also played both times I went, including once at TPC Sawgrass, which is likely the No. 1 choice for this trip if you want to spend the exorbitant amount of money for it and check it off your list. It's just over a half hour from the stadium too, which adds to the appeal. But if you want to go a tad cheaper and only add 10 minutes to your drive, try the Oak Marsh Course or the Long Point Course at Amelia Island, both of which will cost you $170.
Week 10 - South Carolina at Ole Miss, Time TBD, November 3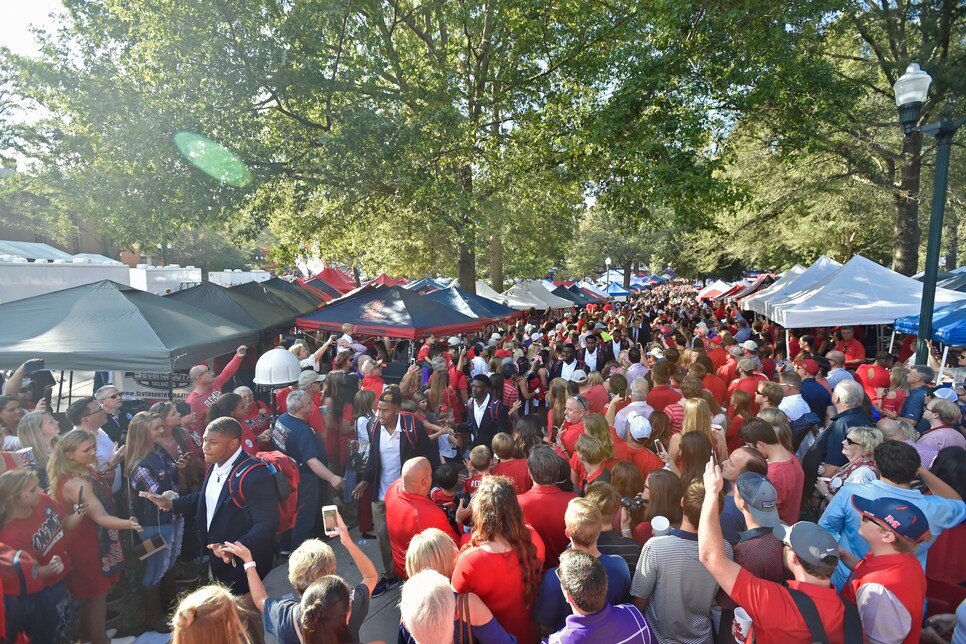 The Game: There likely won't be a ton on the line for this matchup, as Ole Miss appears headed for another down season after a number of off-the-field issues in recent years. Regardless of the Rebels' record though, fans will pack The Grove and continue to throw what looks like the best tailgate party in college football, and one I'm dying to get to. Who are they playing again? Who cares, they never lose the party.
Where To Play: With not a lot to choose from in Oxford near Vaught-Hemingway Stadium, you might as well stay close by and play the Ole Miss Golf Course, just nine minutes away from campus and only $33 to play. If you want to make the nearly two-hour trek, Old Waverly Golf Club, ranked 43rd on our best public rankings, is your best option.
Week 12 - USC at UCLA, Time TBD, November 17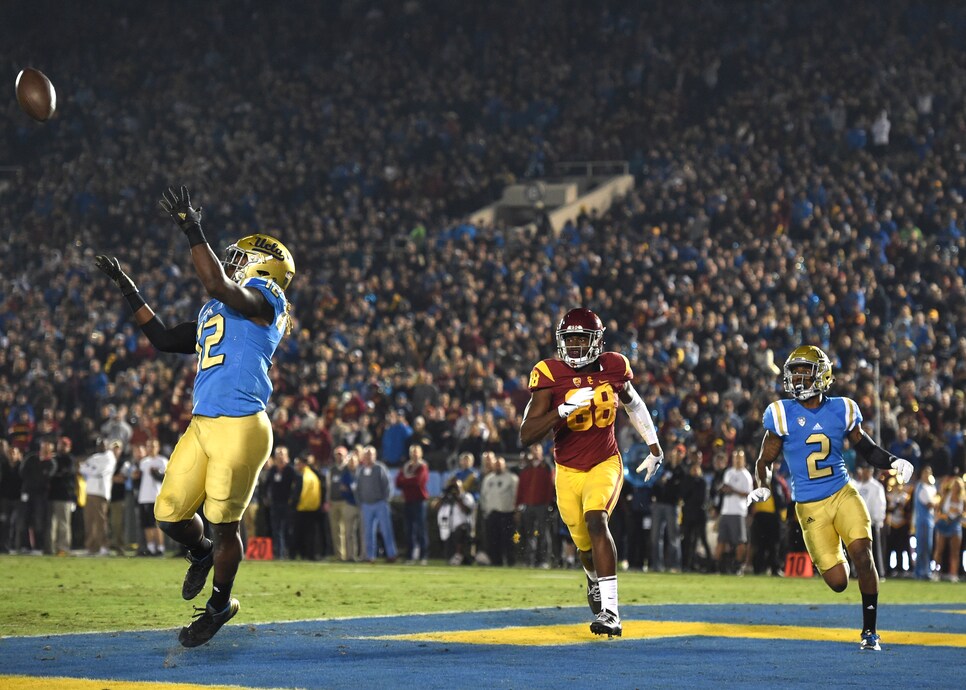 The Game: While many fully expect Chip Kelly to lead UCLA back to prominence, there will still be growing pains this year. But even if they're struggling, the USC game is always one to circle on the calendar, and this year the Trojans come to the Rose Bowl, another stadium on many fans' bucket list.
Where To Play: I mean, you're in California. Can't really go wrong anywhere. Torrey Pines and PGA West are both two hours away, but for a super-close option go with Brookside Golf and Country Club, which is literally "A chip shot away from the Rose Bowl" as the website says. There's two courses, the C.W. Koiner or the E.O. Nay, both open to the public and affordable (C.W. - $60, E.O. Nay - $45).