The Loop
The 5 worst bad beats of the weekend in college and pro football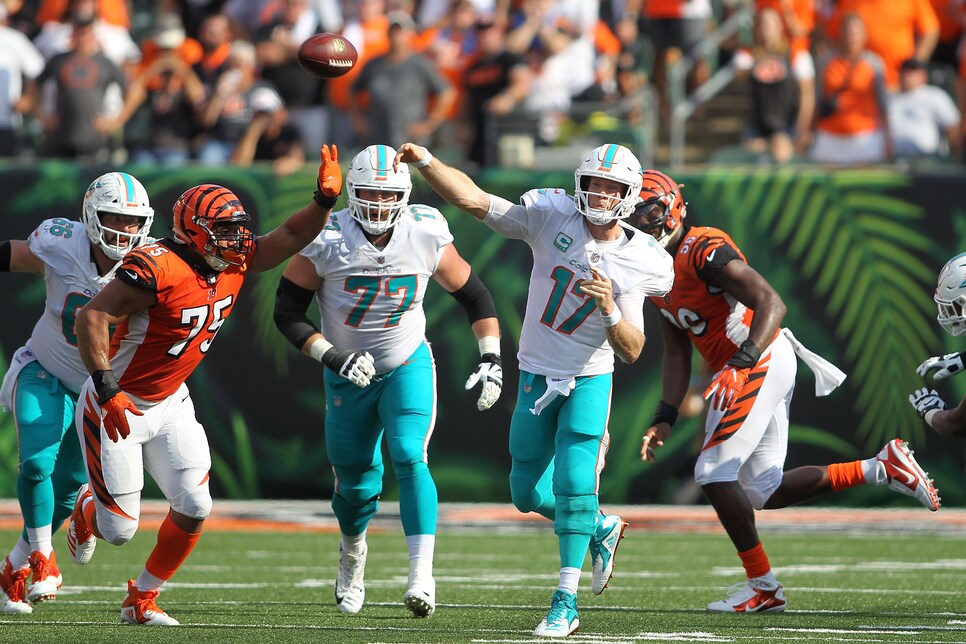 Depending on whatever it is you are referring to, quality is generally always better than quantity. When it comes to bad beats this can also be true, so long as you're not the one getting their heart ripped out.
This weekend was not littered with bad beats like last week and the week before it, but the few that occurred were of the highest quality, daggers that SHOULD retire you from sports gambling permanently but instead make you chase the next bet until it's time to seek help. Let's take a look at the 5 worst bad beats of the weekend in college and pro football.
Missouri (PK) @ South Carolina
For those unaware, a 'PK' means the game is a pick'em, meaning whoever you bet on just needs to win the game, no spread involved. Despite going into a tough environment on the road, Missouri was a strong play in this game. They can score with anyone, and with South Carolina starting career backup Michael Scarnecchia in place of injured starter Jake Bentley, the Tigers had a massive edge at the quarterback position. Drew Lock is a future top 15 pick, and he showed why in the first half, leading Mizzou to a 23-14 lead. Chaos ensued in the second half though, as rained poured and caused all kinds of issues for not only both teams, but for ESPN's broadcast. This spelled doom for Mizzou bettors, as SC came storming back to take a 34-32 lead thanks to wild-looking plays like this:
But the Tigers appeared to get the last laugh with a 57-yard field goal (!!) to go up 35-34 with 1:18 to go. No way was Scarnecchia driving SC down the field to win the game, right? Wrong. A 27-yard completion to tight end Kyle Markway put the Cocks in field goal territory, and kicker Parker White drilled the game winner with two ticks on the clock.
Final score: 37-35, South Carolina. Ouch.
Alabama (-34.5) @ Arkansas
Few teams have quite as interesting a relationship with the gambling public like Alabama. As the saying goes, you don't win money betting against Bama, but when they are 35 and 40-plus-point favorites each week, it's very difficult to lay that many and feel good about it. Case in point, the Tide's game on Saturday against lowly Arkansas, a team that will be remembered this season for giving up the fake fair catch TD to North Texas. They were up to their usual antics at home this weekend as well, handing touchdowns to Alabama, an offense that does not need ANY help scoring right now:
The Crimson Tide held a 65-24 lead with 1:59 to go. One would think Arkansas would just let the game play out, and save themselves from further embarrassment. But in an effort to make this drubbing less of a drubbing while still being an absolute DRUBBING, the Razorbacks went down and scored with 13 seconds on the clock, covering the spread by a half of a measly point.
Final score: 65-31, Alabama. Apparently, you can win money betting against them, you just need a miracle.
Clemson @ Wake Forest Under 61
Wake Forest has been able to score some points this season, but Clemson was coming off a near crushing loss at home to Syracuse and in need of a moral-boosting victory. The Tigers stout defense was going to come out angry in this one, so as long as Clemson didn't score 62 on their own, under was a smart bet. Guess what happened:

This was made infinitely worse by the fact that Clemson led 56-3 with 1:47 remaining, when Wake punted the ball back to the Tigers, who probably wanted to just run out the clock and get out of there with a win. Wake's defense had other ideas:
Final score: 63-3, Clemson. Betting the under continues to be the least fun thing ever.
Atlanta Falcons @ Pittsburgh Steelers Under 57.5
What did we JUST say about betting the under? It SUCKS! Look no further than this game between the Falcons and Steelers, two potent offenses that should have produced one of those shootouts that's killed sportsbooks this season. That being said, a 57.5 total for an NFL is astronomical, and the sharp money would be on the under. It was hard to ever feel safe about it though, because Pittsburgh was scoring at will, and the Falcons could start rolling at any moment. But with the Steelers leading 34-17 with 3:56 to go, and the Falcons offense looking pedestrian, the under suddenly looked promising. Aaaaand never mind:

Final score: 41-17, Steelers. Add this half-point loss to the Alabama half-point loss and you've got one full point, which means absolutely nothing. Just a thought.
Miami Dolphins (+6) @ Cincinnati Bengals
The Dolphins lead this game 17-0 with under 25 minutes to play. To lose this bet, something so drastic would have to happen that it would make you believe the game is fixed. Even if the Bengals mounted some sort of comeback, there is not a shot in hell they would cover the six-point spread. It was basically impossible to lose this bet. Basically:
Final score: 27-17, Bengals. Anything is possibo indeed KG.