The Loop
The 2017 Champions League Final Explainer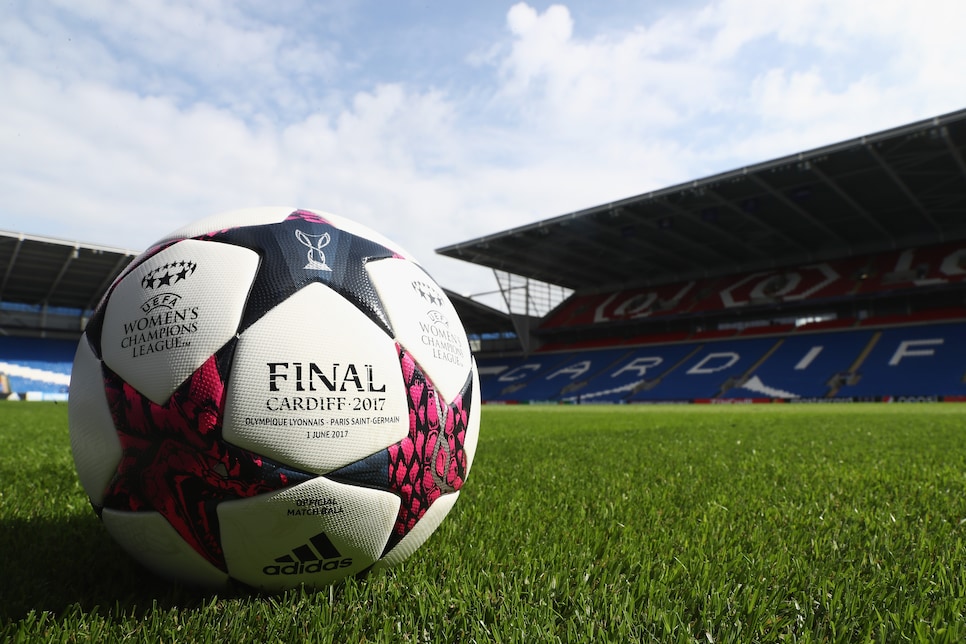 Alexander Hassenstein - UEFA
With an estimated global TV audience of 350 million soccer-mad souls, the Champions League Final is the biggest sporting event in the solar system. Straight up. Hands down. Sorry Goodell, the Super Bowl pulls less than half that. No Anakin, pod racing doesn't count. The annual anointment of Europe's best club is the world's Final—a riveting multi-national party that packs Bavarian beer halls, dank Dublin pubs, and Seoul soju joints to the fire codes and back again. As Americans, it's long been a footnote—something you catch in the Twitter rearview just before it blows by you—BUT THAT CHANGES NOW.
If need a brush up, here's your paint can. If you want a crash course, put your damn seatbelt on. This is your 2017 Champions League Final Explainer and come hell, high water or Fox Sports, we are going to explain some shit.
But I'm from a place where football is football and chips are chips and this "Champion League" thing sounds like a card game my asthmatic nephew plays. SAD! Nice to meet you too. Also it's "Champions." Plural.
What kind of office softball league has multiple champions? You millennials really love your participation trophies. Well, there's only one "Champion", but they are the Champion of Champions. Thus the "s".
Huh? You see, the Champions League is a Europe-based club foot—err—soccer tournament featuring the best teams from the best leagues across the continent. Thirty-two clubs qualify on a yearly basis based on league position, club coefficient, or other tournament victories (such as Europa League). They are then pooled by the same criteria, divided into groups of four, and turned loose on each other in a six-game home-and-away round-robin to determine the top two teams in each group. After that, the tournament transitions into a two-leg knockout format—home and away—with the winner advancing on aggregate score until the neutral site Final, which just so happens to be on Saturday!
[Bashes forehead off of pickup dashboard] OK, OK. Hang on. Essentially it's Europe's Super Bowl, and that means sprawling drunken crowds, more fireworks than a Kentucky wedding, and 36 cyborg-level athletes going studs up for 90 minutes (no commercials!) while their limb-numbingly gorgeous WAGs watch.
Go on… This year's finals are in Wales, so there's a whole dragon theme, which is...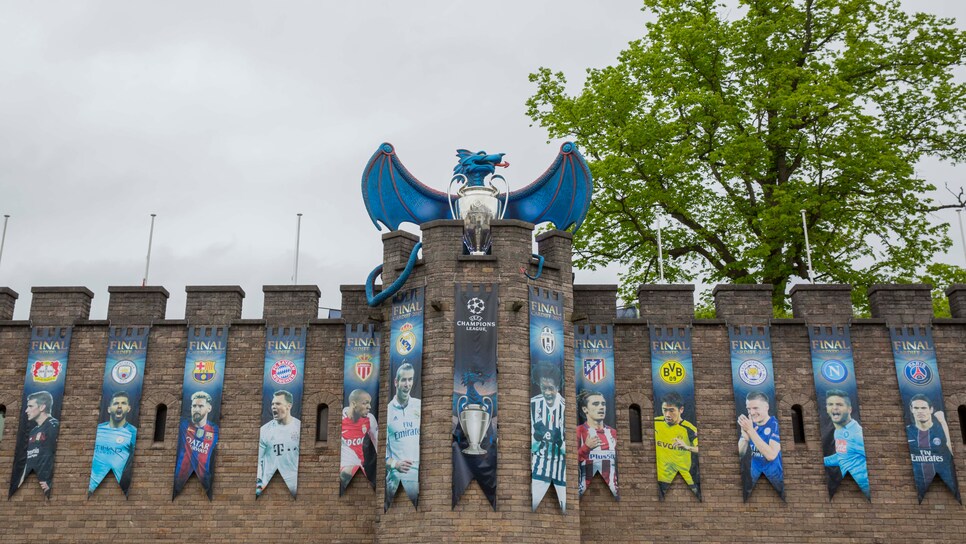 Like Game of Thrones ! Good! And the Black Eyed Peas are performing so…
Boom, Boom, Pow? Boom, Boom, Pow.
Anchors up, I'm on board. Who's playing? Juventus [soft J] vs. Real [pronounced ree-al] Madrid.
What's their deal? Juventus are Serie A (Italy's top-flight soccer league) champions for the sixth consecutive season running, and to be honest, it hasn't even been close. "The Old Lady", as they are known in their hometown of Turin, have crushed domestic competition with a mix of traditional Italian defense (think the Steel Curtain crossed with the Purple People Eaters) and big-money flair. Despite all that, however, they still haven't won the Champions League since 1996.
And since we're on the subject of big money flair and winning the Champions League, well, that's kind Real Madrid's thing. Winners of two of the last three Champions League titles -- and a record 11 total -- "Los Blancos" boast not only formidable cup pedigree, but also the biggest fanbase of ANY sports franchise on EARTH. This means huge stars, huge talent, and pockets deeper than the Mariana Trench. What more do you need to know?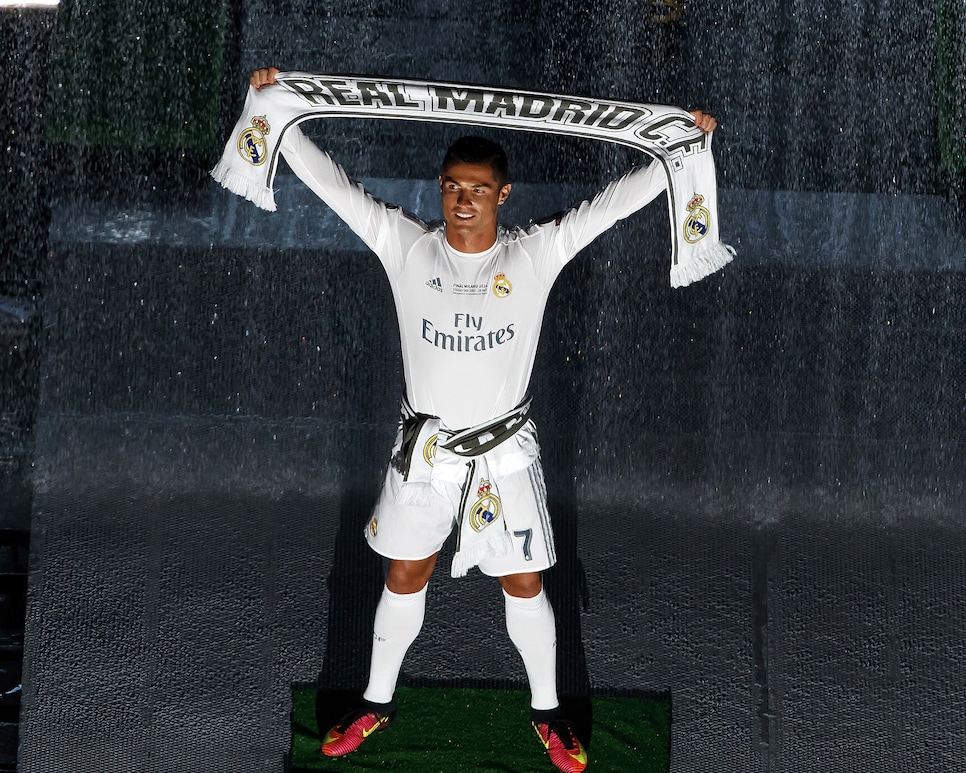 Well, have I heard of some of their players at least? Does Cristiano Ronaldo ring any bells? Real Madrid's talisman for the better part of last decade, Ronaldo is edging closer and closer to the distant edge of his prime, but when properly motivated, he is still unplayable. He's also the Champions League's all-time leading scorer, so there's that. Surrounding him are a host of other tasers wearing cleats—including 100-million-Euro man Gareth Bale, the sentient Afro known as Marcelo, and French forward Karim Benzema, who was involved in a sex-tape scandal with the French mob a few years ago but still has a job for some reason.
Juventus, meanwhile, are a perfect foil: A squad of grizzled veterans led by Gianluigi Buffon—a towering 39-year-old general who will, when it's all said and done, go down as the best goalkeeper earth has ever seen. At his side are Dani Alves—a former Barcelona legend/sworn enemy of Madrid—and Gonzalo Higuain, a pricey Argentinian hitman who has bagged 32 goals this season (which is, like, a lot of goals).
Tough call. Who should I root for Mr. Soccer Hipster? If you find yourself sympathizing with the plights of the Patriots, Bernie Madoff, and Lex Luthor, Real Madrid is your villain team. Everyone else, go with Juventus. Sure, they don't always play "sexy" football or boast stars who have their own brand of jeans, but they're organized, overdue, and iconic. Plus I hear Turin is beautiful this time of year…
Madrid it is then. Oh, one more thing: How do I watch this sucker? Assuming you have the login to your parent's cable subscription like every other self-respecting 20-something, then you can watch it on Fox, Saturday, June 3rd, with coverage starting at 2 p.m. The network has recently come under fire for faking their announcers' presence at Champions League games but at least they're rolling out a VR viewing option in time for the Final (in case you want to know what sort of Jockeys Ronaldo wears, which I assume you do).
Sounds great, creep. Can I please go now? Sure. Just let me unlock the door.