#Hatgate
How the U.S. Walker Cup hats have created the silliest apparel 'controversy' in golf history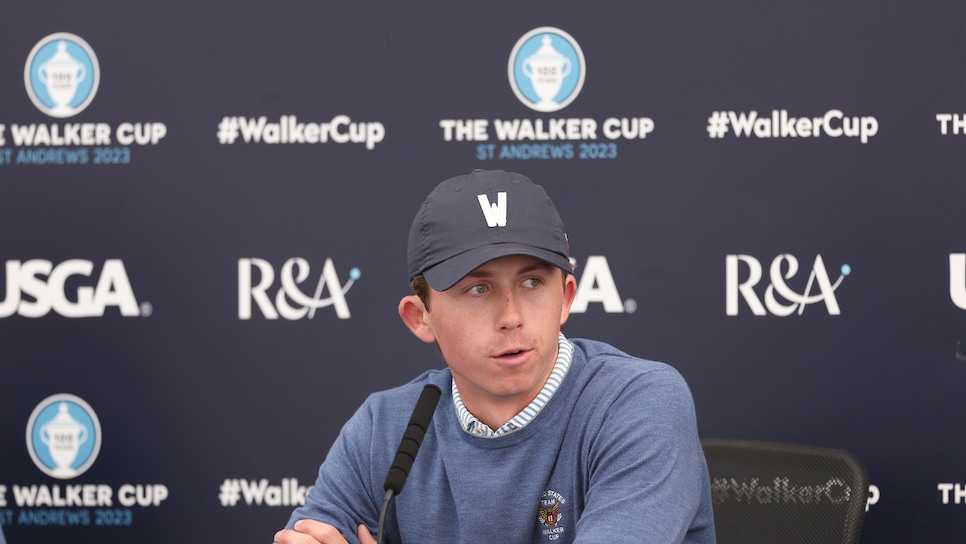 Move over, hoodies! There's a new contender for the silliest apparel "controversy" in golf history!
And for that, we head to the Home of Golf, St. Andrews, where the 49th Walker Cup will be contested this weekend. But on Thursday, members of the British press were a bit bent out of shape by the hats worn by the Americans. Hats that had a (gasp) "W" stitched on them. Oh, the horror!
That "W" stands for—wait for it—the WALKER Cup. But apparently, some felt it meant something else. Specifically, that the heavily favored Americans, who boast eight of the top 10 players in the World Amateur Golf Ranking, were already chocking up another W in the biennial event they've dominated both historically and in recent years.
Players and team captain Mike McCoy were asked a seemingly obvious question about the white letter adorning their caps—and replied with a seemingly obvious answer:
But despite that, and the fact that the Americans wore similar caps in honor of President George W. Bush attending in 2013 (as well as in practice sessions in 2015 and 2017), and the fact that the entire event is named after his grandfather, George Herbert WALKER, a former USGA president, some just had to read more into it. Take this piece in The Scotsman with the headline, "Star-studded US team insist 'W' on Walker Cup caps doesn't stand for 'win.' "
Um, you know why they insist that? Because the 'W' doesn't stand for win. It stands for WALKER. And the U.S. has worn different versions of the hat for the past decade.
Sports Illustrated also ran a piece titled, "The U.S. Walker Cup team is already wearing a 'W' but isn't overconfident." Forget "W," this whole situation is more like WTF. If Great Britain & Ireland wear a 'GBI' hat can Americans claim it means "Go Back, Internationals"? Anyway, here was our favorite response to this ridiculous subplot.
Boom, roasted. That being said, we are confused why some of the "W"s are bigger and look different than others. Just look at Nick Dunlap on the left and Gordon Sargent on the right (That's captain McCoy wearing a non-"W" hat in the middle):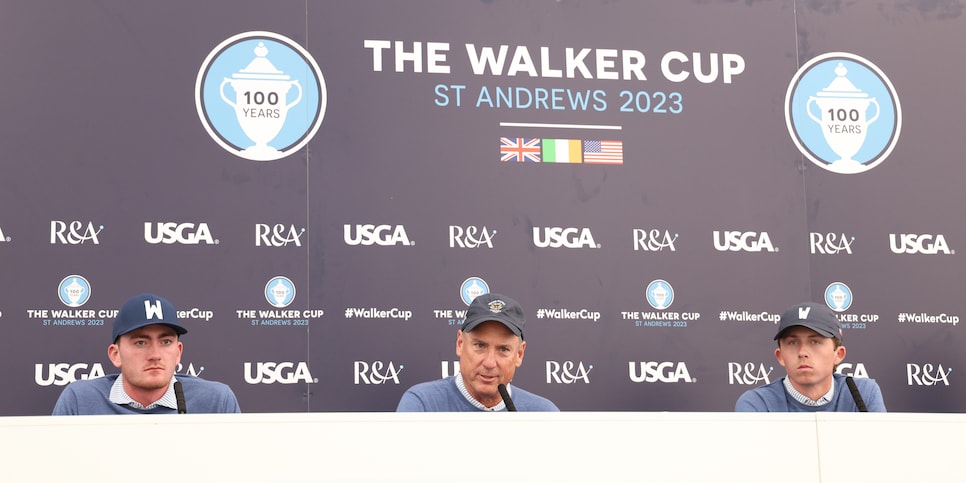 Interesting. But again, let's not let that distract us from the overall point here. That despite some people's best efforts to make something out of nothing, there is no point to these efforts—and there is no cap controversy. OK, now let's get this event started already. Sheesh.