Amateurs
Underdogs? Sure. But here's why the GB&I team thinks it can pull off a Walker Cup upset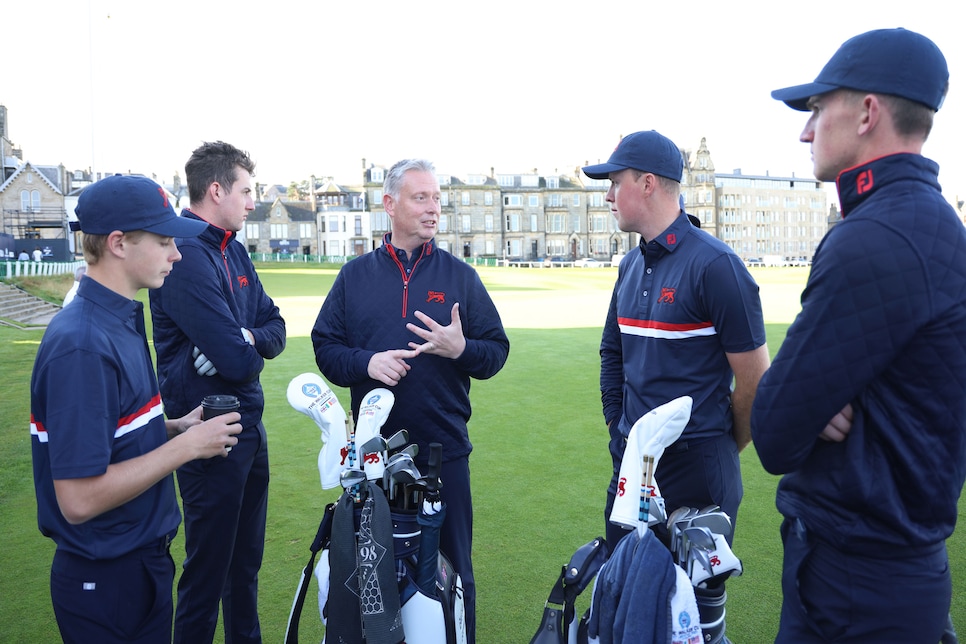 Great Britain & Ireland captain Stuart Wilson speaks to players on the first tee during Thursday's practice round prior to the Walker Cup at. St Andrews.
Oisin Keniry/R&A
ST. ANDREWS, Scotland — As ever at such things, the opening press conferences two days before the 49th Walker Cup begins between the U.S. and Great Britain & Ireland consisted of mostly innocuous answers to generally predictable questions.
Everyone on both sides is "really looking forward" to playing the 7,313-yard Old Course at St Andrews 100 years after the first match between the best amateurs on both sides of the Atlantic took place at the same venue. Oh, and "everybody is playing well."
Both captains, Stuart Wilson for the home team and Mike McCoy for the visitors, are happy with their sides, are happy with the pairings they have planned and are expecting a tough contest, no matter what the relative rankings of the two sides might suggest.
"I think selection went really well," Wilson said. "We're really delighted with the team we've got."
"It's always special to be here," was McCoy's verdict. "I've been focused on our guys getting to know the golf course and understanding that it's hard to win when you're on the road and when you're playing at a golf course they're unfamiliar with."
In other words, everyone is just "really happy."
Wilson further lapsed into "oh, come on" territory with his assertion that the forecasted fine weather over the weekend would not negatively impact his team's ability to pull off what would be a huge surprise victory. Ignoring the evidence of 2011 at Royal Aberdeen, when a U.S. team containing Jordan Spieth, Patrick Cantlay, Harris English, Russell Henley, Peter Uihlein and Patrick Rodgers lost out to a clearly inferior GB&I side thanks in part to weather severe even for the perennially windswept north-east corner of Scotland, Wilson was keen to promote his illogical preference for bright sunshine and light winds.
"We all know in links golf things can change from the front nine to the back nine given a wee bit of a change in direction of breeze," said Wilson, who won the 2003 Amateur Championship at the Old Course. "I'd rather see the guys just going head-to-head on a nice links day rather than battling the elements, absolutely. I'm all for good weather. I think the team would appreciate that, as well.
"It loses something when it's howling wind and rain," continued the 46-year old Scot. "At least these guys will be able to show what they can do in good conditions. Maybe a club-and-a-half wind would have been nice and a wee bit of bounce on the Old Course, but we'll take it the way it is."
Where the GB&I side showed even more fight was when the obvious disparity in the relative rankings of the two teams came up. Calum Scott, one of two Scots on the home side, was quite definite in his disdain for any suggestion that his mates were at any kind of psychological disadvantage.
"I wouldn't say they intimidate us," said the Texas Tech student. "It's a completely different game over here. Also, this is match play, different from stroke play. You can play as well as you want and sometimes lose, and sometimes it goes your way. I don't think the rankings really matter for this, especially being at St. Andrews. It's anyone's game, and I think the winning team is the team that holes the most putts. That's it."
And then Scott went even farther. Identified as the longest player on the GB&I side, he was asked if he had heard how far his opposite number on the U.S. team, Vanderbilt All-American and World No. 1 Gordon Sargent, is capable of launching drives. To his credit—and maybe, later his cost—Scott didn't back off.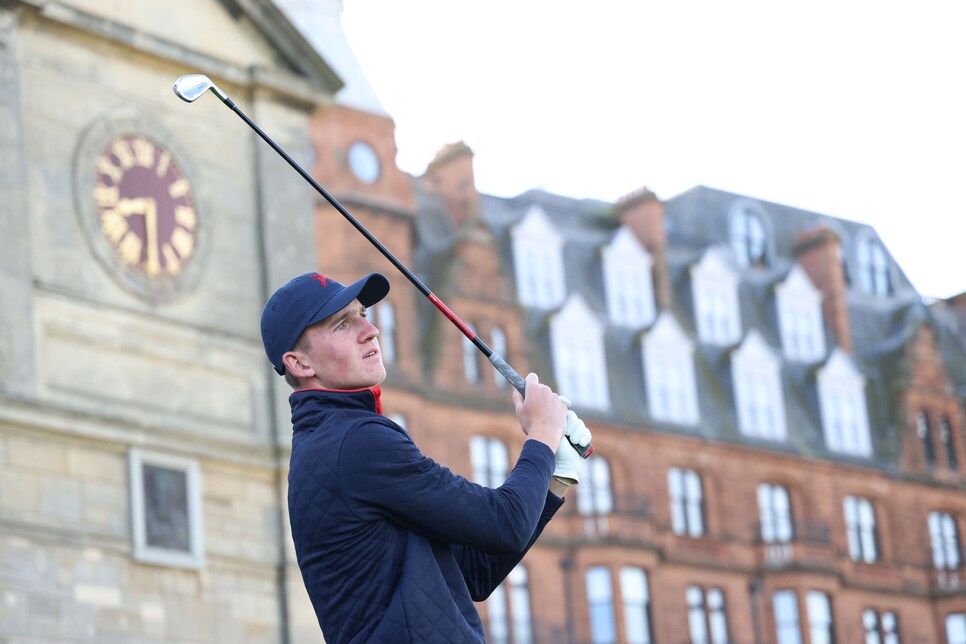 GB&I first-timer Calum Scott says it's anyone's game this weekend at the Old Course, where he's sure the winning team will be the one that holes the most putts.
Oisin Keniry/R&A
"I've played with Gordon a couple times in college, so obviously I know how long he is," said Scott, who was third in last year's European Amateur. "I think everyone in the college scene in America knows how long he is. Look, he's a great player, so it would be great to play him in singles. I would love that match. I'd love any match, but it would be cool to play him at the Home of Golf. We'll see. It'll be good."
Strong stuff. And ably backed up by Scott's teammate, Alex Maguire.
"Our games are definitely good enough to compete with the Americans," said the Irishman, who earlier this year won the St. Andrews Links Trophy. "It will all come down to the greens here. In a text last week Stuart said, 'practice putting' because it's the one thing it'll come down to. You'll be surprised how similar our games will be to the Americans. We're not intimidated by the rankings. Obviously, they're great players, and they're high up in the rankings for a reason, but at the end of the day, it'll come down to who can hole the most 10-footers and who can hole the most five-footers."
So there you have it. The sun is going to shine. And this Walker Cup is going to be all about putting. And maybe one for two long drives. You heard it here first.