News
TaylorMade Driving Relief expert picks: Why betting against Rory McIlroy and Dustin Johnson might actually be smart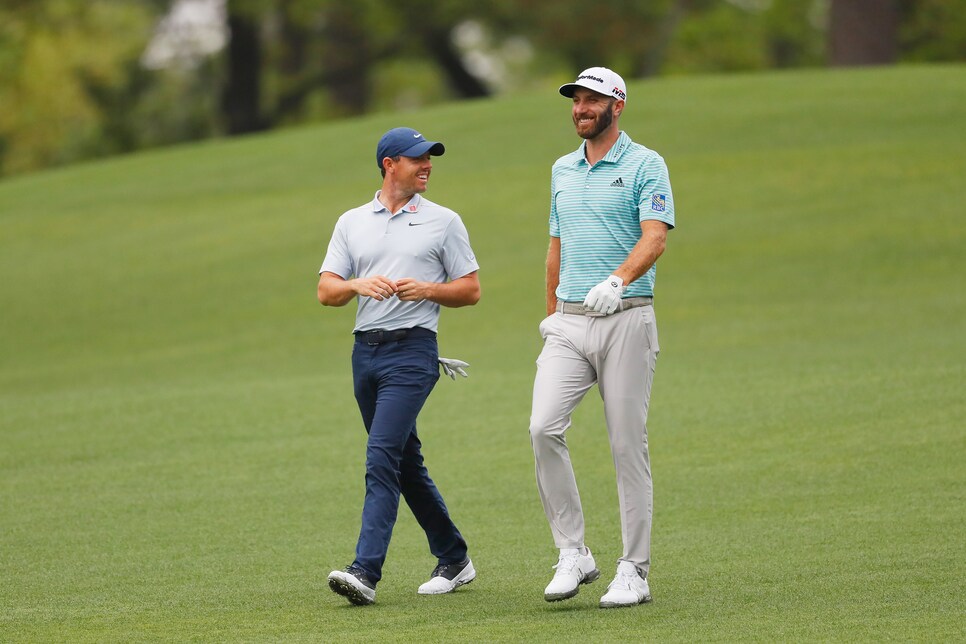 Rory McIlroy and Dustin Johnson are strong favorites (currently -195 at FanDuel Sportsbook, meaning you'd have to wager $19.50 to win $10) against Rickie Fowler and Matthew Wolff (+145). DJ and Rory have been two of the most elite drivers of the golf ball for the past decade, and though Rickie has experience, his partner does not. Will that help or hurt their side?
To handicap this skins match that has a format worth examining before wagering on it, we called on our expert panel, which include some of the sharpest betting minds in golf. Prior to the pause of the PGA Tour season, DraftKings' Pat Mayo had picked the past two winners correctly (Tyrrell Hatton at 55-1 and Sungjae Im at 28-1), which were our eighth and ninth outright winners this season. That includes weeks like the Greenbrier, where three of our analysts were on Joaquin Niemann, and the Sentry Tournament of Champions, where four of us picked Justin Thomas. Those wins only count once. Collectively, we're up more than $2,000 on outright betting in the 2019-'20 season. Is that any good? Our group also includes a tour caddie, who isn't at Seminole this week but is familiar with Seminole and all four players' games. Read on to see our experts' analysis.
Odds courtesy of FanDuel Sportsbook:
Brandon Gdula, FanDuel: Rickie Fowler/Matthew Wolff most money won (+145) -- It's so tough to go against the combination of Rory/Dustin because of how good they are, but the match format and the hole sequencing could actually play to the favor of Rickie and Wolff if we're seeking underdog value. Unsurprisingly, the data shows the biggest advantage for Rory/DJ on the par 5s, which come on holes 3, 9, 14, and 15. That means the big-money 17th and 18th aren't par 5s. That helps the 'dogs.
Yes, any ties that carry over in the middle of the match should get snatched up by Rory and DJ on the par 5s. That's scary. The caveat there: two par 3s (easily the most volatile type of hole) come right before those two mid-round par 5s on holes 8 and 13. If Rickie and Wolff surge ahead, it'll probably be because they win the 8th and/or 13th. We also have to account for the fact that the 18th is worth $500,000. That's $200,000 more than the first six holes combined and equal to the first eight holes. Fowler and Wolff could get outclassed for the majority of the round but still steal some carryover cash on the par 3s and then overcome their opponents on a 417-yard par 4 on the 18th.
Simply given the odds, the hole sequencing, and the volatility in golf, I'd rather just hope for the upset and take the value.
Pat Mayo, DraftKings: Rickie Fowler/Matthew Wolff (+145) -- As the Outlaw Tour has shown us: Even the top talent in an event may need time to warm up. No one's going to argue Rory and DJ are the best two players in this match. But it's the first "competitive" event they've all played since the first round of The Players, and this is a skins game with heavily weighted holes at the end. There's such a high degree of variance involved in this. When there are so many outside factors that are impossible to account for, take the almost two-to-one odds on the underdog. Per FantasyNational.com, the stats show Wolff can compete with the two bombers off the tee. Additionally, Fowler, per his baseline over the past 100 rounds, is the best with his flat stick, particularly on Bermuda surfaces like Seminole. Putting is highly unpredictable, but Fowler is the most consistent of the crew. A few timely putts on the back nine, and all the skins will be theirs.
PGA Tour caddie: Rory McIlroy/Dustin Johnson (-195) -- This is a truly stacked team that's hard to bet against. I realize the value isn't there, but if you're looking for a strong payday, consider this team. Rory's game before the break was unreal, and with DJ's aggressive play it should put them in a good position to make plenty birdies. The forecast is for a mild day, but if the wind starts to gust, Wolff struggles to flight his irons down so that could present some struggles.
Lee Alldrick, FanShare Sports: Rory McIlroy/Dustin Johnson (-195) -- DJ and McIlroy are big favorites, but to me, the price isn't too high. This is a fantastic price for two former (or present) World No. 1s. I've seen folks citing Fowler's course knowledge as a main reason to back Fowler/Wolff, but FanShare's course-suitability ranking tells a different story. Fowler ranks just 65th on Tour for Strokes Gained Total under these conditions. Wolff does not have enough rounds to be able to calculate a ranking but does rank just 111th for strokes gained/putting on Bermuda greens. On the other hand, DJ ranks 7th in our CSR and McIlroy 23rd. Consider that DJ's and Rory's superior skills not only make them the best team on paper, they also have a course that will play into their hands.
Stephen Hennessey, Golf Digest deputy managing editor: Rickie Fowler/Matthew Wolff (+145) -- The heavily progressive skins format lends itself to serious value with the underdog. I snatched up +190 at William Hill, which is still available as of this writing. Both teams are going to have a ton of birdie looks—it'll come down to making putts. And there's a significant advantage with Rickie and Wolff. Dustin Johnson ranks 172nd in strokes gained/putting in the past 50 rounds on tour, according to FantasyNational.com. Those struggles are real, and he just admitted to not playing a round of golf since The Players till last Sunday. Give me almost 2-to-1 on my money with the dogs in a pro-dog format.
Christopher Powers, Golf Digest associate editor: Rickie Fowler/Matthew Wolff (+145) -- It's an absolute no-brainer to take the underdog in an event like this. Low stakes, all for charity and good vibes all around on what's supposed to be a great weather day in Juno Beach, Fla. We're talking about four guys who have been off for two months, so it's not like we can go based off recent form or off course history. I also like the point my esteemed colleague Alex Myers made on our preview podcast: Wolff should be the most motivated of the bunch, and I couldn't agree more. This is a massive event for his career, as all eyes, literally ALL eyes will be on the new guy with the funky swing. Casual fans haven't heard of him yet, so he'll want to bring his best stuff. As for DJ, he just played for the first time since the Players last Sunday, which is the most DJ thing ever. We know Rory will be sharp based off that Instagram video a few weeks back. But the bet is Wolff and Fowler. Rickie always kills it in these low-pressure events (Hero World Challenge, casual rounds with Justin Thomas, etc.). Love the OK State boys at plus odds.
Mayo: Matthew Wolff Longest Drives
There are four holes that DraftKings is offering odds for who will have the longest drive: On holes No. 3, 4, 7 and 9. On each of these holes, Matthew Wolff is +335. Per FantasyNational.com, over the past 24 rounds before The Players, Dustin was first among all players in distance, but Wolff was third (and Rory was sixth). Point is, it's close at the top, and you're getting over 3-to-1 on your money to cash Wolff each time. Wolff could get swept on all four holes, most certainly, but he could win all four as well. Bet them all, hope to go 2-for-4 and walk out with cash.
Gdula: Rickie Fowler Closest to Pin on Hole 5 and 8 (+280 on FanDuel Sportsbook)
Fowler leads the foursome in proximity to the hole from both 175-200 yards and from 200-plus yards over the past 100 measured rounds, according to FantasyNational.com. The 5th is 207 yards, and the 8th is 235. If backing Rory/DJ to win outright, it's the proximity props on par 3s where I'd look to get some value on Rickie and Wolff.

RELATED: 7 prop bets we love for the TaylorMade Driving Relief charity skins

Alldrick: DJ to card the most birdies
If you can find this bet, I'd put money on DJ making the most birdies. I haven't seen odds yet, but the number should be close to even, but oddsmakers would probably give you plus odds.
Hennessey: Closest to the hole, #17: Rory McIlroy (+210, FanDuel)
It's hard to find too many corollary stats that apply to this format, considering we haven't seen these guys compete in more than two months, and they'll be playing on a course never seen by the masses. But here's one edge I think you can glean: Rory McIlroy has been far and away better than his fellow competitors this season on par 3s in the 175-200 yard distance. And the 17th hole is an 185-yard one-shotter. Rory ranks 13th in strokes gained/par 3s from this distance in his previous 50 rounds this season, according to FantasyNational.com. Compare that to the rest of the pack: Rickie Fowler is second-best at 59th in the stat; Dustin Johnson is 63rd and Matthew Wolff is 115th. That should bode well for Rory, who played Seminole earlier this week, too.
Powers: Longest Tee Shot on hole 3: Rory McIlroy (+175, DraftKings)
Last I checked, no one on the planet hits the ball farther than Rory McIlroy. (Yep, I just checked again, that's still true.) OK, so Bryson DeChambeau was leading the tour in driving distance when the season halted, but he only had McIlroy by a yard (1.1 yards to be exact). As long as DeChambeau doesn't make a surprise appearance, I'll gladly take Rory at plus odds to hit it longer than the rest of the group.