News
TaylorMade Driving Relief 2020: 7 prop bets we love for the skins game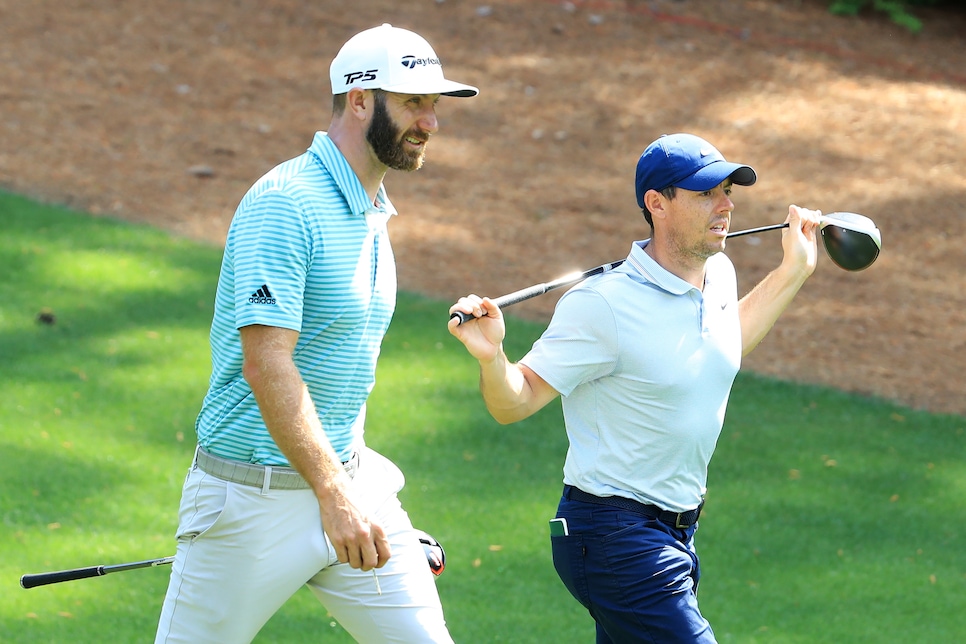 Do you hear that? It's the sound of Jim Nantz screaming "AT LONG LAST!" Only this time he's not referring to Phil Mickelson's winning putt at the 2004 Masters. He's referring to the opportunity to finally bet on live golf once again. Of course, the true degenerates have been able to get their fix via the Outlaw and Cactus Tours, but for the casual bettors, the TaylorMade Driving Relief skins game is the first pro golf event to wager on since the Players Championship.
Unfortunately, the prop market is a little lean, understandable given there are only four players and 18 holes. But we were still able to find enough to come up with our seven favorites.
Here's what we like for this Sunday's showdown between the teams of Dustin Johnson/Rory McIlroy and Rickie Fowler/Matthew Wolff.
Closest to the hole, #17: Rory McIlroy (+210, FanDuel)
It's hard to find too many corollary stats that apply to this format, considering we haven't seen these guys compete in more than two months, and they'll be playing on a course never seen by the masses. But here's one edge I think you can glean: Rory McIlroy has been far and away better than his fellow competitors this season on par 3s in the 175-200 yard distance. And the 17th hole is an 185-yard one-shotter. Rory ranks 13th in strokes gained/par 3s from this distance in his previous 50 rounds this season, according to FantasyNational.com. Compare that to the rest of the pack: Rickie Fowler is second-best at 59th in the stat; Dustin Johnson is 63rd and Matthew Wolff is 115th. That should bode well for Rory, who played Seminole earlier this week, too. --Stephen Hennessey
Holes conceded: Over 1.5, +135 (Bet $100 to win $135), BetOnline
If there aren't multiple concessions in an EXHIBITION for CHARITY during a PANDEMIC, what the hell are we even doing here? We're going to say we're very confident in this one. --Christopher Powers
Rory McIlroy/Dustin Johnson to win the first hole (+250, FanDuel)
A halve is the big favorite, but this is a birdie hole and DJ and Rory have a significant length advantage on the shortish opening hole. If it was less than 2-to-1 on your money, I wouldn't dabble ... but this is a great bet to cash in the first 20 minutes of action. --SH
Fairway in Regulation on first hole? Rickie Fowler: No (+175, DraftKings)
Live betting during the charity match will be available on some books. And DraftKings has odds on every competitor hitting the fairway, hitting the green and making a birdie. Talk about dangerous. We speak from experience from last year's match between Tiger and Phil. The first hole provides a generous landing area, but there's not much value there. I think the players know the first hole is a birdie hole, so Rickie might get a little overaggressive with his first tee ball. Seminole should be playing pretty firm and fast as it does, so if Rickie gets aggressive and his ball rolls just off the fairway, you'd be in for a quick cash. --SH
Birdie on the first hole: Dustin Johnson (+320, DraftKings)
This is kind of a derivative bet from my lean on DJ/Rory to win the opening hole. DJ (+320) has a slightly better price to make birdie on the first hole than Rory (+300). It seems like there's some slight value here with a short approach in. I like DJ especially with a wedge in his hands. --SH
Longest Tee Shot on hole 3: Rory McIlroy (+175, DraftKings)
Last I checked, no one on the planet hits the ball farther than Rory McIlroy. (Yep, I just checked again, that's still true.) OK, so Bryson DeChambeau was leading the tour in driving distance when the season halted, but he only had McIlroy by a yard (1.1 yards to be exact). As long as DeChambeau doesn't make a surprise appearance, I'll gladly take Rory at plus odds to hit it longer than the rest of the group. --CP
Closest to the hole, #5: Matthew Wolff (+310, FanDuel)
The par-3 fifth will be a mid-to-low iron for all four of these guys. Might as well take the guy with the highest odds and hope he hits one stiff. --CP
You are using an unsupported version of Internet Explorer. Please upgrade to Internet Explorer 11 or use a different web browser.
Closest to the hole, #5: Rickie Fowler (+280, FanDuel)
I'm going to use that same logic, but give me Rickie Fowler, who has the experience at Seminole and knows all the subtle contours on the green. Though Rory has just as much course knowledge as Rickie, if not more, I give a slight edge to Rickie's ability to stopping the ball close with an iron, hugely important to cashing this bet. --SH