News
Maybe it's Bryson's week and three other takeaways from Day 1 at the Rocket Mortgage Classic
Bryson DeChambeau plays a shot on the ninth hole during the first round of the Rocket Mortgage Classic.
Stacy Revere
Forecasting the outcome of golf tournaments is a foolish endeavor, which is why "this is Bryson DeChambeau's week" claims were met with plenty of skepticism. Through one round of the Rocket Mortgage Classic, it's clear that might not have been so outlandish after all.
From his very opening tee shot, which went 344 yards, DeChambeau made his presence felt at Detroit Golf Club. If he keeps it up Friday through Sunday, it actually might be his week. Before we get too far ahead, though, here are our takeaways from Day 1 of the Rocket Mortgage Classic.
The Bryson train remains full steam ahead
At 6-1, DeChambeau's odds were Rory McIlroy-like prior to Thursday. The common take was that there was not nearly enough value to wager on him. Now that the Mad Scientist/incredible Bulk opened with a first-round, six-under 66, many are probably wishing they grabbed him at that number while it was hot.
As of now, DeChambeau's odds have dropped to +250, and if he plays anything like he did Thursday over the next three days, even that might be a bargain. He was absolutely walloping the ball again, starting with the bomb on the opening hole and adding six more drives over 340 yards the rest of the way. At the 14th, he hit one 354 yards and flipped a 27-yard wedge to tap-in range. The next hole, the par-5 15th, he MASHED one 375 yards, hit his 195-yard approach to 30 feet and made the eagle putt. It's just a silly game he's playing right now. As DeChambeau said on Tuesday, apologies to Mr. Ross.
Mark Immelman pointed a wild stat out during the broadcast: DeChambeau has made five or more birdies in nine of his first 13 rounds post-lockdown. What's frightening is that it seems like he hasn't even put it all together yet. He's still making a few too many mistakes (four bogeys on Thursday), which comes with the bomb-and-gouge territory. If he throws up a bogey-free round just one of the next three days, he'll run away with it.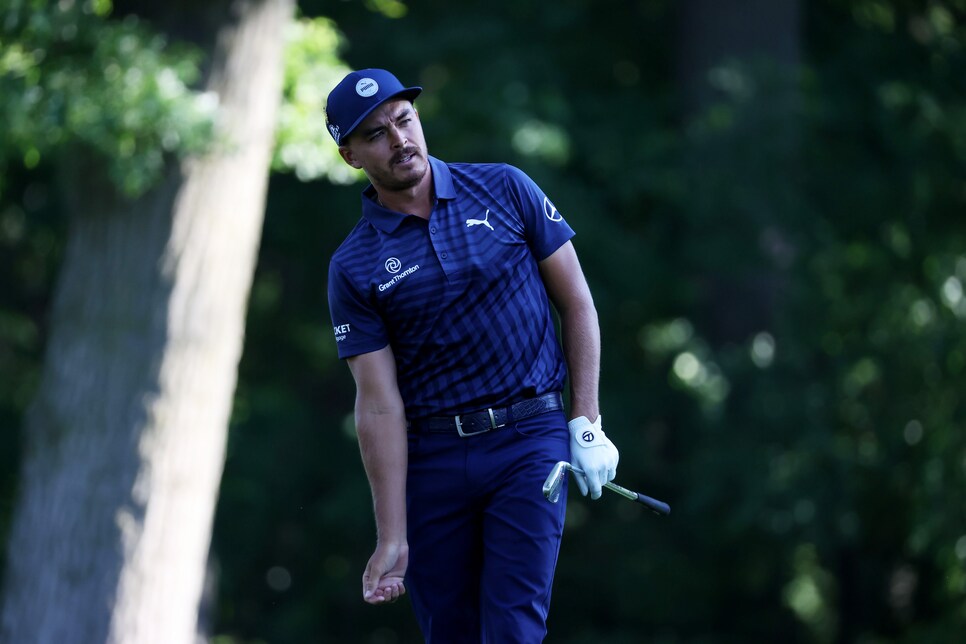 Rickie Fowler reacts to his shot from 11th tee in first round of Rocket Mortgage Classic.
Gregory Shamus
I'm reluctant to write about the Rick-tator just yet, mainly because it will mush my 33-1 ticket on him to win into oblivion. But also, how many times have we seen him throw up a low one on Thursday and fade to T-12 by Sunday? Too many times is the answer.
But his five-under 67, which included a double bogey, is certainly worthy of early-week praise, especially coming off back-to-back missed cuts, which is very out-of-character for Fowler. He missed just two all of last season, and just three in each of the previous two seasons. He may not be the best closer or most prolific winner, but one thing he's not is a guy who routinely misses the weekend.
If he did find something during his week off, he won't be missing it on Friday. Fowler has been going through some swing changes, which may have been the reason he had some post-quarantine struggles. But it appears he cleaned some of that up this past week, and his putter was back to its old form on Thursday. If he's rolling it well and swinging it well, he'll be in the mix until Sunday. What he does then remains to be seen, as is often the case.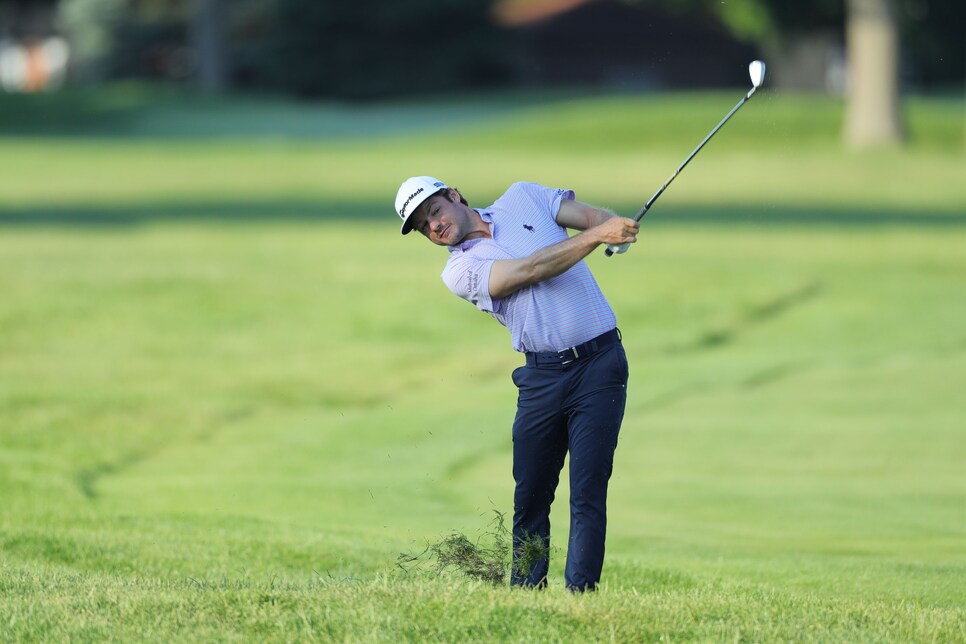 Doc Redman hits a shot on 11th hole in first round of Rocket Mortgage Classic.
Leon Halip
If you scrolled Golf Gambling Twitter on Monday through Wednesday, there may not have been a chalkier "sleeper" pick than Doc Redman. Sometimes, the chalk is right, as Redman went out and tore up Detroit Golf Club to the tune of a seven-under 65. Last year, he got into this event as a Monday qualifier, and it marked just his fifth start on the PGA Tour. All he did was finish runner-up, and if Nate Lashley didn't go nuclear, he might have won the thing.
Since then the former U.S. Amateur winner has been solid, collecting six top 25s in 22 starts, including a T-11 last week at Travelers. He's done all this without getting a fraction of the love that some of the tour's other rising stars do, which could be because he hasn't won yet. In fact, his only top 10 remains the runner-up at this event last year, but this 22-year-old is the real deal. Great opportunity for him to remind everyone of that over the next three rounds.
Way-too-early story of the week alert: Chris Kirk
Last May, Kirk revealed he had been battling both alcoholism and depression, opting to take a leave of absence from professional golf. He returned to the PGA Tour in November and struggled in his first six pre-coronavirus appearances, missing five cuts.
Following the lockdown, Kirk tied for 60th at Colonial, then played in the Korn Ferry Tour's The King & Bear Classic the very next week and won it out of nowhere. It was his first victory on any tour in over five years. Obviously, it was the most special of his seven victories as a pro.
"For months, I didn't think I wanted to do this anymore," Kirk said after the win. "I knew in the back of my mind I'd probably come back, but I had some thoughts of, I wanted to do something where if I work really hard, I'm going to succeed. In professional golf, hard work is a prerequisite for sure, but that guarantees you absolutely nothing.
"That was one of the feelings I was having, I just felt like I didn't want to beat my head against the wall anymore. But after not playing for a few months, it was pretty easy to remember why I love playing and why I love competing. Yeah, there are times when it can beat you down, but the success and the good times are well worth it."
There's no question Kirk is glad he kept at it now. On Thursday, two weeks removed from the comeback victory, he opened with a five-under 67, his lowest score to par on the PGA Tour since the final round of the 2018 Wyndham Championship. There's no cheering in the press box, and without fans on the grounds, there's no real cheering at all. But everyone watching at home is encouraged to root for Kirk from their respective couches this weekend.