News
Brian Gay ends seven-year drought and three other takeaways from the Bermuda Championship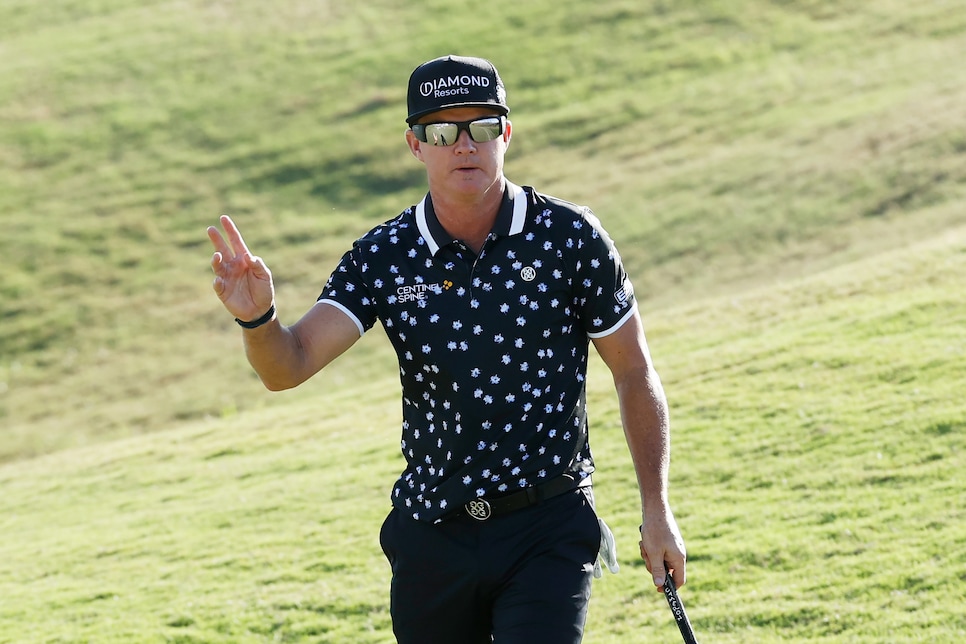 We often hear about how young the PGA Tour has become and how many young players are so good so quickly. While that's true, the early portion of the 2020-'21 season has proven that the old guys should not be slept on.
The latest 40-something to get it done was Brian Gay on Sunday at the Bermuda Championship, which featured a leader board stuffed with younger players looking to break through. But the wily, 48-year-old veteran ultimately pulled out the unexpected victory with some unbelievably clutch shots down the stretch. Experience still plays on tour, evidently, and Gay has plenty of it.
Here are our takeaways from the final round at Port Royal.
Brian Gay ends seven-year drought
Stewart Cink, Sergio Garcia, Brian Gay. What do the three have in common? They're all 40-plus and they all have a win in 2020, yes, but all three have also shown their incredible longevity this season. Gay's first of now five PGA Tour victories came in 2008, and 12 years later he was victorious again. No, he's not a major champion and we're not saying he's had the career of a Garcia or a Cink, but Gay has made $22 million on tour and keep his card ever since he first earned it in 1999. No doubt he's been a solid player for a very long time.
What made his Bermuda win so impressive, however, was the fact that that no longer seemed to be the case. Gay's all-world consistency finally took a dip in the second half of the 2019-'20 season, which got off to a strong start with a T-7 at the Shriners and a T-3 in Bermuda in 2019. After that, though, he missed 15 of his next 20 cuts, including two to start the 2020-'21 season, posting just one finish in the top 20. Even Gay knows this came out of nowhere.
"This is absolutely insane," Gay said after holing the winning putt on the first hole of a sudden-death playoff with Wyndham Clark. "I've been playing awful since COVID, it's been a struggle. Been trying to work hard and get back. I love this place. Came here last year and finished third, so I had good feelings coming in."
After shooting rounds of 70, 68 and 67, Gay saved his best for last, shooting a seven-under 64 to match Clark's 72-hole total of 15 under. It looked like he let it slip away at the par-5 17th, which he three-putted for his second bogey of the day. The timing couldn't have been worse, but at the 18th, after a long discussion with his caddie over club selection, Gay struck a perfect approach and asked for it to "go in the hole" as he sailed right at the pin. It nearly did, spinning back to tap-in range. He birdied the hole again in the playoff, then watched Clark's birdie effort slip past the left edge, Day him his first win since the 2013 Humana Challenge.
"Look, I know I've got the game to compete out here," Gay said. "But it's certainly easy to doubt yourself. The players are so good and so young, a lot of them are my daughter's age, so, it's pretty unbelievable."
The win earns Gay an invite into the 2021 Masters, a tournament he has not played in since 2013. Gay's only appeared in three majors since that year, an Open Championship in 2016 where he missed the cut, and the 2018 U.S. Open (T-20) and 2018 PGA Championship (79th). Every win is the proverbial "this must be the most special one," but in Gay's case, it's actually true.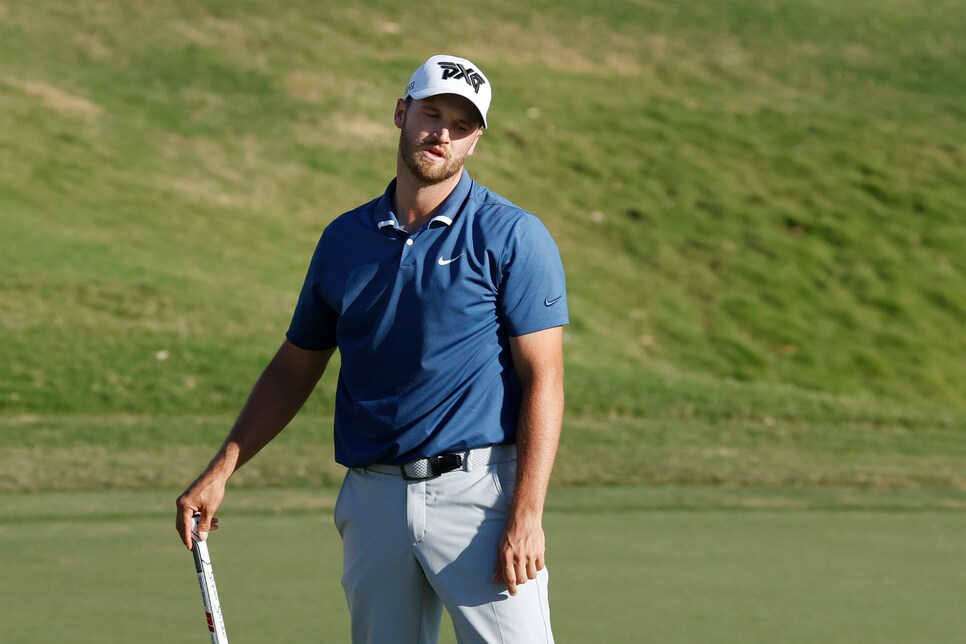 Wyndham Clark let one get away
That may sound harsh, but all you need to do is look at his face in the above photo. That's Wyndham Clark's reaction to his missed putt on the first hole of sudden death, and it's a face that screams "how did I lose this one?" At one point, Clark had a four-shot lead on the back nine, and was primed to cruise home. He shot a front-nine 31, then made back-to-back birdies at the 10th and 11th holes. Every swing was pure, every putt was pure. All he had to do was not beat himself.
While Gay did enough to win, Clark did plenty to lose as well. His tee shot on the par-3 16th finding a greenside bunker, and then that bunker shot barely getting out of the sand and failing to get on the green will give him nightmares. And a poor drive at the par-5 17th forced him to lay up, taking eagle out of play and making him work for birdie. He didn't make birdie, then missed two very makeable birdie putts at the 18th in regulation and in the playoff. He had ample chances to get it done, he just didn't capitalize on them.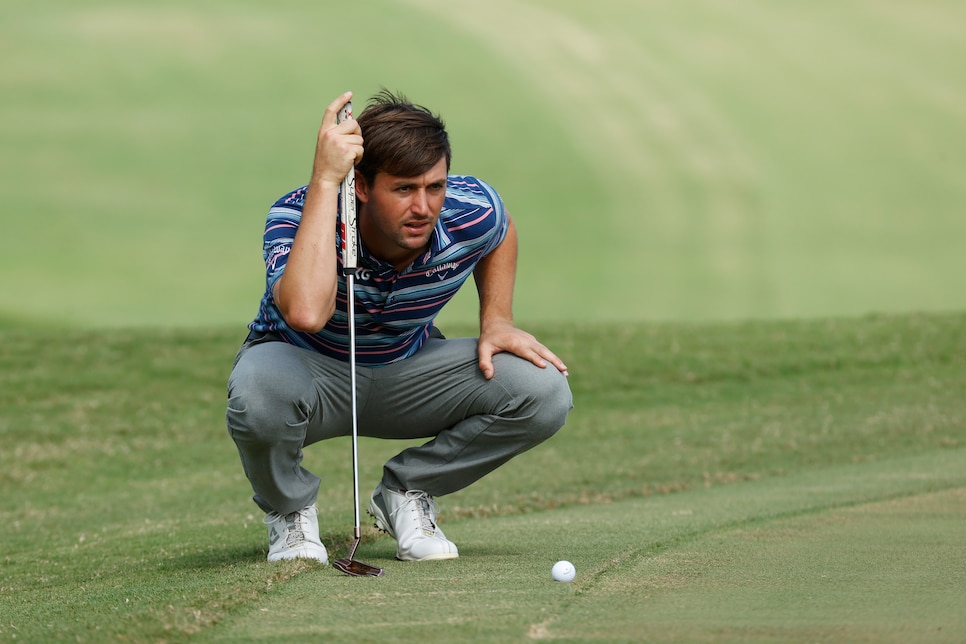 Ollie Schniederjans comes up clutch
No, the former top-ranked amateur in the world didn't get a win, but his solo third might have been just as big for him. In his first two seasons on the PGA Tour, Schniederjans lived up to the hype, collecting eight top 10s including three top threes in 2017 and 2018. But a woeful 2019 campaign saw him finish the season 178th in the FedEx Cup standings, relegating him to the Korn Ferry Tour.
It had to be a brutal blow for a player who had such promise, but Schniederjans accepted the challenge. In 17 KFT starts in 2020, the former Georgia Tech standout finished inside the top 12 eight times. He was second on the KFT in birdie average, 11th in scoring average and first in birdie or better conversion percentage. He brought that strong form with him to Bermuda this week, where he was making his first PGA Tour start since last year's Bermuda Championship thanks to a sponsor's exemption. Schniederjans believes it's a sign of things to come.
"Obviously a win would change my whole situation more than these guys because I'm a sponsor exemption this week," Schniederjans said. "I'm just lucky to get the opportunity and take advantage of it and have a chance. I mean, first time with my brother on the bag with a chance to win a PGA Tour event on Sunday is really fun. And I played great right off the bat, four under at the turn, I was right there on the back nine. So I can't really … I don't really have any regrets today. It's just as close as you can get without getting it done. Just looking forward to Houston now, see what I can do. My game feels really good."
Count us among those rooting for the hatless wonder to get back to his former stud self. The more young guns the better, even if the old guys are dominating them right now.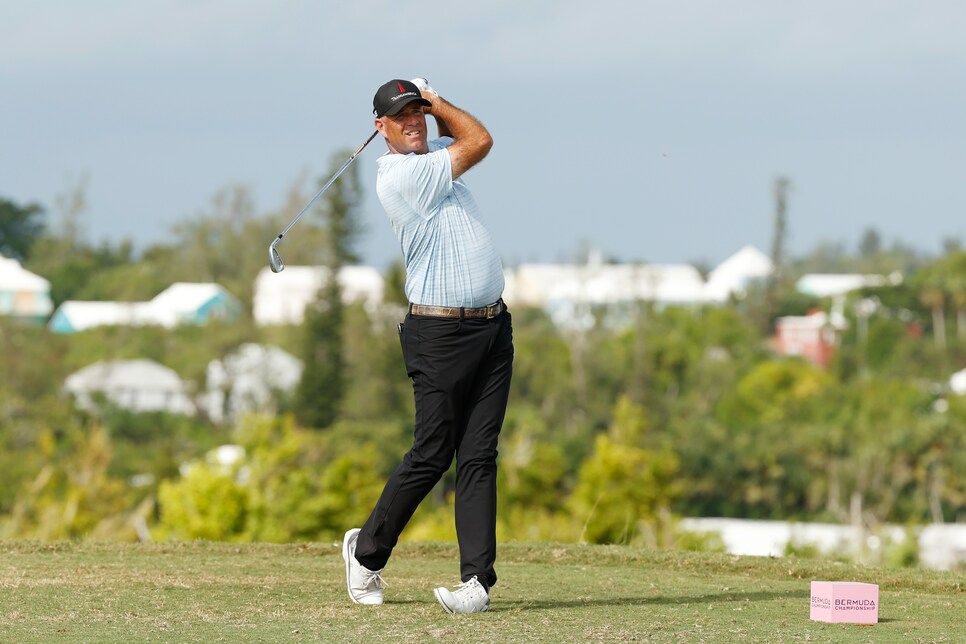 The Stewart Cink resurgence continues
With a final-round 64, Stewart Cink locked up his third finish of T-12 or better in four starts this year. One of those, of course, was a win at the Safeway Open, Cink's first since the 2009 Open Championship. At 47 years old, he's playing some of the best golf of his life. What's his secret?
"It's been a couple of factors. Reagan caddieing for me, my son, we have great chemistry," said Cink, who was supposed to go back to veteran looper Kip Henley after the Sanderson Farms Championship. "You know, half his DNA is mine and we just see things the same way on the golf course and we have really good communication out there on our shots. It makes me be really decisive and committed. That certainly helps when you're searching for ways to separate you from the competition out here where everybody is so good. Those little things really, really matter, so that's been a big factor."
As good as the father-son partnership has been for Cink's game, a key equipment change before the Safeway Open has been a massive help, too.
"I kind of lowered my spin rates through my whole bag, driver all the way down through my irons, and when we came here and we had the crazy winds there for a couple days, I think I was able to keep my ball sort of like mildly, you know, less out of control than maybe I would have before."
The top-five finish in Bermuda moves Cink just four points back of Bryson DeChambeau in the FedEx Cup standings. Yes, it's still very early in the season, but being No. 2 at any point is always a good thing.
"Just to be looking at that list and seeing my name, it just continues to give me confidence over and over knowing that I'm doing the right things on the golf course and I just don't plan to change anything."