News
Matthew Wolff's wild day and other takeaways from Round 3 of the Shriners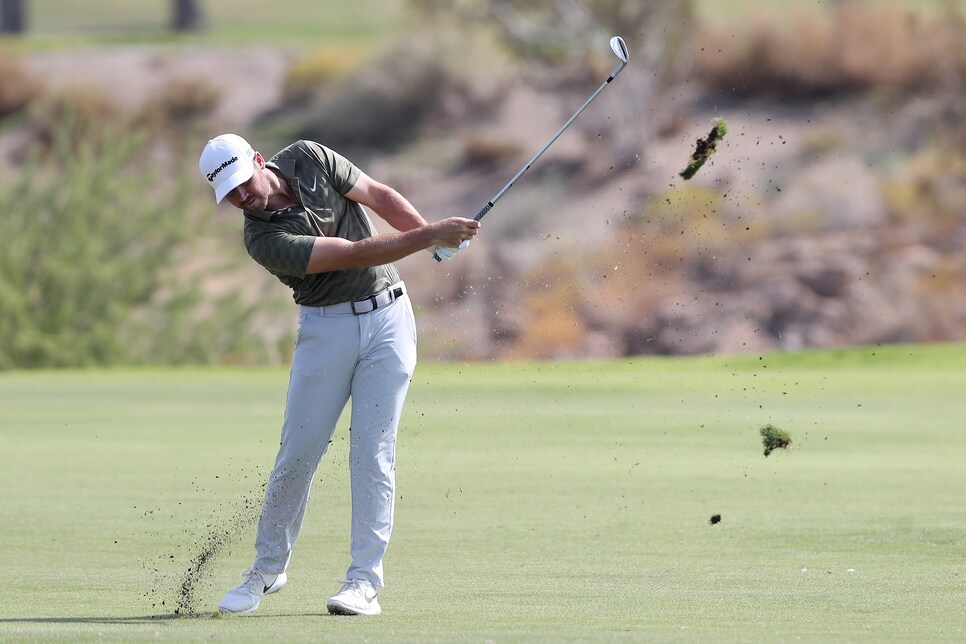 After a brief respite from crazy-low scores during the U.S. Open at Winged Foot, the birdie-fests are back in a big way on the PGA Tour. If you're at 11 under through 54 holes of the Shriners Hospitlals for Children Open, you're nine shots off the pace, not to mention Matthew Wolff almost matched your score in one round on Saturday.
Even with his scintillating 10-under 61, Wolff is also a few shots back of the leaders. At TPC Summerlin, birdies are like pars and pars are like bogeys. And, as Bryson DeChambeau came to find out in his third round, double bogeys are a death sentence (though that's true almost every week).
Here are our takeaways from Day 3 of the Shriners Hospitals for Children Open.
Matthew Wolff went LOW (and he should have went way lower)
Anytime you shoot 61, you're really "golfing your ball," which is one of the worst cliches/golf sayings going. That said, Matthew Wolff golfed the absolute hell out of his ball on Saturday in Las Vegas. The only problem, if we had to nitpick, was his putter, a common theme in this early portion of his career. Incredibly, he shot 61 despite gaining only 0.2 strokes on the greens. He missed eight birdie putts of 16 feet or less, including on his final two holes, lipping out both times and watching 59 slip away. In reality, he could have shot 56 or 57.
"I just told myself to give myself as many looks as I can and the putts would fall," Wolff said. "Even though it seems like some of them didn't, I hit the ball really well."
Really well is an understatement. Wolff gained more than three strokes on approach, more than six tee-to-green and 1.6 off-the-tee. He made three eagles in five holes on his back nine, one of which came from 115 yards away at the 11th. But it was an approach shot from the previous hole he credited the hot streak to.
"I think it was more the wedge shot on 10 really was the turning point. That really felt like it was a little different swing, but different in a good way. I flagged it on 10 and then 11 I holed out. And from then on I felt like I didn't hit it outside 15 feet pretty much the rest of the way.
"So I was really happy with how my game is trending and the things I've been working on and put myself in a good spot."
Wolff's in a great spot at 18 under, two back of Patrick Cantlay and Martin Laird. A halfway decent putting day on Sunday and some more good ballstriking should give him a great opportunity at PGA Tour win No. 2.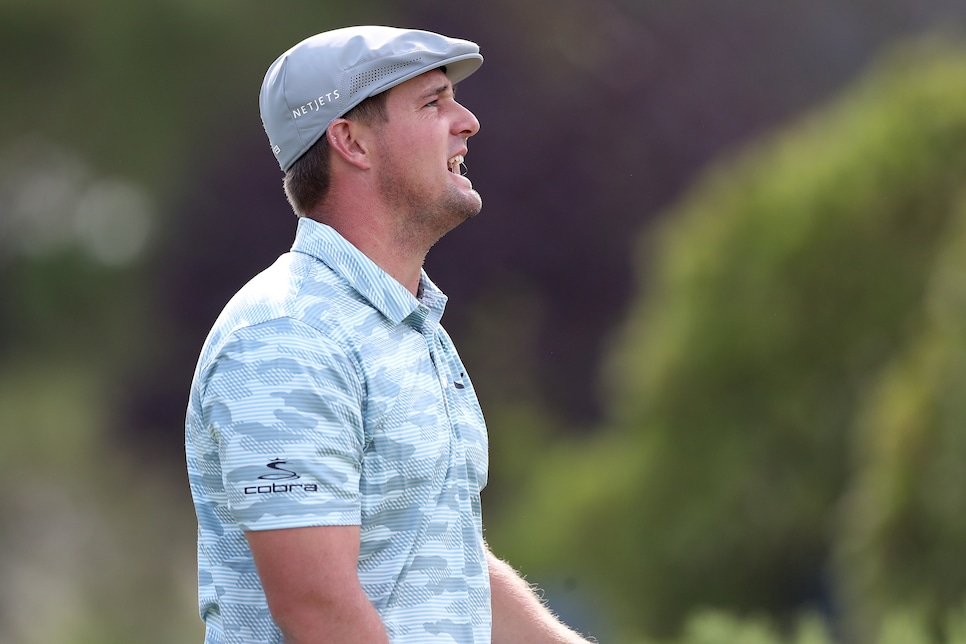 Reminder: Golf is not that easy
With the way he won the U.S. Open, the way he started the Shriners, and the way both his peers and those of us in the media were talking, it was as if Bryson DeChambeau had completely broken the sport. Saturday was a reminder that it still ain't that easy, even if you are hitting 360-yard nukes that find the fairway more often than not. The Mad Scientist was off his game early, playing his first seven holes in five over and dropping all the way to eight under for the week. After we all handed him the tournament, he played his way out of it in less than two hours.
"Yeah, it was really weird. I don't know. It's golf, right?" DeChambeau said. "I mean, you're never going to play your best all the time, right? So I just felt like couple things got off a little bit. Didn't really hit bad shots, just didn't go where I wanted to.
"Went into some really bad places and, unfortunately, didn't save par from them. Just stuff didn't go my way today, and it's OK. Not a big deal."
To his credit, a clearly upset DeChambeau fought all the way back to even par, shooting a third-round 71. But even par at the Shriners might as well be five over. He fell into a tie for 31st at 13 under, putting him seven off the lead with a round to play. It's not over, of course. Matthew Wolff showed that a 61 or a 62 can put you right back in it. The way he finished his round, it's not out of the question.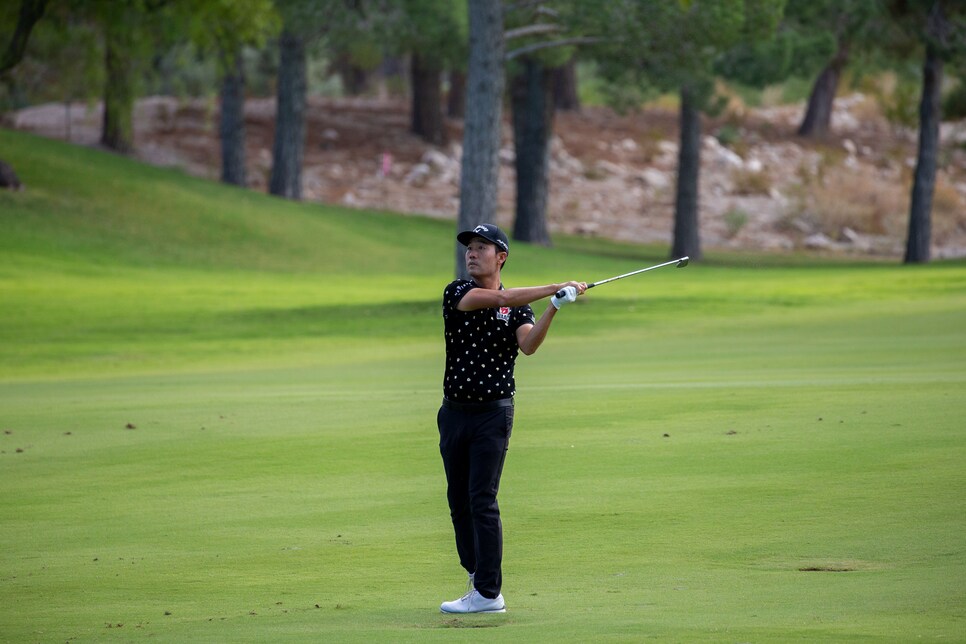 Surprise, surprise, Kevin Na is in contention in Vegas
We've talked a lot about Patrick Cantlay's incredible record at the Shriners, but Kevin Na's is just as good, if not better. Na, who resides in Las Vegas, won here last year and in 2011, tied for second in 2015 and has finished inside the top 20 in two other starts. On Saturday, the 37-year-old shot a seven-under 64 to get to 17 under, which puts him in striking distance. Would not be the least bit surprised to see a Cantlay-Na playoff repeat on Sunday, though it will require something pretty special from Na.
Will Zalatoris can earn special temporary membership on Sunday
Last week, Will Zalatoris missed the cut at the Sanderson Farms Championship, an event he earned a spot in thanks to his T-8 in the Dominican Republic. Had the hectic stretch of golf, which included a T-6 at Winged Foot, finally caught up to the rising star? Apparently not, as he's gone 68-64-64 at the Shriners, which has him in a tie for seventh with 18 holes to play. He's 103 FedEx Cup points away from a special temporary membership on the PGA Tour, which would allow him unlimited sponsor's exemptions. This means he'll need to finish at least fifth or better on Sunday. Ultimately, a PGA Tour card seems a matter of when, not if, for the 24-year-old.