News
BMW PGA co-leader Matthew Fitzpatrick speaks out against the distance boom: 'It just makes a bit of a mockery of the game'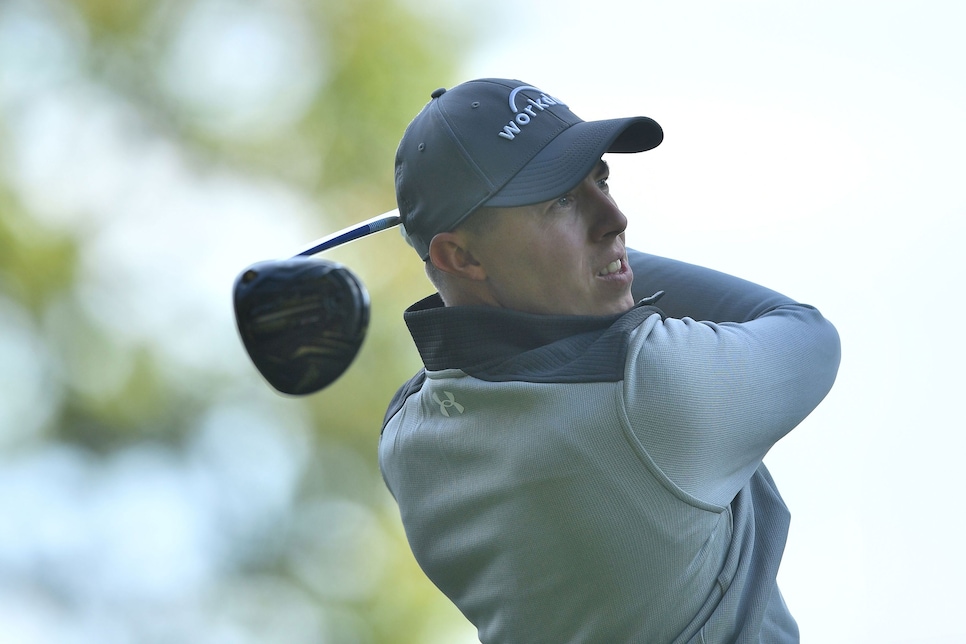 England's Matthew Fitzpatrick tees off on the third hole during Friday's second round of the BMW PGA Championship at Wentworth.
BEN STANSALL
It's hard to imagine a bigger architectural and cultural contrast. The city of Las Vegas and the village of Virginia Water have virtually nothing in common, other than the fact that both are this week hosting professional golf tournaments. And that obvious dichotomy is also holding true on the two golf courses. While Bryson DeChambeau has blasted his way into the early lead at the Shriners Hospitals for Children Open in Nevada, Matthew Fitzpatrick has taken a more subtle approach to the BMW PGA Championship at Wentworth.
Tied at the top of the leader board alongside Open champion Shane Lowry at 12-under 132, Fitzpatrick was clearly more than happy with a second-round 65 that included seven birdies, an eagle and one lapse, a double-bogey 6 at the par-4 eighth. After a season on the PGA Tour the 26-year-old Englishman described as "hit and miss" and "just not as consistent as last year," Fitzpatrick's trip down the Burma Road course was built on sound foundations.
"Everything was solid, really," he said. "Drove the ball well. Chipped well. Putted well. Iron play was good. It's nice that it all come together. The last few weeks I've done three things well and one thing's been off. But I've always loved this course and felt that it suited my game."
Fitzpatrick's game, of course, is constructed around the consistency he has recently found elusive. But what his slimly-built figure does not allow him to do is launch the ball enormous distances off the tee. Last season on the PGA Tour, the world No. 20 ranked a ho-hum 68th in driving distance, despite averaging 309.8 yards off the tee. And Fitzpatrick isn't afraid to say that trend of players maxing out on distance is not something he welcomes.
"I'm biased because I'm not quite the longest," said the five-time European Tour champion. "But in the U.S. Open at Winged Foot, fair play to Bryson, he won and shot six under. But the fairways were tight as hell. I drove it brilliantly and actually played pretty well [despite missing the cut by one stroke], but I was miles behind. He's in the rough and miles up and he's hitting wedges from everywhere. It just makes a bit of a mockery of the game.
"I looked at Shot Tracker yesterday, to see some of the places Bryson hit it," Fitzpatrick said, referring to DeChambeau's first round in Vegas. "He was cutting corners. And when he's on, there's no point. It doesn't matter if I play my best. He's going to be 50 yards in front of me off the tee, and the only thing where I can compete with him is putting. Which is just ridiculous. But we're going to see people going harder and harder at it. Look at the college kids coming out now, Matt Wolff, Viktor Hovland. They just smash it, basically. Matt is a great player, but it seems to me the game is smash it and get after it and play the next one from wherever it is."
Asked whether the R&A and the USGA should do something about the ever-increasing distances leading professionals hit their drives, Fitzpatrick, ironically, didn't hold back.
"I really hope they do," said the former U.S. Amateur champion. "In my opinion, it's not a skill to hit the ball a long way. I could put on 40 pounds. I could go and see a bio-mechanist. I could gain 40 yards; that's actually a fact. I could put another two inches on my driver. But the skill is to hit the ball straight. That's the skill. He's just taking the skill out of it in my opinion. I'm sure lots will disagree. But it's just daft."