Takeaways
Niemann's chance at history, hole-in-one stunts Merritt's momentum, and why Sunday is so big for some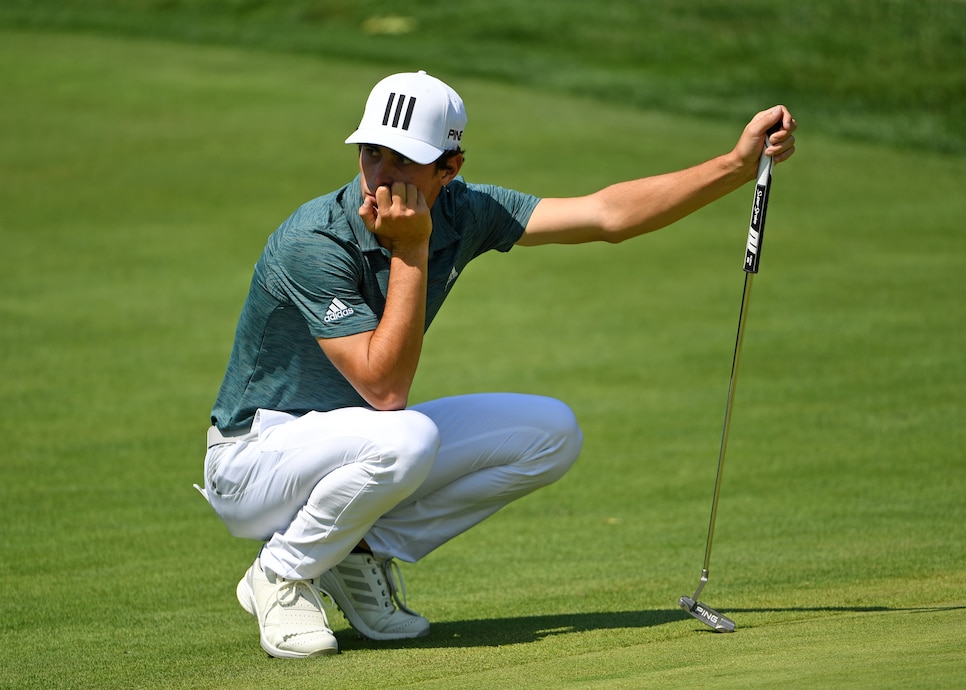 Joaquin Niemann waits to putt on the ninth green during the third round of the Rocket Mortgage Classic.
Nic Antaya
Should Niemann remain bogey-free for the duration of the tournament, AND win the tournament, he would become just the third player in PGA Tour history to win a 72-hole event without a bogey. The first to do it was Lee Trevino at the 1974 Greater New Orleans Open, and he remained the only one to do it until the 2019 Wyndham Championship, which J.T. Poston won with four squeaky clean scorecards. Not only is Niemann playing for history, he's playing to exorcise some serious second-place demons. Since his lone tour victory at the 2019 Greenbrier, Niemann has five top-5s on tour, including a pair of runner-ups, which both came during the Hawaii swing in 2021. He's had only one top-10 since, which came at the Valspar Championship.
Is Sunday life or death for the 22-year-old? Absolutely not. He has plenty of wins in his future, and currently sits inside the top 30 in both the Official World Golf Ranking and FedEx Cup standings. He'll be just fine, win or lose, but a history making second tour win would certainly be a nice one for his soon-to-be full trophy room.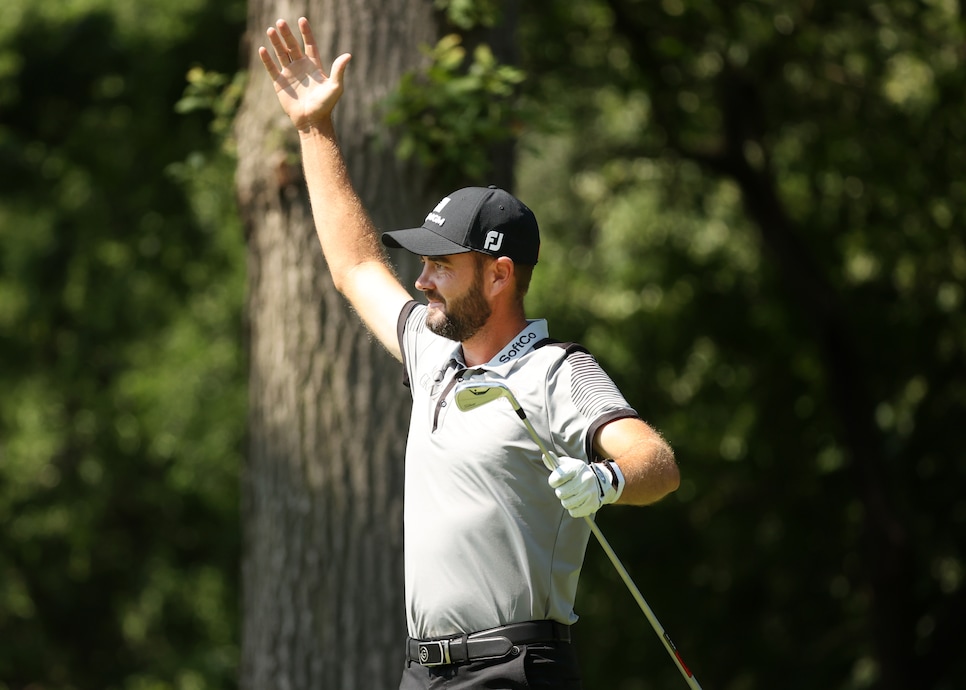 Troy Merritt reacts to a hole-in-one on the 11th tee during the third round of the Rocket Mortgage Classic.
Gregory Shamus
It sounds like an absurd question: Can a hole-in-one be bad? In Troy Merritt's case, though, it's a very legitimate one.
Early on moving day at the Rocket Mortgage Classic, there was no bigger mover than Merritt. The two-time tour winner was four under through seven holes, which put him at 13 under for the week and in the solo lead. A few holes later, after lipping out for birdie at the 10th, Merritt aced the par-3 11th, his first-career hole-in-one. He led by three, and, at that point, looked like he could run away and hide.
Merritt did not, in fact, run away and hide, instead coming back to the pack, setting up some potential Sunday fireworks with a bunched leader board. The Iowa native bogeyed the very next hole after his ace, then managed to make six straight pars to close out his round despite some shaky ballstriking. His five-under 67 puts him in a tie for the 54-hole lead at 14 under, which is the good news. The bad news? He had a prime chance to give himself some breathing room.
What we're saying is ... yes, the hole-in-one might have actually been bad, which is really crazy considering he almost made one at the par-3 fifth, too. Again, it's not all bad though. He's in prime position for career win No. 3, and he's got to buy everyone drinks tonight, which is bad for the wallet but good for the karma.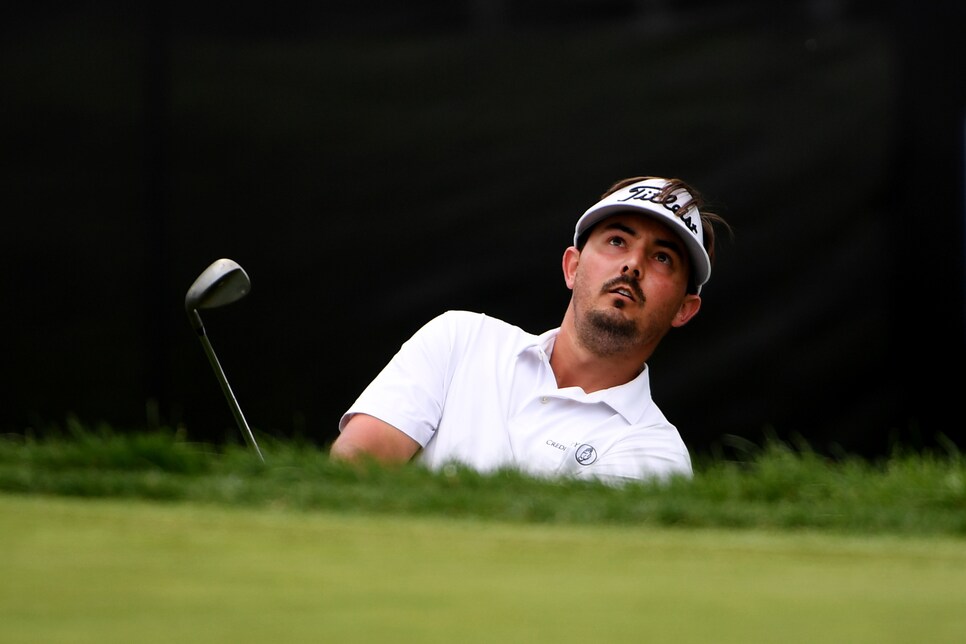 Hank Lebioda chips onto the sixth hole during the third round of the Rocket Mortgage Classic.
Nic Antaya
Sunday is a very big day for some
For a few names near the leaders, Sunday is a massive day, and these few wouldn't even need to win to make it a season-changing day, though they'd be happy to do so. We'll start with Hank Lebioda, whose third-round 66 has him just one off the lead, in legitimate contention to win. But, hey, why not a T-2 or T-3? That would be crucial for this visor swag lefty, who came into the week at 114th in the FedEx Cup standings. As of now, he's projected to move to 81st, a position that would make him feel more than safe to reach the playoffs at season's end. Lebioda, who became a full PGA Tour member in 2019, did not advance to the playoffs in each of the previous two seasons. So, yeah, Sunday is pretty big. It could also be his second straight top 5 on tour, which would be a career-first.
And then there's England's Tom Lewis, who sits three off the lead at 11 under. Lewis, unlike Lebioda, has made the postseason before (2020), but failed to advance past The Northern Trust, He's currently 161st in the standings, and is projected to jump to 139th. Not a massive leap, but that would get him much closer to the top 125, not to mention he could improve thay position with a low round on Sunday. Big things were expected from the Englishman when he was low am at the 2011 Open Championship, but he's had just two European Tour wins, a pair of PGA Tour top-10s and little success in the majors in the decade since. Sunday could go a long way in changing that.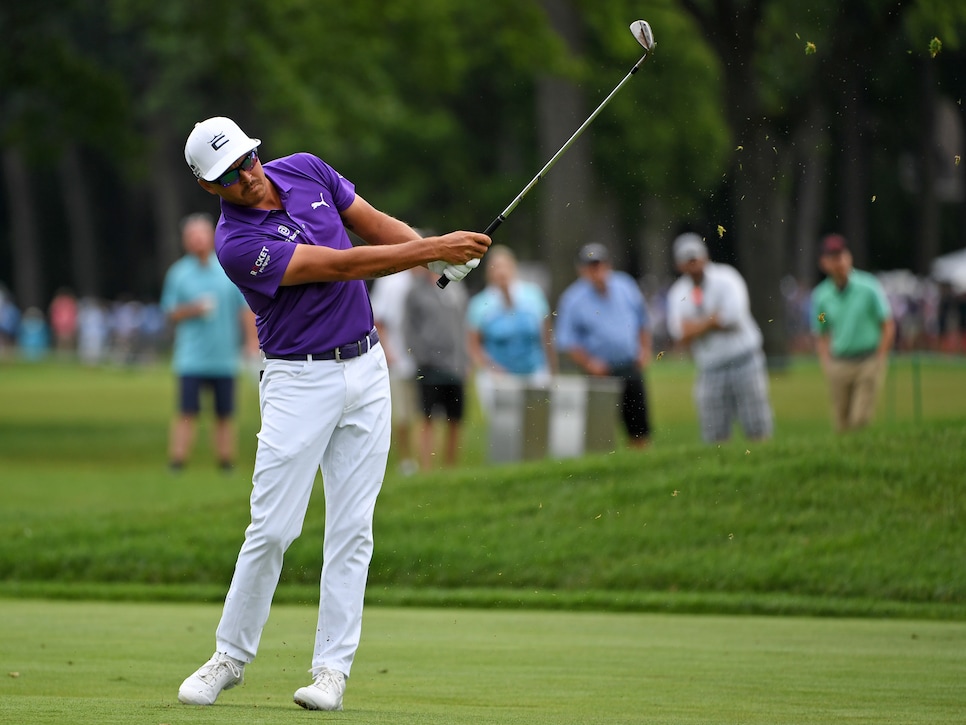 Rickie Fowler plays his shot on the third hole during the third round of the Rocket Mortgage Classic.
Nic Antaya
This tournament is extremely up for grabs
Given the fact both Merritt and Niemann have winning experience and the ability to make a bunch of birdies, they could prove to be a tough final pairing to catch. But, this course is ripe for a 62 or 63, and there are plenty of dudes capable of exactly that creeping on the leader board. Cam Davis (-13) eats par 5s for breakfast, Brandon Hagy (-12) can overpower this course with his insane distance, Jason Kokrak (-11) is looking for win No. 3 on the year, which would suddenly make his Ryder Cup case go from "ehh, maybe" to "yes, absolutely." Then there's Kevin Kisner (-11), who could putt his way to victory, in addition to tour winenrs Chris Kirk (-11) and Pat Perez (-11), who are both looking to end victory droughts. Sungjae Im (-10), Rickie Fowler (-9) and Keegan Bradley (-9) are doing some serious lurking, too. Expect some chaos on Sunday in Detroit, which could be a tough scene for those holding on to a Merritt 100-1 ticket (*slowly raises hand* ... *dies inside*).