Takeaways
Familiar face rises from the dead, J.J. Spaun eyes life-changing win and Beau Hossler's wild turnaround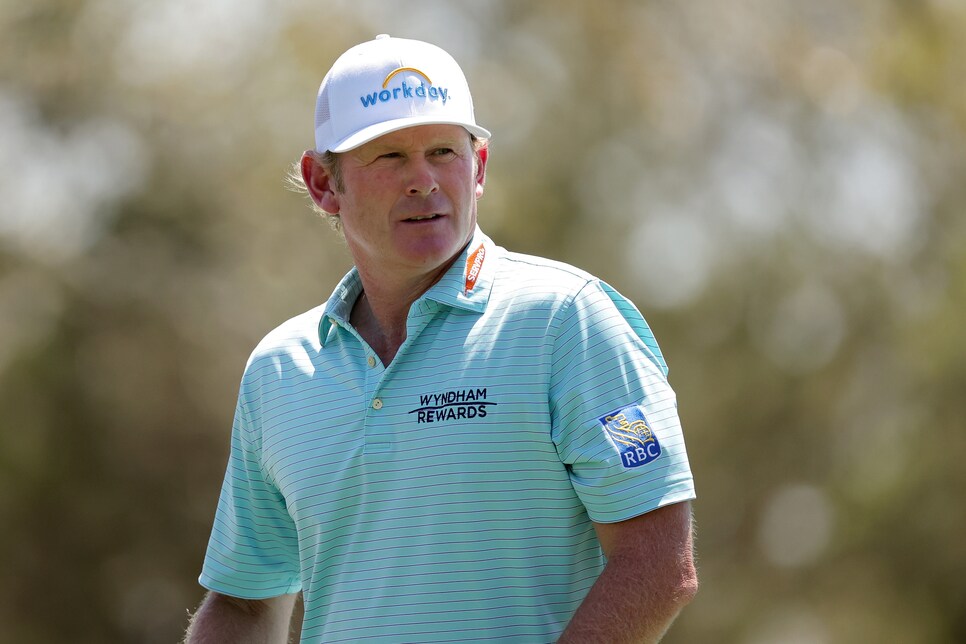 Brandt Snedeker walks across the eighth hole during the third round of the Valero Texas Open.


Stacy Revere
There was a time when Brandt Snedeker was not only a Masters regular, but a regular contender. As of right now, he's in danger of missing the year's first major for a second straight season, something he hasn't done since 2006 and 2007.
The following year, at the 2008 Masters, Snedeker was in the final pairing on Sunday at Augusta National alongside Trevor Immelman, who went on to win. Snedeker shot a final-round 77, then wept uncontrollaby, knowing he let the tournament he dream of winning since he was a child slip away. Five years later, Snedeker was the co-leader heading into the final round, but once again stumbled on Sunday to a three-over 75. He wasn't nearly as upset as 2008, knowing he'd have many more chances at a course he knew well.
Outside of one top-10 in just six trips since, that hasn't been the case for the nine-time PGA Tour winner. He entered this week's Valero Texas Open at 266th in the Official World Golf Ranking, having missed his last five cuts. In the 11 previous starts, he managed one top-20 and six missed cuts, dating back to the Barracuda Championship in the late summer of 2021.
Thanks to a third-round 67 in San Antonio, Snedeker has risen from the dead, putting himself in a four-way tie for first heading into the final round. Where, on earth, did this come from?
"Just kind of more mentality," Snedeker said of his surprising position after 54 holes. "I've been working hard at it, probably as hard as I ever have in my career, I just haven't had any success.
"And the only way you fix that is to go out there and do it, go out there and keep practicing and keep grinding, which I've been doing. And you've got to relish the challenge when you get them, so hopefully this is kind of a turning point for me this year and kind of get back where I belong and where I think I belong. It's up there trying to win golf tournaments."
Snedeker, who is only 41 years old, certainly knows how to win golf tournaments. Each of his last three victories on the PGA Tour were his second victories in those events, and the most recent win at the Wyndham Championship in 2018 featured a first-round 59 and a closing 65. The man has plenty of experience in crunch time, which should come in handy on Sunday, with a Masters invitation on the line.
"Hopefully I can pull on a lot of calming feelings and knowing that hey, this is going to be a long day, it's not going to be up to this one shot I hit off this first tee," Snedeker said. "Know that these other guys, no matter how nervous I feel tomorrow, they're going to feel the same way I do. It's no different than any other thing I've ever done. Tomorrow's not going to be easy, it never is to win a golf tournament, so knowing that going into it hopefully gives me a little leg up and get ready to fight in battle."
Will there be first-tee nerves for the seasoned veteran? Oh, there will be nerves. The good kind.
"Absolutely. If you don't [get nerves], I've got to find a different job," he said.
J.J. Spaun eyes life-changing win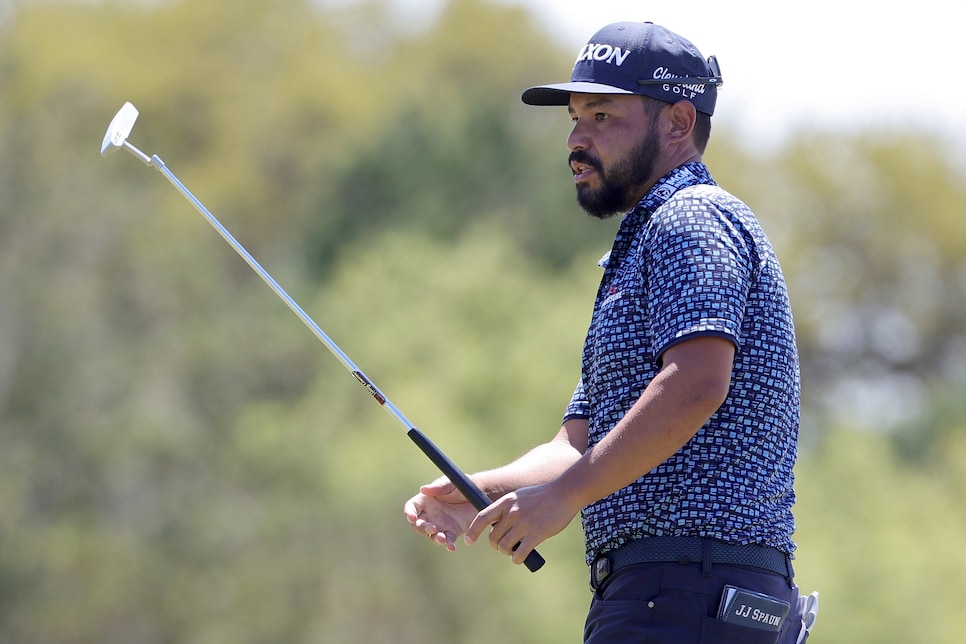 J.J. Spaun follows his putt on the eighth green during the third round of the Valero Texas Open.
Carmen Mandato
As great of a story as Snedeker earning a last-minute Masters invite would be, the story of J.J. Spaun is one to root for, too. Spaun, 31, was diagnosed with Type 2 diabetes in 2018, which caused him to change his lifestyle and take specific medicine. When he noticed he wasn't feeling much better off, he went to a specialist and learned that he had been mis-diagnosed. That was in 2021, after Spaun had sunk all the way down to 584th in the OWGR.
"I went through two years of struggling," Spaun told Golf Channel in March. "I'm not blaming that, but that was another contributing factor. I was doing the wrong things. The regimen for Type 2 is a little different than for a Type 1; I'm not even getting the right medicine to regulate my blood sugar. I was eating nothing, probably less than 1,500 calories a day, and still having high-glucose side effects as a 'Type 2,' so that's why I needed the insulin to help level that out and be able to eat more calories in general."
Spaun has felt like a new person, and player, in 2022. In his last 13 starts dating back to the fall, he's collected four top-25 finishes, and is almsot guaranteed another this week. His sights will surely be set on bigger things, though, as Spaun is among those tied at the top at 10 under. While Snedeker is looking to get back to the Masters for the first time since 2020, Spaun is looking to just get there for the first time in his career.
Beau Hossler claws his way to the top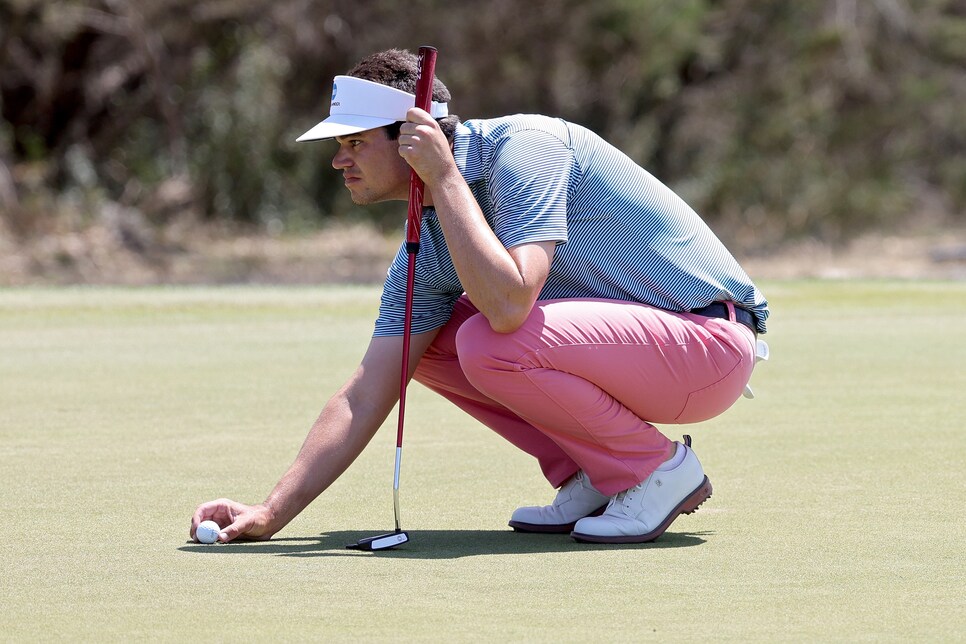 Beau Hossler lines up a putt on the eighth green during the third round of the Valero Texas Open.
Carmen Mandato
Following an opening-round 73, Beau Hossler appeared destined for a missed cut in his current home state. A 66-67 Friday-Saturday helped him claw all the way back into contention, and because he was one of the first to post 10 under he'll be in Sunday's final group. Quite the turnaround, some would say.
"I just found a little something in my swing to work on that kind of eliminated the left side for me and got me freed up to kind of commit a little bit better on my shots," Hossler said. "I haven't looked at the numbers, but I'm sure that shows."
Hossler's assumption is correct. In the first round, the former Texas Longhorn nearly lost a half of a stroke off the tee. In Round 2, he gained 0.635 and followed that up with a +1.521 OTT performance on Saturday. Couple that with his elite putting (Hossler ranks second in the field in SG/putting) and some serious magic is bound to happen.
"I feel great, I feel really comfortable," he said. "The golf course, I love that it's hard because it allows me in a way to feel like I can play a little bit more patient, a little bit more conservative and know that really no one's going to be getting away from you out here. You've just got to go out there and execute quality shots and make sound decisions and at the end of the day that's all you can do."
Like Snedeker and Spaun, Hossler is also vying for a last-minute Augusta envelope. Should he pick up his first tour win, it would be his first trip to the Masters, a somewhat stunning fact given he once contended in a U.S. Open as 17-year-old amateur. Plenty to play for on Sunday, just like every other week on tour.
"I think if you were not nervous, you wouldn't really care," Hossler said. "I mean, this is what we all practice for, isn't it?"