News
Is Harry Higgs about to go mainstream? Plus three other takeaways from Day 2 of the Safeway Open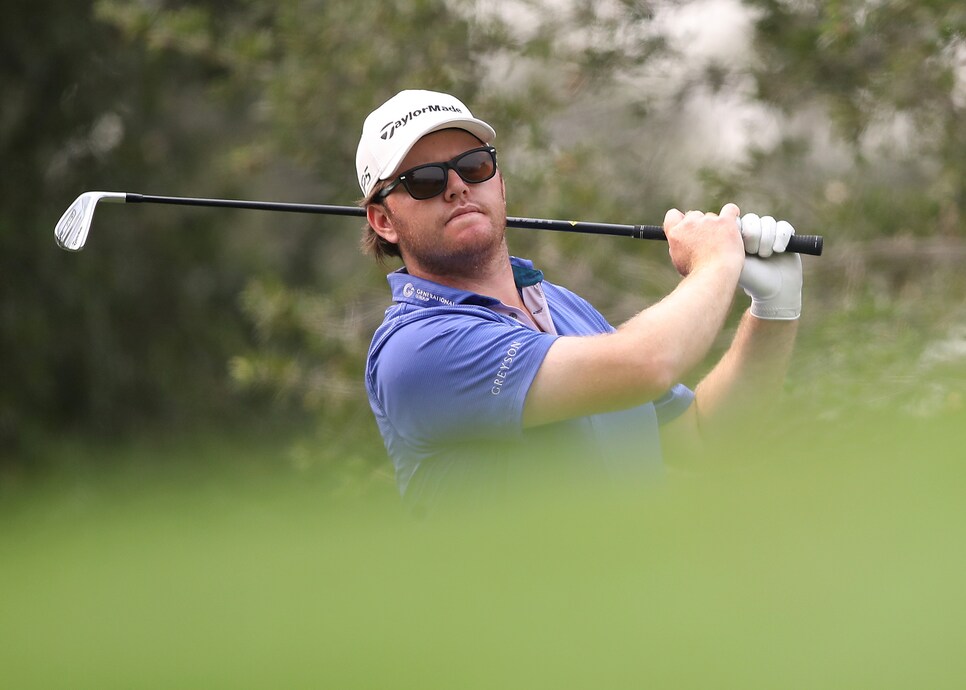 Harry Higgs hits his tee shot on the fourth hole during round two of the Safeway Open.
Sean M. Haffey
Not surprisingly, it's been a quiet few days at the Safeway Open. Not because the golf hasn't been good, though. It's just that, well, it's the Safeway Open, a week before the U.S. Open, on the same week as the LPGA's ANA Inspiration and NFL's opening weekend. Add in the fact Jordan Spieth hasn't magically snapped out of his funk and Phil Mickelson isn't in contention, it's a tough tournament to be locked in on.
That's what we're here for. Allow us to get you caught up on all things Safeway second round and maybe even give you a few reasons to check in on the weekend. Here are our five takeaways from day 2 in Napa.
Is Harry Higgs about to go mainstream?
Harry Higgs hasn't quite hit the mainstream yet, but he's a guy the avid golf fan has been pumping up for quite some time now. Being an on-the-rise pro is part of the reason for that, but it's mainly because there might not be a more likeable guy than Higgs on tour. Thanks to a 10-under 62 in the second round of the Safeway Open, Higgs has positioned himself to introduce himself to the casual golf fan this weekend, as he sits just two off of Sam Burns' lead.
Normally, that trendy thing you love hitting the mainstream ruins the trendy thing for you. But that will never be the case with Higgs, who the rest of the golf world should know and love just as much as the Golf Twitter world loves. He chews tobacco. He unbuttons nearly every button on his golf shirt. He wears shades usually reserved for the pontoon boat. He constantly cracks jokes at his own expense. He's a regular-looking dude who seems to enjoy regular-dude things (like his signature drink of Tito's and water). Simply put, he enjoys the hell out of playing a game for a living. Higgs, for lack of a better term, is the man.
On Friday, Higgs punctuated his 62 with a damn albatross, and celebrated exactly how you'd expect him to—in the most chill way possible:
Unfortunately, Higgs may have picked the sleepiest week in PGA Tour history to say "hello world." By the time some folks even realize golf is on Sunday, it'll be the fourth quarter of the Bucs-Saints game. We doubt the casual golf viewer will leave Brady vs. Brees, but if Higgs is in the mix, they should utilize the "last" button on their remotes.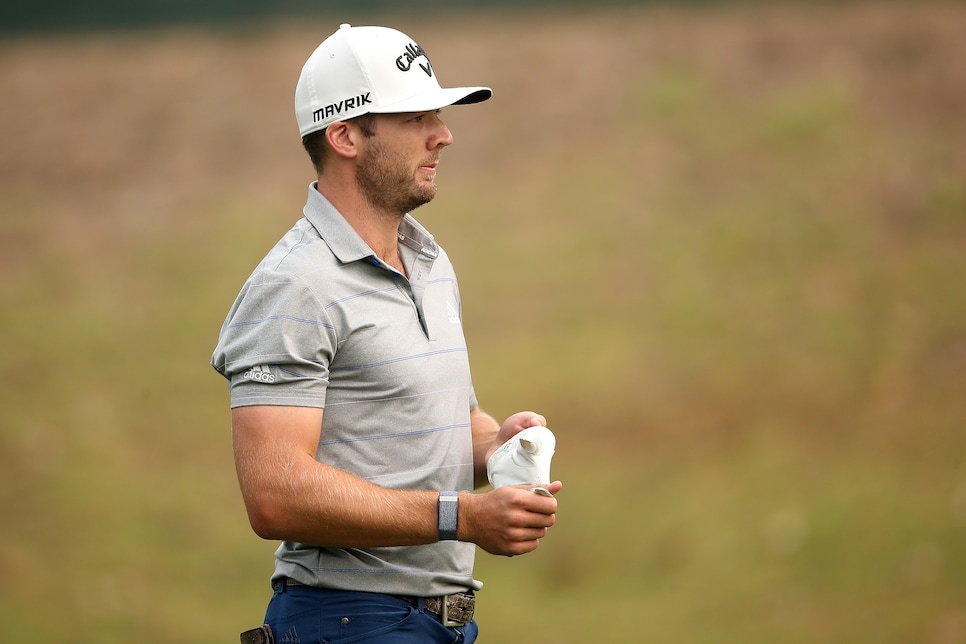 Sam Burns walks on the fifth hole during round two of the Safeway Open.
Sean M. Haffey
Bermuda legend Sam Burns is putting well (and not on bermuda!)
Burns, 24, backed up a first-round 64 with a Friday 65 that included a double bogey at the par-3 11th. He's putting out of his mind, particularly in his second round, in which he gained nearly 2.5 strokes on the day. Impressive by itself, but even more so when you consider that Burns is known as a bermuda grass putting gawd among the gambling and daily fantasy community. This week, the greens are poa, and Burns is feasting anyway (fifth in the field in strokes-gained/putting). Like many of these young guys, Burns has all the talent in the world but has yet to capitalize on it. If this is the LSU product's "make everything he sees" week, his time may be coming.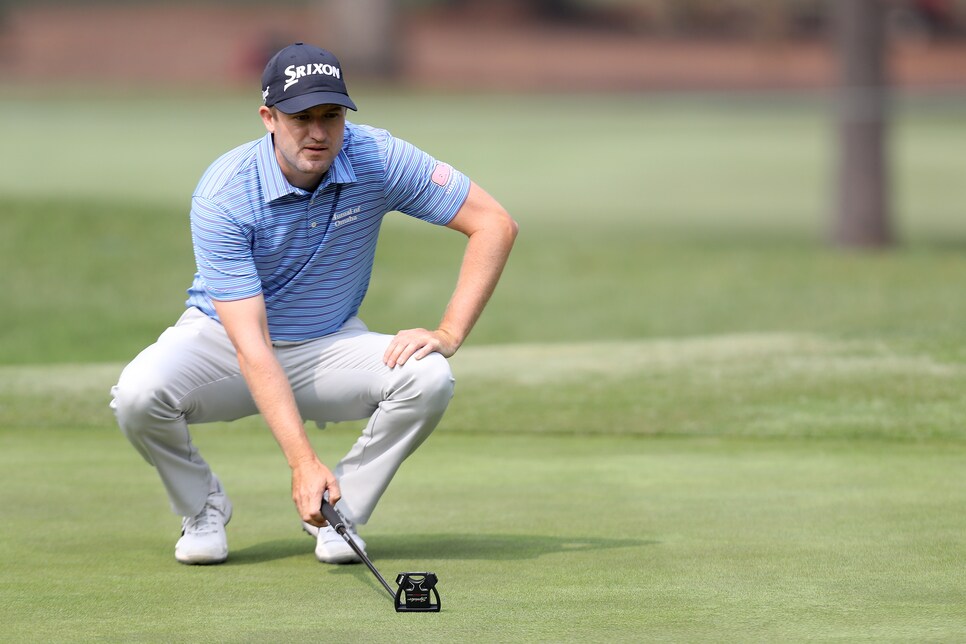 Russell Knox lines up his putt on the 17th hole during round two of the Safeway Open.
Jed Jacobsohn
Russell Knox is hanging around
After going through a serious slump, you had to wonder if Knox's 63 on Thursday was just a randomly great day or the beginning of a comeback of sorts. He didn't light it up again Friday, but he did remain in contention with a three-under 69, which has him in a tie for third with Cameron Percy at 12 under, three back of Burns. Most surprising was that he still played well without his best weapon, his approach game (Knox lost 0.169 strokes on approach in round two). And yet he still managed to go bogey-free for the second straight day. Given his history being in contention, he should have no issue being back in the hunt on the weekend, even if he hasn't been there in a long time.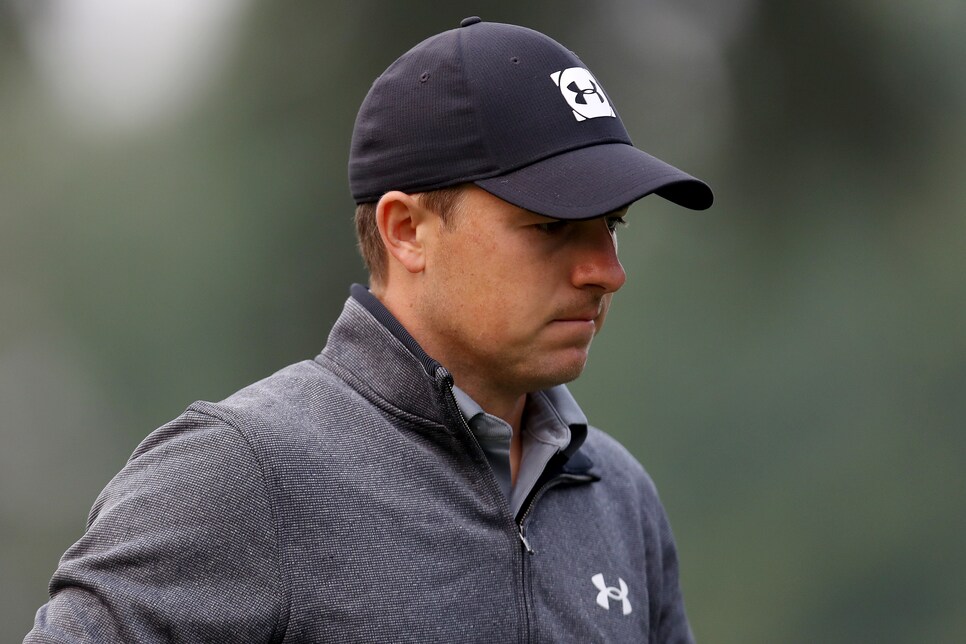 Jordan Spieth walks on the 14th hole during round two of the Safeway Open.
Jed Jacobsohn
Thanks to a second-round 67, Phil Mickelson will get two more rounds at the Safeway, aka two more tune-ups ahead of Winged Foot. At nine back, he's not going to win, but it's definitely going to be interesting to see if he keeps moving forward. He needs all the momentum he can get before hopping on a cross-country flight to N.Y.
As for Jordan Spieth, I guess this is what it's come to—missing cuts and missing them badly at the Safeway Open. He managed only one under for two days when the cut came at five under. There's not much else to add. He's extremely lost, and he's not going to find it next week at Winged Foot.