News
Somebody bet $45,000 on Phil Mickelson to win U.S. Open, and the payout would be astronomical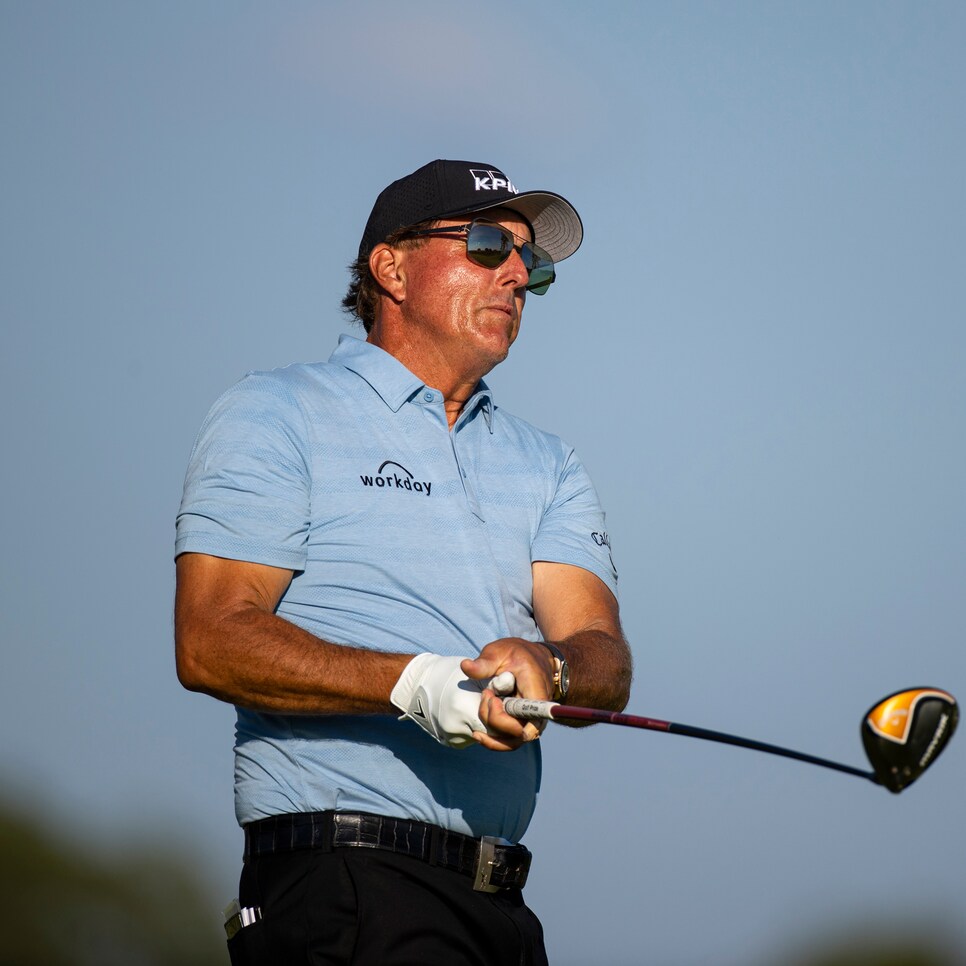 Someone could win $3.375 million if Phil Mickelson captures the 2020 U.S. Open.
Brett Carlsen
The last time Phil Mickelson played a competitive round at Winged Foot Golf Club, he stumbled away, dazed and disconsolate, having blown his lead on the 72nd hole in the 2006 U.S. Open.
It is the only major championship he has never won. He has finished second a record six times. And he hasn't placed better than a tie for 28th in his last six U.S. Open starts.
That didn't stop someone from laying down a near-record chunk of cash on Lefty for next week's U.S. Open at Winged Foot. William Hill reported on Thursday evening that it had taken a $45,000 bet at its Southern Nevada Sports Book. It said the wager represents the second-largest liability for an individual golf wager in the history of William Hill US.
The odds for Mickelson to win: 75-1 (+7500). The potential payout: $3.375 million—way more than the actual champion at Winged Foot will receive.
On Friday night, Phil playfully took a shot at himself on Twitter about his Winged Foot foibles, just as he did recently in a sporting goods commercial.
"When I got the call he was at the window, I almost fell out of my chair," said Nick Bogdanovich, the director of trading for William Hill US, told Golf Digest on Thursday.
Bogdanovich said that with such a huge exposure—"This is a once-a-year stuff"—the potential bet was discussed among William Hill management before it was accepted. The person who made the bet, he said, is well known to the book.
"Obviously, this guy has a gut feeling," Bogdonavich said, "and he has enough guts to back up his conviction. I tip my hat to him for that."
We guess that's what a dominating win on the PGA Tour Champions a couple of weeks ago did for Phil's stock. (Joking, of course, because even Mickelson admitted that he'd have to tighten up his driver to have any chance of making a splash at Winged Foot). He did, after all, rank 174th in driving accuracy on the PGA Tour in 2019-'20 and the rough in Mamaroneck is said to be as gnarly as ever.
To bet on Lefty to maybe perform off the charts is understandable. To put $45,000 on that faith, well, it seems the ultimate statement of Phil Phanaticism.
Though Mickelson managed to nearly win at Winged Foot in 2006, his erratic driving has kept him from contending in the U.S. Open of late. His last five starts: T-28, T-64, Cut, T-48, T-52. Anybody see a hopeful trend there?
Somebody didn't care, and they'll be on the edge of their seat (as will the folks at William Hill) watching Mickelson, with a wallet that sits just a little bit flatter.