Takeaways
JT keeps streak alive, Cantlay gets his groove back and Spieth is back for the millionth time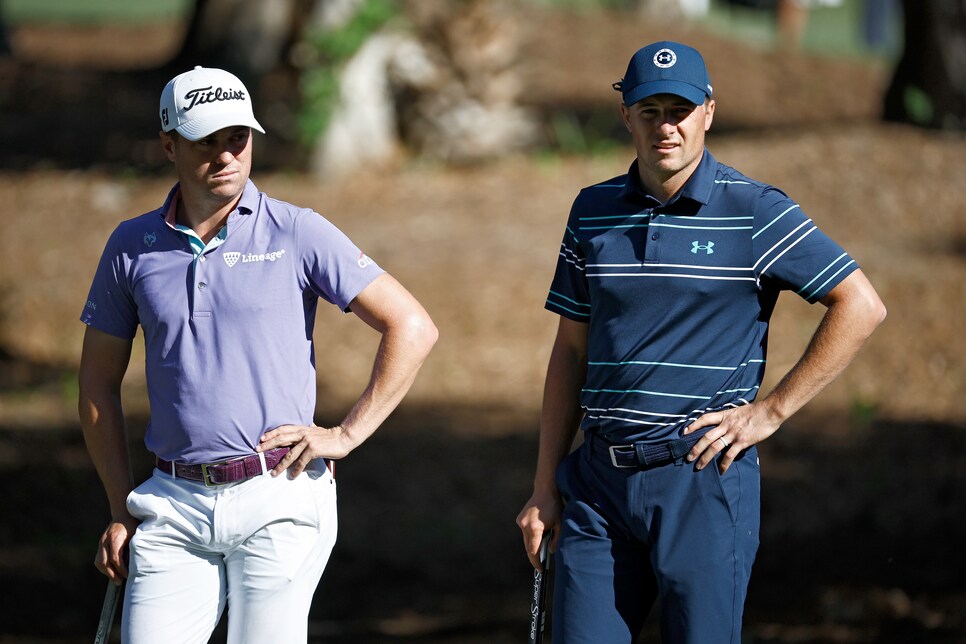 Justin Thomas and Jordan Spieth look on from the 14th green during the second round of the RBC Heritage.
Jared C. Tilton
As a 14-time winner on the PGA Tour, Justin Thomas doesn't show up to tournaments just to make cuts. That said, making the weekend does seem to be something he takes pride in, much like his good buddy Tiger Woods.
That's why it was hardly surprising to see Thomas grinding away late on the back nine of his second round of the RBC Heritage at Harbour Town, where he was flirting with the cut line of even par the entire day. He managed to just sneak in at one under, shooting an even-par 71 on a brutally windy day in Hilton Head. Brutally windy is kind of Thomas' specialty, though:
Thomas, unfortunately, was unable to convert that birdie putt, but pars were pretty good on Friday. Now he'll have a chance to do that thing he so often does on the weekend: absolutely COOK. On Saturdays this season Thomas ranks fourth on tour with a scoring average of 68.44. Sundays he hasn't been quite as elite, though he's still among the top five final-round scorers with an average of 69.11.
Whether he goes 63-64 or 73-74 on the weekend won't change the fact that it was still an impressive grind session on Friday, and it extended his streak of made cuts on tour to 19, the longest current run of any player going. Russell Henley was next behind Thomas, his streak ending at 16 when he missed the cut on the number late Friday evening.
For those keeping count, Thomas has 123 more made cuts in a row to go just to tie Woods' record mark of 142 straight.
Here's everything else you missed from Day 2 at Harbour Town.
Jordan Spieth is back (again)!
At this point, we should just say what we all already know rather than continually playing the "he's back!" game with Jordan Spieth, and what we know is that he's an extremely volatile golfer who is clearly working through some things with his swing right now. Hell, he was always a volatile golfer who seemed to be working through things with his swing, but his generational/magical putting often masked that and won him a boatload of tournaments. Right now, with his putter having gone ice cold, it's become a lot harder to hide all of his "searching."
And still, he can flash brief moments of brilliance, particularly with his irons. The three-time major champion gained nearly three strokes on approach on Friday, this coming one day after he lost 0.279 in that same category. He also gained more than five strokes tee-to-green, which is extra noteworthy given the conditions. It all added up to a second-round 68 to pair with his first-round 69, which puts him at five under and just four off the lead heading into the weekend.
"I felt like I drove the ball extremely well," said Spieth, who ranks 17th in the field in SG/off-the-tee. "Driving the ball really well around this place, and I played aggressively too, so I had a lot of wedges, which if you're a little off there, it's obviously a lot better than hitting more club in.
"Still got to get that putter to heat up. It felt better today, it's just I left quite a few putts short. I think they were slower with the wind. But overall I played a really good round of golf that could have been special."
He is ... absolutely correct. Spieth lost strokes putting on Friday, and once again it was the short ones that really hurt him. He had four feet for eagle at the par-5 second and missed, and he missed an 11-footer for birdie at the par-5 fifth. At the eighth and ninth holes, he missed from 11 and 12 feet, both birdie tries. At No. 11? Missed an eight-footer for birdie. The 2015 version of Spieth might have shot a 63 in 20-mph winds on Friday, which is a scary and somewhat depressing thought. The good news is, he didn't see it that way.
"I mean, I made good strokes today," he said. "Yesterday was kind of the same as the last few weeks where it wasn't really committed and such, but made really nice strokes today. That's going to be the key is I think just hitting them a little harder, adjusting the speed, not being afraid of the three or four-footer coming back."
Patrick Cantlay finds his groove again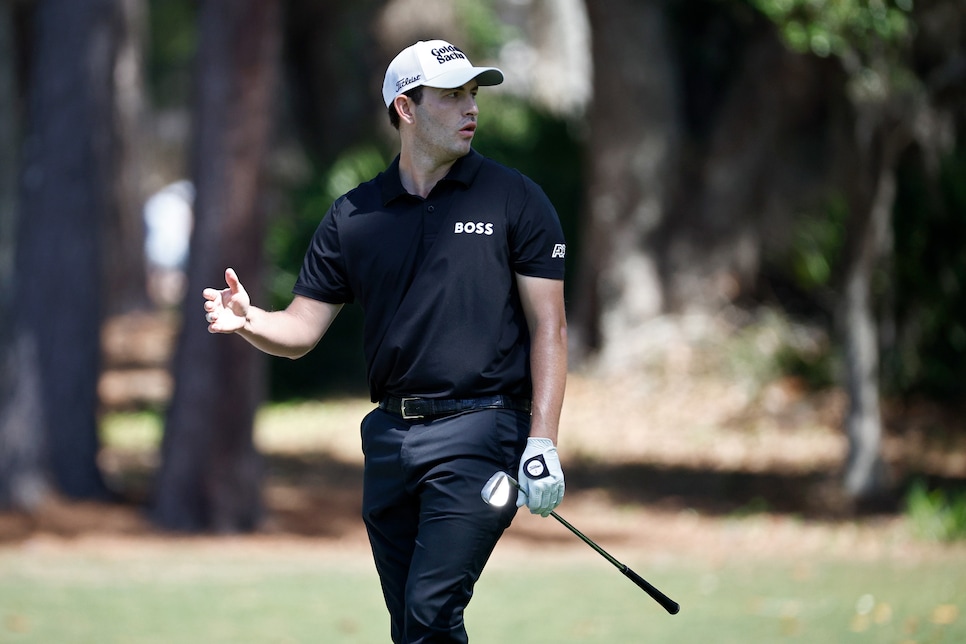 Patrick Cantlay reacts to a shot from the seventh green during the second round of the RBC Heritage.
Jared C. Tilton
Like so many others, Patrick Cantlay's momentum was semi-stunted at the Players Championship, with weather wreaking utter havoc on half the field. His scores of 72 and 77 at TPC Sawgrass marked the first time he shot 72 or worse in two consecutive rounds since Thursday and Friday of the 2021 PGA Championship at Kiawah Island. He followed that up with an early exit as the group favorite at the WGC-Match Play, and then a "meh" T-39 at the Masters. Prior to that stretch, he had finished ninth or better in six of his previous seven starts.
That guy appears to be very much back at Harbour Town, a venue he clearly loves with two third-place finishes and a seventh in four trips. Following a first-round 66, Cantlay shot a Friday 67 that was highlighted by a birdie-birdie-birdie-birdie finish on the most windswept section of the golf course. That's balling, as the kids say.
"Obviously that's a dream finish," said Cantlay. "I finally rolled in some putts, and that was really nice to see going into the weekend. It was a tough day out there, and I figured any round under par or around even par would be a win for today."
Cantlay, surprisingly, is looking for his first win since the Tour Championship. He was on a Scottie Scheffler-like heater in January and February, though he was unable to cash in in the form of a win, or multiple wins, like Scheffler has. Scheffler was one of his roadblocks, as he beat Cantlay in a playoff at the Waste Management Phoenix Open.
He won't have to deal with Scheffler this weekend, and outside of Spieth, there's few top-ranked players in his rearview mirror. At nine under, he's the solo leader by two over Robert Streb.