Takeaways
World No. 1 plays like World No. 1 again, 'Brooksy' struggles in first post-PGA round and Congaree draws rave reviews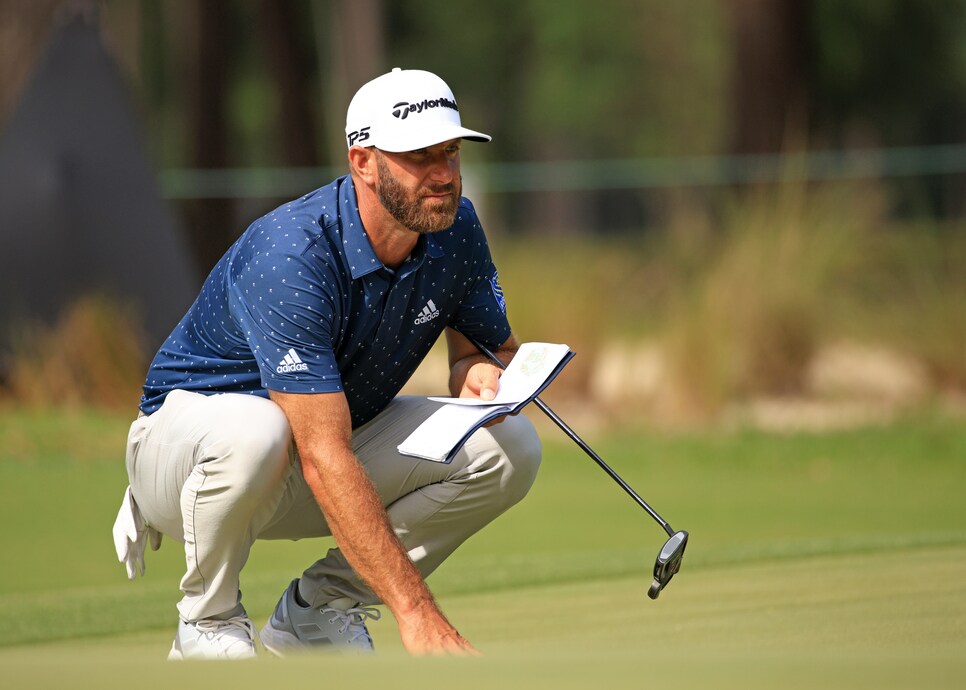 While we were all trying to figure out what was wrong with Dustin Johnson—no top-10s since Riviera, GASP!—Dustin Johnson was doing what Dustin Johnson does: not really giving a damn. He knew he was playing fine, even if the results weren't indicating that.
"I feel like I've been playing pretty good all year," Johnson said on Thursday at Congaree. "Just, like I said, I haven't putted well, short game's been a little off."
Johnson, who was in contention through 54 holes at the Genesis Invitational, faded on Sunday to T-8 and seemingly hasn't been the same player since, has remained World No. 1 throughout these recent "struggles," if you can call them that. He's still been an elite player tee-to-green, and currently ranks eighth on the PGA Tour in scoring average. It was, like he says, just a bad run on and around the greens, two statistical categories that can flip at any moment for a top player in the world.
That's precisely what happened for DJ in the opening round of the Palmetto Championship at Congaree, where he shot a six-under 65 and gained nearly two strokes on the field in the around-the-green category. It was no easy task at a course that demands a ton of short-game creativity.
"Today I missed it in the right spots when I did miss it," Johnson said. "But hit a lot of real quality iron shots and gave myself a lot of looks."
The looks he did get he often capitalized on, making six birdies, five of them from less than 10 feet away. It was, a stripe show, if you will, not that he noticed.
"I don't know. I just hit shots," said Johnson when asked if that was one of the best approach stretches he's had recently. "Wherever it goes, it goes."
See ball, hit ball. Repeat. Good things usually happen for the World No. 1 when he sticks to that plan, not that he'd ever stray from it.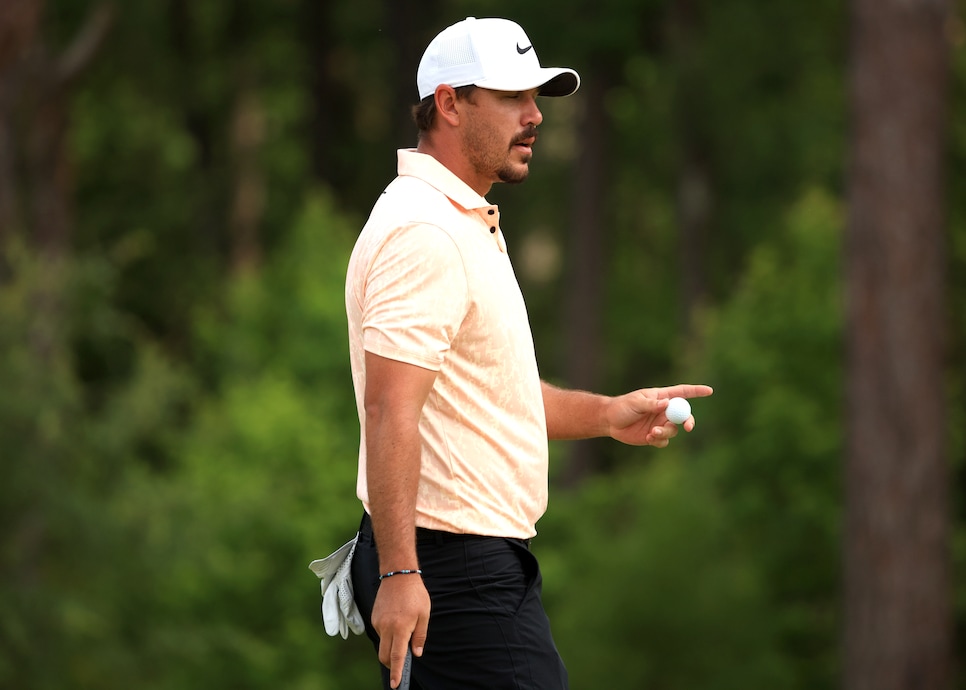 'Brooksy' struggles in first post-PGA round
Let's be honest, barring an out-of-the-blue 63 on Friday, Koepka, who shot a one-over 72 on Thursday, is likely going to have another around par round, probably miss the cut and head to Torrey Pines. This is merely a tune-up for a this major championship thoroughbred. With that in mind, we are going to treat this takeaway like Brooksy here treats weeks before majors—a rep. Here's another sentence, another rep. Getting in practice for next week when he inevitably is tied for the 36-hole lead when it truly counts.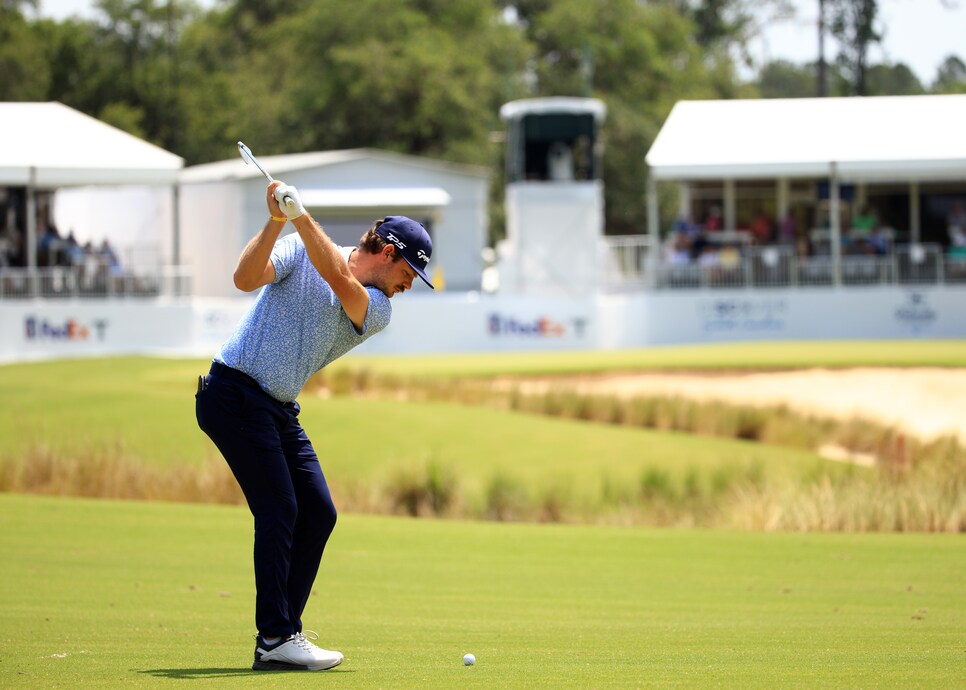 Doc Redman put on a surgical performance Thursday
See what I did there? Doc? Surgical? Yeah, you get it. But no, really, the former U.S. Amateur champ did pick the place apart, hitting 14 of 14 fairways, ranking seventh in SG/tee-to-green, eighth in SG/off-the-tee and 15th in SG/approach. Everything was clicking, including the putter, which he gained 2.311 strokes with. At one point, he was so hot that the PGA Tour app geeked out on his scorecard:
Ahh, an honest mistake, unless of course you have money on Redman this week, which a lot of very angry people in the replies do, apparently. Social media is the worst, part 1 billion.
Glitch or no glitch, Redman still posted a 65 and sits one off the lead of Wes Roach. Feeling like it could be a great spot for the former Clemson standout to get his maiden win in South Carolina this week.
Congaree draws rave reviews
Anytime a course like Congaree ends up on the PGA Tour schedule, we hear a similar refrain from the players—"we never really see places like this." And that's because it's true! And it's always so refreshing (see: Royal Melbourne, 2019 Presidents Cup). Courses that have no rough, are firm and fast and still penal for the wayward driver, and then challenge players up near the green with a variety of different shot options that require something other than "hand me my 60-degree." We need way more of this, as the players themselves can attest.
"I think it's awesome," said Chesson Hadley, who opened with a 65 and is tied for second. "I heard so many great things about it, and it's a very young golf course and I played with three ambassadors yesterday and just kind of, just got the whole story behind it and kind of what they want to do out here and what a treat. It's so beautiful just with the cottages and the live oaks. And I love the grass. It's very different, it's firm and fast and sandy out here and it's great. So if any of you ever get the opportunity to come and play and get invited to play, you need to do it."
Jhonattan Vegas, fresh off a five-under 66, echoed Hadley's sentiment. "It's just an incredible golf course. I mean, it really reminded me a lot about the great kind of sand dune golf courses around the world and it's up there with some of those courses. So it's, it was kind of fun. Talking to my caddie yesterday, we kind of got excited about playing this course and hitting out of the sand and kind of playing the roll, which is hard to, something that we don't get to do all that often. So it's a fun track and it's going to be fun as the week goes on."
"I didn't know about it until only a few months ago," said Ian Poulter, who is four back at three under. "It's a real treat. It's a gem. It's a well-designed golf course and the food's even better. So it's a great week."
Sounds like a course that should maybe regularly be on the schedule? We'll leave that to the more important people.