News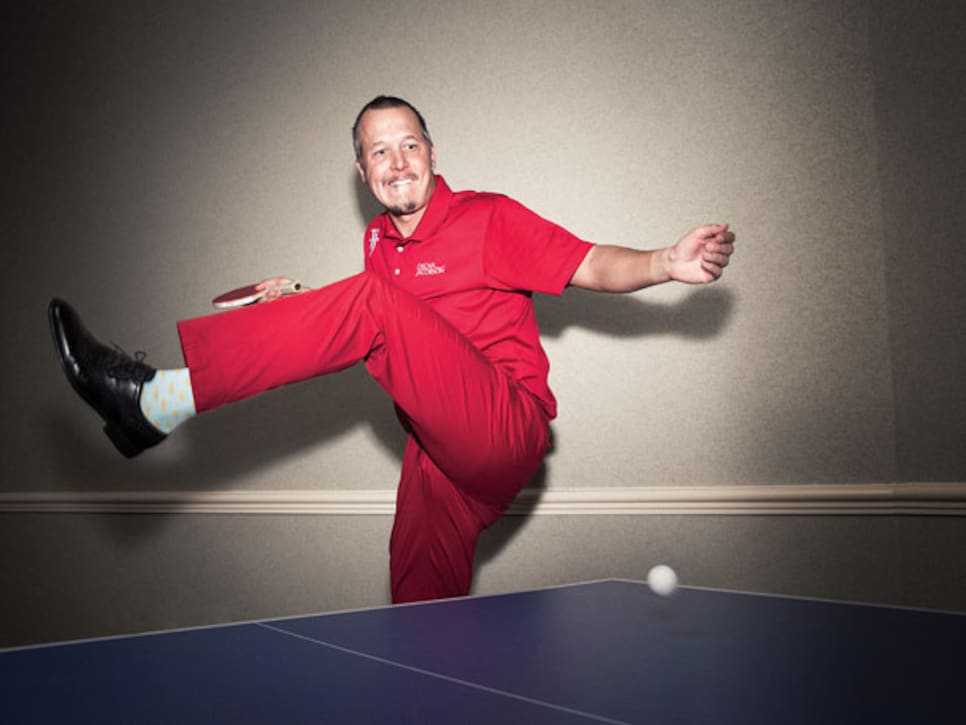 HE'S NO. 1: Fredrik Jacobson is the man to beat in the tour's table-tennis world.
On the PGA Tour, the Ping-Pong table is rarely far from the buffet table. In a match between Tiger Woods and Phil Mickelson, the latter once claimed physical and psychological encumbrance when his side was too close to the food. In lieu of a paddle, Sergio Garcia has picked up a dinner plate. Favoring a forehand and stance that belie tennis roots, El Niño swings low to high, catching every ball in the heart of the plate with a flick of the wrist, producing as much topspin as is possible off porcelain.
But a country-club athlete is no match for a true table-tennis competitor. "The toughest thing for someone who didn't grow up training is to read and return the spin of a real serve," says Fredrik Jacobson, who was a nationally ranked teenager in Sweden. At 15 he decided he loved the outdoors too much to keep going in the sport.
Impromptu battles develop during rain delays or lunch, and Matt Kuchar once gave Jacobson a scare. "He was up pretty good on me, and then I won the last few sets to just get ahead and win," Jacobson says. "I can't say I was proud of the way I was hitting it. I had on my golf shoes with metal spikes."
Ben Crane travels with a paddle. Jason Dufner bought a ball-dispensing machine so he can practice alone. Brad Faxon played competitively as a junior and is probably the best American, until Phil starts talking. Mickelson even did prep work before the 2013 Presidents Cup. "There were reports that I took some lessons for pong prior to this tournament," said Mickelson, smiling, "and those reports would be correct."
Golf and table tennis require focus, feel and creativity, Jacobson says. "Both are intensely psychological. When you hit a bad shot, you must learn to get over it."
But perhaps the game offers tour pros precisely what they're missing at work. The hypnotic freedom of having almost no time to think between shots. The chance to sweat without risking injury. The permission to talk trash because the stakes are low.
One thing is certain: For all the fancy amenities, tournament organizers have found an easy way to keep the kids happy.