The Loop
Super Bowl LII: Here are the spreads for all possible matchups, including the one in which the Patriots are NOT favored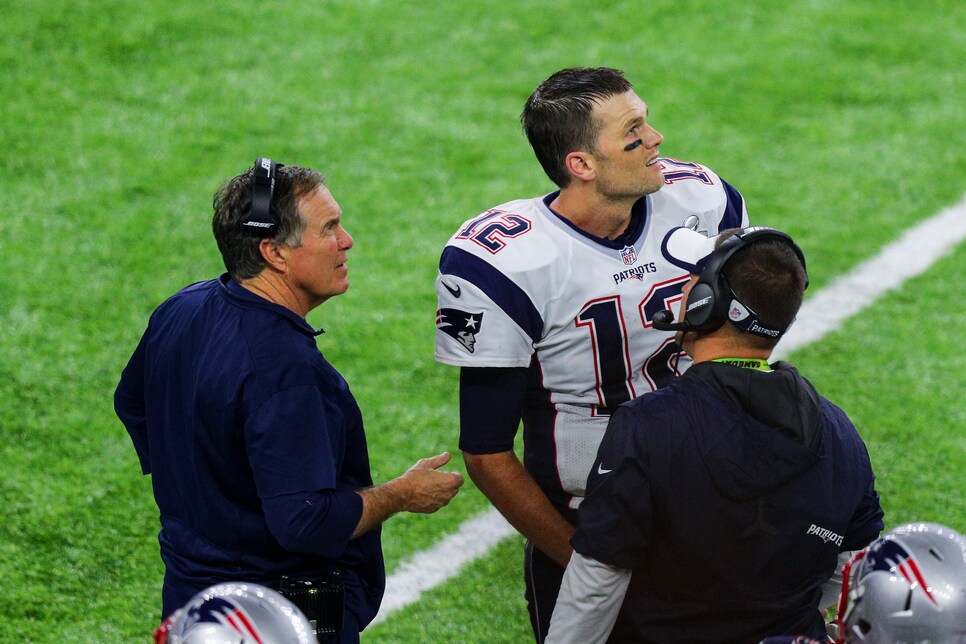 With a weak AFC and the NFC's best team losing its starting quarterback for the rest of the season, the New England Patriots have emerged as the clear favorite to win Super Bowl LII next month. But if you don't want to see the duo of Tom Brady and Bill Belichick win a sixth NFL title (And if you don't live in the Boston area, you probably don't), your best bet is to root for the Minnesota Vikings to make it to the big game.
BetDSI.eu released spreads for all potential Super Bowl LII matchups and the Vikings are the only team that would be favored against the defending champs* (*Seriously, Atlanta, how the heck did you blow that last year?!). Why would Minnesota, the No. 2 seed in the NFC behind the Philadelphia Eagles, get the (slight) edge over the AFC's top-seeded New England even though the Pats are the overall Super Bowl favorites at +185 (Risk $100 to win $185)? Because if the Vikings make it that far, they'd be the first team to play the Super Bowl in their home stadium.
That home field advantage gives Minnesota four potential matchups in which they'd be favored by six points or more, including the most lopsided line of all 36 possible games -- an 11-point spread against the Buffalo Bills, who are making their first trip to the playoffs since 1999. Anyway, here's a look at the lines of all the potential matchups:
Eagles vs. Patriots (-7.5)
Eagles vs. Steelers (-4.5)
Eagles vs. Jaguars (-3)
Eagles vs. Chiefs (-3.5)
Eagles (-2.5) vs. Titans
Eagles (-3) vs. Bills
Vikings (-1) vs. Patriots
Vikings (-4) vs. Steelers
Vikings (-6) vs. Jaguars
Vikings (-6.5) vs. Chiefs
Vikings (-10.5) vs. Titans
Vikings (-11) vs. Bills
Rams vs. Patriots (-2.5)
Rams (-1) vs. Steelers
Rams ( -2.5) vs. Jaguars
Rams (-3) vs. Chiefs
Rams (-7.5) vs. Titans
Rams (-8) vs. Bills
Saints vs. Patriots (-3.5)
Saints vs. Steelers (PK)
Saints (-1.5) vs. Jaguars
Saints (-2) vs. Chiefs
Saints (-6.5) vs. Titans
Saints (-7) vs. Bills
Panthers vs. Patriots (-6)
Panthers vs. Steelers (-3)
Panthers vs. Jaguars (-1.5)
Panthers vs. Chiefs (-1)
Panthers (-3.5) vs. Titans
Panthers (-4) vs. Bills
Falcons vs. Patriots (-5)
Falcons vs. Steelers (-1.5)
Falcons vs. Jaguars (PK)
Falcons (-1) vs. Chiefs
Falcons (-4.5) vs. Titans
Falcons (-5.5) vs. Bills
Of course, these are just projected spreads and could change depending on injuries and other factors. For instance, if the Vikings play the Patriots, the public will probably pound the Pats until they're a solid favorite. And then the Pats will probably pound the Vikings. Home turf or not, Case Keenum is still their best option at quarterback. Yep, none of this matters, because the Pats are winning it all. Again. Thanks a lot, Atlanta.
You are using an unsupported version of Internet Explorer. Please upgrade to Internet Explorer 11 or use a different web browser.