PGA Tour
A cyclone delaying Steve Williams' flight from New Zealand has Adam Scott pondering a back-up caddie at Riviera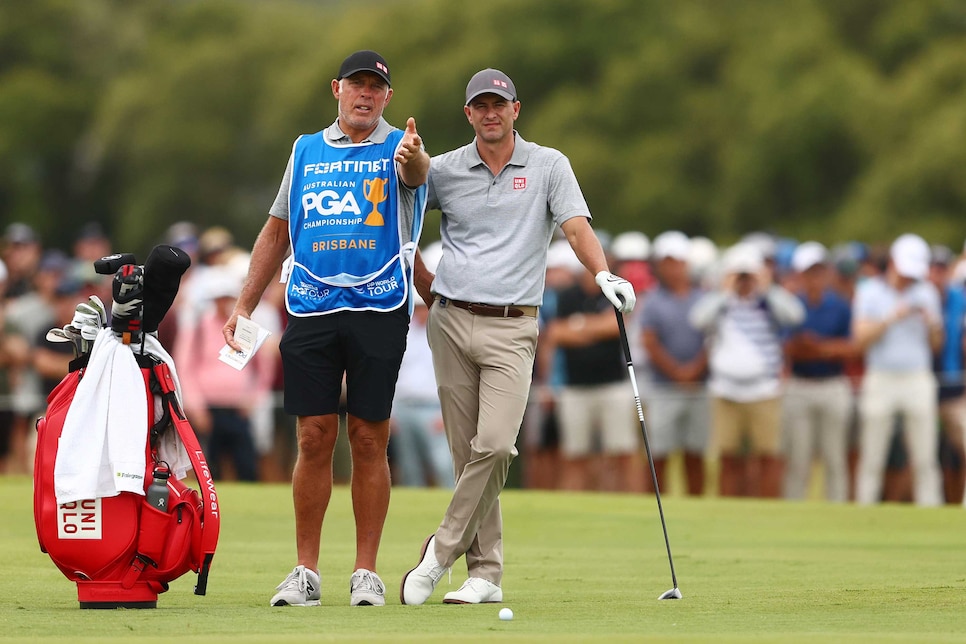 PACIFIC PALISADES, Calif. — A cyclone ravaging New Zealand has prompted Adam Scott to find a backup caddie for Wednesday's pro-am at the Genesis Invitational, with his usual bagman, Steve Williams, scrambling to get a flight out of his home in Auckland in time for Thursday's first round at Riviera Country Club.
Government officials in New Zealand declared a state of emergency after Cyclone Gabrielle battered the country's North Island in what has been described as the nation's most severe weather event in years. Almost 600 flights were disrupted, including the one Williams had intended board earlier this week for the 6,500-mile journey to Los Angeles.
Williams, who is sharing caddie duties for Scott this year with Greg Hearmon, is currently scheduled for a flight that's expected to arrive on Wednesday afternoon. Scott's tee time for Thursday's first round is 7:35 a.m. local time.
"Hopefully Steve gets here," Scott said on Tuesday, acknowledging he has begun to consider a backup caddie for the tournament should Williams encounter further delays. "These are extraordinary circumstances."
Scott and Williams previously worked together between 2011 and 2017, in a span when Scott won the 2013 Masters and went to World No.1 a year later. Williams famously worked for Tiger Woods during Woods' greatest years. Late last year, Scott announced the two would begin to work together again for several events in 2023. They reunited for the first time in December at the Australian PGA Championship, Scott saying it was like no time had ever passed.
"It was a piece of cake. That first day I shot six under and felt like we were just doing our thing," said Scott, having finished T-28 in the tournament. "Steve and I are both really comfortable. I have prepared nicely over the last few weeks to get myself ready to play some proper golf [at Riviera], so I feel I'm ready to play good and that shouldn't be a problem for Steve to caddie if I do."
Scott, 42, hasn't played since a T-29 finish at the Sony Open last month. "I'm not really dwelling on that too much; it was in the middle of my break and my putting was rusty. [Riviera] feels like the start of my season, to be honest."
As for finding a caddie for the Pro-Am, Scott is enlisting the help of his friend, Liam Bedord, a scratch golfer and former minor league baseball player who was once drafted by the Philadelphia Phillies' affiliate team. Bedford now works as head of tour operations for L.A.B. Golf putters, which Scott uses.
Scott is hoping to end a three-year drought on the PGA Tour which stretches back to his last victory at Riviera, in 2020. He also won a weather-shortened Nissan Open at Riviera in 2005.
"This is my favorite event of the year on tour [non majors] along with the Players Championship," he said. "I'm looking forward to this week and hopefully use all those good memories of good results flow through me and get my year started."
"I'll spend the rest of the year kind of learning the ropes, hopefully from this position and then should be able to contribute something over my turn on the board," Scott said. "I think we're at a point where it seems there are lots of lots of voices influencing the way the tour's going moving forward. And I feel like I can share a perspective on that, having been out here a pretty long time."