Sanford International
Steve Stricker continues to make up for lost time from a debilitating illness with a third PGA Tour Champions victory in 11 starts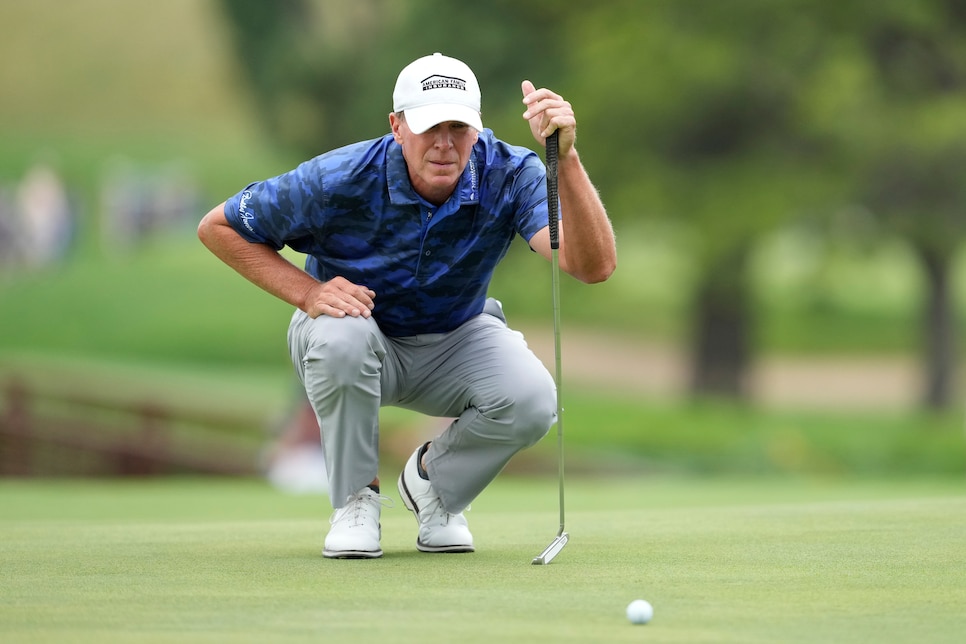 A glance of Steve Stricker's results in 2022 would suggest he's had a great year, a misleading assessment without context. In fact, he has had a phenomenal 4½ months following an illness that delayed the start of his season until the end of April.
Stricker on Sunday birdied the first playoff hole at the Sanford International at Minnehaha Country Club in Sioux Falls, S.D., to defeat Sweden's Robert Karlsson for his third victory in only 11 starts in 2022. It was his 10th career PGA Tour Champions win.
"Yesterday was the key day, for sure," he said, recalling the six-under 64 he posted on Saturday. "Then just came out today and played really solid, hit the ball all week in the fairway for the most part. My irons could be a little bit better, but overall I did a lot of really good things on the weekend."
Late last year, Stricker was stricken by a mysterious illness later identified as pericarditis and an irregular heartbeat. He was unable to return to the PGA Tour Champions until the Insperity Invitational at the end of April, where he impressively tied for second. Since then, he has made up for lost time in remarkable fashion, posting nine top-10s in those 11 starts, and six top-two finishes, while pushing his season earnings past the $2 million mark. And one of his three victories came in a major, the Regions Tradition.
Stricker, 55, started the final round trailing leader Jeff Maggert by two shots. Then he posted a second straight round of six-under-par 64 to complete 54 holes in 14-under 196. Karlsson, playing behind Stricker, birdied 16 and 17 to get into a tie with Stricker, then made a par save at 18 to force a playoff.
The quality of Stricker's play belied the fact that his focus was not entirely on his game. He is an assistant captain for the U.S. team in the Presidents Cup this week.
"Davis [Love, the U.S. captain] and Freddie [Couples, also an assistant] are here," Stricker said on the eve of the Sanford International, "and we're going to travel over to Charlotte [N.C.] Sunday night after this event, but we'll spend some time this week together each and every night back at the hotel and go over a few things, pairings, just to make sure that Davis has a real good game plan going into next week."
As for his own game heading into the Sanford International? "It's pretty good, can always be better," he said. "Doing a lot of good things. I'm still working on a few things here and there like all of us are, but it's in pretty good shape really. I'm trending in the right direction, I think."
That was borne out on Sunday.