News & Tours
Steve Stricker set to make PGA Tour Champions return after suffering mysterious illness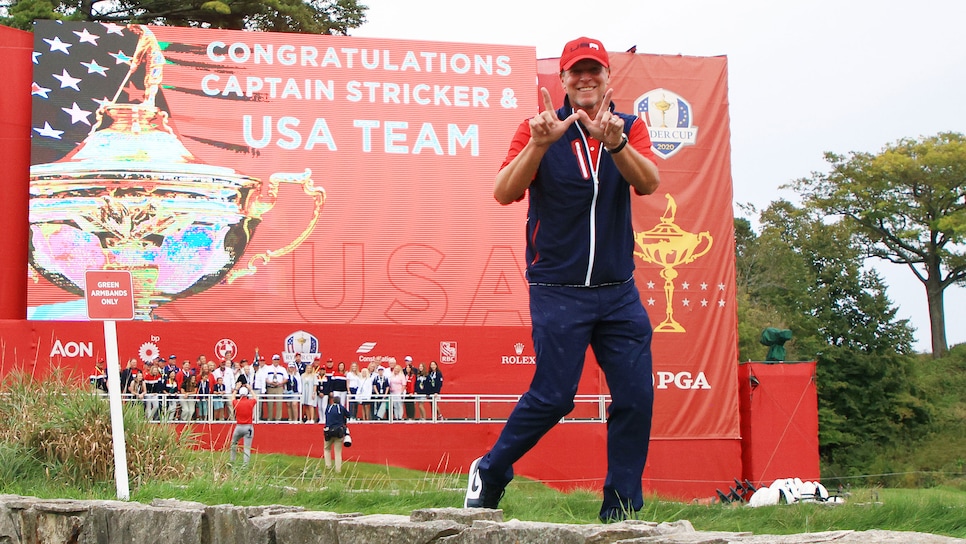 U.S. Ryder Cup captain Steve Stricker celebrates after the Americans' 19-9 win at Whistling Straits last September.
Mike Ehrmann
Steve Stricker is not one for attention, but returning to competitive golf after his triumphant stint as U.S. Ryder Cup captain last fall was a curtain call that the 55-year-old was likely looking forward to. Little did he know the lengths it which it would take for it to continue after being interrupted.
Stricker announced on Friday that he'll be playing in next week's Insperity Invitational in Houston on the PGA Tour Champions, his first start since suffering from a mysterious illness shortly after the U.S. victory at Whistling Straits that hospitalized him for nearly two weeks in November.
Stricker finished T-7 in a PGA Tour Champions last October, his one start after the Ryder Cup, but then began feeling weak. He suffered from inflammation around his heart, with it falling out of rhythm, as well as issues with his liver. His white blood cell count rose and he lost 25 pounds, falling to roughly 165 pounds and jokingly texting Justin Thomas 'Hey, I'm at your weight. If I could only swing it with your speed, I'd be alright.'"
Stricker had been eligible for the Players Championship in March after winning the Senior Players Championship last June, but was still recovering in Florida in early 2022 and had to skip it. He'd hoped for an early April return to the Champions Tour, but is happy to be coming back now with the thought of being in good enough shape to compete in the tour's majors, which begin next month.
"I'm all in on it," said Stricker, a seven-time winner on the senior circuit. "It's giving me the opportunity to kind of, you know, to get stronger again, to have this focus on getting back all in to the golf. And again my family wants it, too. I mean Nicki [his wife] is excited for us to get back out there. My kids are, you know, antsy for me to play events again. So it's a family thing and they're excited for me, you know, to get back after it."