The Loop
Steve Spurrier knowing he's the last SEC East coach to beat Nick Saban is PEAK Steve Spurrier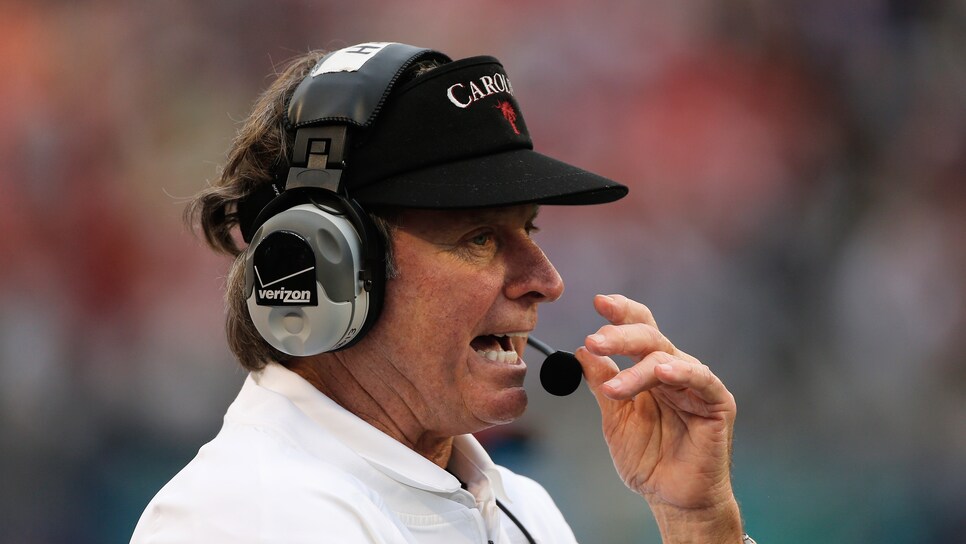 Since 2010, Nick Saban and the Alabama Crimson Tide are an astounding 27-0 against SEC East opponents. If that didn't highlight Saban's dominance of the SEC's other division enough, only three of those games were one-posession victories, all of them coming against the Georgia Bulldogs (2012 SEC Championship Game; 2017 National Championship Game; 2018 SEC Championship Game).
Other than those three games, it's been an utter bloodbath for opposing SEC East coaches. It makes you wonder, who was the last SEC East head coach to take Saban down?
To the surprise of absolutely no one, Steve Spurrier has no problem reminding you that it was *checks notes* Steve Spurrier. In an interview with Sports Illustrated's Ross Dellenger, which you should go read immediately, the man known as the Head Ball Coach was happy to point out that his lifetime record against Alabama was 7-4, six of those wins and three of those losses coming while he was the head coach at Florida. The other win came in 2010, when Spurrier was at South Carolina and his 19th-ranked Gamecocks beat the No. 1 ranked Tide 35-21. No SEC East coach has beaten Saban since.
On Saturday, Spurrier's Alma Mater Florida, coming off a stunning loss to LSU, will face the No. 1 Tide in the SEC Championship Game. As much as Spurrier hopes Mullen can become the latest SEC East coach to finally take him down, he told SI that it has been an unfair game when it comes to competing with Alabama during Saban's tenure.
"It's almost unfair. It really is, unless you change recruiting," Spurrier told Dellenger. "I remember thinking one time, 'Why doesn't college do like the pros? The team finishing first gets the last pick.'
"Alabama … It's like being in the NFL, winning the Super Bowl and every year they get the first 10 picks in the first round. And then they get 10 in the second round and the rest of you guys take everyone else!"
We're sure more than a few college football fans agree with Spurrier on that one. We're also sure that if his Gators don't pull off an upset Saturday, he'll still happily remind anyone and everyone he was the last SEC East coach to slay the Saban dragon.