Steve Madden X Jena Sims
Steve Madden releases a golf shoe line with help from Jena Sims
*All products featured on Golf Digest are independently selected by our editors. However, when you buy something through our retail links, we may earn an affiliate commission.*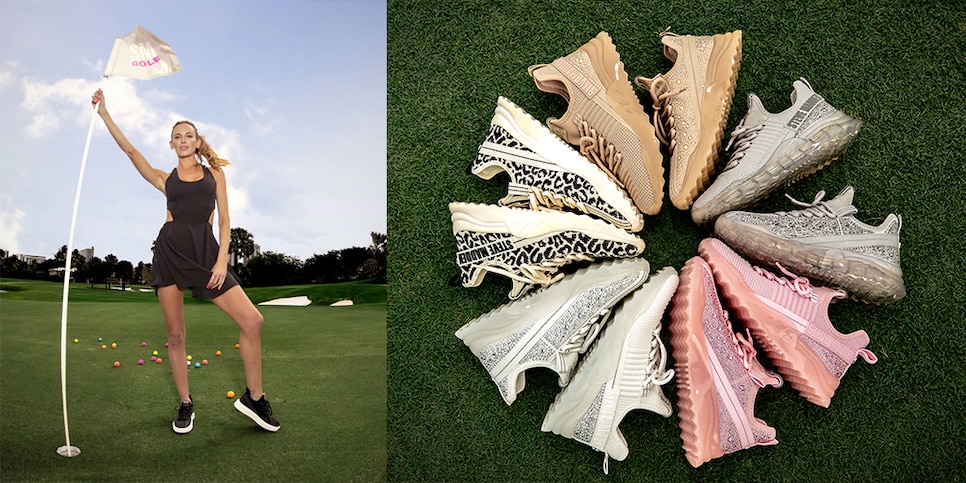 Performance is often the main topic of conversation when it comes to golf shoes. We evaluate golf shoes as if they will be worn exclusively during competition or for marathon rounds of golf, when that isn't always the need for every golfer or golf fan. I myself—admittedly a bit of a sneakerhead—have a separate set of shoes for playing golf and for watching golf.
Many hybrid golf shoes have been designed to be worn both on and off the course, but Steve Madden's golf shoe line prioritizes style and offers a fun option for women to wear playing a few holes of golf or attending a golf tournament. The women's shoe brand went to one of the most stylish spectators in the game, Jena Sims, who often makes waves with the fashion-forward outfits she wears to watch fiancé Brooks Koepka on tour, to help with their new golf shoe collection.
"We didn't set out to create a high performance golf shoe," Madden said. "I wanted to make stylish shoes for women that you could play 18 holes in, but also rock off the course."
Released this week, the line includes three styles ranging from a simple white leather tennis shoe to a leopard-print athletic knit and even a few covered in rhinestones. Many of the shoes were inspired by current Steve Madden street shoe designs and one—the "Jena" is named after Sims, who is also the official face of Steve Madden Golf 2022.
The two started working together on the collection late last year. Sims had worked with the brand a bit in the past, promoting some Steve Madden shoes on her Instagram when they came to her with the idea of making a golf shoe line. When they showed her early sketches, she gave her honest feedback and suggested they transform the brand's popular Maxima Sneaker into a golf shoe.
"They loved the idea so much they offered to name one of the shoes after me," Sims said. "Obviously I went for the loudest one, with rhinestones and the most color … and that one ended up becoming the Jena then the Maxima-inspired one became the First-T."
Similar to the Maxima Sneaker, the First-T golf shoe has a modern sneaker-like design with a blend of futuristic athletic styling and glam embellishments. The white, gray, pink and blush colored First-T golf shoes each feature rhinestones at heel and tongue label. The fourth colorway of this shoe is sans-rhinestone, but covered with a repeating leopard pattern. Steve Madden branding across the heel strap and a thick cloud-like midsole give it a fashion-forward look that will add personality to any look.
When it came to her namesake shoe, Sims was drawn to the multicolor version the most for its colorful and bright styling that's similar to her own personal style. She's not afraid to show her personality through statement-making ensembles filled with color. The multicolor Jena golf shoe displays that well, but the all-white and all-black versions are also great options for toning down bolder looks without sacrificing shoe style.
Featuring a rhinestone-covered heel and tongue detail, the Jena golf shoe is a tall slip-on shoe with a thick rubber sole and comfortable textile lining. The upper is made of neoprene and microsuede in primarily solid colors to balance the glitz expertly.
"Steve Madden is not know for his subtlety," Sims said. "I think the Jena is perfect for my personality and Steve's combined"
The most traditional-looking golf shoe of the capsule is the Fore. It's made with a simple white water-resistant leather upper and a tennis-shoe-like rubber sole. The Fore comes in all white or options for a pop of color at the heel and side stripe in blue, green or brown.
"When it comes to picking an outfit for a tournament, I usually start with the shoes or bag and work my way up," Sims said. "The white leather Fore is a more traditional-looking golf shoe, but I could see it pairing well with a cute dress for a great golf outfit. You can play with those pops of color [by pairing] with accessories, too."