The Loop
New Mets owner Steve Cohen absolutely buries sports talk radio host with vicious tweet
When New York Mets fans finally got their wish of billionaire hedge fund manager Steve Cohen taking over as majority owner in November, they expected big things this offseason. So far, those "big things" have included avoiding salary arbitration with Noah Syndergaard and signing him to a one-year deal, signing relief pitcher Trevor May to a two-year deal, signing catcher James McCann to a four-year deal and a whole bunch of tweets from Cohen, assuming it is him behind this verified Twitter account. Not exactly the big splashes Metropolitan fans have been yearning for.
Of course, this is not unique to the Mets. The MLB offseason has been a quiet one so far, save for the San Diego Padres acquiring two bonafide aces in Yu Darvish from the Chicago Cubs and Blake Snell from the Tampa Bay Rays. There are many more moves to come, and Mets team president Sandy Alderson and Cohen intend to make a lot of them.
But, in case you haven't noticed, fans, especially of organizations like the Mets, can be rather restless. Patience in New York is virtually non-existent, and if Cohen doesn't act quickly he'll be tarred and feathered. It's already begun on N.Y. sports talk radio, as the popular morning show "Boomer & Gio" more or less called out Cohen on Twitter Tuesday morning. Apparently, one of the shows hosts, Greg Giannotti, is going on a hunger strike until Cohen signs "someone significant":
For those unaware (anyone outisde of NYC), Gio has gone from hefty, to skinny, and a little bigger again (who hasn't during this godforsaken pandemic?). So him going on a hunger strike would be a hilarious thing to follow. Cohen was not buying it, and replied in absolutely savage fashion:
Cripes, Steve! Take it easy. This is nothing new for him, though. Cohen has been dunking on fools since he took over as majority owner. He's also interacted with fans, asked for their input and even gave them a heart attack in span of two minutes: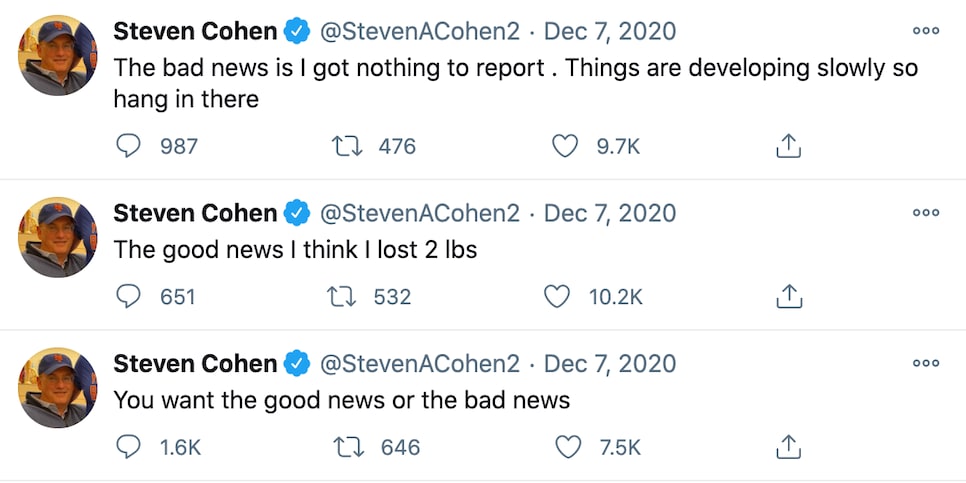 He's definitely got a great sense of humor. Whether or not that translates to signing George Springer or Trevor Bauer remains to be seen. One thing is clear: do not bring any weak sh-t into Steve's Twitter house.