Men's Style
With timeless designs and nostalgic accessories, Sounder is giving golf its soul back
*All products featured on Golf Digest are independently selected by our editors. However, when you buy something through our retail links, we may earn an affiliate commission.*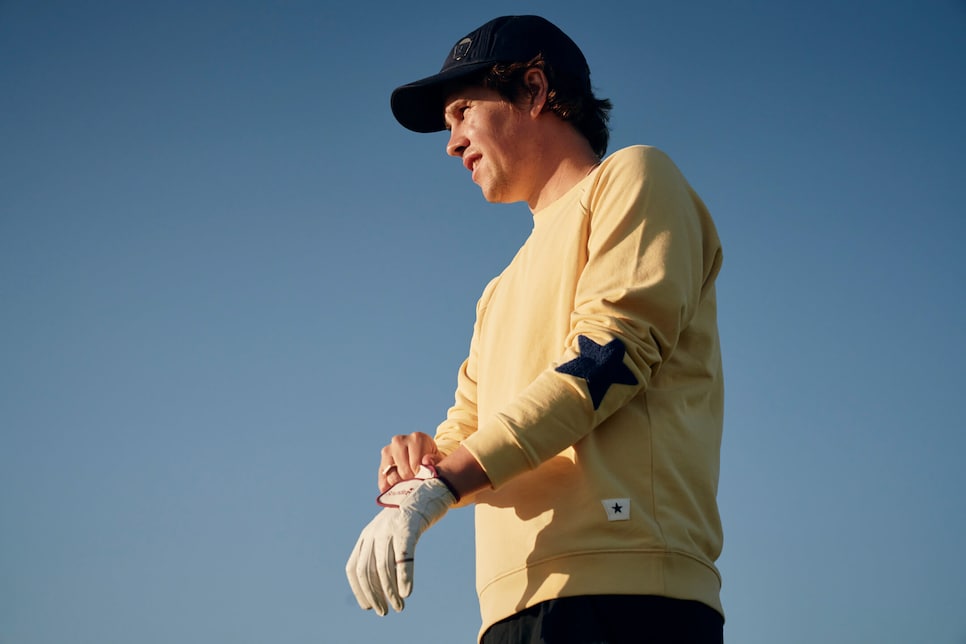 Golf is an invitation. The words grace the screen of a 1990's Nike golf advertisement as thumping music blares to visuals of professionals, amateurs and children alike experiencing the beautiful but ever-punishing game we all can't seem to put down. Sounder Golf, a U.K.-based golf apparel and accessories company, wrote a blog post about the striking one-minute ad, which debuted right before Tiger Woods burst onto the golf scene and changed everything. They relate heavily to its underlying message: Golf is a game full of soul.
RELATED: 6 up-and-coming golf brands worth supporting this summer
Cathal McAteer and James Day founded Sounder in 2020, four years after Day, a self-taught clubmaker, fitted McAteer, a fashion designer, for a new set of clubs. The two immediately hit it off and realized they had a similar perspective about the evolution of the golf apparel and equipment industries. Maybe a new company—one that produces timeless designs and nostalgic accessories—could reflect their shared beliefs.
"The golf industry is full of plausible stories that capitalize on human frailty. Everything has to be performance. Everything has to be, 'You'll play better if you're in this sweat-wicking fabric.' But in my personal experience, I've just found that I like playing in cotton polo shirts," Day said. "If you took a cross-section of golfers, I really don't think they would notice as much difference as many would think from the more athletic fabrics. It's another version of this constant progress story, which actually is way overplayed. You see it in clubs, and you see it in clothes. [Sounder] is just getting back to something that is that old saying: Everything you need and nothing you don't."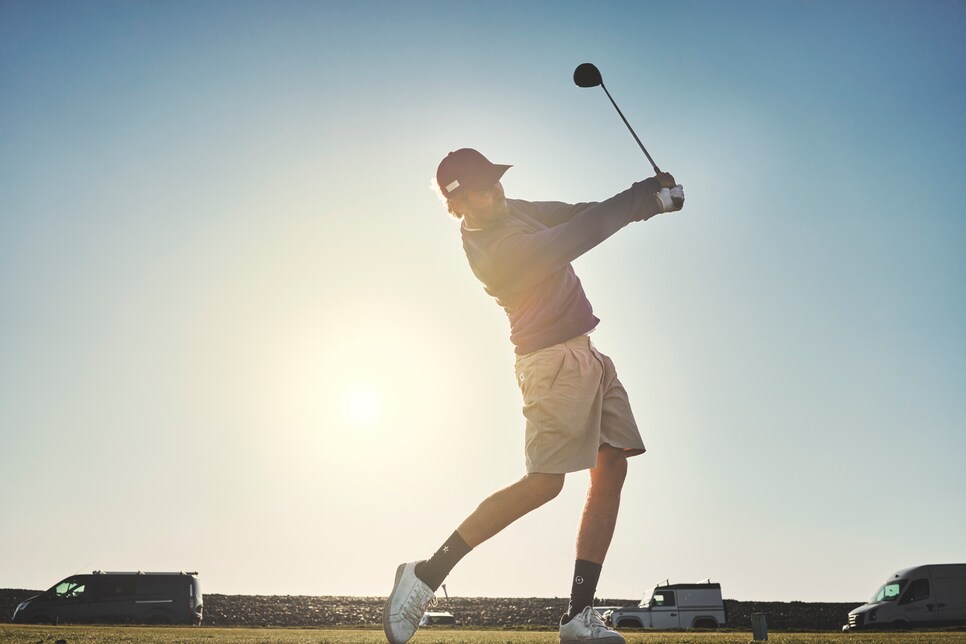 The messaging is solidly reflected in Sounder's clothing and accessories. If you take a scroll through its website, you'll see clean lines, sharp primary colors and versatile silhouettes. Sounder's crewnecks, chino pants, button-downs and leather belts could be worn to a trendy coffee shop just as easily as a round of links golf on a breezy afternoon in Scotland. Even their headcovers, gloves and hats are simple but effortlessly stylish. The selection of fleece headcovers was inspired by Day's old sock-shaped Ping covers that he grew fond of as a young player.
RELATED: How to dress for inconsistent golf weather like the pros did in Scotland
You'll also notice a simple star-shaped logo on Sounder's product that doesn't sell itself too hard. That's because the Sounder brand wasn't invented out of thin air. It was once an equipment company that the likes of Seve Ballesteros employed when he emerged as a force in professional golf back in the 1970s. Day and McAteer acquired the brand and brought it back to life, carrying over the original logo that had been etched into the vintage irons.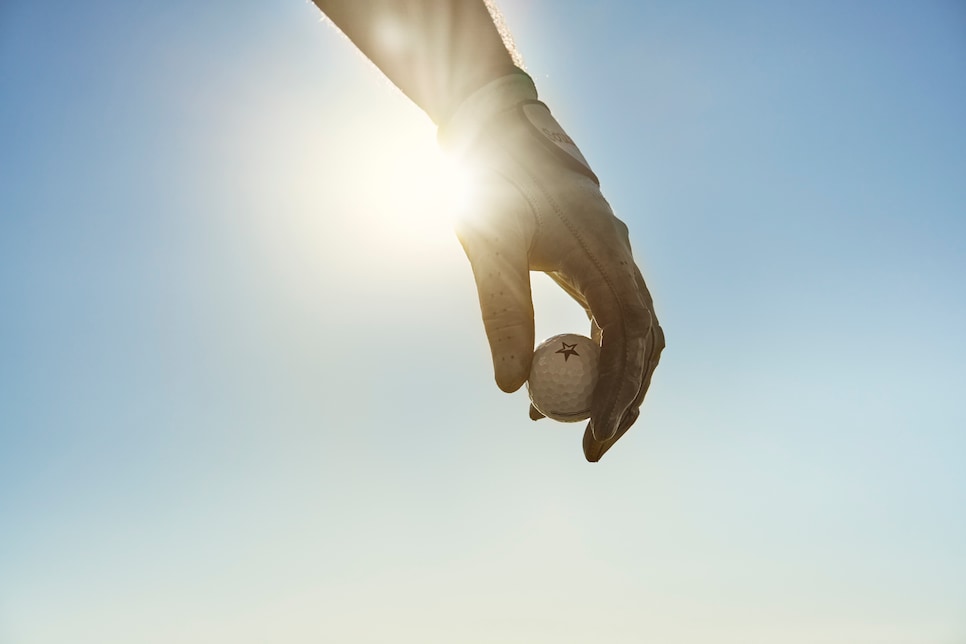 The story behind the Sounder name perfectly aligns with McAteer and Day's ethos. Two bright minds in the golf and fashion worlds came together to create a brand that aims to restore what the game they love seems to have lost sight of. Although they have quite different backgrounds, McAteer and Day are both self-proclaimed "golf fanatics." McAteer, who created the highly acclaimed contemporary fashion company Folk, started playing with his father in Scotland when she was 5. The egalitarian and welcoming nature of Scottish links golf heavily influences McAteer's perception of how the game should be played. Day has been a serious golfer his entire life—he became a certified PGA professional at a young age, started an indoor golf simulator business called Urban Golf in Central London, but recently regained his amateur status so that he can enjoy golf more recreationally. Day's passion for clubmaking and newfound appreciation for casual golf shaped the goals behind Sounder.
Getting the company off the ground was made easier because of McAteer's deep-rooted connections in the clothing industry. On top of his design expertise, partnering with the Scot came with factory relationships, an awareness of how to source materials, and the ability to "produce really good clothing from day one," according to Day. In general, McAteer is a master at his craft when it comes to making simple, effective and stylish clothing.
RELATED: How you can incorporate fall 2022's hottest color into your golf wardrobe
"Our designs are generally uncomplicated," said McAteer, the lead on Sounder's product design. "We were both brought up at a time when golf was played in chinos and beautiful jumpers [sweaters]. We go to the golf course and we play in a nice cashmere sweater. I'm an aesthetic; James is the same. We thought it would be nice to bring an idea of style to golf clothes again. And be able to leave the course and go straight to our favorite restaurant or pub and no one knows we had played golf."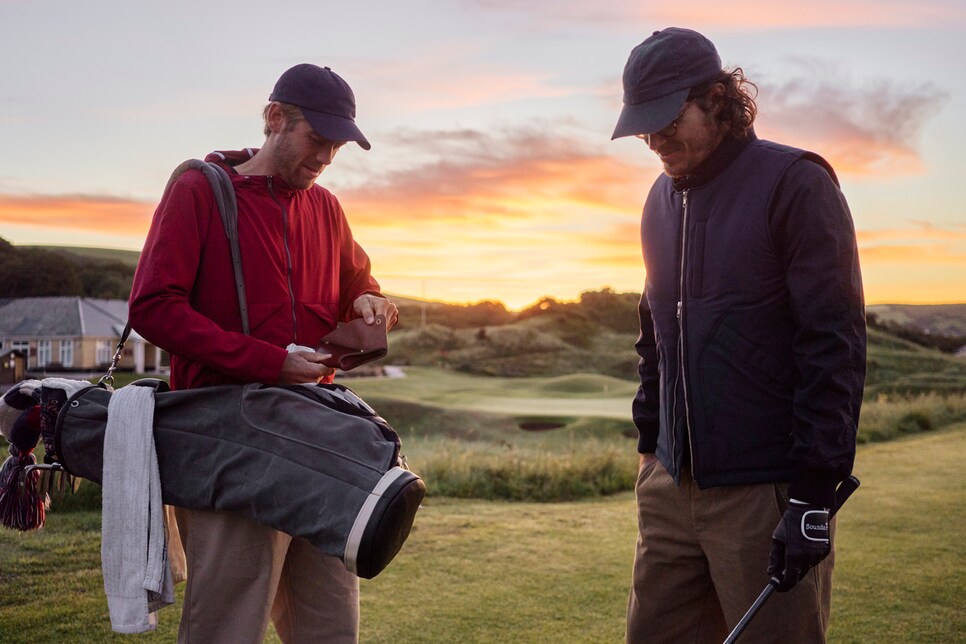 On top of its apparel offerings, Sounder eventually wants to expand to equipment again—the brand stopped producing clubs in the 1990s—in addition to expanding the golf accessory collection and adding golf bags to the lineup. The brand currently produces golf balls, gloves, tees, towels and shoes. It recently released a high-end shoe collaboration with British designer shoe company Grenson, with two colorways made from tan calf leather that are handmade in Northampton.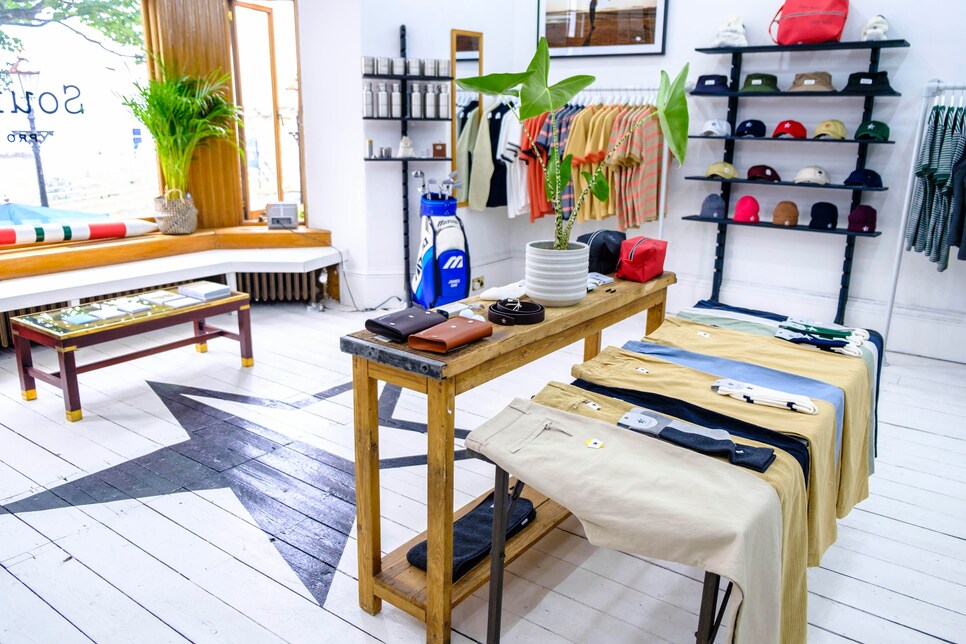 Sounder Golf's pop-up store at St. Andrews during the 2022 Open Championship
This vision explains why Day and McAteer launched the "Sounder Clubhouse" at the 2022 Open Championship, a home for Sounder clothing and a space for newcomers to get a glimpse of the brand. The pop-up is built into the lobby at the Scores Hotel, an iconic St. Andrews destination located just across the street from one of golf's most recognizable buildings, the R&A Clubhouse. Day and McAteer wanted to provide a "festival" experience for golfers, driving home the welcoming and light-hearted nature of the brand. They even put on a "Missed Cut" party on the Friday night of the championship. Random Golf Club's Erik Anders Lang was a part of the spectacle, recording live podcasts from the clubhouse throughout the week. Anders Lang is a friend of the brand, and it makes sense: The man who organizes meet-ups of hundreds of golfers at municipal courses aligns well with Sounder's soulful message.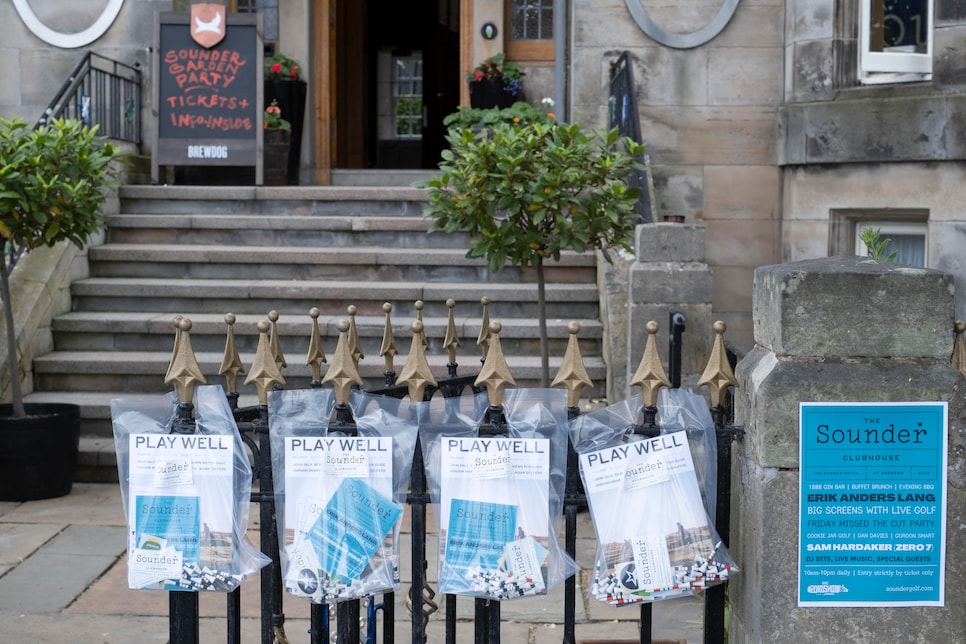 The entrance to Sounder Golf's pop-up store at St. Andrews during the 2022 Open Championship.
At the core of Sounder is an effort to remind people why they love golf. Day and McAteer believe that the industry is constantly chasing something, whether that be game-improvement technology or the latest performance fabrics, and in doing so, it is losing sight of the true values of the sport. It's not necessarily the distance gains or shooting personal-best scores that keep us coming back for more golf. It's the outdoors, the conversations, the friendly matches. It's that one pure 7-iron you hit on the 14th hole that you can't stop thinking about. Sounder lends that invitation—the same one Nike pointed out in their forgotten '90s advertisement—to reconsider golf's values through clothing, accessories, equipment and more.