News
Sophia Popov goes from caddie to AIG Women's British Open leader within a month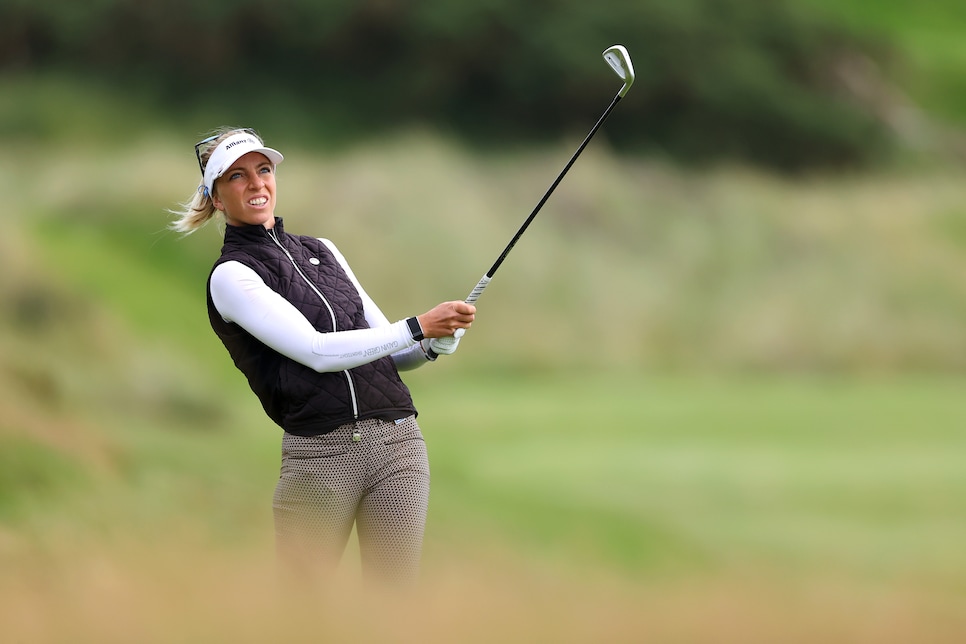 Sophia Popov of Germany plays her second shot on the 11th hole during the third round of the AIG Women's Open 2020 at Royal Troon.
Richard Heathcote/R&A
Sophia Popov's season is going a lot better than it started. The 27-year-old German just missed getting her 2020 LPGA Tour card. Disappointed, she had to settle for Symetra Tour status. Now, she's atop the leader board of the AIG Women's British Open heading into Sunday's final round at Royal Troon. In between that, a global pandemic hit, Symetra and LPGA events were canceled, she played mini-tour events, and even caddied in an LPGA tournament.
The LPGA resumed with the Drive On Championship in Toledo, Ohio, after having to pause competition for five and a half months due to the spreading of COVID-19. Popov was at the event, but not as a player: She caddied for her best friend Anne van Dam. The following week, Popov got a start at the Marathon LPGA Classic, a surprise in itself.
"I was definitely shocked," Popov said of getting into the field. "At the beginning, I didn't even realize that we were going as far down as the Symetra fill, and so I didn't even know, and I had other players telling me, Did you sign up, because I see some other Symetra players there, and I knew all right I'm No. 1 pretty much on the priority list. So if anyone gets in, it should be me."
She took advantage of the spot in the field by finishing T-9. It was good enough to get her into the field for the Women's British Open. While the majority of players in the Open field got on a charter and flew to Scotland to play in the Ladies Scottish Open last week, Popov hung back. She played a Symetra event that weekend instead and flew to Scotland afterwards.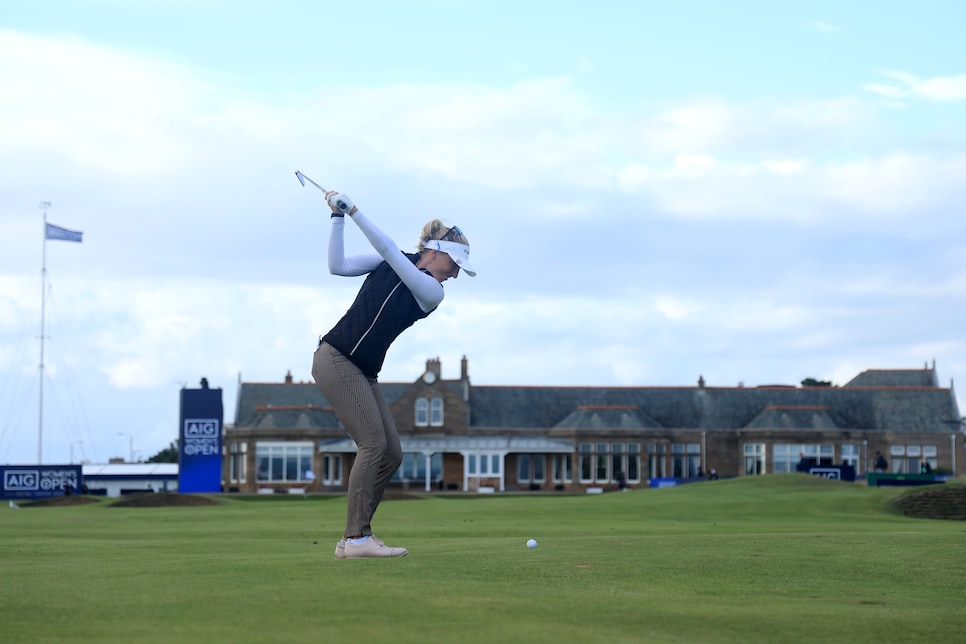 Sophia Popov plays her second shot on the 18th hole during the third round of the AIG Women's Open.
Matthew Lewis/R&A
"Honestly, for the status I have this year, I need to play Symetra events and I need to make sure I'm doing well with those, and so I didn't want to miss too many events," Popov explained.
She said she got one practice round in at Royal Troon and then shot a one-under 70 to open the tournament to be in a tie for second. A one-over round on Friday kept her in that spot. Then her four-under 67 on Saturday, which included an eagle at the par-5 fourth, gave her a three-shot lead over Minjee Lee and Thidapa Suwannapura.
So how exactly does one go from caddie to major leader all within a month?
The caddieing actually helped.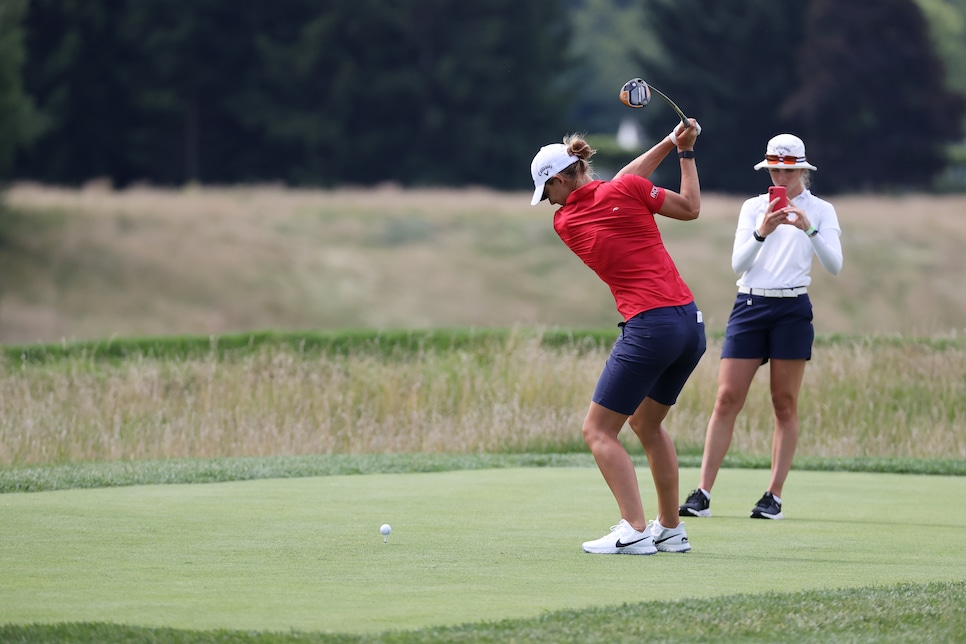 Anne van Dam plays a shot as her caddie Sophia Popov records the swing during a practice round prior to the LPGA Drive On Championship at Inverness Club.
Gregory Shamus
"I did realize when I caddied for her, there are certain things about my game where I see similarities and course strategy-wise," Popov said. "I think that helped me a lot. Because the next week,I thought about the course as a little bit more from a caddie perspective. I said, What is the smart decision to make here. You know, I'm someone who tends to be very aggressive. I go at pins. But do you have to be? No, not really. You can give yourself a lot of chances just with safer shots going for the middle of the green, and so definitely that helped me a lot. And I think just in general, Anne's positive energy, I think she's been a big influence on me the last like four or five months."
Popov also had some positive reinforcement from playing mini-tour events. While the LPGA and Symetra tours were paused due to COVID-19, the Cactus Tour in Arizona was still playing. Popov lives in Arizona and credits getting to play in those tournaments as part of the reason for her strong play.
"I think I played eight or nine Cactus Tour events, and I won three of them," Popov said. "So, for me, I did get a lot of confidence from that time, but it's a mini tour. It was more competitive than it usually is, but you tee it back up on the LPGA and you're like, let's see where this goes because you just don't know."
She had no way of knowing how this unprecedented season would go or how sharp her upward trajectory would be. But now that she's here leading a major, she knows she can handle it. The 304th-ranked player in the world can become the first German woman to win any major, and only the third German golfer to achieve the feat, following Bernhard Langer and Martin Kaymer.
"I was joking about it last week. I said, Well, you never know, maybe I can get myself in contention next week," Popov said Saturday night. "Even though I was joking about it, I knew I'm capable of it."