News
LPGA Tour pro opts for pushcart instead of caddie at AIG Women's British Open, is in contention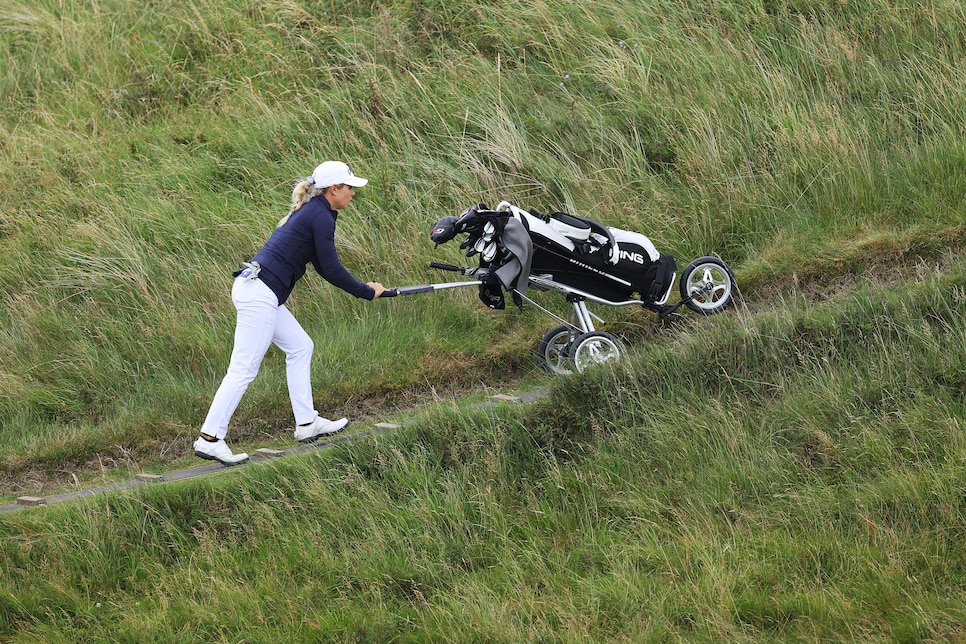 Lindsey Weaver pushes her cart up the hill towards the eighth hole during the third round of the AIG Women's Open 2020 at Royal Troon.
Richard Heathcote/R&A
Yep, you're seeing that image correctly. Lindsey Weaver opted for a pushcart instead of a caddie at the AIG Women's British Open at Royal Troon. The 26-year-old, who played her rookie LPGA Tour season in 2018 and got her card back at Q school in 2019 for the 2020 season, usually hires local caddies. Part of the LPGA's return protocols included disallowing local caddies. In conjunction with that, the tour allowed the option to not use a caddie at all. So now Weaver is out pushing her bag around Royal Troon, near the top of the leaderboard. She began the weekend one over, two shots off the lead, and was alone in fourth late in Saturday's round, which included an incredible par.
But it's not just about rolling the bag. Weaver is also raking her own bunkers, doing her own yardages, grabbing divots, reading putts, selecting clubs. Sure, these are all things any professional golfer is completely capable of doing, but when you're out there having to do it all yourself, and you're the only one doing it by yourself, whilst atop the leaderboard of a major, it can add up.
Weaver doesn't seem to be feeling any heat, though. She's comfortable doing it alone.
"I feel like it's kind of back to the basics," Weaver explained earlier in the week. "This is how junior golf was. This is how college golf was and on the Symetra Tour when I played there for a year. I mean, it's still just golf. Like I'm still making the final decision at the end of the day."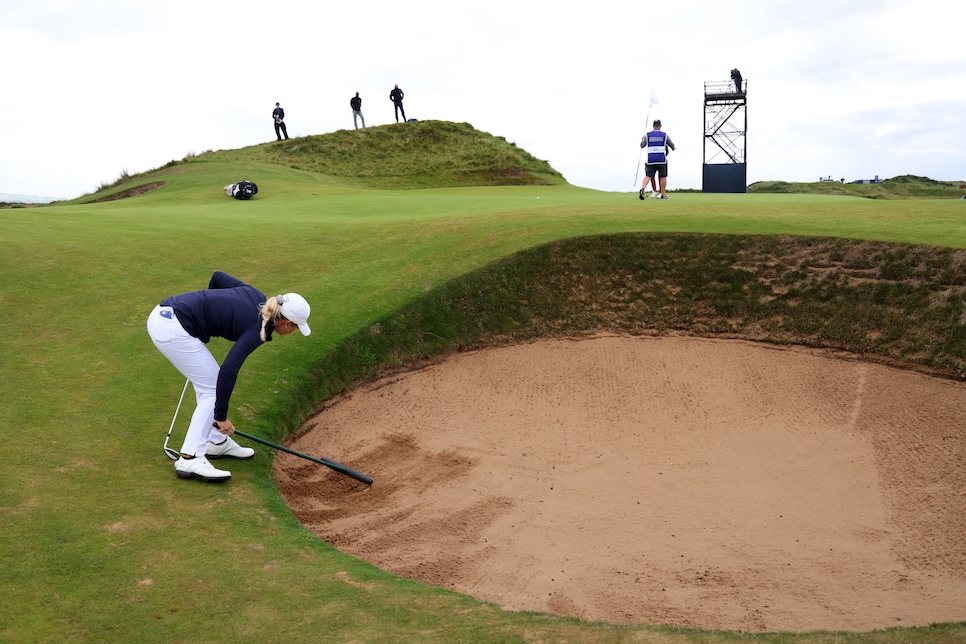 Lindsey Weaver rakes her own bunker on the eighth hole during the third round of the AIG Women's Open.
Richard Heathcote/R&A
Though she appears to be comfortable with the pushcart instead of the caddie, there was one situation in the first round where a caddie might have been useful.
"I was in one bunker and my pushcart flew into another bunker and toppled over and I'm still trying to get a lot of the sand out of my bag," Weaver said.
The cart flew away despite Weaver having set the brakes. She didn't harbor any resentment towards the cart, though. It's not the cart's fault: it's more than a decade old.
Weaver also didn't get the pleasure of fist-bumping her caddie after her remarkable par