News
Danielle Kang wins LPGA's first tournament back from lengthy hiatus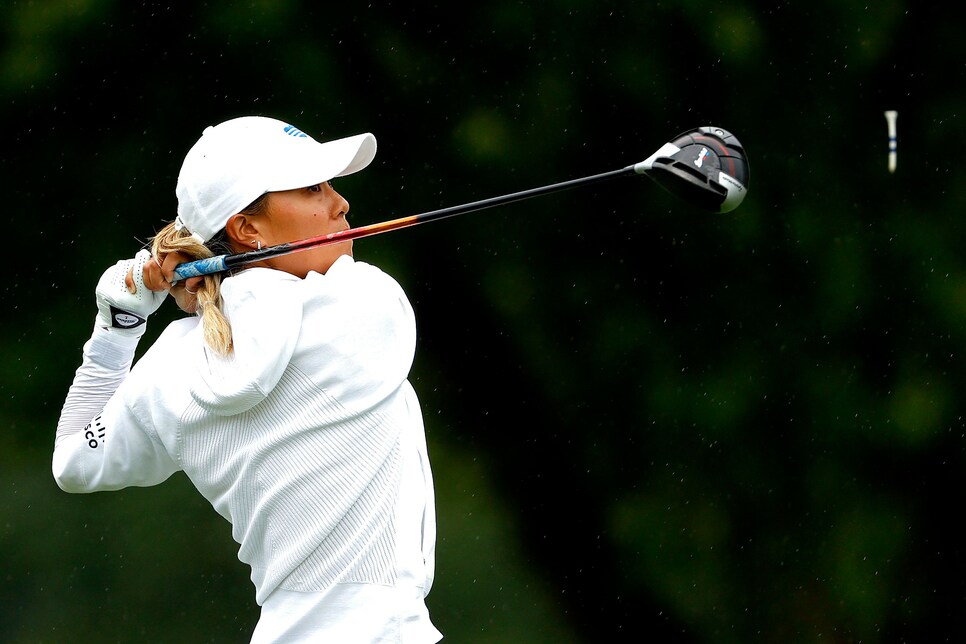 Danielle Kang was clearly ready for the LPGA to begin play again after 166 days off due to the coronavirus. She came out hot on Friday at Inverness Club, shooting an opening-round six-under 66 in the LPGA Drive On Championship, and didn't look back. She closed things out on Sunday by dodging heavy rain and a charging Celine Boutier of France to take the title by one stroke after a closing 70.
It was fitting that it was Kang vs. Boutier on the final day, Solheim Cup rivals from 2019 at Gleneagles. The 2021 match will be held at historic Toledo, Ohio, course, and their showdown offered a tasty preview. Kang and Boutier had two of the most memorable rookie performances in recent Solheim Cup history, with Kang igniting the crowd and going 3-1-0 in Des Moines in 2017. Boutier made her debut in Scotland last year, winning all four of the matches she played in.
Boutier had a chance to push the tournament to a playoff on the 18th, where her 80-yard approach shot settled three feet below the cup. Kang was in with her par and the one-shot lead. Boutier's birdie try, however, hit the lip but didn't fall.
Kang's win—her fourth in four years—comes after a long break that she says she didn't really treat like a break. Fully aware of how lucky she was to be in the position she was in as the world changed around her, Kang instead decided to work on her game. She said the normal, short off-season doesn't give enough time to pay close enough attention to certain details while also giving the body time to heal from small, nagging injuries. But with a lot of time off and no travel to wear her down, Kang was working with her coach Butch Harmon, while also playing with her boyfriend, PGA Tour pro Maverick McNealy, and mini-tour pro brother, Alex Kang. She credits the competitions with the guys as keeping her sharp and ready for tournament play, despite having not played a tournament since January.
"The boys that I play with are so good, that I try and keep up and we always have a competition," Kang said. "So that keeps me up to date."
While competition with the guys kept her sharp on-course, Harmon focused on helping her figure out how to hit her 3-wood more consistently and improve her wedge game. "Butch was the mastermind behind it," Kang said. "He knew exactly what I needed to accomplish and work on, and I had the time.
"I'm not a huge fan of 3-woods and I really worked on 3-wood a lot. I just kept hitting 3-woods until Butch and I got it right," Kang said. "Eventually he said his goal was to make 3-wood my best club in the bag, and it was a highlight of this entire week. I hit a lot of 3-woods."
Kang has another golf great helping her: Annika Sorenstam. Kang says she calls and texts Sorenstam when she needs advice and to ask for help with her game. The advice for this week: Be aggressive.
And that's exactly how Kang played.
After making a bogey at the par-5 13th, Kang and her caddie reset, deciding that there were three birdies left on the course. They wanted to finish at 10 under. When Boutier made birdie at the 14th to pull even with Kang, the plan didn't change. She continued to hit the aggressive shots.
"It's a goal that we make that's a little bit hard to reach, but it keeps me pushing, it keeps me staying aggressive with the golf course so that I don't get too cautious," Kang said. "Like on 17, I would have normally hit an 8-iron if I wasn't told 1,000 times to stay aggressive. So, I took a 7-iron and tried to punch it in the wind, and I went, I think that's over the green. That's the one place you don't want to be, but we stuck to our game plan and it totally played off."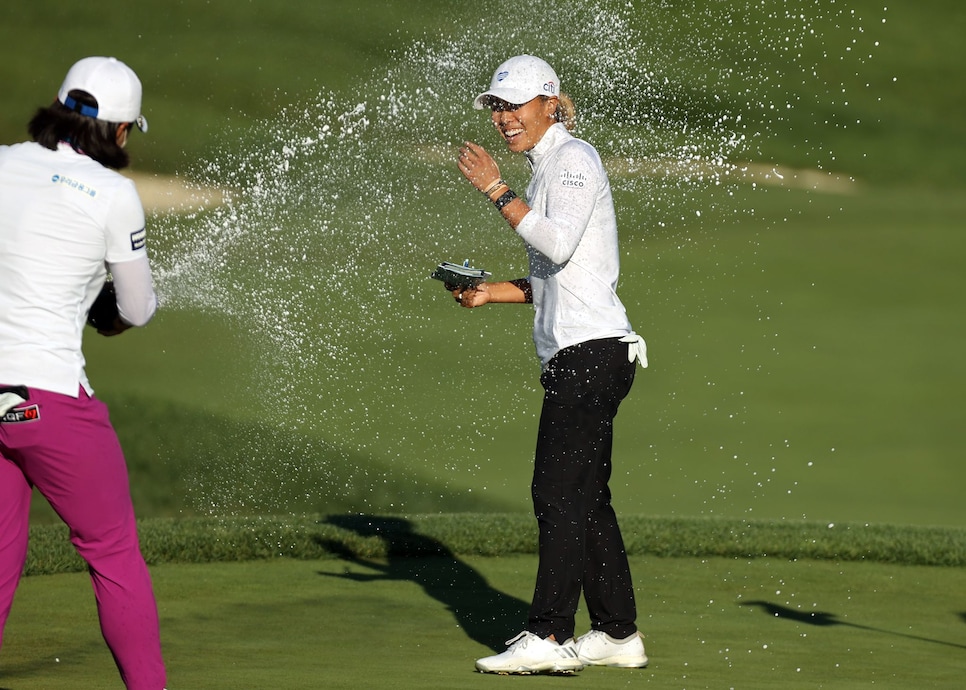 When Kang won, she was showered with a socially distanced misting of champagne and air hugs from fellow tour pros Amy Yang, Lizette Salas and Lydia Ko. As she sat in the press room answering questions from journalists over Zoom, Harmon called her. Kang said her post-victory celebration would include yelling at the TV as McNealy finishes his round at the Barracuda Championship, going for his own win.
Though Kang has to ultimately convert the shots on-course alone, as every golfer does, she gains great strength from this golf community she's built around her.