News
One-On-One with Danielle Kang, including the Cobra and the Tarantula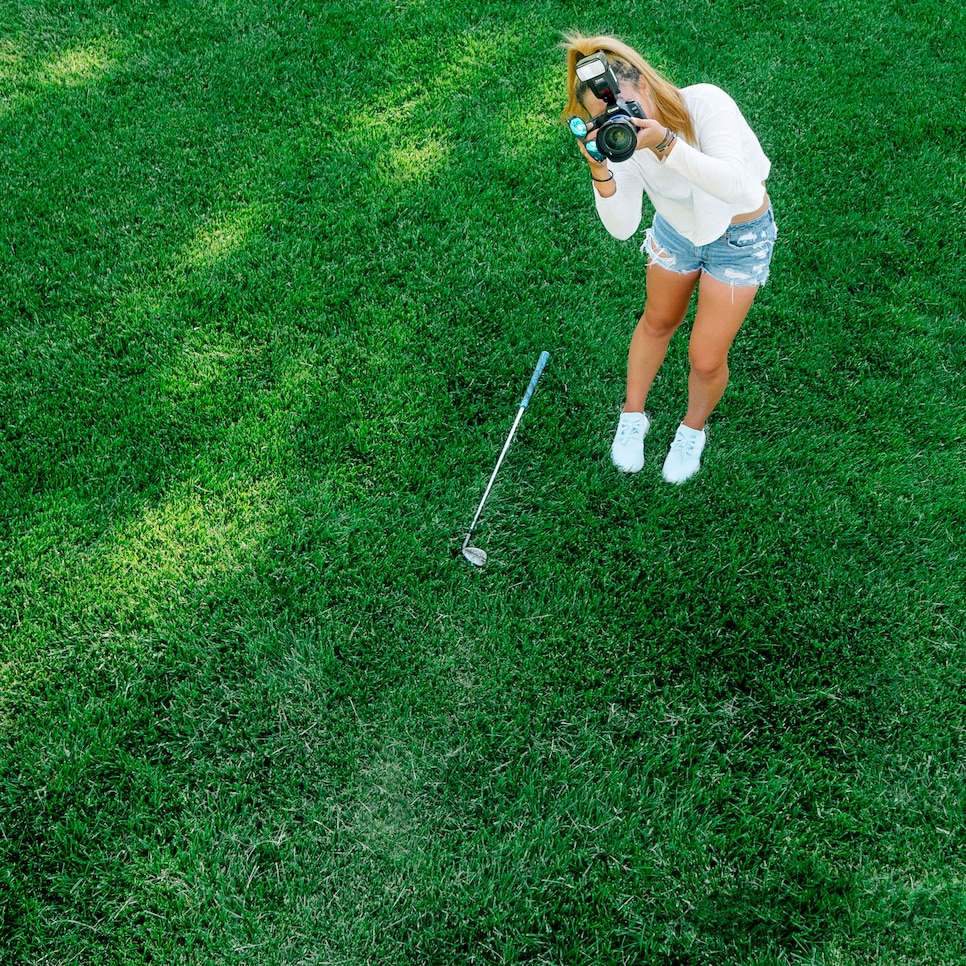 Danielle Kang qualified for the U.S. Women's Open at 14, only about a year and a half after she started playing golf.
She won the U.S. Women's Amateur in 2010 and 2011, turning pro at 19 after that second victory. But it took six years and 144 LPGA Tour starts before she broke through for her first professional win, a major: the 2017 KPMG Women's PGA Championship. We caught up with Kang, 25, after she competed at this year's LPGA stop in San Francisco. She covers everything from how her relationship with the game changed after her father passed away in 2013, to her erratic sleep patterns, to martial-arts combat—and that time her friend Michelle Wie talked her out of buying a tarantula.
WHAT'S A WEEK AT HOME LOOK LIKE COMPARED TO A WEEK ON TOUR?
Actually quite calm. I love waking up without an alarm clock. I usually don't sleep well, so when I'm home, I have what I call "crash days." People say I hibernate. Sometimes I'll sleep for 14 hours. My record is 21 hours. I didn't get up once. My mom was concerned; she didn't know what was going on. I need those days, though, because I go weeks sleeping two or three hours a day. I'm really energetic. No matter if I wake up at 2 a.m. or 7 p.m., I'm the same: "Let's go!"
HOW HARD IS IT TO MAINTAIN FRIENDSHIPS WHEN YOU'RE ON THE ROAD?
I'm so blessed to have my friends. I know no matter what, they're by my side. They're mostly not golfers. To have them, that helps keep me sane. But even when I'm home, it's not like we're in high school, just hanging out. My friend Hillary just got her real-estate license. In my phone, I have her as That bitch who has a real job, because every time I ask her to go to lunch, she's like, "No, I have a real job. I'm at work." I tell her to just get out early. She's like, "I can't—I have a real job." She makes time, though, asks for time off and comes to watch me play.
HOW DID YOU START PLAYING?
I was almost 13. My brother, Alex, was getting really good, and I was getting jealous about how much people talked about it. He's on the Web.com Tour now. I like the attention. I love crowds. I'm a competitor. I'm a performer. It's fun. Getting there, that's the tough part.
YOU RUSHED ONTO THE 18TH GREEN WHEN LYDIA KO WON IN SAN FRANCISCO [KO'S FIRST VICTORY SINCE 2016]. WHAT WAS IT LIKE WATCHING HER WIN?
With golf, you don't really get a lot of positive reinforcement. You could play great and finish second. So when I see my friends and my competitors, whoever gets that moment, I just feel for them, because they've worked so hard. That feeling of relief, when you make that putt—it's the greatest feeling ever.
IS THAT WHAT YOU FELT WHEN YOU WON IN 2017?
A load of relief, because it had just been gloomy, negative, everyone asking me what happened—I was the No. 1 amateur before turning pro, and then I'd never won. It just kills you. It's like, Finally. It paid off. It's an obsession. There's always that little doubt in the back of your mind that makes you think it's not going to happen.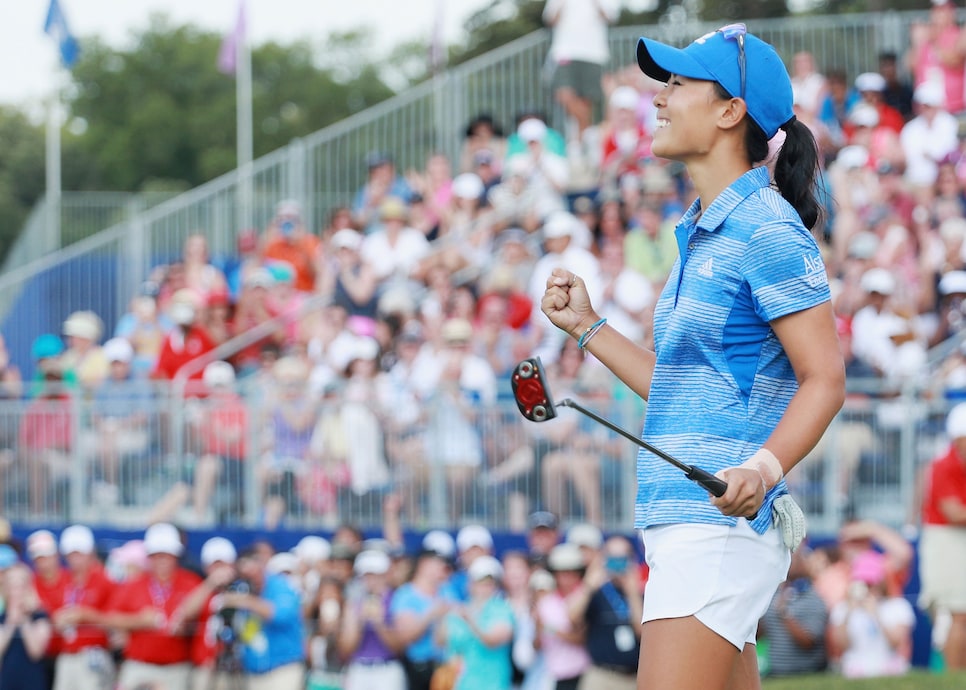 WHEN YOU WERE STRUGGLING, FIGHTING THAT DOUBT, DID YOU EVER THINK ABOUT QUITTING?
No matter how much you fail, you just want to keep trying. All those years, the toughest part was that I couldn't—or didn't—win while my dad was alive. The harder I tried, the more frustrated I got. When my dad passed away, a lot of people asked me why I kept playing while he was sick. I can't really explain it to people. I kept playing because it wasn't for me.
I wanted him to wake up and know I'm out there playing the game I love, and I wanted him to see me win. I wanted to give him the fight, to show him I'm OK. I wanted him to be able to check my scores—he liked seeing me make birdies.
HOW DID YOUR RELATIONSHIP WITH GOLF CHANGE AFTER HE PASSED?
I didn't want to be there. It's not that I didn't love golf. I just felt that golf took away something. It was this hollow feeling. Every time I stepped up to a golf course, I was angry. After being angry for three years, I finally let a lot of that anger go in 2017. I changed the drive into more of wanting to win than needing to win.
HOW WERE YOU ABLE TO GET INTO THAT BETTER STATE?
Honestly, this is pretty private, but I don't mind sharing: I had a therapist. I have a really great life, and I'm blessed for what I have, but what I was going through mentally, losing my dad, and then not winning, trying to play through it, all of the images in my mind, I couldn't calm it down. To find some peace, I needed to talk to somebody. Therapy helped a lot. She told me it was OK, that everything was going to be fine. She helped me with different mechanisms on how to deal with anger.
WHAT'S THE BEST LESSON YOU LEARNED?
People say time heals all—it's a lie. Time will help you cover it up, help you manage. I learned to accept that life goes on, and I have to do what I have to do. I came to peace with him being proud of my hard work, of doing my best. And being angry wouldn't help me do that. So I was able to enjoy golf again, and enjoying the process of trying to be my best.
WHAT CHANGES AFTER THE FIRST WIN?
I get noticed more, I have more fans, I do more media—all those shenanigans. But my life hasn't really drastically changed. I felt so much love when I won. I'm just really happy people are coming out more and are interested in women's golf. If I made one person tune in to golf, then I did something good. The better I play, the more of a difference I can make. That's why I partnered with UNICEF. I've been with them for about seven months. It was just a dream of mine to work with them. When I won KPMG, I wrote a proposal, gave it to my agent. I got a meeting the next week.
'Tae kwon do was my passion. ... I've been punched and kicked in the face, and I've done the same to others.'
WHAT ELSE INTERESTS YOU OUTSIDE OF GOLF?
Tae kwon do was my passion. I was a second-degree black belt. I love martial arts and the one-on-one fighting. I've been punched and kicked in the face, and I've done the same to others. I was so strong when I was younger. My brother used to make me do one-handed push-ups. I'd do pull-ups. If I got in a fight with my 14-year-old self, I'd lose. Outside of that, when I was younger, I wanted to be an actress or a lawyer.
EVER GET ANY ACTING JOBS?
I got offered roles to be an extra in a movie and a jeans commercial, but I didn't take either. It was the same time when I started playing golf. When I wanted to pursue acting, my parents were like, "You have to pick acting or golf; you can't do both." I chose golf.
IF YOU COULD HAVE ONE ROLE IN MOVIES OR TV, WHAT WOULD IT BE?
I want to be in an Adam Sandler movie. He does a lot of golf stuff, too. I don't even care about the role. He seems like a dude who gets life and doesn't care about the extravagant stuff.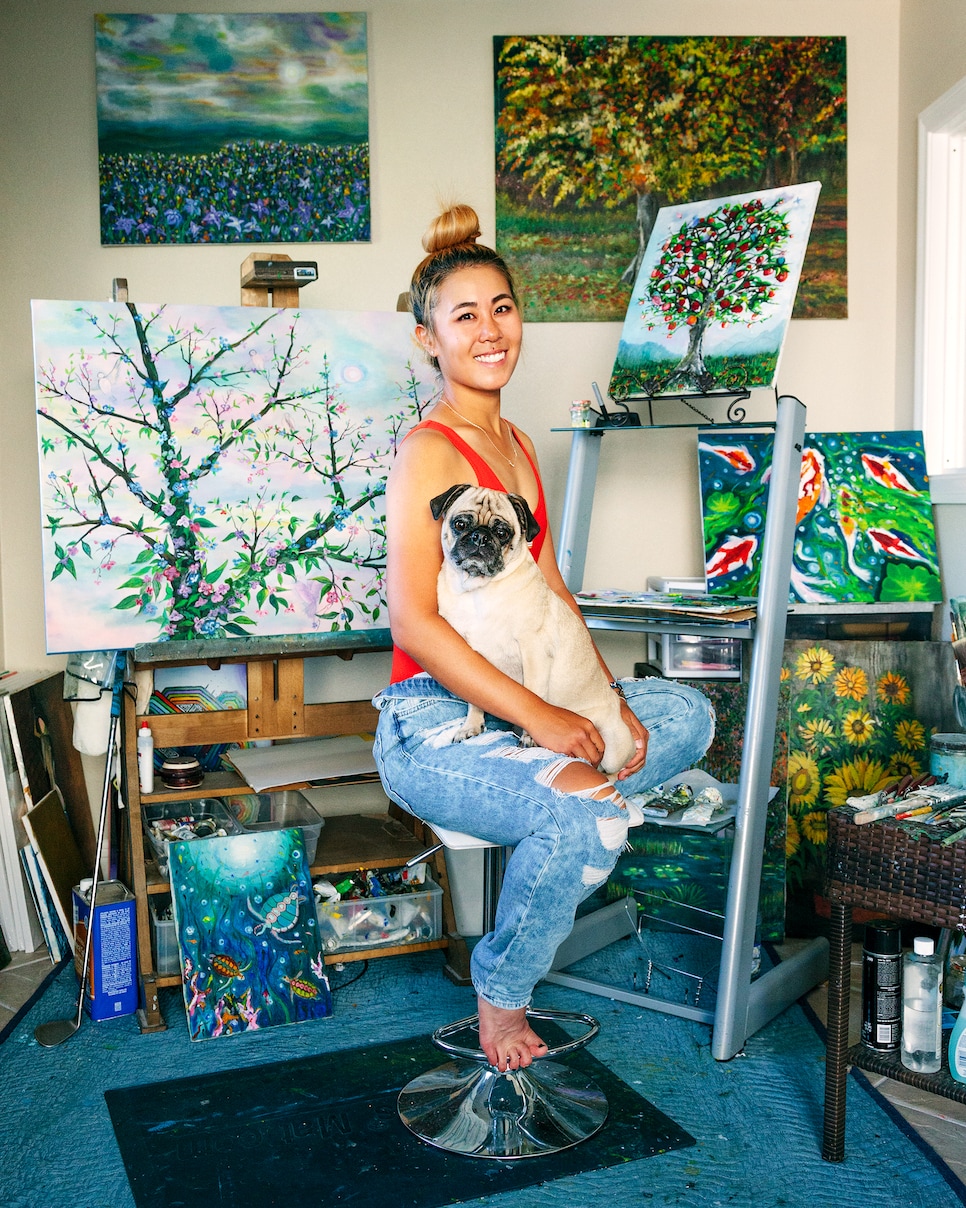 FAVORITE ACTORS?
I love Leo DiCaprio and Tom Hardy. Angelina Jolie; she's my hero. She does so much work for women and children. She's a humanitarian, a mom, a producer, an actress—so impressive.
HOW DID YOU GET TO KNOW THE GRETZKY FAMILY?
I grew up with Ty Gretzky [Wayne's son] and got to know the family. I was under Wayne's membership at Sherwood and played with Wayne and [wife] Janet a lot. I was young, so I didn't know how famous Wayne was. Obviously as I grew older, I realized. I was in Canada, and there was a statue of him, and Wayne Gretzky Drive. They're a great family. Wayne surprised me and came and played the pro-am with me at the L.A. tournament.
HOW WAS WAYNE AS A PRO-AM PARTNER?
It was so fun. It was just us playing like the old days. He kept telling me his back hurt from carrying the team, that I'm just the face. He's really good—he makes clutch putts and hits good drives. He can outdrive me if I mis-hit.
WHAT'S THE BEST AND WORST THING ABOUT PRO-AM PARTNERS?
The best is if they're out there to have fun and enjoy it. I talk a lot of s---, so if they like that and they like to have fun, then it's fun for me. I had a pro-am guy who was chunking it so bad. I told him, "I can't do this for another 15 holes. We'll fix it; give me five minutes." We did. He told all his buddies that I yelled at him.
When I see him, I ask him if he's still chunking it. The worst is if they're trying to win. I want them to enjoy the time with me, but I can't do anything about it if they keep missing five-footers.
DO YOU WATCH THE PGA TOUR?
I don't really watch TV. I watched the last two holes when DJ won the U.S. Open, and I haven't watched since. When I'm not playing, I want to do something else. I don't want to see someone miss a putt. I don't want to be stressed.
TELL US ABOUT YOUR ARTWORK.
I've been drawing and painting since I was a kid. I don't do it much now, though. I'm good at it, and I love the result of what I can create, but I don't enjoy the process. I'm too much of a perfectionist.
WHAT WILL YOU DO AFTER YOU STOP PLAYING GOLF?
People ask me a lot when I'm going to retire. And I'm like, "Retire? I'm just getting started." But there are still some things I'd love to do after golf. I love marine biology. I love animals.
I would work at an aquarium; I want to work at a zoo. If I didn't travel, I'd buy all the animals I could. I'm on a list—I get emails if rare species become available. I got an alert about a tarantula, and I called Michelle, asking if I should get it. She screamed at me not to.
I asked my friends if they'd feed it. No one would, so I didn't buy it. But I wish I had one.
WHAT OTHER CRAZY THINGS HAVE YOU TRIED?
I get intrigued easily. I'm that friend that's like, "Wanna go try this?" I don't think the things I come up with are crazy. I tried scuba diving and bungee jumping. They sell cobras to eat in Thailand. No one would eat with me, so I ate it by myself. I've tried almost everything. You've got to find the cool things where you travel.
WHAT'S COBRA TASTE LIKE?
Like a chicken and fish hybrid. It's delicious.
WHAT ADVICE DO YOU HAVE FOR YOUNG PLAYERS?
There's no rush in turning pro. Having success is awesome, but you have to enjoy what you're doing. If you're not, even if you get success, it won't be that satisfying. Be a kid, because one day you're going to be home and texting your friends to go to lunch, but they're going to say no because they're at work—they have a real job.
You are using an unsupported version of Internet Explorer. Please upgrade to Internet Explorer 11 or use a different web browser.