The Loop
Skip Bayless and Shannon Sharpe breaking down U.S. Open pairings was … something
I picked the wrong day to watch Skip Bayless' Undisputed show for the first time. Or rather, the wrong day picked me.
Just hours after watching the Cleveland Cavaliers let Game 3 of the NBA Finals slip away, I saw this:
As a golf fan hungry for the latest news about next week's U.S. Open, I felt compelled to tune in. As a LeBron James fan, though, well, the timing couldn't be worse. Bayless' hate-hate relationship with LeBron -- despite the fact that he's widely considered to be at least the second-best basketball player ever -- is well known. And now I'd have to sit through his biased hot takes in order to get the pairings at Erin Hills? Pass me a barf bag.
The show -- actually titled Skip and Shannon: Undisputed -- begins with a Lil Wayne-performed theme song in which the main lyrics are, "No mercy, no mercy, no mercy. And I won't back down." Ugh.
Skip and Shannon Sharpe (Shout-out to his brother Sterling for making a run at qualifying for the U.S. Senior Open, by the way) are on an outdoor set in Cleveland as the show opens at promptly 9:30 ET. Skip starts by saying he was "rooting for LeBron to make it a series," but. . . "Forgive me, I'm about to unleash my emotions." Great. Skip then launched into the most cliche-filled tirade about missed opportunity I've ever heard, ending with this doozy of an observation: "LeBron went from Mount Rushmore to Death Valley" and his tired, "I just don't think he has the clutch gene" line. Sigh. Then he read and analyzed one of his own tweets during the game. This went on for 23 minutes before the first commercial break.
When the program returns, NBA reporter Chris Broussard is brought in to answer the question of "Does LeBron deserve blame for the loss?" Did any of these people watch the game?! He had 39, 11 and 9! (Bayless says, "That's easy for him!") And the Cavs were +7 in the 46 minutes he was on the court and -12 in the two minutes he was off it. Yep, the Cavs were MINUS TWELVE in the TWO MINUTES LeBron took a break from carrying an entire city on his back. How is that even possible?!
Fortunately, Broussard brings up that exact stat -- and adds some measured analysis to a conversation that is going on way too long. It's 10:14, and there hasn't been a whiff of a golf mention. I check the guide and . . . wait, this show goes for two-and-a-half hours?! Wow, I got duped.
On and on it went with guests like former NBA player Stephen Jackson, former NFL player Cris Carter, and actor Michael Rapaport -- who might hate LeBron more than Skip. Michael brought a broom on set to signal a possible upcoming sweep and rile up the Cleveland crowd (Why would any Cavs fan attend this show in person, let alone watch it on TV?). Then the bozo sports writer who said the Warriors would be worse off for signing Kevin Durant last summer (LOL) appeared. Then Kevin Durant's mom. Then Broussard came back.
They talked and talked about the Finals for more than two hours straight, and then, at 11:55 (and 41 seconds), finally, I saw this screen pop up: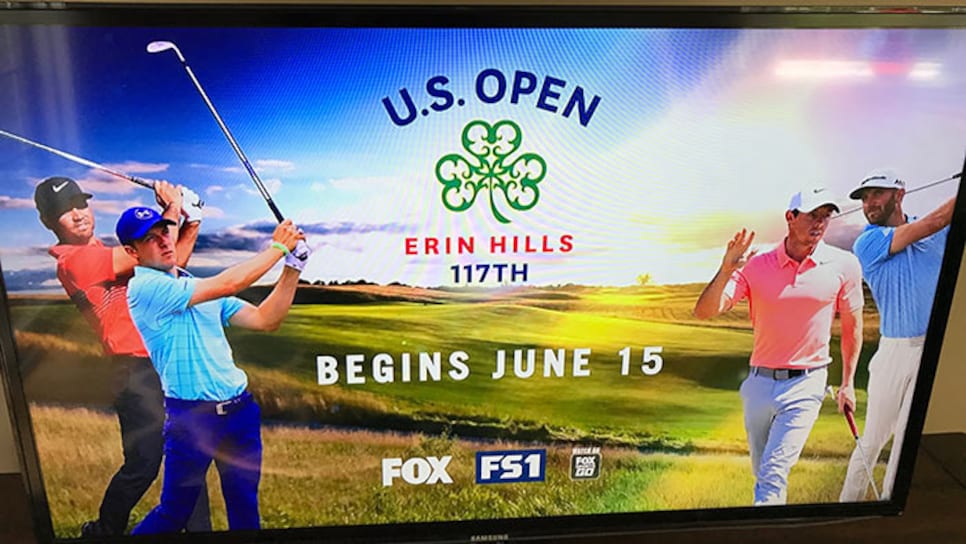 Here we go! I un-muted the TV (Even if I were rooting for the Warriors, that much talk about the game would be tough to listen to) and waited to hear the news. The show's moderator, Joy Taylor explained that Fox was unveiling the tee times first, starting with the group of the past three U.S. Open winners: Dustin Johnson, Jordan Spieth, and Martin Kaymer. Exciting! Then Joy said viewers would have to tune into The Herd -- Fox Sport's next program -- to find out the rest. Not exciting.
But first, Joy turned it over to Skip for some, um, analysis.
"Mmm, great grouping. And for golf's sake, I'm rooting for Dustin Johnson to win his second straight U.S. Open, then go win the British Open, then come back and win the PGA and create some semblance of Tiger-like buzz. Not that you can fill the void, but at least he has enough edge to him, that it's going to bring back some of the casual golf fans if he gets hot again."
Interesting. . . Shannon, your thoughts?
"Well, DJ hits it long, but if you don't hit it in the fairway playing at the Open, you're not winning this tournament. Jordan Spieth doesn't hit it far, but he normally keeps it in the fairway. And Marty Kay- Martin Kaymer, he's normally steady. So, I don't care how far he hits it, you know DJ can hit it 400 yards, but if you put it in the rough, he's not even making the cut."
Cool. . . Then Joy, at 11:57, jumped back in.
"Well, we're really exciting for that. Let's get back to the NBA Finals. . . "
WHAT?! 90 SECONDS?! THAT'S IT?!