The Loop
Sirak: With Tiger Woods, we just never know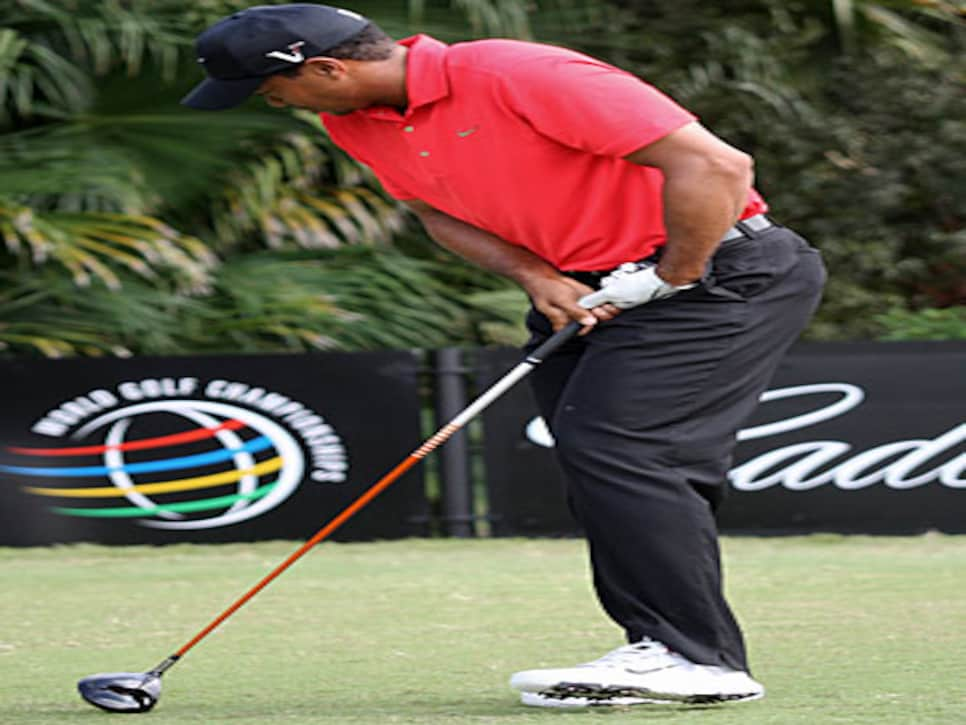 In his novel, "The Floating Opera," John Barth creates the image of a play performed on a barge carried up and down a river by the tide, the spectators lining the shore. All we know for sure, Barth writes, is what we see when the play is in front of us. The rest we piece together by rumor and word-of-mouth from what others see. Such is the case with the health of Tiger Woods. Pretty much all we know is what we see when we see him. Other than that, we just don't know.
So the severity of Woods' latest injury, tightness in his left Achilles tendon that forced him to withdraw from the Cadillac Championship with seven holes to play, may not be understood until next week's Arnold Palmer Invitational. If Tiger doesn't show up at Bay Hill, where he is already committed to play, the roller coaster ride of injuries that have plagued him for nearly five years could be on another downward slide.
The problem here is that getting information from the Woods camp about his physical condition is a little like asking Iran for details about its nuclear weapons program: Don't expect answers, at least not in a timely fashion. In December 2008, for example, Woods ruptured his right Achilles tendon while rehabbing from knee surgery. We were informed of that rather significant detail at the 2010 Masters.
And last year, when he returned in August from a nearly three-month hiatus after reinjuring his left knee and Achilles at the Masters, Woods was on a strict ball count, which greatly limited his practice time. That detail was revealed in December at the Chevron World Challenge.
You always get the feeling that whatever is going on is not exactly what you are being told. Perhaps Woods is hurt worse than we have been told now. Or maybe he just lost interest Sunday after a 38 on the front nine and then a water ball on No. 10. Or maybe he just doesn't want to play at the Bay Hill event, which is run by IMG, to get back at his former agency. We just don't know.
This is what we do know: Since he winced and grimaced his way to victory over Rocco Mediate in a five-day, 91-hole marathon at the 2008 U.S. Open at Torrey Pines, Woods has quit tournaments three times, citing injuries. This time, his departure came when it appeared he was as close to a reasonable facsimile of his once great game as he has been since his car ended up on a fire hydrant in the wee hours of Nov. 27, 2009.
The medical part of the Woods opera began December 1994, when he had surgery to remove two benign tumors and scar tissue in his left knee. The same month in 2002, Tiger had surgery to remove fluid around his anterior cruciate ligament in his left knee. The really bad stuff started to happen in July 2007, when Woods ruptured the ACL in his left knee while running. He played on and won five of his last six tournaments, including the PGA Championship.
Two days after finishing second in the 2008 Masters, Woods had arthroscopic surgery to fix cartilage damage in his left knee. Then eight days after winning that 2008 U.S. Open, Woods had surgery on the ACL of his left knee and admitted that he was advised not to play at Torrey Pines because he had two stress fractures in his left tibia. That December came the ruptured right Achilles not revealed until his return-following-the-you-know-what-scandal news conference at the 2010 Masters.
A month later, on May 9, 2010, Tiger withdrew on the seventh hole of the final round at the Players Championship with what he said was a joint inflammation in his neck. In December of that year, he had a cortisone injection in his right ankle.
Last year, after a two-week post-Masters trip to Asia on which he gave clinics and exhibitions and played ping pong, Woods revealed on April 26 he had a minor sprain of the medial collateral ligament in the left knee. He said the injury occurred on April 9 while hitting from pine straw on No. 17 in the third round of the Masters. Woods returned at the Players but quit after shooting 42 on the front nine, saying his left leg hurt.
And then there was Doral, which could be a setback on what seemed to be the beginning of a comeback. "I play a lot [at home] and I wasn't able to do that because I was on a strict ball count," Woods said last December at the Chevron World Challenge. "Once that was released and I was able to go is when I started making some serious strides working with [swing coach] Sean (Foley), because then I could get the reps in."
That seemed to ring true, since Woods had just played well in the Australian Open and President Cup before winning the 18-player Chevron. And when Woods closed with a 62 on March 4 to finish T-2 at the Honda Classic the cries of "He's back," heard often over the last two years, rang a little truer this time. The anticipation was that Honda would be a springboard for a strong Cadillac followed by Bay Hill and then the Masters. Now, we just don't know.
Interestingly, in his book The Big Miss about working with Woods, swing coach Hank Haney writes: "In retrospect, 2007 was when Tiger began to lose the joy of playing and began to look at his career as something he wanted to get over with sooner rather than later. And the most obvious sign was his growing obsession with the military."
According to Haney, Woods took part in a three-day Navy SEALs team parachuting session less than three weeks before the 2006 U.S. Open. Was jumping out of planes a wise decision for a man with leg problems? Is that where the most serious of his leg issues have their root? We just don't know.
With as close as the Woods camp holds their cards to the vest, all we can go on is what we see -- and what the numbers tell us. In the six PGA Tour events culminating with his victory at the 2008 U.S. Open, Woods won four times with a second and a fifth. Now, he has not won a major since Torrey Pines and has not won a PGA Tour event since the BMW Championship on Sept. 13, 2009.
So now we wait for the next time the Woods' barge floats past us and we get a glimpse of the Tiger Opera. Perhaps it will be at Bay Hill, perhaps at the Masters, hopefully not later. Until then, we just don't know. And that's pretty much how it has been during the entire run of the Tiger Woods Floating Opera. Except for what we see on the golf course, we just don't know.