Monday Superlatives
Even without Simone Biles, the U.S. gymnastics women are cleaning up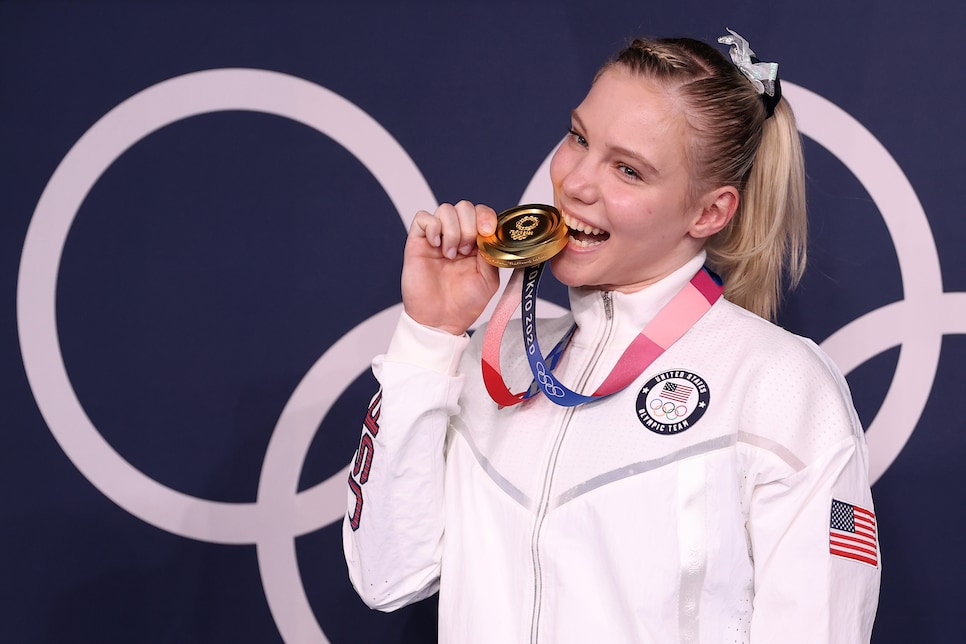 No matter what you think of Simone Biles dropping out—and, uh, opinions vary—we can all admit that losing the team gold medal to the Russians in gymnastics was super disappointing, and a really bad way to start out the Olympic gymnastic program for Team USA. It would have been easy for the entire team to fold, but what you may not have noticed is that the rest of the Olympics are going extremely well for us. Suni Lee won the all-around last week, which was a bit of an upset, and now that the event finals are underway, the U.S. continues to collect hardware. Lee won a bronze on the uneven bars—maybe a little disappointing for her, but it gives her a three-pack of gold, silver, and bronze for the Games—but the great stories really started when MyKayla Skinner, who thought her Olympic career was over after the qualifiers, got into vault because of Biles' withdrawal and did this:
That was good for silver, but the best of all was still to come when Jade Carey, who didn't even make the final roster for the team event, absolutely slayed it on the floor exercise Monday morning to take gold:
The headline of this whole thing is still absolutely going to be "Simone Biles quit, U.S. lost team gold," but considering that primary disappointment, the bounce-back from everyone else on the team looks like a pretty impressive, and pretty resilient, epilogue.
The "Canada is so annoying" re-affirmation of the month: U.S. women's soccer
On the flip side of the Team USA coin, our soccer team just lost to Canada in the semifinals, which means no gold medal, which is very bad, but not as bad as losing to Canada. Maybe it's just me, but is there a more annoying country to lose to? I know Canadians are supposed to be very friendly and our relations with them are peaceful, but trust me on this: they're smug. I know more than my fair share of Canadians—somehow, they're constantly in my orbit—and though almost all of them are my friends, I can also tell you they're bad people and every victory over the U.S. is like manna from heaven to them. America could win 99 times, but if we lose the 100th, Canada will react like it's the Miracle on Ice. Every time. No matter the sport. And if it's a sport the U.S. usually dominates, like women's soccer, it's even worse. This is a nightmare.
The "on the other hand, we did beat Mexico" North American redemption story:
Hell yes, American Gold Cup team! Watch this, from the 117th minute of the final against our other hated North American rivals. Score knotted at 0-0:
Let's go Miles Robinson! I don't know who you are, and I'm pretty sure I've never read your name before, nor would I have wanted to watch whatever 116-minute slop preceded your goal. But your country needed you, and you came through! U-S-A! U-S-A!
(I will now enjoy this for ~17 seconds before getting mad at Canada again.)
The "sportsmanship can actually be very cool" moment of the week: High jump
I can't stop watching this clip. The subtitles give you most of the context, but basically, the high jumper from Qatar and the dude from Italy have tied, and the official approaches them to explain the options: Either you do a jump-off, or you share the gold. What happens next is awesome:
The emotion from Tamberi, the Italian, just cracks me up, but the moment when Barshim doesn't even listen to the rest of the official's explanation, cooly puts his hand out to Tamberi to offer the draw, and Tamberi just loses it ... man, that's what this is all about. It's honestly almost better for both of them to have this moment, and this memory, and still win gold, than it would have been to just win gold outright.
The unnecessary but still spectacular baseball wall climb of the year: Monte Harrison
Harrison plays centerfield for Jacksonville, a Marlins minor league franchise, and you have to watch him go full Spiderman here:
I love the wall climb followed by ... catching the ball at your hip. If Harrison had read it correctly, he likely could have caught it standing up at the track, but then we wouldn't have this ridiculous, unnecessary lineup. I hope wall climbing becomes the new breakaway dunk. Sure, you can just lay the ball in, just like you could catch a fly in the normal, terrestrial way. But why not go for something ridiculous and extremely memorable??